A$10,600 Main Event
Jours 3
A$10,600 Main Event
Jour 3 a débuté

| Table | Seat | Player | Country | Chip Count | Big Blinds |
| --- | --- | --- | --- | --- | --- |
| 7 | 1 | Phachara Wongwichit | Thailand | 190,000 | 79 |
| 7 | 2 | Simen Gulbrandsen | Norway | 153,300 | 64 |
| 7 | 3 | Jinsoo Kang | Australia | 267,600 | 112 |
| 7 | 4 | Samuel Korman | Australia | 39,000 | 16 |
| 7 | 5 | Maria Lampropulos | Argentina | 51,700 | 22 |
| 7 | 6 | Kan Lin | Australia | 163,100 | 68 |
| 7 | 7 | Vesna Pope | Australia | 130,400 | 54 |
| 7 | 8 | Wei Low | Australia | 165,700 | 69 |
| | | | | | |
| 8 | 1 | Maxi Lehmanski | Germany | 106,000 | 44 |
| 8 | 2 | Mike Del Vecchio | United States | 164,500 | 69 |
| 8 | 3 | Terence Clee | Australia | 389,300 | 162 |
| 8 | 4 | Alan Friedmann | Uruguay | 191,100 | 80 |
| 8 | 5 | Egor Bulychev | Russia | 170,400 | 71 |
| 8 | 6 | Yin Liu | China | 191,900 | 80 |
| 8 | 7 | Slade Fisher | New Zealand | 78,500 | 33 |
| 8 | 8 | Steven Tabb | United States | 85,400 | 36 |
| | | | | | |
| 10 | 1 | Aram Zobian | United States | 74,000 | 31 |
| 10 | 2 | Simon Carter | Australia | 198,500 | 83 |
| 10 | 3 | Russell Thomas | United States | 198,000 | 83 |
| 10 | 4 | Rishabh Vekaria | India | 312,200 | 130 |
| 10 | 5 | Rahul Melwani | India | 124,900 | 52 |
| 10 | 6 | Liam Doyle | New Zealand | 303,700 | 127 |
| 10 | 7 | Goran Mandic | Croatia | 264,700 | 110 |
| 10 | 8 | Zachary Duce | Australia | 91,700 | 38 |
| | | | | | |
| 25 | 1 | Joni Jouhkimainen | Finland | 186,900 | 78 |
| 25 | 2 | Giovanni Barone | Australia | 132,100 | 55 |
| 25 | 3 | Bryce Yockey | United States | 148,100 | 62 |
| 25 | 4 | Kahle Burns | Australia | 257,100 | 107 |
| 25 | 5 | Denis Wei Zhang | Australia | 62,400 | 26 |
| 25 | 6 | Jack Sinclair | United Kingdom | 59,000 | 25 |
| 25 | 7 | Ricky Vikas | Australia | 60,200 | 25 |
| 25 | 8 | Shao Liu | Australia | 410,000 | 171 |
| | | | | | |
| 26 | 1 | Francois Goulet | France | 52,400 | 22 |
| 26 | 2 | Tony G | Australia | 144,800 | 60 |
| 26 | 3 | Daniel Oshea | Australia | 258,100 | 108 |
| 26 | 3 | Vincent Wan | Australia | 292,800 | 122 |
| 26 | 4 | Sarkiss Osalian | Australia | 54,100 | 23 |
| 26 | 5 | Sam Cohen | United States | 47,700 | 20 |
| 26 | 7 | Vivian Im | South Korea | 116,900 | 49 |
| 26 | 8 | Timothy Chung | Hong Kong | 163,200 | 68 |
| | | | | | |
| 27 | 1 | Tomas Ribeiro | Portugal | 175,700 | 73 |
| 27 | 2 | Alex Lynskey | Australia | 242,800 | 101 |
| 27 | 3 | Nino Ullmann | Germany | 166,600 | 69 |
| 27 | 4 | Julien Sitbon | France | 125,500 | 52 |
| 27 | 5 | Adriano Cendron | Australia | 113,500 | 47 |
| 27 | 6 | Igor Yaroshevskyy | Ukraine | 91,200 | 38 |
| 27 | 7 | David Steicke | Hong Kong | 96,900 | 40 |
| 27 | 8 | Jesse Sylvia | United States | 26,300 | 11 |
| | | | | | |
| 28 | 1 | Corey Zarb | Australia | 148,600 | 62 |
| 28 | 2 | Hamza Firdawcy | Canada | 102,900 | 43 |
| 28 | 3 | Jack Wu | Taiwan | 117,200 | 49 |
| 28 | 4 | Nick Pupillo | United States | 281,500 | 117 |
| 28 | 5 | John Dalessandri | Australia | 58,200 | 24 |
| 28 | 7 | Zong-Chi He | Taiwan | 342,600 | 143 |
| 28 | 8 | Michael Behnert | Germany | 99,800 | 42 |
| | | | | | |
| 29 | 1 | Goran Srejic | Australia | 54,700 | 23 |
| 29 | 2 | Tom Rafferty | Australia | 146,800 | 61 |
| 29 | 3 | Paul Abela | Australia | 232,800 | 97 |
| 29 | 4 | Thibaut Klinghammer | France | 68,100 | 28 |
| 29 | 5 | Peco Stojanovski | Australia | 50,000 | 21 |
| 29 | 6 | Paawan Bansal | India | 355,800 | 148 |
| 29 | 7 | Daniel Hinh | Australia | 85,100 | 35 |
| 29 | 8 | David Wells | Australia | 39,000 | 16 |
| | | | | | |
| 30 | 2 | Steven Miller | Australia | 148,800 | 62 |
| 30 | 3 | Jack Salter | United Kingdom | 203,200 | 85 |
| 30 | 4 | Mladen Vukovic | Australia | 76,700 | 32 |
| 30 | 5 | Manig Loeser | Germany | 210,900 | 88 |
| 30 | 6 | Steven Morris | Australia | 162,900 | 68 |
| 30 | 7 | Benedikt Eberle | Austria | 189,300 | 79 |
| 30 | 8 | Maxwell Young | Australia | 286,300 | 119 |
| | | | | | |
| 31 | 1 | Zachary Tay | Singapore | 238,400 | 99 |
| 31 | 2 | Sparrow Cheung | Hong Kong | 101,300 | 42 |
| 31 | 3 | Filipp Mamedov | Australia | 162,700 | 68 |
| 31 | 4 | Shan Huang | China | 150,000 | 63 |
| 31 | 5 | Luke Edwards | Australia | 36,800 | 15 |
| 31 | 6 | Ngoc Tai Hoang | Australia | 109,000 | 45 |
| 31 | 7 | Halil Bozdugan | Australia | 154,200 | 64 |
| 31 | 8 | Dzmitry Urbanovich | Poland | 241,200 | 101 |
| | | | | | |
| 32 | 1 | Nabeel Mahiyuddin | Australia | 84,000 | 35 |
| 32 | 2 | Weiming Yu | China | 133,400 | 56 |
| 32 | 3 | Petar Vujic | Australia | 155,000 | 65 |
| 32 | 4 | Hyung Sun Jung | South Korea | 173,200 | 72 |
| 32 | 5 | Scott Margereson | United Kingdom | 328,900 | 137 |
| 32 | 6 | David Miscikowski | United States | 252,200 | 105 |
| 32 | 7 | Tony Hachem | Australia | 161,100 | 67 |
| 32 | 8 | Alan Pun | Hong Kong | 28,700 | 12 |
| | | | | | |
| 33 | 1 | Joel Cohen | Australia | 172,100 | 72 |
| 33 | 2 | Zhihong Ma | Australia | 71,700 | 30 |
| 33 | 3 | Jean-Serge Baril | Canada | 125,300 | 52 |
| 33 | 4 | Michael Gross | Australia | 104,300 | 43 |
| 33 | 5 | Max Deveson | United Kingdom | 274,400 | 114 |
| 33 | 6 | Ize Bourne | Australia | 43,800 | 18 |
| 33 | 7 | Didier Guerin | Australia | 198,000 | 83 |
| 33 | 8 | Oliver Weis | Germany | 155,200 | 65 |
| | | | | | |
| 34 | 1 | Gavin Flynn | Ireland | 213,700 | 89 |
| 34 | 2 | Ashish Gupta | Australia | 56,000 | 23 |
| 34 | 3 | Shane Stark | Australia | 119,800 | 50 |
| 34 | 4 | Daniel Gabriel | Australia | 107,000 | 45 |
| 34 | 5 | Ali Ghezelbash | Australia | 136,500 | 57 |
| 34 | 6 | Shoshiro Karita | Japan | 48,000 | 20 |
| 34 | 7 | Thomas Wing | Australia | 239,100 | 100 |
| 34 | 8 | Anthony Xu | Australia | 104,900 | 44 |
| | | | | | |
| 37 | 1 | Jun Ho Hwang | South Korea | 63,400 | 26 |
| 37 | 2 | Calvin Tan | Singapore | 93,800 | 39 |
| 37 | 3 | Bernie Stang | Australia | 83,300 | 35 |
| 37 | 4 | Rintaro Kagawa | Japan | 59,200 | 25 |
| 37 | 5 | Erik Seidel | United States | 228,700 | 95 |
| 37 | 6 | Dan Shak | United States | 77,600 | 32 |
| 37 | 7 | Gareth Pepper | Australia | 400,400 | 167 |
| 37 | 8 | Pierce Mckellar | Australia | 59,300 | 25 |
| | | | | | |
| 40 | 1 | Sergio Aido | Spain | 133,400 | 56 |
| 40 | 2 | Brody Furness | Australia | 21,400 | 9 |
| 40 | 3 | Nicolas Malo | Canada | 107,500 | 45 |
| 40 | 4 | Bryn Kenney | United States | 186,000 | 78 |
| 40 | 5 | Quan Zhou | China | 345,900 | 144 |
| 40 | 6 | Chi Zhang | United Kingdom | 168,200 | 70 |
| 40 | 7 | Wei Zhu | Australia | 64,100 | 27 |
| 40 | 8 | Pete Chen | Taiwan | 294,000 | 123 |
| | | | | | |
| 41 | 1 | Bobby Zhang | Australia | 175,900 | 73 |
| 41 | 2 | Cole Swannack | Australia | 84,700 | 35 |
| 41 | 3 | Stanley Wu | Australia | 88,200 | 37 |
| 41 | 4 | David Hackenberger | Australia | 130,500 | 54 |
| 41 | 5 | Yake Wu | China | 111,000 | 46 |
| 41 | 6 | Anthony Hachem | Australia | 97,000 | 40 |
| 41 | 7 | Jeff Madsen | United States | 356,400 | 149 |
| 41 | 8 | Steve O'Dwyer | Ireland | 126,100 | 53 |
| | | | | | |
| 45 | 1 | Randy Lew | United States | 126,400 | 53 |
| 45 | 2 | Dingxiang Ong | Singapore | 199,600 | 83 |
| 45 | 3 | Koray Aldemir | Germany | 118,700 | 49 |
| 45 | 4 | Robert Sanchez Callol | Spain | 157,200 | 66 |
| 45 | 5 | Lawrence Bayley | United Kingdom | 171,800 | 72 |
| 45 | 6 | James Romero | United States | 148,000 | 62 |
| 45 | 7 | Tu Tran | Australia | 156,400 | 65 |
| 45 | 8 | Michael Sideridis | Australia | 226,700 | 94 |
| | | | | | |
| 47 | 1 | Sam Razavi | United Kingdom | 155,600 | 65 |
| 47 | 2 | Jordan Tentori | Australia | 439,700 | 183 |
| 47 | 3 | Jussi Nevanlinna | Finland | 182,100 | 76 |
| 47 | 4 | Corentin Ropert | France | 126,100 | 53 |
| 47 | 5 | Ben Lamb | United States | 166,000 | 69 |
| 47 | 6 | Daniel Ross | Australia | 99,100 | 41 |
| 47 | 7 | Jeremy Pekarek | United States | 147,600 | 62 |
| 47 | 8 | Fabian Quoss | Germany | 372,400 | 155 |
| | | | | | |
| 48 | 1 | Hussein Hassan | Australia | 36,400 | 15 |
| 48 | 2 | Warwick Dunnett | Australia | 196,300 | 82 |
| 48 | 3 | Rory Young | Australia | 19,500 | 8 |
| 48 | 4 | Andrew Moreno | United States | 83,400 | 35 |
| 48 | 5 | David Wang | Australia | 76,200 | 32 |
| 48 | 6 | Mai Ha | Australia | 194,900 | 81 |
| 48 | 7 | Louis Luo | Australia | 73,400 | 31 |
| 48 | 8 | Simon Burns | United Kingdom | 264,400 | 110 |
| | | | | | |
| 49 | 1 | Jarryd Godena | Australia | 111,600 | 47 |
| 49 | 2 | Wan Gan | Australia | 117,300 | 49 |
| 49 | 3 | Brendon Rubie | Australia | 79,800 | 33 |
| 49 | 4 | John Chu | Australia | 151,000 | 63 |
| 49 | 5 | Thomas Fairrie | Australia | 131,300 | 55 |
| 49 | 6 | Spiros Maroulis | Australia | 53,000 | 22 |
| 49 | 7 | Matthew Wantman | United States | 343,000 | 143 |
| 49 | 8 | Qiu Wenjian | New Zealand | 254,600 | 106 |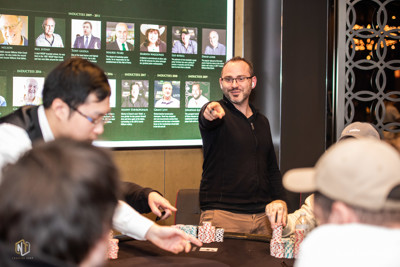 As of 12.30 p.m. local time, the poker room of the Crown Casino complex in Melbourne will once again be filled with a special buzz in the air and at the tables when the remaining 158 players out of 820 entries return to their seats to unbag their chips for Day 3 of the 2020 Aussie Millions Main Event.
Only the top 88 spots in the second-biggest Aussie Millions Main Event ever will receive a portion of the A$8,200,000 prize pool and the money bubble will burst throughout the scheduled seven 90-minute levels.
Leading the field into the day is Jordan Tentori, one of three players with more than 400k in chips, and he returns to a stack of 439,700. Second in chips is Shao Liu with 410,000 and the final spot on the podium belongs to Gareth Pepper with 400,400. Other big stacks include such familiar names as Fabian Quoss (372,400), Jeff Madsen (356,400), Paawan Bansal (355,800), Quan Zhou (345,900), Matthew Wantman (343,000), Scott Margereson (328,900) and Pete Chen (294,000).
The only remaining former Aussie Millions champion and 2019 winner, Bryn Kenney, has an above-average stack of 186,000 and fellow 2019 finalist Mike Del Vecchio follows not far behind with 164,500. Both Tony Hachem (161,100) and Anthony Hachem (97,000) also remain in the mix and will aim to secure at least A$15,580 for their efforts.
Blinds will recommence at 1,200-2,400 with a big blind ante of 2,400 and there will be a 15-minute break after each 90-minute level, as well as a 75-minute dinner break after the fourth level of the day. Bagging and tagging is expected to take place around 1.30 a.m. local time. By then, the field may already be very close to the final 36 hopefuls, at which time the tournament will redraw to a six-max format.
Stay tuned to find out who gets one step closer to becoming the next Aussie Millions Main Event champion right here on PokerNews.
Day 3 Level Structure
| Level | Length | Small Blind | Big Blind | Ante |
| --- | --- | --- | --- | --- |
| 13 | 90 | 1,200 | 2,400 | 2,400 |
| 14 | 90 | 1,500 | 3,000 | 3,000 |
| 15 | 90 | 2,000 | 4,000 | 4,000 |
| 16 | 90 | 2,500 | 5,000 | 5,000 |
| 17 | 90 | 3,000 | 6,000 | 6,000 |
| 18 | 90 | 4,000 | 8,000 | 8,000 |
| 19 | 90 | 5,000 | 10,000 | 10,000 |
Niveau: 13
Blinds: 1,200/2,400
Ante: 2,400

Niveau 13 : 1,200/2,400, 2,400 ante
Action was on a
board with big stack Gareth Pepper - one of three players with over 400,000 in chips at the start of the day - betting 18,000 into a pot of 35,000 from the big blind.
His opponent was Erik Seidel who called from the button. Pepper turned over
and Seidel studied the board before revealing
for a pair of nines.

Niveau 13 : 1,200/2,400, 2,400 ante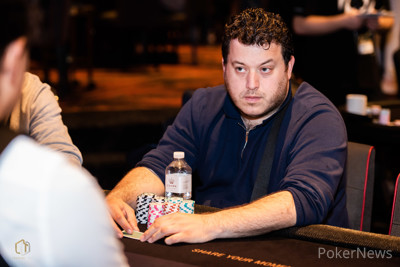 The first two casualties on Day 3 are Brody Furness and Sam Razavi, and the latter saw his hopes of a Main Event cash in Melbourne vanish in brutal fashion.
Jordan Tentori was to his right and held the biggest stack in the room at the start, the Aussie was even in the exact same seat that propelled him into the lead last night. And the run-good of Tentori continued as he clashed with Razavi in a battle of premium pocket pairs.
Sam Razavi:

Jordan Tentori:
The
flop gave Tentori top set and the
turn and
river runout failed to keep Razavi in contention.
Niveau 13 : 1,200/2,400, 2,400 ante
Shan Huang opened for 5,200 in middle position and Luke Edwards jammed for 36,800 on his left.
"I wish the big blind was here," Huang said with a laugh. "Maybe I don't open this hand. Now, I'm in a difficult situation."
He did the math out loud then decided the price was good enough and slapped in some chips to call. He turned over
but was disappointed to see
from Edwards. However, the
board shipped him the pot courtesy of the flopped jack. Edwards took the beat in stride and headed out.

Niveau 13 : 1,200/2,400, 2,400 ante
David Wells was all-in for 33,000 with the
and Peco Stojanovski had that dominated with
.
Wells was ready to go and stood up from his chair on the
flop but sat back down when the
appeared on the turn. A blank
on the river changed nothing anymore and Wells doubled to send Stojanovski further in the danger zone.
Niveau 13 : 1,200/2,400, 2,400 ante
Peco Stojanovski was all in for about 20,000 with
but dominated by the
of Daniel Hinh. The
board left Hinh playing the board and sending a double over.
Joueur
Jetons
Progression

Daniel Hinh

95,000

9,900

Peco Stojanovski

50,000

28,000
Niveau 13 : 1,200/2,400, 2,400 ante
After an open on the button to 5,200 and a three-bet from small blind Michael Behnert to 19,000, action was on big blind Corey Zarb. He thought about a minute then moved all of his chips into the middle. The opener quickly mucked, and Behnert didn't need long before opting to preserve his remaining 61,000 or so.
Joueur
Jetons
Progression

Corey Zarb

150,000

1,400

Michael Behnert

61,000

-38,800