MILLIONS North Cyprus $5,300 Main Event
Jours 2
MILLIONS North Cyprus $5,300 Main Event
Jour 2 a débuté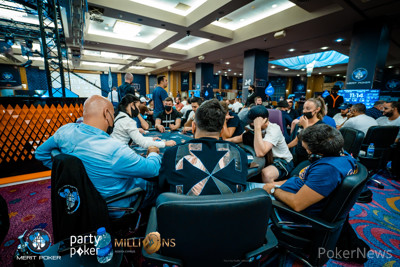 The 2021 partypoker LIVE MILLIONS North Cyprus festival is heading towards the business end in the days to come. Among the tournaments to gather the spotlight at the five-star Merit Crystal Cove Hotel Casino & Spa in Girne, North Cyprus is certainly the $5,300 Main Event, which will see 333 players out of 699 entries return to their seats.
The tournament has already surpassed the $3 million gross guarantee and has another three levels of late registration and re-entries available. Day 2 is scheduled to kick off at 12 pm noon local time and it is currently foreseen to play down to the money. Whether or not that will be possible with a deep 60-minute level structure remains to be seen, however.
$5,300 Main Event Day 1 Summary
| Starting Day | Date | Time | Level Duration | Levels | Entries | Survivors |
| --- | --- | --- | --- | --- | --- | --- |
| Day 1a | Wed September 22 | 12pm local time | 60 minutes | 9 levels | 281 | 128 |
| Day 1b | Thu September 23 | 12pm local time | 60 minutes | 9 levels | 205 | 86 |
| Day 1c | Fri September 24 | 12pm local time | 40 minutes | 9 levels | 184 | 102 |
| Day 1d | Fri September 24 | 8pm local time | 25 minutes | 9 levels | 29 | 19 |
Leading the field into Day 2 with a monster stack of 796,500 is French online casino games streamer Killian Desnos, followed by Ali Shaerzadeh (699,500), Harout Ghazarian (659,500), and Harpreet Gill (621,000). In total, 12 players turned their starting stacks of 100,000 into more than five times of that while Day 1c chip leader Sonia-Veronika Shashikhina missed that goal by a single chip and returns with 499,000.
Team partypoker will be represented by Joni Jouhkimainen (229,500), Jeff Gross (113,500), and John Duthie (95,000). Furthermore, several WSOP bracelet winners are in the mix such as Gaby Livshitz, Georgios Sotiropoulos, Dominik Panka, Bartlomiej Swieboda, and Timur Margolin.
The action will recommence with blinds of 1,500-3,000 and a big blind ante of 3,000. As previously mentioned, the registration period remains open for another three levels and there will be a break after the first level and for every two levels thereafter. Once the final field size has been determined, the payout information will be released and that sets the goal for the rest of the day.
As of Day 2 and until the conclusion of the $5,300 Main Event, the action will also be streamed on the partypoker YouTube and Twitch channels on a security delay of one hour. All PokerNews updates for today will mostly focus on the outer tables.

There are 42 tables in total in play and all those up to table 32 are in the main tournament area, whereas all tables 33 and higher are in the cash game area. It appears that Day 2 will play nine levels in total and that makes it unlikely to reach the money stages just yet.
The first feature table will be number nine with Robert Heidorn, Manig Loeser, Anatoly Nikitin and Artur Martirosian.
Niveau: 10
Blinds: 1,500/3,000
Ante: 3,000

Niveau 10 : 1,500/3,000, 3,000 ante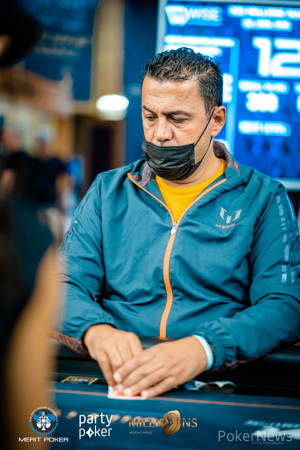 Yigit Aksoy raised to 6,000 and Eli Saad then three-bet to 15,000 only for Aksoy to shove and get snap-called.
Yigit Aksoy:

Eli Saad:
The
flop was a sweat with the flush draw but the
turn and
river brought no help to Aksoy.

Niveau 10 : 1,500/3,000, 3,000 ante
Sergio Castelluccio entered while Jeff Gross doubled. On Gross' table, two players were knocked out in Clement Richez and Gergely Bartos but both may be back very soon with a fresh stack.

Niveau 10 : 1,500/3,000, 3,000 ante
When the live reporting team arrived, Mario Mosboeck was spotted with a squeeze to 28,000 and he then faced a shove by Zorlu Er. The stack was counted but Er didn't receive any call to scoop the pot preflop.

Niveau 10 : 1,500/3,000, 3,000 ante
On the heads-up turn of
, Tomas Jozonis bet-raised to 100,000 out of the big blind and Ali Shaerzadeh reluctantly called on the button. That led them to the
river on which Jozonis checked. Shaerzadeh now bet 124,000 and that sent the Lithuanian into a long tank.
The clock was called on Jozonis and his 30 seconds to act ran out without any decision to kill the hand, awarding the pot without showdown to Shaerzadeh.
Joueur
Jetons
Progression

Ali Shaerzadeh

850,000

150,500

Tomas Jozonis

80,000

-154,500

Niveau 10 : 1,500/3,000, 3,000 ante
On a completed board of
, Furkan Beg made it 22,500 to go. Ran Azor eventually called and mucked when he was shown the
for a rivered full house. He then walked away from the table for a short break before returning a minute later.

Niveau 10 : 1,500/3,000, 3,000 ante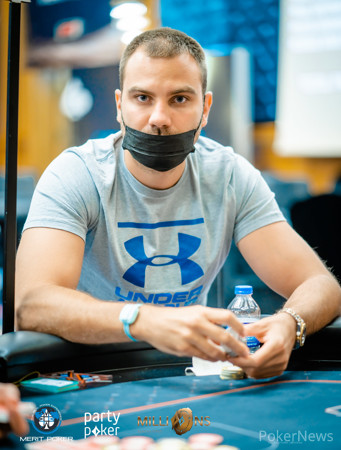 Semen Kravets opened to 7,500 and Danilo Velasevic made it 22,000 to go. Kravets then jammed for 110,500 and was instantly called by Velasevic with the superior stack.
Semen Kravets:

Danilo Velasevic:
The classic flip ended up in favour of Kravets on the
board as Velasevic dropped below the average.