Event #8: $2,500 Mixed Triple Draw Lowball
Jours 3
Event #8: $2,500 Mixed Triple Draw Lowball
Jour 3 a débuté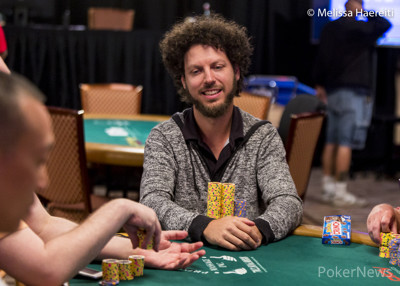 Following an action-packed final level of yesterday's play, Event #8: $2,500 Mixed Triple Draw is down to the last two tables. Only 12 players remain in the hunt for the $180,455 first-place prize that comes along with the gold, with none other than Chris Vitch sitting at the top of the leaderboard.
Vitch, who won the inaugural edition of this very event back in 2016, added considerably to his stack during the late stages of Day 2. A quiet second level at 6,000/12,000 was followed by fast-paced play with a lot of big pots once the blinds were raised one final time last night, and Vitch was among those who capitalized on that.
With chips flying left and right and players leaving their chairs, the average stack naturally grew and Vitch now has only a narrow lead over his following rivals.
Vitch is on 493,000 good for the chip lead, but Damjan Radanov (476,000) and George Trigeorgis (462,000) aren't far behind. Fourth in chips is high stakes superstar Scott Seiver (431,000). Seiver spent the mid-stage of the tournament on a table that also included Vitch. And while Seiver dropped down to a short stack, he found a way to double through Vitch to start trending upward.
Final day chip counts and seating chart:
| Seat | Table 1 | Chips | Table 2 | Chips |
| --- | --- | --- | --- | --- |
| 1 | Mike Leah | 174,000 | Michael Wagner | 147,000 |
| 2 | Scott Seiver | 431,000 | Chris Vitch | 493,000 |
| 3 | Frank Kassela | 268,000 | Damjan Radanov | 476,000 |
| 4 | Jesse Hampton | 350,000 | George Trigeorgis | 462,000 |
| 5 | Bryce Yockey | 271,000 | Alex Simma | 400,000 |
| 6 | Luis Velador | 390,000 | Johannes Becker | 172,000 |
Vitch and Seiver have already been decorated with the prestigious wrist-wear at the World Series of Poker and the rest of the field includes some more bracelet owners. Luis Velador (390,000), Bryce Yockey (271,000), Frank Kassela (268,000), and Mike Leah (174,000) have all made it to the summit in the past, with Velador and Kassela doing so multiple times.
Meanwhile, players such as Alex Simma (400,000) and Jesse Hampton (350,000) will do everything in their power to join the WSOP winners club, trying to convert shots at their first title.
The second shortest stack to start today belongs to Johannes Becker, last year's Poker Players' Championship runner-up. Becker has 172,000, over eight big bets, so his chances are still pretty fair and so are those of Michael Wagner who closes the standings with 147,000.
Deep-stacked triple draw poker guarantees us a great competition for the title. PokerNews live reporting team will be on their toes again with pencils and notebooks, so make sure you come back at 2 p.m. PDT to follow the most exciting stage of the tournament.
Niveau: 21
Limites: 10,000/20,000
Ante: 0

Niveau 21 : 10,000/20,000, 0 ante
2-7 Triple Draw
On the first hand of the day, Mike Leah raised in the first position and Jesse Hampton called on the button. Luis Velador three-bet out of the big blind and both of his opponents called.
Velador patted while Leah changed one and Hampton drew two. Velador continued betting, earning two calls again.
Leah and Hampton then discarded one apiece and both called another bet from Velador.
The last draw saw Velador remain pat and Leah patted as well. Hampton drew two and Velador fired one more time. Leah called and Hampton finally released his hand.
Velador had been dealt an eighty-seven but Leah got there on the last draw, showing
to claim a huge pot right off the bat.
Niveau 21 : 10,000/20,000, 0 ante
2-7 Triple Draw
George Trigeorgis raised under the gun and got three-bet by Michael Wagner. Chris Vitch came along in the small blind and everyone drew a card. Trigeorgis kept the lead and was pat against his opponents, both of whom drew one again. This time, Vitch checked, Trigeorgis bet, Wagner called and Vitch raised. Trigeorgis called and Wagner mucked.
Vitch patted and Trigeorgis flashed the
as he drew. Vitch checked and Trigeorgis checked back with a sigh. Vitch showed
to win the pot.

Niveau 21 : 10,000/20,000, 0 ante
2-7 Triple Draw
So far, Luis Velador has been the most active player on the secondary feature table. Just now Velador was the one pulling the strings in the round of 2-7 triple draw.
After previously getting outdrawn by Leah, Velador restored some of his chips when he beat Jesse Hampton in a three-bet pot that further saw Hampton fire one small and one big bet. Hampton drew one on each occasion while Velador took two on the first draw and then change one in the following two rounds.
Velador called off the aforementioned bets to see Hampton's busted hand with pocket fives which he had easily beat with ten-seven.
Niveau 21 : 10,000/20,000, 0 ante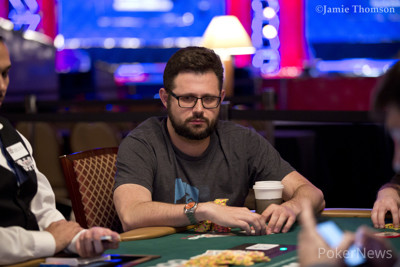 2-7 Triple Draw
Alex Simma opened early and Michael Wagner three-bet it. Chris Vitch called and they went three ways to the draw, with Wagner pat and the other two taking two. Wagner kept the lead and got two more calls. This time, Simma needed only one and Vitch two. Wagner bet again, Vitch called, but Simma came in with a raise. Wagner thought a while and folded, and Vitch called.
After taking a final card, Vitch faced a bet and sighed.
"I caught the card you don't want to catch in this spot," he said.
After some thought, he put in a reluctant call but Simma showed
.
"Caught the ocho?" Simma asked.
"Unfortunately."

Niveau 21 : 10,000/20,000, 0 ante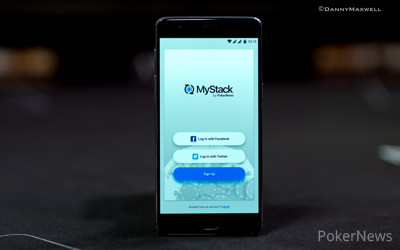 PokerNews has activated the MyStack App for this event, allowing you to directly adjust your chip counts in our live reporting blog using your iPhone or Android phone.
You can download the app for iPhone or Android now to get started. Then, create a new PokerNews account or update your current one to start updating your status immediately. Your followers can see all the live action that you're involved in.
Click here to download the My Stack app for iPhone, or click here to download the My Stack app for Android.

Niveau 21 : 10,000/20,000, 0 ante
A-5 Triple Draw
Mike Leah (hijack) raised and called when Frank Kassela (button) three-bet.
Kassela then fired on every street with both players taking one on the first and second draws. Leah called the first two bets and changed one on the third draw. Kassela stood pat and Leah finally check-folded the river.
Niveau 21 : 10,000/20,000, 0 ante
Badugi
Chris Vitch defended big blind from a Johannes Becker button raise and was ahead taking one while Becker took two. Vitch came out betting and Becker called. Both took a card and Vitch bet again. Becker raised and Vitch called. Vitch needed another card and Becker was bet. Vitch check-called a final time.
Becker opened
and won as Vitch mucked.