Niveau 83 : 125,000/250,000, 0 ante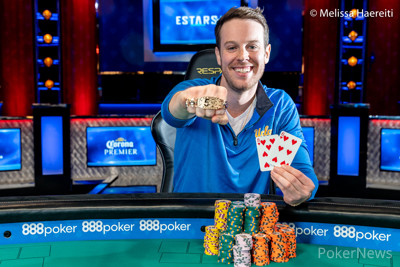 Event #15: $10,000 Heads-Up No-Limit Hold'em Championship, began with 112 players. After dozens of thrilling heads-up matches between legends of the felt, only one player emerged with an undefeated record. That player was 30-year-old Sean Swingruber who outlasted the field, going 7-0 to capture his first World Series of Poker gold bracelet and the first-place prize of $186,356.
"It feels indescribable," Swingruber said after his whirlwind championship match. "I'm not a huge tournament player, mostly cash games primarily, but I've put a lot of work into heads-up recently. I've always eyed this tournament and thought I could have an edge versus other MTT players."
| Place | Player | Country | Prize |
| --- | --- | --- | --- |
| 1 | Sean Swingruber | United States | $186,356 |
| 2 | Ben Yu | United States | $115,174 |
| 3 | Cord Garcia | United States | $73,333 |
| 4 | Keith Lehr | United States | $73,333 |
| 5 | Jimmy D'Ambrosio | United States | $31,151 |
| 6 | Jake Schindler | United States | $31,151 |
| 7 | Kristen Bicknell | Canada | $31,151 |
| 8 | Matthias Eibinger | Austria | $31,151 |
Let's recap his road to victory, shall we?
With an odd bracket number of entries, the majority of the field was given half of their buy-in back and essentially played a $5,000 satellite in a "play-in" round. Swingruber was a part of that majority and faced off against Bill Klein in the "play-in" round. After finding himself on the shorter stack for a hefty portion of the match, Swingruber closed it out when his king-queen bested Klein's ace-four. A king-high runout propelled Swingruber into the official bracket.
In the Round of 64, Swingruber defeated Gregory Jensen to advance to the Round of 32. His final match of Day 1 drew Jimmy Guerrero and the two played one of the longest matches of that round. In the end, Swingruber's ace-nine suited held up against Guerrero's king-queen suited to lock up a seat in the Round of 16 the following day.
With one more match to win before reaching the money, Swingruber's opponent in the Round of 16 was Jan Lakota. Immediately finding himself on the short stack, Swingruber doubled up four times to take the chip lead. Shortly after, his ace-ten held up against Lakota's queen-seven and a spot in the money was secured.
"I was short-stacked in some of my earlier rounds and I luck-boxed a couple of rivers," said Swingruber. "But I just kept grinding and never really gave up. You have to win the all-ins when it counts."
Swingruber's matchup with Jimmy D'Ambrosio in the Round of 8 started the opposite way of his previous match. After jumping out to a sizable chip lead early on, it was his opponent's turn battle back. The chip lead changed multiple times over the course of their three-hour match before Swingruber whittled D'Ambrosio down again. However, D'Ambrosio found pocket aces and pocket kings in short succession and won both preflop confrontations to retake the chip lead. Swingruber fought back once again, though, and closed it out when his ace-nine held up against D'Ambrosio's king-three.
With that victory, a semifinals matchup with Cord Garcia was set for two days later. It took just 34 hands, much shorter than any of his previous matches, for Swingruber to earn the victory. With a hefty chip lead, Swingruber trailed when the first all-in showdown took place as his ace-seven was trailing against Garcia's ace-eight. The flop didn't change much, but a seven on the turn vaulted Swingruver into the lead. He faded what he had to on the river, and the finals were set.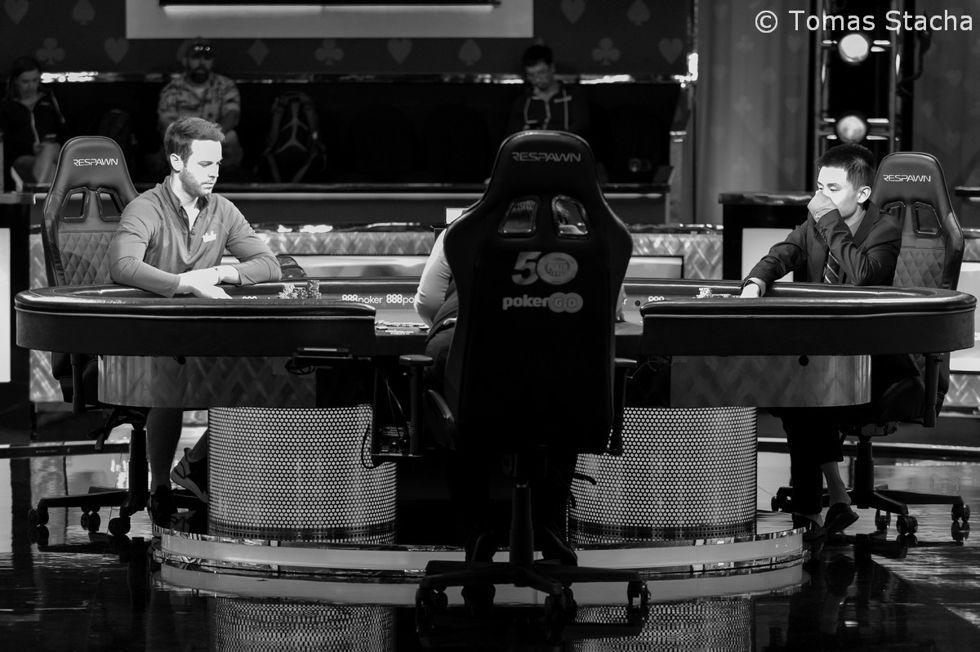 Three-time bracelet winner Ben Yu was waiting for Swingruber there, and what followed was the longest match of the entire tournament. Four hours of back-and-forth and grind-it-out heads-up poker ensued over 134 hands, and Swingruber was the shorter stack for most of them. At his lowest, Swingruber was down 4:1 in chips, but his pocket threes held up against Yu's queen-jack to begin the comeback that eventually resulted in the victory.
When the match neared its end, the average stack was just 16 big blinds. On the final hand with the chip lead, Swingruber shoved with a covering stack and Yu called all in with pocket sixes for his remaining 11 blinds, leading Swingruber's eight-six suited. A safe flop fell and it looked like Yu would double up and take the lead, but running hearts landed to give Swingruber a winning flush.
Swingruber was very complimentary of his championship-round opponent. "I would definitely not want to play 50,000 hands with Ben. I think he would crush me."
In their match, Yu landed a couple of river check-raises that left Swingruber a bit perplexed and even affected one of their hands later on. "I flopped trips one hand against his top pair and just checked back the turn and river because I was worried about another check-raise after the board got a bit scarier."
In the end, though, Swingruber emerged victoriously.
"I'll definitely be back to defend my title next year. This tournament was a lot of fun. As long as I am able to play, I'll be playing this one for sure."