Niveau 31 : 200,000/400,000, 50,000 ante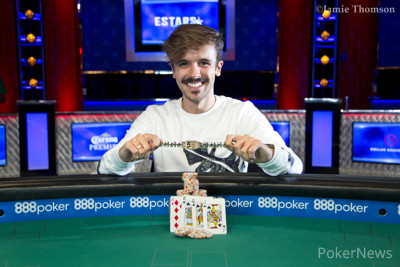 Brazil has a new hero.
It took over 30 levels over three long days for Yuri Dzivielevski to become the latest WSOP bracelet winner after he triumphed in Event #51: $2,500 Mixed Omaha Hi-Lo 8 or Better, Seven Card Stud Hi-Lo 8 or Better and he could not have been happier about the accomplishment.
"This is the most special moment, for sure," Dzivielevski said in an interview after his victory. The mixed game event saw 401 hopefuls enter the tournament on June 22nd to generate a total prize pool of $902,250. After 10 one-hour levels of play, that number became 128. Those 128 returned yesterday to play 10 more one-hour levels, with 61 making the money and only 12 advancing to the final day of play earlier this afternoon to battle it out for a gold bracelet and the first place prize of $213,750.
The journey was nowhere near complete when the day began. It took around 10 minutes into the 11th level of play today for Dzivielevski to become triumphant after him and eventual runner-up Michael Thompson agreed to extend the match into the one-hour courtesy level offered to players should they find themselves heads-up at what would be the end of a normally scheduled Day 3.
Final Table Results
| Place | Player | Country | Prize |
| --- | --- | --- | --- |
| 1 | Yuri Dzivielevski | Brazil | $213,750 |
| 2 | Michael Thompson | United States | $132,113 |
| 3 | Denis Strebkov | Russia | $89,744 |
| 4 | Andrey Zaichenko | Russia | $62,176 |
| 5 | Dan Zack | United States | $43,950 |
| 6 | Philip Long | United Kingdom | $31,710 |
| 7 | Alex Livingston | Canada | $23,362 |
| 8 | Daniel Ratigan | United States | $17,584 |
Day 3 Action
With the split-pot format and a talented lineup of players from around the world, action was constantly back-and-forth from the get go. The unofficial final table of nine was reached just before the first break of the day and it took over an hour from that point for the first elimination to occur. Thompson, Daniel Ratigan (8th place), and Andrey Zaichenko (4th place) battled as short stacked for close to three hours before Ratigan was eliminated.
During those three hours, Dzivielevski found himself go from being in the middle of the pack to commanding chip leader, finding himself with around one-third of the chips in play when the tournament reached seven-handed play. Another two hours went by with a dinner break in between before Alex Livingston (7th place), who was consistently among the top three in chips was eliminated by Dzivielevski in a huge, multiway pot in a hand of Stud Hi-Lo where Dzivielevski's tens and threes were good to secure the knockout and bring his stack to over three million, greater than half the chips in play. Shortly thereafter, Philip Long (6th place) found himself short as the increasing levels got larger and larger and was eliminated after Thompson scooped a pot in Omaha Hi-Lo for the last of his chips.
The fifth place finisher was current WSOP Player of the Year frontrunner Dan Zack, who secured his tenth cash of the series shortly after its halfway point. Zack battled back from crumbs several times but was unable to survive after being crippled a final time when he doubled up eventual third place finisher Denis Strebkov in a hand of Stud Hi-Lo after his pair of kings lost to Strebkov's pair of aces.
Shorty after the final break of the night, Zaichenko found himself short and was eliminated by Dzivielevski, who had maintained his stack at around three million. The dynamics then changed when play became three-handed. Strebkov had the momentum shift his way as he built his stack from as low as 500,000 up to 2,400,000.
Then it became Thompson's turn as he found himself down to 330,000. He doubled twice in a row, once in each game, and then took down a massive hand in Stud Hi-Lo that went three-ways to the river. Dzivielevski folded to Thompson's bet while Strebkov called and lost to a full house, deuces full of queens. He then had over half the chips in play with Dzivielevski and Strebkov at 1.6 milion and 1.1 million, respectively. Dzivielevski was not done, however.
When asked about the journey, Dzivielevski remarked: "I think the most important part is to be present, to be happy and you have to work with what you have. I cannot think about what I lose or what I can win. If I think [about those things], I'm going to be anxious and it's not good because I cannot go to the past and recover everything I have, so I live in the moment."
As the levels rose and the number of bets in the tournament decreased, Dzivielevski started to win a few pots. It wasn't long before he knocked out Strebkov and entered heads-up play versus Thompson with stacks nearly even. Thompson was the one who jumped out to an early lead, however, Dzivielevski was able to battle back to even stacks.
The biggest hand of the night then came in a Stud Hi-Lo hand that saw raises on both fourth- and fifth streets. By the end of the hand, both players had a king-high flush though Dzivielevski had a higher kicker. This gave him a three-to-one chip lead, which he later increased to five-to-one after hitting a straight in Omaha Hi-Lo. Thompson was able to hang around for another 10 minutes, doubling up once in the process, but eventually found himself all in and drawing dead on the turn with two pair and a flush draw against Dzivielevski's full house, queens full of kings.
At that point, Dzivielevski's rail erupted and could not wait to rejoice with him, taking pictures with him and tossing him up into the air in celebration. Dzivielevski, despite the chaos around him, remains focused. He plans to keep playing and keep fighting for more titles. As the man himself put it, "I want to feel this feeling again and again."
Stay tuned to PokerNews all summer for more updates from every single event at the 2019 World Series of Poker.