Event #24: $400 No-Limit Hold'em 8-Handed
Jours 1
Event #24: $400 No-Limit Hold'em 8-Handed
Jour 1 a débuté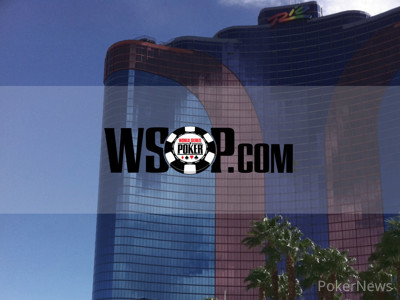 The month long 2020 Online World Series of Poker on WSOP.com heads into its final week and the last eight-max of the series kicks-off today as Event #24: $400 No-Limit Hold'em 8-Handed starts at 3:00 p.m. PDT.
The final eight-max event features 15-minute blind levels and the $400 buy-in gives players 15,000 chips to play with.
The tournament allows players to re-enter two times with each re-entry lasting only 30 seconds, so players will need to make sure they have enough funds in their WSOP.com account before the tournament starts if they plan on re-entering.
Late registration and the re-entry option will be open for the first 3 hours and 45 minutes of play. Tournament tickets are not usable for re-entry. This is a single day event meaning the entire tournament will be played out online and the winner will take home a WSOP Gold Bracelet.
This is the twenty-fourth of 85 bracelet events being held on WSOP.com (31 events – one each day for the month of July) and GG Poker (holding the remaining 54 events).
How To Play
The first step in getting set up to play on WSOP.com is to download the client. You can do so for both mobile (Android and iOS) and desktop (Windows 7 or higher and Mac OS X 10.6.8).
To get the correct version of the client, use the links below:
The former client will cater to players in Nevada and New Jersey (players in Delaware are NOT able to participate), while the latter will serve the international base.
WSOP.com Bracelet Event Schedule
As previously mentioned, the online bracelet schedule for the Summer Online WSOP is comprised of 31 events running daily throughout July. THEY ARE ALL ONE-DAY EVENTS.
The scheduled WSOP.com events are available in hold'em and Omaha formats. Popular live staples like the BIG 50 and Senior's Event have been moved online.
The marquee tournament is $1,000 No-Limit Hold'em Championship, which takes place on Friday, July 31. All events will kick off at 3 p.m. PDT.
Satellites are running now for as little $1.
Remaining 2020 Summer WSOP.com Online Bracelet Schedule
| Date | Day | Time | Event # | Event | Buy-in |
| --- | --- | --- | --- | --- | --- |
| July 24 | Friday | 3 p.m. | 24 | No-Limit Hold'em 8-Handed | $400 |
| July 25 | Saturday | 3 p.m. | 25 | No-Limit Hold'em Summer Saver | $500 |
| July 26 | Sunday | 3 p.m. | 26 | No-Limit Hold'em Grande Finale | $500 |
| July 27 | Monday | 3 p.m. | 27 | No-Limit Hold'em Freezeout | $400 |
| July 28 | Tuesday | 3 p.m. | 28 | Omaha Hi-Lo 6-Max | $1,000 |
| July 29 | Wednesday | 3 p.m. | 29 | No-Limit Hold'em Deepstack | $2,000 |
| July 30 | Thursday | 3 p.m. | 30 | No-Limit Hold'em Senior's Event | $500 |
| July 31 | Friday | 3 p.m. | 31 | No-Limit Hold'em Championship | $1,000 |
Come back to PokerNews to find out who will be the newest 2020 WSOP bracelet winner.
Niveau: 1
Blinds: 25/50
Ante: 0
Niveau 1 : 25/50, 0 ante
Joueur
Jetons
Progression

Louis "PokeThese" Lynch

15,000

Tony "Panoramic" Dunst

15,000

Daniel "DNegs" Negreanu

15,000

Gershon "jets613" Distenfeld

15,000

David "1_BLUE_i" Peck

15,000

Eric "circleball" Baldwin

15,000

Nicholas "Got_The_Glow" Brancato

15,000

Shawn "Clairvoyant" Kjetland

15,000

Marvin "mkarlins" Karlins

15,000

Jerod "WhiskeyDeck" Smith

15,000

Kenneth "KBconcepts" Phillips

15,000

Clayton "clayfletch" Fletcher

15,000

Michael "Bballlind10" Lind

15,000

Jorden "mookmook" Helstern

15,000

Michael "miw210x" Wang

15,000

Max "MaxSparrow" Pescatori

15,000

Niveau 1 : 25/50, 0 ante
Over the course of two days on July 9th and 10th, the poker world witnessed New Jersey's Ryan "im.sorry" Torgersen accomplish a truly incredible feat. First, he navigated his way through a 1,026-entry field in Event #9: $1,000 NLH 6-Max only to finish runner-up to Ron "MacDaddy15" McMillen, good for $116,379 prize money.
A day later in Event #10: $600 Monster Stack, Torgersen was back at it and topped a 2,074-entry field to win that tournament for $172,362 and a gold bracelet. In a 24-hour period, he won a $288,741 in prize money. He didn't stop there as last night he finished in third place in Event #23: $500 NLH Knockout for $41,243.
Little was known about poker's latest breakout star, who was awarded Performance of the Week right here on PokerNews. Fortunately, he found time in between his online grind to chat with PokerNews.
Niveau: 2
Blinds: 30/60
Ante: 0
Niveau 2 : 30/60, 0 ante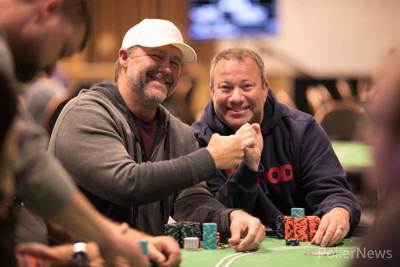 Jenny "Mobey" Svancara opened for 143 from early position and was called by "Greg "viejo_alegre" Jennings on the button before "gabpoker" three-bet to 650 from the big blind.
Svancara called as did Jennings brining the three players to the
flop.
Action was checked to Svancara who fired out 912 and Jennings raised to 3,100. "gabpoker" folded while Svancara called to see the
appear on the turn
Svancara checked to Jennings who jammed for 10,739 and Svancara called off her 9,760 stack.
Greg "viejo_alegre" Jennings:

Jenny "Mobey" Svancara:
Svancara flopped top-pair but was still trailing "viejo_alegre's" cowboys and the
river didn't change a thing as she re-entered the tournament.
Niveau 2 : 30/60, 0 ante
This past Sunday, it was a night to remember on GGPoker as their first-ever WSOP bracelet events — part of a 54-event schedule spread out across the next months — kicked off. Unfortunately, on a night where three bracelet winners were supposed to be crowned, two of the events ran into a critical bug and had to be suspended to next week.
The lightning-fast Event #34: $525 Super Turbo Bounty No-Limit Hold'em 6-Handed — clocking in at a mere 3 hours and 15 minutes start to finish to make it the fastest-ever bracelet event — was unaffected by the technical issues and played out as normal. In total, 2,214 entries of $525 each were made to create a total prize pool of $1,107,000.
In the end, it was Shoma "pp_syon" Ishikawa of Japan writing history as GGPoker's first-ever online bracelet winner, as well as the third person from Japan after Naoya Kihara and Takahiro Nakai to claim the coveted prize. Ishikawa is an emerging talent from the land of the rising
The second event of the festival saw Finnish high-stakes poker legend Juha Helppi doubled his gold bracelet tally in Event #35 $5,000 Pot-Limit Omaha Championship. Helppi who claimed the lion's share of the $1,558,000 prize pool after topping a field of 328 entries, receiving a first-place prize of $290,286 to go along with the coveted prize.
On Wednesday, Michael "YesPlease" Clacher won the third WSOP bracelet for South Africa in the 2020 GGPoker WSOP Online Bracelet Event #36: $1,500 FIFTY STACK NLHE for $297,496 by overcoming a field of 1,342 players. The third event where a bracelet could be won generated a prize pool of $1,912,350 for 188 players to cash in in the end.
Sign Up for a GGPoker Account Through PokerNews
2020 Online WSOP Bracelet Winners on GGPoker
| Date | Tournament | Entries | Prize Pool | Winner | Prize |
| --- | --- | --- | --- | --- | --- |
| 7/19/20 | Event #34: $525 Super Turbo Bounty No-Limit Hold'em 6-Handed | 2,214 | $1,107,000 | Shoma "pp_syon" Ishikawa | $117,650 |
| 7/21/20 | Event #35: $5,000 Pot-Limit Omaha Championship | 328 | $1,558,000 | Juha Helppi | $290,286 |
| 7/22/20 | Event #36: $1,500 FIFTY STACK NLHE | 1,342 | $1,912,350 | Michael Clacher | $297,496 |
| 7/23/20 | Event #37: $1,050 Bounty Pot Limit Omaha | 971 | $971,000 | Hun Wei Lee | $161,886 |
Niveau: 3
Blinds: 40/80
Ante: 0