Event #1: €1,100 No-Limit Hold'em MONSTER STACK
Jours 3
Event #1: €1,100 No-Limit Hold'em MONSTER STACK
Jour 3 a débuté

| Table | Seat | Player | Country | Chip Count | Big Blinds |
| --- | --- | --- | --- | --- | --- |
| 18 | 2 | Ismael Bojang | Austria | 1,120,000 | 37 |
| 18 | 3 | Alexandre Viard | France | 640,000 | 21 |
| 18 | 4 | Serge Danis | Switzerland | 1,190,000 | 40 |
| 18 | 5 | Rene Crha | Czech Republic | 685,000 | 23 |
| 18 | 7 | Walter Treccarichi | Italy | 310,000 | 10 |
| 18 | 8 | Ali Sameeian | Germany | 760,000 | 25 |
| | | | | | |
| 19 | 1 | Sergio Fernandez | Spain | 980,000 | 33 |
| 19 | 2 | Peter Bstieler | Germany | 765,000 | 26 |
| 19 | 3 | Pierre Neuville | Belgium | 825,000 | 28 |
| 19 | 4 | Georgios Zisimopoulos | Greece | 775,000 | 26 |
| 19 | 7 | Viliyan Petleshkov | Bulgaria | 1,035,000 | 35 |
| 19 | 8 | Carlo Savinelli | Italy | 1,340,000 | 45 |
| 19 | 9 | Oleksandr Shcherbak | Ukraine | 780,000 | 26 |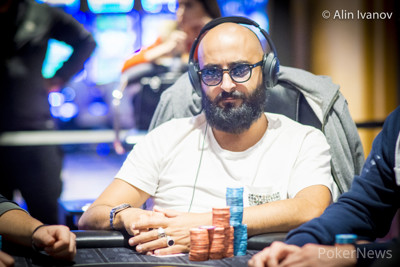 After three starting days and 10 hours of play on Day 2 yesterday, 13 players will return to the King's Casino for the final day of Event #1: €1,100 No-Limit Hold'em MONSTER STACK. Carlo Savinelli has 1,340,000 chips and will be looking to put on that first 2017 WSOPE bracelet at the end of the day.
It won't be a walk in the park though as he is followed by 12 other players including Serge Danis with 1,190,000 chips, Ismael Bojang and Viliyan Petheleshkov with 1,035,000 chips, who also have over a million chips right now. Other contenders for that €117,708 for first place and the bracelet include Sergio Fernandez (980,000), Pierre Neuville (825,000) and Walter Treccarichi with 10 big blinds (310,000).
The players are guaranteed to pocket at least €4,726 but they will all have their eyes set on the honour of getting the first winner photo taken during this World Series of Poker Europe. Action is set to restart at 2 p.m local time at level 25 with blinds of 15,000/30,000 with a 5,000 ante. The live stream with hole-cards and a 30-minute delay will start once the official final table has been reached.
This is what the final thirteen players are playing for:
| Place | Prize |
| --- | --- |
| 1 | €117,708 |
| 2 | €72,747 |
| 3 | €49,929 |
| 4 | €34,869 |
| 5 | €24,787 |
| 6 | €17,940 |
| 7 | €13,225 |
| 8 | €9,934 |
| 9 | €7,605 |
| 10-12 | €5,936 |
| 13 | €4,726 |
Keep following the live updates from start to finish here on PokerNews to find out who will take that bracelet home with them.
Niveau: 25
Blinds: 15,000/30,000
Ante: 5,000
Niveau 25 : 15,000/30,000, 5,000 ante
The action is back underway on Day 3 of Event #1: €1,100 MONSTER STACK.
Niveau 25 : 15,000/30,000, 5,000 ante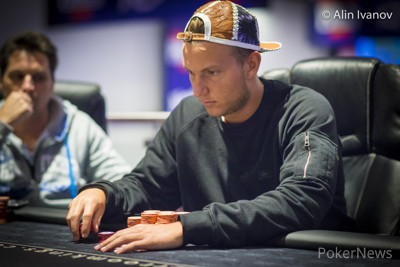 Rene Crha opened to 60,000 from the hijack and Ali Sameeian three-bet to 150,000 on the button. The action folded back to Crha who announced all-in for 675,000. Sameeian instantly called and the cards were tabled.
Ali Sameeian:

Rene Crha:
The board ran out
and Crha was the first casualty on the final day. Sameeian vaulted into the chip lead after eliminating his opponent.
Niveau 25 : 15,000/30,000, 5,000 ante
Sergio Fernandez raised to 65,000 from the hijack and was called by Pierre Neuville on the button and Viliyan Petleshkov in the big blind. The flop came
and the action was checked around to the
on the turn.
Petleshkov led out for 135,000 and Fernandez called, while Neuville folded. The river landed the
and Petleshkov checked with four cards to a straight on the board. Fernandez fired a bet of 240,000 and Petleshkov tossed his cards to the muck.
Niveau 25 : 15,000/30,000, 5,000 ante
The action was folded to Serge Danis in the small blind who raised to 60,000. Carlo Savinelli defended his big blind and the flop came
. Danis continued for 50,000 and Savinelli made the call.
The
landed on the turn and Danis checked to Savinelli who pushed forward a bet of 115,000. Danis called and the
hit the river. Danis checked again and Savinelli reached back for a bet of 205,000. Danis tanked for a couple of minutes before finally folding.
"You can pick one card," Savinelli said. Danis turned over the
.
"I had a feeling you had nothing," Danis said as he shook his head.
"You never know. Maybe king-three," Savinelli responded.

Niveau 25 : 15,000/30,000, 5,000 ante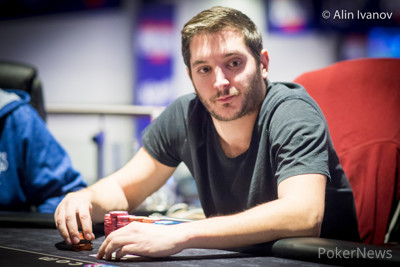 Georgios Zisimopoulos limped in from the hijack and Viliyan Petleshkov was next to act. After looking at his chips he decided to shove all in. Zisimopoulos called.
Viliyan Petleshkov:

Georgios Zisimopoulos:
The board ran out
- no help for Zisimopoulos and he was eliminated.
Niveau 25 : 15,000/30,000, 5,000 ante
Oleksandr Shcherbak raised to 60,000 under the gun and was called by Sergio Fernandez in the cutoff, Pierre Neuville in the small blind, Viliyan Petleshkov in the big blind. The flop came
and the action was checked to Shcherbak who continued for 125,000. Fernandez called while Neuville and Petleshkov folded.
The turn was the
and Shcherbak bet another 250,000. Fernandez thought for a moment but elected to fold.
"Good fold," Shcherbak confirmed for Fernandez.
Neuville was had a rough start to the day, now with under 10 big blinds.