Event #7: €1,100 Turbo Bounty Hunter No-Limit Hold'em
Jours 1
Event #7: €1,100 Turbo Bounty Hunter No-Limit Hold'em
Jour 1 a débuté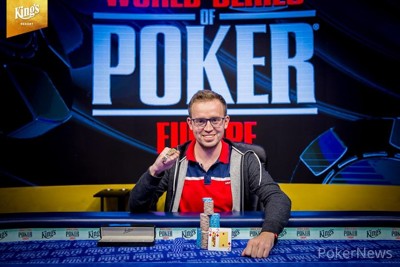 It will be an action-packed day on the tournament floor of the 2019 World Series of Poker Europe at King's Resort in Rozvadov. While many other events will also be taking place, Event #7: €1,100 Turbo Bounty Hunter will have plenty of action on its own. By the day's end, there will likely be another WSOP gold bracelet handed out and it will be a sprint to get there.
In 2018, Mykhailo Gutyi captured his first-ever WSOP crown with a win in the wee hours of the morning. Gutyi topped a field of 387 entries in an €800 buy-in event to take home €61,299. After about 14 hours of poker, it turned into an all-in shootout where Gutyi found himself on the right side of some good fortune and defeated Florian Sarnow heads-up.
The price has been raised this year and it also comes with a €200,000 guaranteed prizepool. Players will receive €300 from the prizepool for each player they eliminate but they can not be redeemed until after registration closes. The action is slated to get underway at 4 p.m. local time and play down until a winner is crowned.
Each player will receive 25,000 starting chips with the blinds beginning at 100/100 with a 100 big blind ante. The levels will be 20 minutes in length with a 15-minute break after every six levels. There will be no dinner break today in the tournament's best efforts to get things wrapped up in a single day. An unlimited number of re-entries will be allowed with late registration closing after 12 levels at approximately 8:30 p.m.
Follow along with the PokerNews live reporting team for all of the updates throughout the event as we look to see who will be the next WSOP champion.
Niveau: 1
Blinds: 100/100
Ante: 100

Niveau 1 : 100/100, 100 ante
Cards are up in the air and play just started in the Turbo Bounty event.
Niveau 1 : 100/100, 100 ante
Joueur
Jetons
Progression

Rifat Gegic

25,000

Martin Staszko

25,000

Roland Israelashvili

25,000

Stefan Vogt

25,000

Thomas Hofmann

25,000

Christopher Back

25,000

Sam Higgs

25,000

Aaron Duczak

25,000

Viktor Blom

25,000

Eyal Bensimhon

25,000

Serge Danis

25,000
Niveau 1 : 100/100, 100 ante
Three players headed to a flop with the board reading
and around 3,500 in the middle. Michail Tastanis checked from middle position and Sam Higgs tossed in a bet of 1,900 from the cutoff. Giorgio Donzelli called on the button and Tastanis got out of the way.
The turn brought the
and Higgs checked this time. Donzelli splashed in a bet of 3,000 and Higgs stuck around to see the
on the river. Both players tapped the table and Higgs showed
for a missed flush draw. Donzelli tabled
for two pair and was awarded the pot.
Niveau 1 : 100/100, 100 ante
As the first level comes to an end, one player has already been eliminated after hunting for that €300 bounty. Meanwhile, the field has grown to 128 entries and the registration line is showing no signs of slowing down.
Niveau: 2
Blinds: 100/200
Ante: 200

Niveau 2 : 100/200, 200 ante
In a big hand that started in the previous level and lasted more than 10 minutes, Aleh Rashetnikau won a big three-way pot where he bet in three streets and he got called by both players but only in two of the streets.
Amir Shojaei opened the action from early position with a raise to 300, Stanislav Koleno three-bet from the small blind to 1,400 and Rashetnikau proceeded with a four-bet at 4,500. Both players called and the flop brought
.
Koleno checked, Rashetnikau bet 5,500 and both players called.
The
came on the turn and Rashetnikau bet 4,900 this time, with both his opponents following along again.
The
completed the board on the river and Rashetnikau shoved all in for 10,000 covering both his opponents. None of them called, and Rashetnikau doubled up his stack without even going to showdown.
Niveau 2 : 100/200, 200 ante
Rafal Ryczek opened to 500 in the hijack and Diana Volcovschi three-bet to 1,500 on the button. Daniel Ezekiel called in the big blind as did Ryczek. The flop fell
and the action checked to Volcovschi who continued for 1,700. Ezekiel folded and Ryczek called.
The turn brought the
and Ryczek checked again. Volcovschi fired out another 5,300 and Ryczek looked as though he was going to call before announcing that he was all in. Volcovschi had just over 16,000 chips left and gave it some thought but decided to lay her hand down.