Joe Cada Wins the 2018 WSOP $3,000 No-Limit Hold'Em SHOOTOUT for $226,218

Niveau 36 : 40,000/80,000, 10,000 ante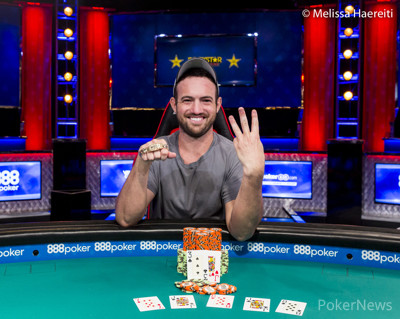 After 196 hands on the final table, Joe Cada won the 2018 WSOP $3,000 No-Limit Hold'Em SHOOTOUT for $226,218, after conquering two other tables on the first two days of the tournament. The gold WSOP bracelet that comes with this win is the third one for Cada, who also became the youngest-ever WSOP Main Event winner in history back in 2009.
In total there were 363 entries this year, narrowly missing out on breaking last year's numbers. Many other well-known players were in attendance and the final table was a great reflection of the quality of the field. Joe McKeehen, another Main Event winner, Sam Phillips, Anthony Reategui, Ihar Soika, Harry Lodge, and Joshua Turner.
"I'm feeling great, it's tough to win any No-Limit tournament," Cada said when he was asked how he felt after his win. "It means a lot to win my third bracelet. I have loved the WSOP ever since being a kid, I watched it all the time on TV. Winning these bracelets, it's unreal. You've got to just run good and I'm lucky to run better than everyone else. I like shootouts because you have to adjust constantly."
Final Table Results
| Place | Player | Country | Prize |
| --- | --- | --- | --- |
| 1 | Joe Cada | United States | $ 226,218 |
| 2 | Sam Phillips | United States | $ 139,804 |
| 3 | Joe McKeehen | United States | $ 101,766 |
| 4 | Jack Maskill | United Kingdom | $ 74,782 |
| 5 | Harry Lodge | United Kingdom | $ 55,480 |
| 6 | Ihar Soika | Belarus | $ 41,559 |
| 7 | Anthony Reategui | United States | $ 31,435 |
| 8 | Taylor Wilson | United States | $ 24,013 |
| 9 | Joshua Turner | United States | $ 18,526 |
| 10 | Jeffrey Trudeau | United States | $ 14,437 |
Final Table Action
The day started with Reategui really putting the pressure on the rest of the table, but the first elimination could be credited to Joe McKeehen when Jeffrey Trudeau ran his flopped ace-queen two pair into the turned nut-flush of McKeehen. Phillips took the honors of taking out Joshua Turner in ninth place when he flopped top pair with king-queen on the deuce-nine-queen flop. Turner had a flush draw with nine-eight suited but it never materialized and he hit the rail.
Taylor Wilson first doubled up against Jack Maskill with pocket kings and then gave it all back when Maskill woke up with pocket kings. Just after the break, Wilson found kings again, shoved and got called by Anthony Reategui with pocket sixes. The board ran out to give Reategui a straight on the river, taking Wilson out of the running. An increasingly active Reategui started playing more hands but found his Waterloo against McKeehen when they both turned a flush, but the latter had the higher card to take Reategui out.
This seemed to be the signal for McKeehen to start taking over all the action. His next victim was Ihar Soika who ran his king-nine into the ace-queen of McKeehen. Soika hit a pair on the flop but McKeehen hit a higher pair on the turn.
The UK's Harry Lodge was knocked out next. Lodge held ace-king and ran those cards into the pocket tens of McKeehen. The flush and straight draw Lodge picked up on the flop didn't come and he was sent packing in fifth place.
The last Brit at the table, Jack Maskill, was next to go when he called the all-in of Cada on a queen-nine-ace-king-ten board. Maskill held queen-ten for two pair but Cada had the better hand with pocket jacks which gave him a straight. Cada then doubled up against Phillips with pocket fives, leaving Phillips short. Right after that, Phillips tripled up and then Cada doubled him up again.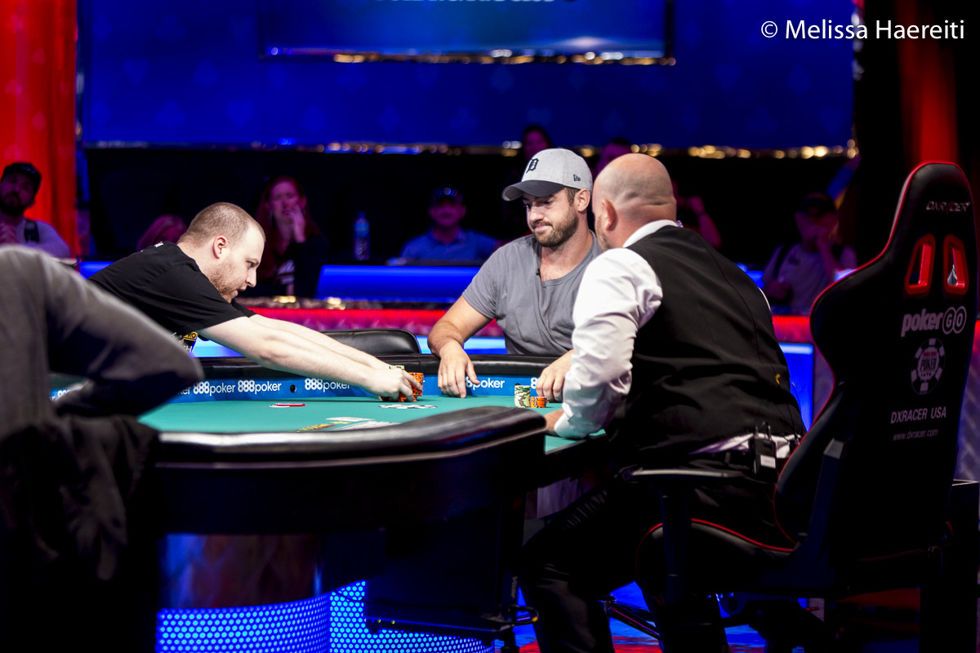 In the battles of the Joe's, McKeehen was the one to fall, four-bet shoving his pocket sixes into the pocket kings of Cada. Cada flopped a king and McKeehen turned a six but the river was a blank so the 2015 Main Event Champions was eliminated in third place. During the first hand of heads-up, Phillips doubled up with king-deuce against the ace-jack of Cada. They both flopped a pair but Cada had the higher one. The turn turned it all around as the king gave Phillips two pair for the double-up.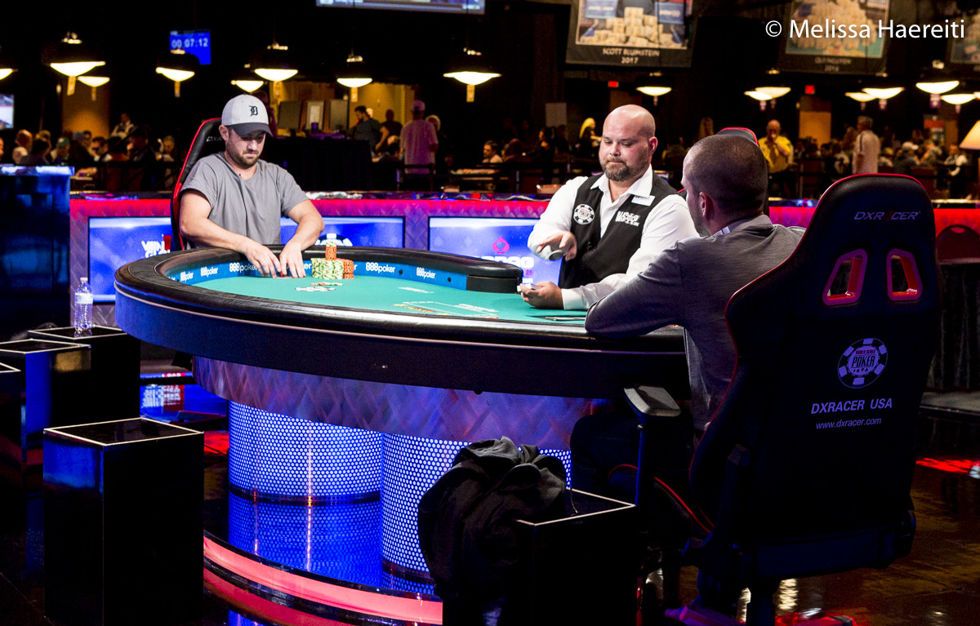 During the eighteenth hand of heads-up play, Phillips doubled up again with ace-four against the queen-nine of Cada, gaining confidence and taking over the action. By the twenty-second hands of heads-up, their stacks were pretty even again. Phillips three-bet-shoved on Cada and Cada called with pocket sixes. Phillips held ace-four and couldn't improve.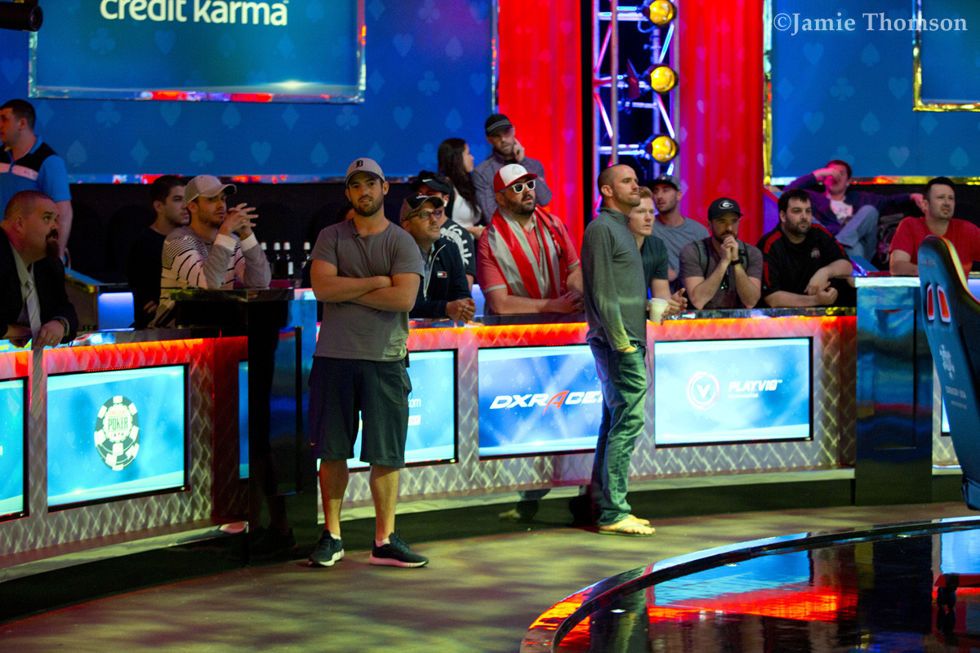 When asked what Cada was thinking during the hand, he replied: "I knew it was a call, just by playing so many heads-up matches, but the stakes were high. You want to give it a couple of seconds to just make sure, you know. It was for over 30 big blinds, so you know it was a big pot. But ultimately I just knew it was the call to make."
Phillips was left less than 2 big blinds and in the hand right after, he shoved eight-six into the jack-trey of Cada. They both flopped a pair with Cada having the higher pair. The turn brought another jack for Cada to give him trips and Phillips was drawing dead.
When Cada was asked about Phillips, he said the following: "I couldn't get rid of Sam and he couldn't get rid of me, he had his chance. But hats off to Sam on playing so well."
That concludes the SHOOTOUT, but the final table of Event #4: $1,500 Omaha Hi-Lo 8 or Better is still going on, Day 2 of Event #5: $100,000 No-Limit Hold'em High Roller is full of action too, and then there is also the Colossus and the Mixed Triple Draw Lowball. So whatever you need, the PokerNews live reporting team has something for every poker fan to enjoy.