Niveau 26 : 25,000/50,000, 50,000 ante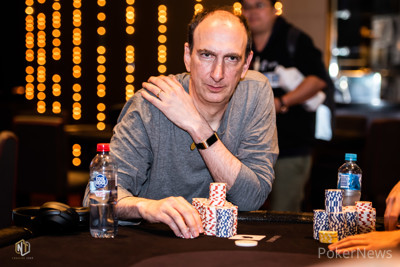 After more than 14 hours of poker action in the poker room of the Crown Casino complex in Melbourne, the seven-handed final table of the 2020 Aussie Millions A$10,600 Main Event has been set in the second-biggest field of 820 entries. Players from six different countries will return to the feature stage at 12.30 p.m. local time on Friday, January 24th, 2020, to play down to a champion and Erik Seidel headlines the final table line-up.
With over US$37 million in lifetime earnings, it's no secret that Seidel is more accustomed to final tabling Super High Rollers than 800-player fields. Just last week, he finished eighth in the Aussie Millions A$50,000 Challenge for A$198,850, and says that the Main Event field is very different to the High Roller scene.
"I'm used to playing these guys who are just the best players in the world," Seidel told PokerNews, "This is very different. There's this mixture of amateur players, with those who've got in through satellites. It's really a vacation for me to play in these fields where I'm not always feeling up against it because they're the best players in the world"
Seidel has been a vocal critic on Twitter of the length of the Main Event days, with the final seven battling an almost 15-hour day to secure a seat at the final table.
I love #AussieMillions but no one wants to play 13+ hours a day. Tournaments shouldn't be endurance contests

— Erik Seidel (@Erik_Seidel)
"I'm thrilled to get a day off," said Seidel. "I do think they should add a day or if they can't, maybe shorten some levels because I really needed this day off."
Seidel currently sits second in the all-time money list at Crown Melbourne, and a victory would get him within very close reach to none other than Phil Ivey.
Top Five in Cashes at Crown Melbourne
| Rank | Player | Country | Cashes (USD) |
| --- | --- | --- | --- |
| 1 | Phil Ivey | United States | $ 8,132,084 |
| 2 | Erik Seidel | United States | $ 6,707,142 |
| 3 | Sam Trickett | England | $ 5,004,286 |
| 4 | Mike McDonald | Canada | $ 4,455,466 |
| 5 | Patrik Antonius | Finland | $ 2,749,641 |
An advantage of the structure with 90-minute levels throughout the entire tournament is a deep-stacked final table in which Seidel, who sits in the middle of the pack with 3,975,000, has 68 big blinds at his disposal for the first full level of the showdown.
2020 Aussie Millions Final Table Seat Draw
| Seat | Player | Country | Chip Count | Big Blinds (25k/50k) | Big Blinds (30k/60k) |
| --- | --- | --- | --- | --- | --- |
| 1 | Nino Ullmann | Germany | 5,500,000 | 110 | 92 |
| 2 | Gareth Pepper | New Zealand | 2,465,000 | 49 | 41 |
| 3 | Vincent Wan | Australia | 4,150,000 | 83 | 69 |
| 4 | Erik Seidel | United States | 4,050,000 | 81 | 68 |
| 5 | Ngoc Tai Hoang | Vietnam | 1,875,000 | 38 | 31 |
| 6 | Nicolas Malo | Canada | 1,975,000 | 40 | 33 |
| 7 | Oliver Weis | Germany | 4,475,000 | 90 | 75 |
Nino Ullmann, who already led the field into Day 4, sits at the top of the leaderboard with a stack of 5,500,000 and he is followed by fellow German Oliver Weis with 4,475,000 and local cash game player Vincent "wonky" Wan (4,150,000). Wan is dubbed by staff as one of the luckiest players in the casino as he has already won the Royal Flush jackpot twice when a six-figure prize was up for grabs.
New Zealand's Gareth Pepper (2,465,000), Nicolas Malo from Canada (1,975,000) and Vietnam's Ngoc Tai Hoang (1,875,000) are the remaining three finalists in contention for the top prize of A$1,850,000 and have locked up a payday of A$240,080 thus far. There will be 2:41 remaining at blinds of 25,000/50,000 and a big blind ante of 50,000 when the action is set to recommence after a day off.
Del Vecchio Comes Just Short of Making History
One of the stories of the penultimate day in Melbourne was the quest of Mike Del Vecchio to reach an unprecedented third consecutive final table and the American poker pro came narrowly close once more. Especially early on, Del Vecchio was able to build his stack consistently and he was among the bigger stacks when the final three six-max tables were reached.
However, after bagging on 11 out of 11 consecutive tournament days, Del Vecchio was eventually sent to the rail in 10th place. After dropping to a short stack, he doubled with a full house over full house and it then took the biggest of setups in No-Limit Hold'em to end his amazing run. Del Vecchio held pocket kings and Vincent Wan tabled pocket aces, an ace on the flop all but sealed the fate and the turn paired the board.
Del Vecchio's Incredible Aussie Millions Run at a Glance
| Year | Final Position | Entries | Payout (AUD) | Payout (USD) |
| --- | --- | --- | --- | --- |
| 2020 | 10th | 820 | A$123,000 | $84,663 |
| 2019 | 2nd | 822 | A$1,272,162 | $914,304 |
| 2018 | 5th | 800 | A$370,000 | $299,033 |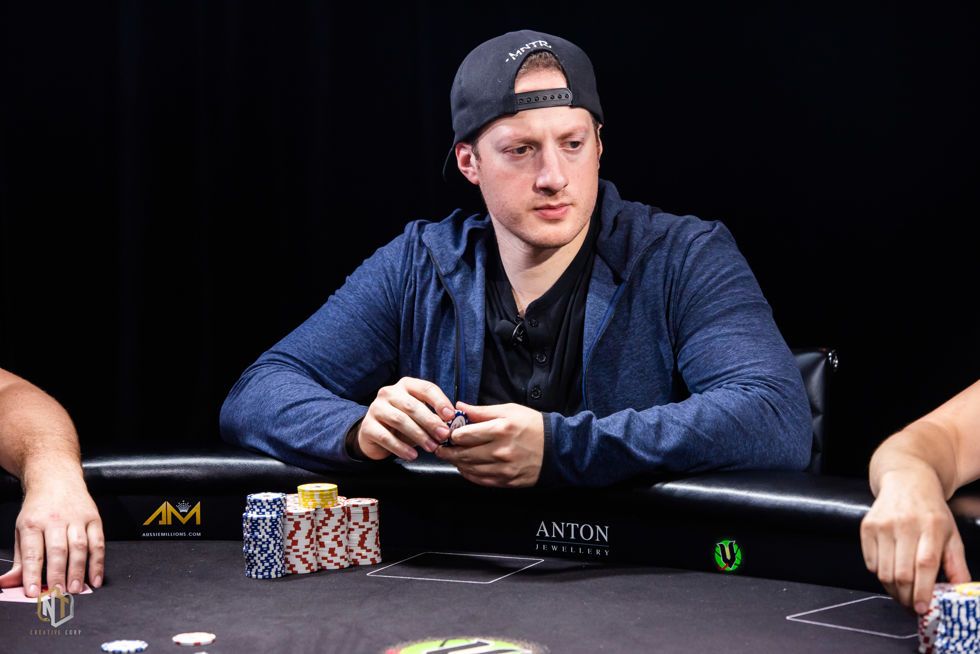 Other big names that came up close to reaching the final table were Nick Pupillo, mixed game specialist Bryce Yockey, Goran Mandic, Manig Loeser, and Fabian Quoss. Among the early casualties on Day 4, which saw 37 players return to the action, were familiar names such as Pete Chen, Scott Margereson, Randy Lew and Matthew Wantman.
Lew's hope of an even deeper run vanished when his flopped top pair and top kicker along with the nutflushdraw turned two pair, as Dingxiang Ong held a set of eights to leave Lew with a mountain to climb. Ong finished the job he had started the very next hand and Lew had to settle for 28th place.
One of the most spectacular hands of the day then took place on the final two tables and it represented a turning point for Oliver Weis, who is one of many German poker pros that call Vienna their home base these days. In three-way action, Weis got it in with a gutshot and flushdraw to find himself up against the nut flush draw of Michael Sideridis and the set of Vincent Wan. Weis hit a miracle straight for the triple up and Sideridis was ousted in 11th place.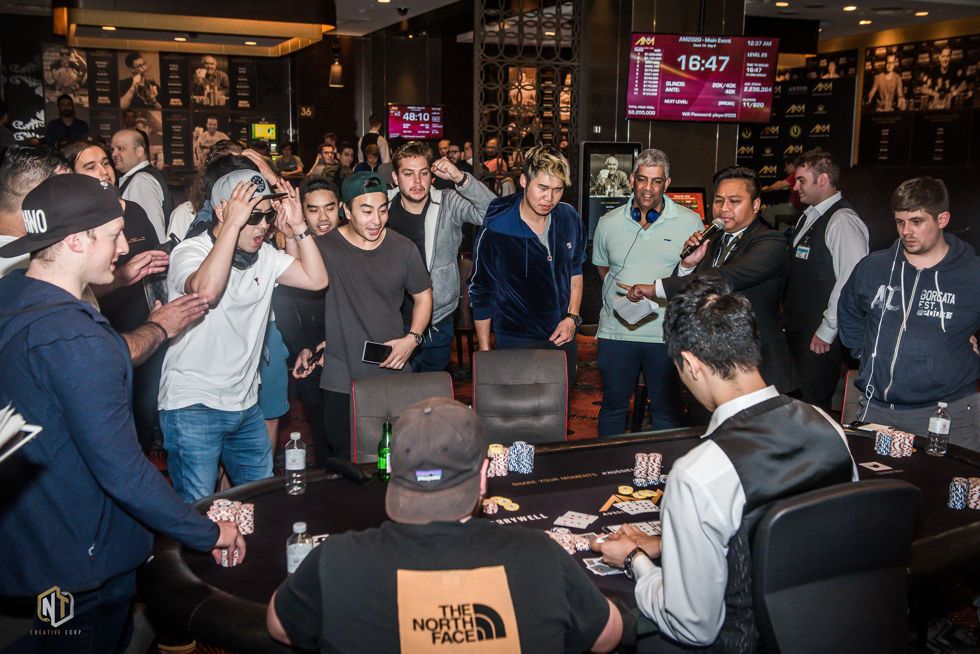 It took another two hours from there on to determine the seven finalists, who now get to enjoy a day off in preparation of the big showdown.
Remaining Payouts
| Place | Payout (in AUD) | Payout (in USD) |
| --- | --- | --- |
| 1 | A$1,850,000 | $1,273,381 |
| 2 | A$1,125,000 | $774,353 |
| 3 | A$661,000 | $454,976 |
| 4 | A$480,160 | $330,501 |
| 5 | A$378,660 | $260,637 |
| 6 | A$307,820 | $211,877 |
| 7 | A$240,080 | $165,250 |