Niveau 24 : 20,000/40,000, 40,000 ante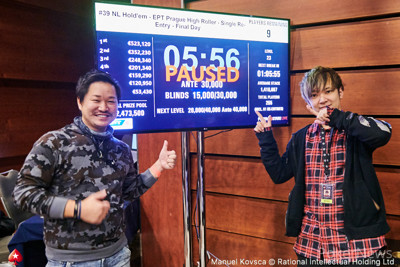 Masato Yokosawa and Tsugunari Toma are the two short stacks at the table and the Japanese videographer has been around to be sure to capture the all-in moment. That nearly came as both players took turns moving their chips into the middle.
First, it was Toma who shoved all in for 1,090,000 in the cutoff and Simon Pedersen asked for a count on the button but decided to not to call. In the next hand, Yokosawa shoved all in for 380,000 and it also got through.
"Matthias, why don't we have a photographer for Pokercode?" Pedersen asked.
"Can't afford one," Eibinger responded. "Maybe we can ask Fedor if he wants to do it."