€2,200 EPT National High Roller
Jours 2
€2,200 EPT National High Roller
Jour 2 terminé

Niveau 33 : 125,000-250,000, 250,000 ante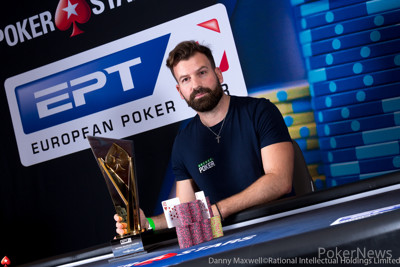 Fin novembre Alexandre Reard remportait le high-roller WSOPC Rotterdam et sa troisième bague pour un peu plus de 55 000€, le Français vient de récidiver à Prague à l'occasion du High Roller EPT National Prague à 2200€ l'entrée.
Alexandre Reard signe son plus gros gain en carrière dans une ville qui lui réussit bien. Il encaisse 342 810€ au Hilton de Prague, l'an passé le tricolore expatrié au Pays de Galles avait terminé 3e sur le 10 300€ de fin de festival pour 244 950€!
Vainqueur d'un field de 980 entrants, Reard a dominé l'Italien Luigi D'Alterio en head's-up après avoir étouffé ses adversaires lors de la finale. Le Français a conclu en une main... son dauphin se consolera avec 207 840€.
Lior Tal complète le podium (145,830€) d'un dernière table lancée par l'élimination du Français Jean-René Fontaine (9e - €25,440) par le futur dauphin. Alexandre Reard a lui sorti quatre adversaires en finale, il avait 20% des jetons au début du dernier sprint.
Le Français flirte désormais avec les 2,9 millions de dollars glanés sur le circuit live !
La Finale
| Place | Joueur | Pays | Prix (EUR) | ~Prix (USD) |
| --- | --- | --- | --- | --- |
| 1 | Alexandre Reard | France | €342,810 | $381,648 |
| 2 | Luigi D'Alterio | Italy | €207,840 | $231,387 |
| 3 | Lior Tal | Israel | €145,830 | $162,353 |
| 4 | Josip Vidovic | Croatia | €109,510 | $121,918 |
| 5 | Jose Quintas | Portugal | €84,740 | $94,341 |
| 6 | Christoforos Chrysochoidis | Greece | €62,390 | $69,459 |
| 7 | Piotr Wiecek | Poland | €45,350 | $50,489 |
| 8 | Robbie Toan | Ireland | €32,400 | $36,072 |
Le Jour 2 du tournoi avait repris avec 143 survivants alors que le Jour 1 du tournoi s'était étalé sur 17 niveaux de 40 minutes, mardi à Prague. Les rescapés étaient assurés d'un gain de 3 465€, le field est pourtant passé à moins de 80 survivants en deux heures de jeu, mercredi.
Kristen Bicknell, Viktor Blom, Dietrich Fast ou encore Michal Mrakes ont atteint l'argent sans parvenir jusqu'à la finale. Alexandre s'est lui offert le scalp de Sam Grafton (16e) ou de Clement Richez (18e) pour toujours être bien fourni en jetons.
[Removed:102] (24e), Julien Martini (17e), Jan-Eric Schwippert (15e), Yiannis Liperis (13e) n'ont rien pu faire contre la domination de l'ancien regular parisien. Finalement 6e après avoir été en tête jusqu'aux demi-finales, Christoforos Chrysochoidis n'a pas trouvé la solution non plus.
Le Jour 2 s'est étalé sur près de 13 heures, la finale en durant un peu moins de trois. Alexandre Reard a fait le plein de confiance pour le Main Event dont le Jour 1b est à suivre en direct de Prague, jeudi sur PokerNews.

Niveau 33 : 125,000-250,000, 250,000 ante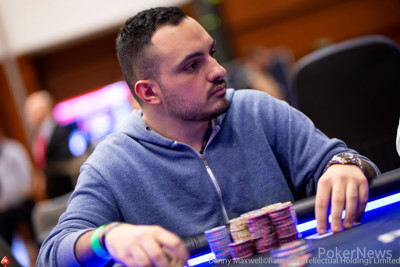 Luigi D'Alterio started the heads-up with a severe chip disadvantage against Alexandre Reard and it didn't last long. They very quickly saw a
flop where Reard checked to D'Alterio. The Italian fired a bet of 250,000 and Reard put him all in and at risk of elimination. He called for his tournament life and they opened up.
Reard showed
for top pair and he had the better hand against D'Alterio with
.
The turn was the
and the river the
and the rail, with last year's runner-up Sonny Franco on it, exploded after the last card of the tournament was dealt.
Luigi D'Alterio had to settle for €207,840 while Alexandre Reard takes home the first-place prize of €342,810.

Niveau 33 : 125,000-250,000, 250,000 ante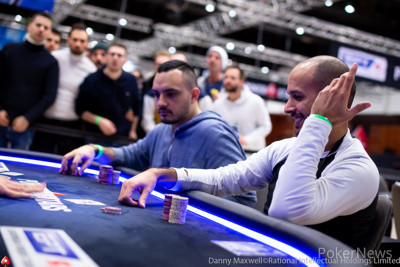 Alexandre Reard got his chips in the middle from the button and big blind Lior Tal called it off from the big blind for his last 2,775,000.
Lior Tal:

Alexandre Reard:
The board ran out
and Reard hit his ten on the turn to make a better hand than Tal. Tal got up from his seat and was sent to the cashier to collect €145,830.
Niveau 33 : 125,000-250,000, 250,000 ante
In a limped pot, Lior Tal check-called 300,000 from Alexandre Reard on
. Both players checked the
, bringing a
. Tal checked and Reard bet 850,000. Tal thought only briefly before calling but couldn't beat
.

Niveau 33 : 125,000-250,000, 250,000 ante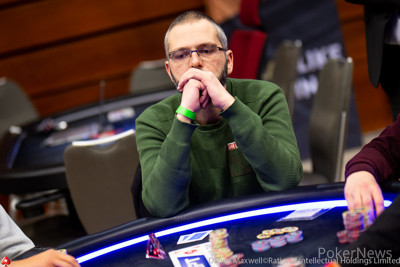 Josip Vidovic sat in the small blind when it folded to him and he pushed his last 2,975,000 to the middle with
. Alexandre Reard wanted a count from the big blind before he called it off with
.
Vidovic was in good shape against Reard but the flop brought
. The turn was the
and Reard improved even more on the
river.
Vidovic was eliminated in fourth place and he takes home €109,510. All remaining players are guaranteed €145,830.
Niveau: 33
Blinds: 125,000/250,000
Ante: 250,000

Niveau 32 : 100,000-200,000, 200,000 ante
The players were sent on a 15-minute break and are expected to take their seats again at 1:40 am local time. They will continue with blinds at 125,000/250,000 with a 250,000 big blind ante.

Niveau 32 : 100,000-200,000, 200,000 ante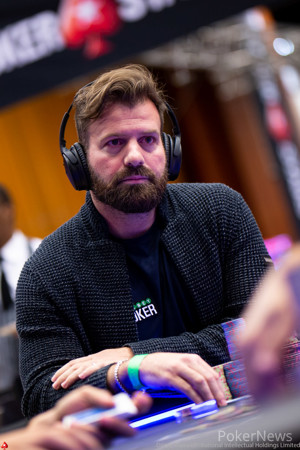 Alexandre Reard (big blind) was heads-up in a pot against Luigi D'Alterio (cutoff) with already over 1,500,000 in the middle. Reard bet 1,100,000 on the turn and he was called by D'Alterio to see the
on the river.
Reard fired a chunky 2,000,000 on the river and he was called after about a minute by D'Alterio. Reard showed
and that was enough to take down the pot.
D'Alterio is now close to the bottom of the leaderboard while Reard has over half of the chips in play.

Niveau 32 : 100,000-200,000, 200,000 ante
Josip Vidovic raised to 400,000 from the cutoff and Luigi D'Alterio three-bet to over 1,000,000. A very, very quick shove followed by Vidovic and D'Alterio folded even faster.
The tables have turned and Tal is now the short stack in the tournament while Reard is the first and only with over 10 million in front of him.
Joueur
Jetons
Progression

Alexandre Reard

10,800,000

1,000,000

Luigi D'Alterio

7,200,000

-400,000

Josip Vidovic

5,500,000

1,800,000

Lior Tal

4,400,000

-600,000