It was another buzzing day at the 2017 Winamax SISMIX Main Event as the third and final starting day took place at Casino de Marrakech. At one point the card room was even filled to the brim, as more than 320 warriors of the felt were seated simultaneous, but with a capacity of 356, not a single poker player had to wait to dive into the action.
Day 1c attracted a total of 492 entries, bringing the total tally of the Morrocan headliner up to a record-breaking 1,078 entries. That is the first time the Winamax SISMIX crosses the 1,000-player milestone, which also makes for the biggest prize pool to ever be paid out at the festival. The final distribution will not be announced until the cards are back in the air tomorrow, but the prize pool should handily surpass 5,500,000 Moroccan Dhiram equalling half a million Euro.
After 13 levels of 40 minutes each, the staggering field was reduced to 120 survivors. Best of the bunch today was the local player Said Haho, topping the standings by bagging and tagging 667,000, but he is closely followed by France's Ivan Deyra, who managed to turn his starting stack of 50,000 into a whopping 590,000. Neither of them was able to overtake the yellow jersey from day 1B leader Christophe Beyer, as his 687,000 will be enough for pole position when the play is restarted.
Rounding out the top-5 is Sofiene Belaid (570,500), Salim Sefiat (547,000) and Abdelkader Atigui (520,000), all way above tomorrow's chip average of 210,000 and change.
Team Winamax was yet again strongly represented with seven Pro's turning up at the felt, but once again it was a case of swing and a miss for the majority of them. Pierre Calamusa got off to a strong start and were up to 200,000 chips by the dinner break, but he fell short within the last two levels, as did teammates Sylvain Loosli and Aladin Reskallah.
However, It wasn't all bad for the Pro Team. Belgian Davidi Kitai had a bit of rollercoaster day, almost having doubled his starting stack shortly after being seated thanks to some thin value betting. Being a familiar face in the crowd, Kitai was maybe even more susceptible to opponents playing back, and he did face some impressive and interesting bluffs during the day. Ultimately Kitai bagged up a respectable 170,500 chips.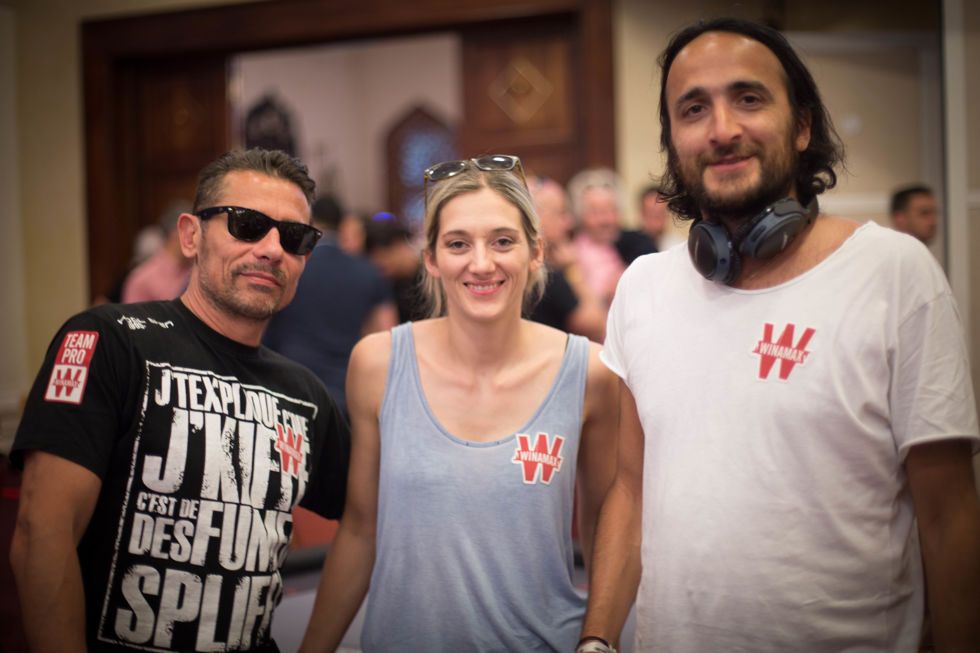 Also advancing is Gaelle Baumann (209,000) and Bruno Lopes (234,500), while former European Champion in Basketball, Winamax VIP Emmeline Ndongue, in impressive fashion managed to quadruple her starting stack.
The seat draw for Day 2 of the 2017 Winamax SISMIX Main Event will be provided as soon as it is made public, and the live reporting team will be back at lunch time tomorrow when the action resumes in level 14 at blinds of 2,500-5,000 and a running ante of 500. The plan for tomorrow will be 12 levels of 50 minutes each, while the level duration will be further increased to 60 minutes each on Sunday's finale.
All photos courtesy of Winamax