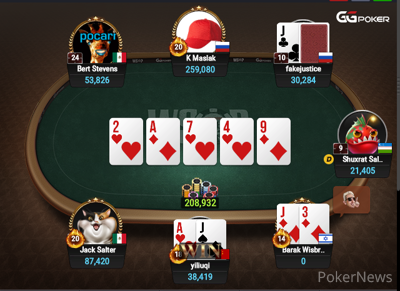 Blinds: 4,000/8,000
The action fell on Barak Wisbrod in the small blind where he elected to shove 100,966 and Jinlong "yiliuqi" Hu snapped from the big blind, putting Wisbrod at risk.
Barak Wisbrod:

Jinlong "yiliuqi" Hu:
Wisbrod was dominated and the
flop was of no help. The
turn brought a little bit of hope but the
cemented it for Hu, sending Wisbrod out the door.
Joueur
Jetons
Progression

Jinlong "yiliuqi" Hu

247,219

Barak Wisbrod

Eliminé