Niveau: 16
Limit:
Small Blind 2000
Big Blind 4000
Limits 4000-8000
Stud:
Ante 1000
Bring-in 1000
Complete 4000
Limits 4000-8000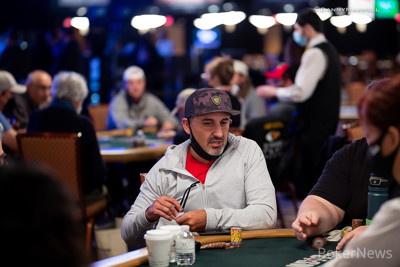 While a cold front might have swept through Las Vegas recently, the poker action at The Rio has remained red hot.
Today, look for that trend to continue with Day 2 of Event #27: $1,500 H.O.R.S.E. where 199 players are set to return out of a starting field of 594. Today, all remaining entrants are scheduled to play ten 60-minute levels. There will be a 15-minute break every two levels, with a 60-minute dinner break after level 21 (~8:30 p.m. (PST) local time).
Amongst the 199 remaining talents, there are numerous previous bracelet winners in search of another piece of jewellery for their case. A handful of those past gold gatherers near the top in chips includes Josh Arieh (2x Winner; 171,000 chips), John Monnette (4x Winner; 162,500 chips), Barry Greenstein (3x winner; 148,500 chips), and Jason Somerville (1x winner; 110,000 chips). Look for these top poker professionals to keep everyone on their toes as they navigate their way to a spot at the final table and a chance to repeat history.
Out of the 199 returnees, 90 of them will make the money and be going home with at least a $2,400 min-cash. One lucky participant, however, will be going home with the $160,636 first-place cash prize alongside a coveted WSOP gold bracelet. Which one of these talented players will make it all the way to the winner's circle? Stay tuned in to PokerNews to find out.
Please join us here on PokerNews for continued live updates of this Event #27: $1,500 H.O.R.S.E. as well as all WSOP events, or live here at The Rio where the cards will be back in the air at 2:00 p.m. (PST) local time.
| Room | Table | Seat | Player | Country | Chip Count |
| --- | --- | --- | --- | --- | --- |
| Amazon | 491 | 1 | Renato Labadan | United States | 25,500 |
| Amazon | 491 | 2 | Darren Kennedy | Canada | 59,500 |
| Amazon | 491 | 3 | Jerry Wong | United States | 102,500 |
| Amazon | 491 | 4 | Jeremy Ensrud | United States | 6,500 |
| Amazon | 491 | 5 | Sami Hamid | United States | 25,000 |
| Amazon | 491 | 6 | Marc Booth | United States | 49,500 |
| Amazon | 491 | 7 | Tony Hartmann | United States | 38,000 |
| | | | | | |
| Amazon | 492 | 1 | Jan Stein | United States | 19,000 |
| Amazon | 492 | 2 | Bryan Micon | United States | 47,000 |
| Amazon | 492 | 3 | Kosei Ichinose | Japan | 29,000 |
| Amazon | 492 | 4 | Brian Hastings | United States | 98,000 |
| Amazon | 492 | 5 | Mori Eskandani | United States | 56,000 |
| Amazon | 492 | 6 | Ben Landowski | United States | 173,000 |
| Amazon | 492 | 7 | Ari Engel | United States | 76,500 |
| Amazon | 492 | 8 | Joe Aronesty | United States | 69,000 |
| | | | | | |
| Amazon | 493 | 1 | Randy Ohel | United States | 102,500 |
| Amazon | 493 | 2 | Michael Dreese | United States | 40,000 |
| Amazon | 493 | 3 | Fabio Coppola | United States | 80,500 |
| Amazon | 493 | 4 | German Quintero | United States | 1 |
| Amazon | 493 | 5 | Curtis Phelps | United States | 161,500 |
| Amazon | 493 | 6 | Amir Tavanae | United States | 98,000 |
| Amazon | 493 | 7 | Matt Grapenthien | United States | 18,500 |
| Amazon | 493 | 8 | Clayton Mozdzen | Canada | 158,000 |
| | | | | | |
| Amazon | 494 | 1 | Vid Zagar | Slovenia | 48,500 |
| Amazon | 494 | 2 | Colin Burton | Canada | 120,000 |
| Amazon | 494 | 3 | Johnny Price | United States | 100,500 |
| Amazon | 494 | 4 | Dustin Dirksen | United States | 97,000 |
| Amazon | 494 | 5 | Daham Wang | United States | 69,000 |
| Amazon | 494 | 6 | Hernan Salazar | United States | 60,500 |
| Amazon | 494 | 7 | Raymond Smego-Barranco | United States | 58,500 |
| Amazon | 494 | 8 | Jeffrey Mitseff | United States | 50,000 |
| | | | | | |
| Amazon | 495 | 1 | Kevin Song | United States | 93,500 |
| Amazon | 495 | 2 | Shaun Deeb | United States | 72,000 |
| Amazon | 495 | 3 | Jared Hemingway | United States | 127,500 |
| Amazon | 495 | 4 | Igor Tiguy | United States | 32,500 |
| Amazon | 495 | 5 | Zaher Sayegh | United States | 107,500 |
| Amazon | 495 | 6 | Walter Rodriguez | Mexico | 91,500 |
| Amazon | 495 | 7 | Constantine Zdanowich | United States | 73,500 |
| Amazon | 495 | 8 | Allen Kessler | United States | 53,500 |
| | | | | | |
| Amazon | 496 | 1 | Hye Park | United States | 161,000 |
| Amazon | 496 | 2 | David Melius | United States | 102,000 |
| Amazon | 496 | 3 | Andrew Latto | United States | 58,000 |
| Amazon | 496 | 4 | Michael Coombs | United States | 170,500 |
| Amazon | 496 | 5 | Hyon Chun | United States | 43,500 |
| Amazon | 496 | 6 | John Elvidge | United States | 93,500 |
| Amazon | 496 | 7 | Richard Fuller | United States | 20,000 |
| Amazon | 496 | 8 | Nicholas Derke | United States | 17,000 |
| | | | | | |
| Amazon | 498 | 1 | Mark Provenzano | United States | 77,000 |
| Amazon | 498 | 2 | Kendall Fukumoto | United States | 47,500 |
| Amazon | 498 | 4 | Christine Pietsch | United States | 136,000 |
| Amazon | 498 | 5 | Jason Maxwell | United States | 105,500 |
| Amazon | 498 | 6 | Earnest Caviness | United States | 60,000 |
| Amazon | 498 | 7 | John Monnette | United States | 162,500 |
| Amazon | 498 | 8 | Brian Caplan | United States | 93,500 |
| | | | | | |
| Amazon | 499 | 1 | Adam Farber | United States | 10,500 |
| Amazon | 499 | 2 | Jason Papastavrou | United States | 120,500 |
| Amazon | 499 | 4 | David Williams | United States | 90,000 |
| Amazon | 499 | 5 | Paul Sokoloff | United Kingdom | 26,000 |
| Amazon | 499 | 6 | John Mayhew | United States | 47,000 |
| Amazon | 499 | 7 | Ann Bloom | United States | 50,500 |
| Amazon | 499 | 8 | Daniel Mosevich | United States | 96,500 |
| | | | | | |
| Amazon | 500 | 1 | David Singer | United States | 71,000 |
| Amazon | 500 | 2 | Jun Obara | Japan | 84,000 |
| Amazon | 500 | 3 | Fredrik Much | United States | 57,000 |
| Amazon | 500 | 4 | Max Pescatori | Italy | 98,500 |
| Amazon | 500 | 5 | Dustin Leary | United States | 35,500 |
| Amazon | 500 | 6 | Kenneth Reisch | United States | 28,500 |
| Amazon | 500 | 7 | Katherine Fleck | United States | 62,500 |
| Amazon | 500 | 8 | Norman Chad | United States | 91,000 |
| | | | | | |
| Amazon | 501 | 1 | Anthony Zinno | United States | 54,500 |
| Amazon | 501 | 2 | Tom McCormick | United States | 40,000 |
| Amazon | 501 | 3 | Aron Dermer | United States | 86,500 |
| Amazon | 501 | 4 | Brett Richey | United States | 54,000 |
| Amazon | 501 | 5 | Yuebin Guo | United States | 57,500 |
| Amazon | 501 | 6 | Ricardo Quintero | United States | 30,000 |
| Amazon | 501 | 7 | Kenny Hsiung | United States | 29,000 |
| Amazon | 501 | 8 | Jeff Thompson | United States | 31,000 |
| | | | | | |
| Amazon | 502 | 1 | Oxana Cummings | United States | 52,500 |
| Amazon | 502 | 2 | Christopher Vitch | United States | 68,000 |
| Amazon | 502 | 3 | James Little | United States | 74,500 |
| Amazon | 502 | 4 | Schuyler Thornton | United States | 63,500 |
| Amazon | 502 | 5 | John Holley | United States | 209,500 |
| Amazon | 502 | 6 | Abraham Laveaga | United States | 105,000 |
| Amazon | 502 | 7 | Michelle Lousen | United States | 43,000 |
| Amazon | 502 | 8 | Mike Puskarich | United States | 46,000 |
| | | | | | |
| Amazon | 505 | 1 | Robert Theobald | United States | 33,000 |
| Amazon | 505 | 2 | Daryl Nickerson | United States | 113,500 |
| Amazon | 505 | 3 | Timothy Frazin | United States | 76,500 |
| Amazon | 505 | 4 | Adam Owen | United Kingdom | 220,000 |
| Amazon | 505 | 5 | Drew Scott | Canada | 141,500 |
| Amazon | 505 | 6 | Jermaine Reid | United States | 84,000 |
| Amazon | 505 | 7 | Barry Greenstein | United States | 148,500 |
| Amazon | 505 | 8 | Amin Harbeh | United States | 8,500 |
| | | | | | |
| Amazon | 506 | 1 | James Scott | United States | 58,000 |
| Amazon | 506 | 2 | Eddie Blumenthal | United States | 86,000 |
| Amazon | 506 | 3 | Natasha Narine | United States | 66,500 |
| Amazon | 506 | 4 | Robert Ford | United States | 118,000 |
| Amazon | 506 | 5 | Brock Parker | United States | 103,500 |
| Amazon | 506 | 6 | Chino Rheem | United States | 16,500 |
| Amazon | 506 | 7 | Robert Mather | United States | 51,500 |
| Amazon | 506 | 8 | Christopher Barnes | United States | 131,500 |
| | | | | | |
| Amazon | 507 | 1 | Robert Mion | United States | 111,000 |
| Amazon | 507 | 2 | Robert Chow | United States | 156,000 |
| Amazon | 507 | 3 | Josh Arieh | United States | 171,000 |
| Amazon | 507 | 5 | Gina Hecht | United States | 61,000 |
| Amazon | 507 | 6 | Ariel Shefer | United Kingdom | 75,000 |
| Amazon | 507 | 7 | Ian Johns | United States | 107,000 |
| | | | | | |
| Amazon | 508 | 1 | John Esposito | United States | 60,500 |
| Amazon | 508 | 2 | Joe McKeehen | United States | 24,500 |
| Amazon | 508 | 3 | Marc Rabuse | United States | 35,500 |
| Amazon | 508 | 4 | David Martin | United States | 101,500 |
| Amazon | 508 | 6 | Robert Goldfarb | United States | 26,500 |
| Amazon | 508 | 7 | Thomas Hunt | United States | 69,000 |
| Amazon | 508 | 8 | Sean Eichendorf | Canada | 91,500 |
| | | | | | |
| Amazon | 509 | 1 | Itsuko Yoroi | Japan | 90,500 |
| Amazon | 509 | 2 | Ben Tang | United States | 57,500 |
| Amazon | 509 | 3 | Hermilo Santana | United States | 66,000 |
| Amazon | 509 | 4 | Michael Souchak | United States | 20,000 |
| Amazon | 509 | 5 | Zane Johnson | United States | 50,500 |
| Amazon | 509 | 6 | Alex Livingston | Canada | 95,000 |
| Amazon | 509 | 7 | Steven Pollack | United States | 39,000 |
| Amazon | 509 | 8 | Peter Dirksen | United States | 45,000 |
| | | | | | |
| Amazon | 512 | 1 | William Short | United States | 30,500 |
| Amazon | 512 | 2 | Cory Zeidman | United States | 65,000 |
| Amazon | 512 | 3 | Keely Anders | United States | 50,000 |
| Amazon | 512 | 4 | Jason Phamolivo | United States | 86,500 |
| Amazon | 512 | 5 | Frank Muir | United States | 127,500 |
| Amazon | 512 | 6 | Brian Nunneley | United States | 38,700 |
| Amazon | 512 | 7 | Chris Wallace | United States | 57,000 |
| Amazon | 512 | 8 | Bradley Jansen | United States | 56,500 |
| | | | | | |
| Amazon | 513 | 1 | William Todd | United States | 88,500 |
| Amazon | 513 | 2 | Mark Dickstein | United States | 300,000 |
| Amazon | 513 | 4 | Jason Simon | United States | 34,500 |
| Amazon | 513 | 5 | Stanley Manuel | United States | 65,500 |
| Amazon | 513 | 6 | Cory Salzillo | United States | 88,500 |
| Amazon | 513 | 7 | David Danheiser | United States | 37,000 |
| Amazon | 513 | 8 | Mitchell Huff | United States | 13,500 |
| | | | | | |
| Amazon | 514 | 1 | David "Bakes" Baker | United States | 50,000 |
| Amazon | 514 | 2 | John Cernuto | United States | 80,000 |
| Amazon | 514 | 3 | Sachin Bhargava | United States | 70,500 |
| Amazon | 514 | 4 | Michael Parizon | United States | 113,000 |
| Amazon | 514 | 5 | Barry Ingram | United States | 176,500 |
| Amazon | 514 | 6 | Christopher Adams | United States | 71,500 |
| Amazon | 514 | 7 | Jason Somerville | United States | 110,000 |
| Amazon | 514 | 8 | Brendan Taylor | United States | 21,000 |
| | | | | | |
| Amazon | 515 | 1 | Kao Chieng Saechao | United States | 94,000 |
| Amazon | 515 | 2 | Gary Smart | United States | 37,500 |
| Amazon | 515 | 4 | Roland Israelashvili | United States | 85,000 |
| Amazon | 515 | 5 | James Woods | United States | 121,000 |
| Amazon | 515 | 6 | Carlos Rodriguez | United States | 79,500 |
| Amazon | 515 | 7 | Phil Hellmuth | United States | 74,000 |
| Amazon | 515 | 8 | Holly Jones | United States | 82,500 |
| | | | | | |
| Amazon | 516 | 1 | Scott Baumstein | United States | 12,000 |
| Amazon | 516 | 2 | Mike Wattel | United States | 60,000 |
| Amazon | 516 | 3 | Kristan Lord | United States | 39,000 |
| Amazon | 516 | 4 | Kai Hicks | United States | 120,000 |
| Amazon | 516 | 5 | Terrence Hastoo | United States | 38,000 |
| Amazon | 516 | 6 | Glenn Engelbert | United States | 36,000 |
| Amazon | 516 | 7 | Christopher Schmitz | United States | 136,500 |
| Amazon | 516 | 8 | Bryan Hurdle | United States | 73,500 |
| | | | | | |
| Amazon | 519 | 1 | Qinghai Pan | United States | 59,500 |
| Amazon | 519 | 3 | Richard Sklar | United States | 106,000 |
| Amazon | 519 | 4 | Bruce Zalkin | United States | 29,500 |
| Amazon | 519 | 5 | Scott Bohlman | United States | 62,000 |
| Amazon | 519 | 6 | Ramachandra Nagaraja | United States | 17,500 |
| Amazon | 519 | 7 | Isaac Crow | United States | 109,500 |
| Amazon | 519 | 8 | Kenneth Bruno | United States | 59,000 |
| | | | | | |
| Amazon | 520 | 1 | Paul Holder | United States | 118,000 |
| Amazon | 520 | 3 | Todd Brenn | United States | 103,500 |
| Amazon | 520 | 4 | Peter Brownstein | United States | 85,000 |
| Amazon | 520 | 5 | Chris Papastratis | United States | 55,000 |
| Amazon | 520 | 6 | Sergey Zaporozhets | Russia | 100,500 |
| Amazon | 520 | 7 | Donny Rubinstein | United States | 173,000 |
| Amazon | 520 | 8 | Bruce Hoyt | United States | 36,000 |
| | | | | | |
| Amazon | 521 | 1 | Ryan Roeder | United States | 20,000 |
| Amazon | 521 | 2 | Kima Kimura | United States | 33,500 |
| Amazon | 521 | 4 | Todd Ivens | United States | 168,000 |
| Amazon | 521 | 5 | Scott Castelluccio | United States | 30,500 |
| Amazon | 521 | 6 | Hassan Kamoei | United States | 81,500 |
| Amazon | 521 | 7 | Koray Aldemir | Germany | 186,500 |
| Amazon | 521 | 8 | Carol Fuchs | United States | 61,500 |
| | | | | | |
| Amazon | 522 | 1 | Felipe Ramos | Brazil | 50,500 |
| Amazon | 522 | 2 | Bradley Smith | Canada | 109,000 |
| Amazon | 522 | 3 | Ron Ware | United States | 104,000 |
| Amazon | 522 | 4 | Darrel Plant | United States | 27,500 |
| Amazon | 522 | 6 | Ross Hoffman | United States | 6,500 |
| Amazon | 522 | 7 | Michael Rosenberg | United States | 41,000 |
| Amazon | 522 | 8 | David Funkhouser | United States | 188,000 |
| | | | | | |
| Amazon | 523 | 1 | Thomas Hannon | United States | 24,000 |
| Amazon | 523 | 2 | Troy Evans | United States | 86,000 |
| Amazon | 523 | 3 | Marc Magazu | United States | 98,000 |
| Amazon | 523 | 4 | Joe Brindle | United Kingdom | 90,000 |
| Amazon | 523 | 5 | Pearce Arnold | United States | 82,000 |
| Amazon | 523 | 6 | David Panzarella | United States | 92,000 |
| Amazon | 523 | 7 | Mark Bassaly | United States | 92,500 |
| Amazon | 523 | 8 | Kenneth Po | United States | 101,000 |
Event #27: $1,500 H.O.R.S.E
Jour 2 a débuté