Event #43: $500 Freezeout No-Limit Hold'em
Jours 1
Event #43: $500 Freezeout No-Limit Hold'em
Jour 1 a débuté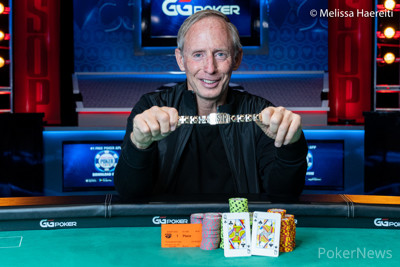 Anthony Koutsos had the dream of every player at the World Series of Poker come true.
The San Francisco real estate agent's largest previous cash was $6,000. He had never cashed in a WSOP event. Then, at the 2021 WSOP, he won the $500 No-Limit Hold'em Freezeout, outlasting a massive field of 2,930 players to take home $167,272 and the prestigious gold bracelet.
A similar fate awaits one lucky player when Event #43: $500 Freezeout No-Limit Hold'em begins today at 11 a.m. local time. Another large field will gather in the Paris Ballroom, an eclectic mix of seasoned pros and amateurs taking their shot at WSOP glory, just like Koutsos did last year
2021 $500 Freezeout No-Limit Hold'em Final Table
| | | | |
| --- | --- | --- | --- |
| Place | Player | Country | Winnings |
| 1 | Anthony Koutsos | United States | $167,272 |
| 2 | Charbel Kanterjian | Canada | $103,403 |
| 3 | Dongsheng Zhang | United States | $77,600 |
| 4 | Jonah Lopas | United States | $58,685 |
| 5 | Sundiata DeVore | United States | $44,725 |
| 6 | Jacob Rich | United States | $34,353 |
| 7 | Ronald Ibbetson | United States | $26,595 |
| 8 | John Moss | United States | $20,753 |
| 9 | Fausto Valdez | United States | $16,324 |
Play on Day 1 will consist of 22 half-hour levels. There will be a 75-minute dinner break after Level 12, which should come around 5:40 p.m. Late registration is open through the end of the dinner break and since this is a freezeout, no reentries are allowed.
This is a two-day event, so action should be fast and furious. A starting stack of 25,000 will be worth only 10 big blinds after just six hours of play.
It is the perfect opportunity for a player to realize their dream, and PokerNews will be on hand to capture all the action until one champion is left standing.

Play is now underway on Day 1.
With 2,966 players currently registered, today's field has already surpassed the total from last year's event.
Niveau: 1
Blinds: 100/100
Ante: 100

Niveau 1 : 100/100, 100 ante
Players to take their seat in the Paris Ballroom for the start of the event include bracelet winners Jeremy Wien and Michael Perrone, as well as PokerNews's Blaise Bourgeois.

Niveau 1 : 100/100, 100 ante
All the money was already in the middle on a
flop as Walter Pizzi had an opponent all in for his last 1,000.
The all-in player was showing
, but Pizzi had out-flopped him with
for a pair of kings.
The board ran out
and Pizzi knocked out his opponent 15 minutes into Level 1.
According to Pizzi, the player had raised pre-flop and received multiple callers before Pizzi bet 2,000 on the flop, forcing everyone else out.
Joueur
Jetons
Progression

Walter Pizzi

58,000

58,000

Niveau 1 : 100/100, 100 ante
Three players, including Fabrizio Di Santo in the small blind, put in 1,100 and saw a flop of
.
Di Santo led out for 2,000 and the player in the big blind called, while the button got out of the way.
The turn came the
and Di Santo bet another 7,000. The big blind called again and they went heads up to the
river.
Di Santo announced he was all in for his last 15,000 before his opponent quickly mucked. Di Santo flashed the
as he took the pot.
Joueur
Jetons
Progression

Fabrizio Di Santo

35,000

35,000
Niveau: 2
Blinds: 100/200
Ante: 200

Niveau 2 : 100/200, 200 ante
Ren Lin has entered the tournament early on Level 2 and is already taking down pots.
In his last hand, Lin and an opponent went heads up to a
flop in a blind versus blind confrontation. The small blind bet 800 and Lin called.
Both players checked the
turn before the small blind threw out another 600 on the
river.
Lin snap-called as his opponent turned over
for a pair of threes. Lin, though, had
for a pair of aces to take down the early pot.
Joueur
Jetons
Progression

Ren Lin

29,000

29,000
Niveau 2 : 100/200, 200 ante
A player in middle position opened to 700 and was called by a player in late position and Ken Aldridge out of the small blind.
Aldridge checked to the middle position player on a flop of
and the initial raiser continued for 1,000. Both the late position player and Aldridge called to keep action three-handed headed to the turn.
Aldridge took the betting lead on the
turn, betting out 1,300. That was enough to get the middle position player to fold but the player in late position was going nowhere and made the call.
The
river did nothing to convince Aldridge to slow down as he fired off another bet, this time sizing down to 1,100. His opponent thought for a little while before making the call. Aldridge showed down
for a pair but it was no good as the late position player flipped over
for turned trips.