Patrick Leonard & Espen Jørstad Win 2022 WSOP Event #55: $1,000 Tag Team ($148,067)

Niveau 33 : 125,000/250,000, 250,000 ante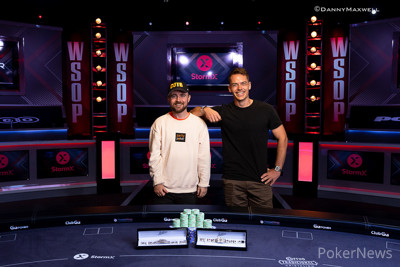 After four days of play, Team Leonard — comprised of Patrick Leonard and Espen Jørstad — have won Event #55: $1,000 Tag Team for $148,067 after topping a field of 913 teams.
The popular format once again created a buzz around the new home of the World Series of Poker (WSOP) at Paris and Bally's Las Vegas, with the final day played under the lights on the PokerGO live stream.
A rapid-fire start culminated in a rollercoaster heads-up against the team of Jamie Kerstetter and Corey Paggeot, who had come into the day as the chip leaders, with the chip lead trading hands on multiple occasions. The final four players were all looking for their first bracelets, but it was Leonard and Jørstad who came out on top after overcoming an almost 6:1 heads-up chip advantage.
Event #55: $1,000 Tag Team Final Table Results
| Place | Team | Country | Payout (USD) |
| --- | --- | --- | --- |
| 1 | Patrick Leonard & Espen Jørstad | United Kingdom / Norway | $148,067 |
| 2 | Jamie Kerstetter & Corey Paggeot | United States | $91,513 |
| 3 | Yutaro Tsugaru & Taichi Ichikawa | Japan | $65,059 |
| 4 | Franco Spitale & Martin Pochat | Argentina | $46,904 |
| 5 | Mackenzie Kraemer & Jon Schiller | United States | $34,299 |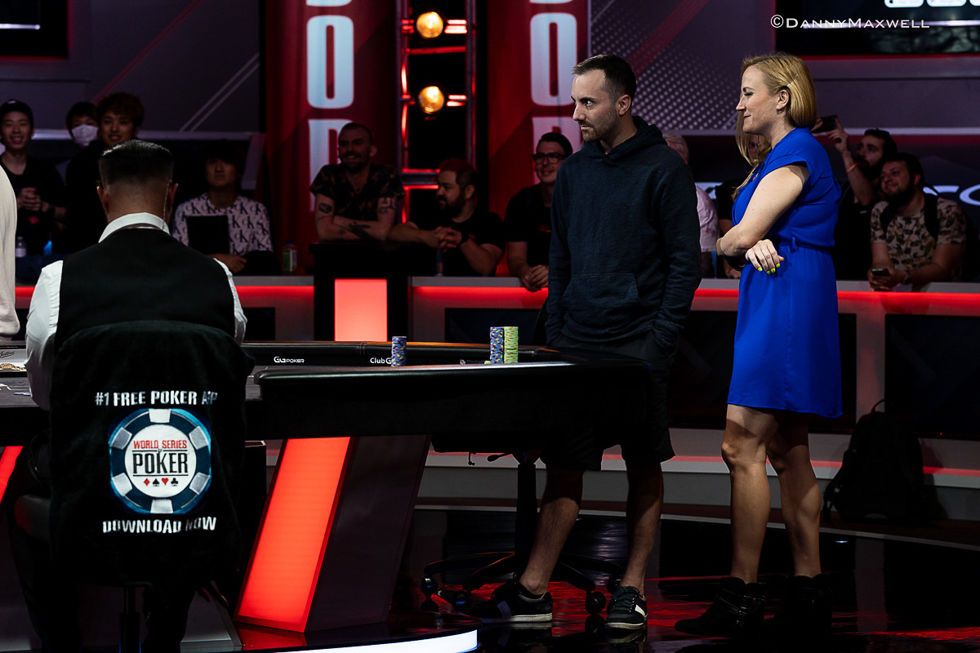 Winner's Reaction
It was an Instagram post that led to both Leonard and Jørstad becoming Tag Team partners, and after Jørstad played all of Day 1 Leonard said that he had a lot of confidence in his partner. Jørstad meanwhile had only praise for his partner after a series of "absurd" plays midway through the tournament.
"He was just making some absurd adjustments," said Jørstad. "Folding tens to a three-bet and the opponent shows aces. Folding jacks and the guy shows queens. Just absurd plays. And I was like 'Ok, we're winning this.'"
Leonard said that the biggest advantage both he and Jørstad had was their freshness, dividing the time at the table over the past few days in order to capitalize on it at the final table.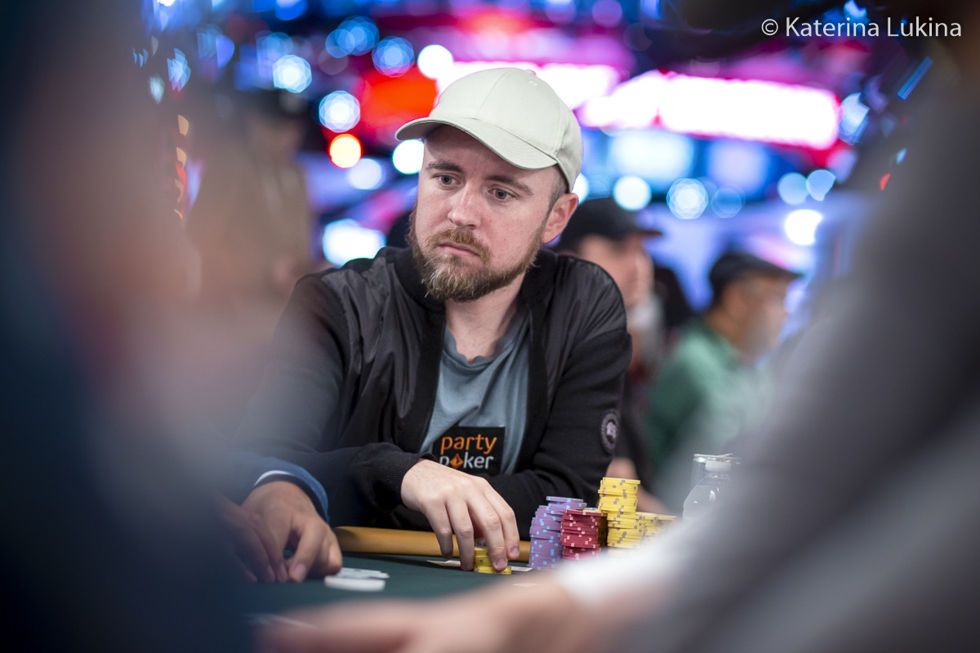 "A lot of people had played solo for the last few days," said Leonard. "Some had played four days by themselves, whereas we've probably played about 50:50. We were fresh and taking hours in, hours out, and when I was out I was studying and I knew what to do coming in, so that was our biggest advantage."
"We were prepared for a really hard grind," said Jørstad. "We had two coolers in our favor in the beginning and that got us up pretty good."
A pivotal hand where Jørstad five-bet shoved ace-jack saw them open a large heads-up chip lead before immediately tagging in Leonard to close out the victory.
Despite watching the final hand from the sidelines, Jørstad said that he himself felt all in watching Leonard in action.
"I felt 100% of the all in," said Jørstad. "It was against the team we wanted to get heads-up against as well. Jamie is obviously very popular in the community, everyone loves her - Corey as well - it felt really nice getting heads-up with them and winning in the end."
That was so much fun, @CoreyPaggeot was an awesome tag team partner

— Jamie Kerstetter (@JamieKerstetter)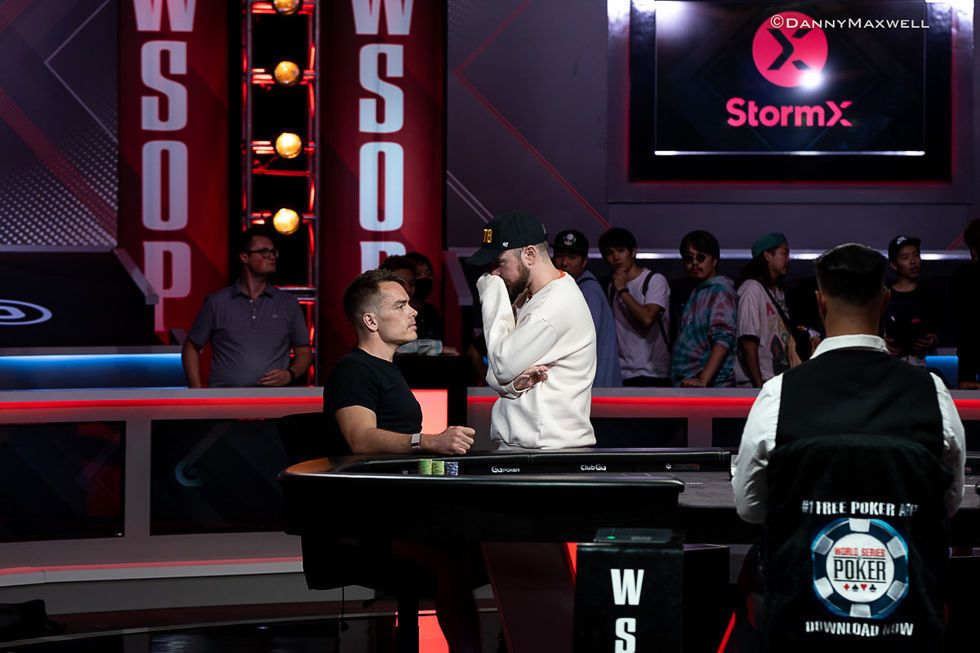 Day 4 Recap
The opening exchanges on the final day were cagey, with no team wanting to be the first to bust on the PokerGO live stream.
Team Paggeot held the overnight chip lead and extended it during the opening exchanges that included Team Kraemer running nines into jacks to bust to Kerstetter.
Leonard secured a vital double a few minutes later in an action-packed start, before Franco Spitale was sent to the rail, again by Kerstetter.
Team Leonard and Team Tsugaru were battling it out behind Team Paggeot, and it was Tsugaru who blinked first. Paggeot sent them to the payouts desk after rivering a pair.
That saw Team Kerstetter hold a huge heads-up chip lead over Team Leonard, but the tables flipped after two doubles for Jørstad through Paggeot.
Despite the rising blinds, the lead would change hands on numerous occasions before Jørstad opened up a sizeable chip lead. He tagged in Leonard who closed it out for his and Jørstad's first WSOP bracelets.
That does it for PokerNews coverage from Event #55: $1,000 Tag Team but there are still plenty of tournaments at the 2022 WSOP. Click here to see what other events PokerNews is reporting now.