$1,500 No-Limit 2-7 Lowball Draw: Frank Kassela Wins Third WSOP Bracelet
Niveau 27 : 20,000/40,000, 10,000 ante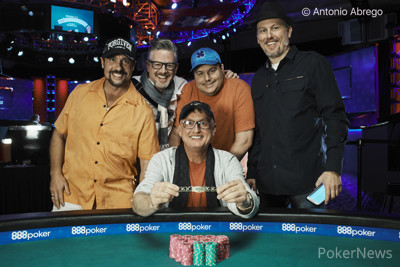 Frank Kassela wrapped up his third World Series of Poker gold bracelet, his first in a non-stud event, after defeating Bernard Lee heads-up for $89,151 in Event #13: $1,500 No-Limit 2-7.
"Nothing feels better than winning a World Series of Poker bracelet when you're a poker player," Kassela said shortly after winning.
Kassela came from behind to best Lee, who entered the day as the chip leader and held the top spot for most of the day. Kassela stood pat on the final hand with a jack after calling Lee's all-in bet. Lee was drawing one and hit a pair to finish as the runner-up and collect $55,086.
The third-place finisher was Tim McGuigan, who earned his first-ever WSOP cash to the tune of $37,032. At one point, McGuigan held the chip lead, and during most of three-handed play he seemed content to let Kassela and Lee battle it out. Eventually, though, he got short and was all in against Lee. Lee patted a queen-jack, and McGuigan couldn't dodge a pair.
McGuigan was the one who eliminated fourth-place finisher Matt Waxman. Waxman, who started Day 2 with five big blinds, rode an early triple-up all the way to fourth place. On his final hand, he couldn't outdraw McGuigan. Waxman was drawing to a seven and made a jack. Meanwhile, McGuigan was drawing to a nine and made a ten to win the hand and send Waxman to the rail with $25,451.
Kassela was the one who knocked out Jared Bleznick in fifth place. Bleznick entered the unofficial final table of eight players with a 100,000-chip lead, but the final level of Day 2 left him with under 100,000 total. He managed the short stack entering the day, but his pat jack couldn't hold up when Kassela converted his seven draw into a nine-eight.
The first player eliminated today was Stuart Rutter, who also fell to Kassela when he made a nine-perfect and called an all in after Kassela had made an eight.
The former WSOP Player of the Year felt pretty comfortable in his position all day, despite only holding the chip lead shortly before he actually won the tournament. When heads-up play started, Lee had the advantage. Kassela battled back, then Lee took an advantage again.
"Poker, in general, requires a lot of patience," Kassela said. "Specifically at a final table, people are going to make mistakes. They're going to get a little bit too hasty, and you can't allow bad hands to f*** up your head."
Outside of the cash game circles, the majority of Kassela's poker experience comes at the WSOP. He considers himself a recreational player, though he certainly has the chops to hang with the pros.
"Generally speaking, when it comes down to being a recreational player, I consider myself one of the best recreational players in the world," he said. "I have no idea what I could do if I hopped on that train and played all year long, but I'm sure I'd have a lot more tournament success than just showing up here six weeks every summer."
When asked if there was anyone from the final table he would not want to play heads-up with, he mentioned seventh-place finisher, Benny Glaser.
"Benny's a really good player. It was a bummer to see him get knocked out as a friend, but at the same time, it's nice to not have to play against him."
Kassela was pretty confident heading into three-handed play. He said it was mostly because of all the hours he's racked up playing no-limit 2-7 in various mixed cash games.
"Once we got three handed, I felt pretty good. Even though I never really had the chip lead until right at the end, I felt like I was going to win the whole time."
Kassela immediately headed to the registration line for the $10,000 6-Max Dealers Choice tournament.
PokerNews will be bringing you live updates all summer long from the 2017 World Series of Poker.