Adrian Mateos Wins the $10,000 Heads-Up No-Limit Hold'em Championship ($324,470)
Niveau 79 : 50,000/100,000, 0 ante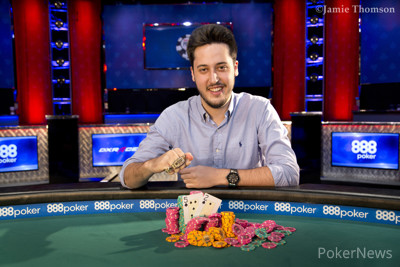 Event #15, the $10,000 Heads-Up No-Limit Hold'em Championship, began with 129 players. After 128 matches, only one emerged with an undefeated record. 22-year-old Adrian Mateos outlasted the field, capturing his third World Series of Poker gold bracelet and a $324,470 pay day. Now the youngest player ever to have won three bracelets, Mateos has earned himself a place in WSOP history.
"It's insane that I have three bracelets," Mateos said. "It's really difficult to win three bracelets and I'm 22. I run good and I think I play good so that's all that matters."
Mateos added that this bracelet was a different experience because it was a special event. His previous two bracelets came in full ring no-limit hold'em tournaments.
"There's not many heads-up events in the year, but I really want to play," he said. "I was really focused for every round to win and I really like to play heads-up so it's really fun."
Let's recap his road to victory, shall we?
Mateos received a bye in the initial "play-in" round, and then defeated six-time bracelet winner Daniel Negreanu in the Round of 128. With a five-high straight showing on the board, Mateos held the absolute nuts with seven-six and bested Negreanu, who had initially flopped the wheel. His next opponent was Ian O'Hara, and Mateos scored a swift victory to advance to the Round of 32 the following day.
His opponent to begin Day 2 was Eric Wasserson, and the winner would be guaranteed a min-cash. Mateos took an early lead in the match, and eventually sealed the deal when his pocket threes won a race against Wasserson's ace-queen. A Round of 16 duel with Taylor Paur followed. Holding the lead, Mateos got his chips in and trailed slightly with queen-jack against Paur's ace-four. However, two queens found the board and Mateos locked up a seat in the Round of 8. Fellow two-time bracelet winner Ryan Hughes was his next opponent, and Hughes had Mateos on the ropes early into the match. Down nearly 10:1 in chips, Mateos battled back in a big way. He doubled up four times, before his king-three bested Hughes' ace-ten. With that, Mateos punched his ticket to the Final Four.
He faced off against Charlie Carrel, in what turned out to be a relatively fast 37-hand match. Mateos was trailing early, but found some momentum after picking off a bluff with king high. Three hands later, Carrel bluffed again and Mateos called for his tournament life with third pair. Now with a commanding chip lead, Mateos closed it out three hands later when his ace-king held up against ace-ten to earn a seat in the championship match.
Awaiting Mateos was 70-year-old John Smith. The U.S. Army veteran and Purple Heart recipient finished runner-up in this event last summer and had become a fan favorite among the masses in the Brasilia Room. Mateos held the lead for a good portion of the match before Smith mounted a comeback in the mid-to-late stages. However, Mateos retook the lead and didn't relinquish it again. On the final hand with an ace-high flop showing, Smith got his remaining chips into the middle with queen high against Mateos who held straight and flush draws. A spade landed on the turn, locking up the victory for Mateos.
Mateos said after the match that he was really impressed with the way Smith played in the match.
"He plays really different from a lot of players but that worked for him. It's really tough to play against him; he makes different plays every hand. He changed his game every hand. He's really hard to read."
For Smith, the plan is to keep playing the event he has had so much success in over the past two years.
"I'll be back next year. Unfinished business. Maybe I can get three seconds," he joked afterward.
That wraps up our coverage of the $10,000 Heads-Up No-Limit Hold'em event. Keep your browser locked to PokerNews.com through the duration of the World Series of Poker!