Matthew Schreiber Runs Over Event #44: $3,000 H.O.R.S.E. Final Table to Capture His First Bracelet and $256,226

Niveau 27 : 60,000/120,000, 15,000 ante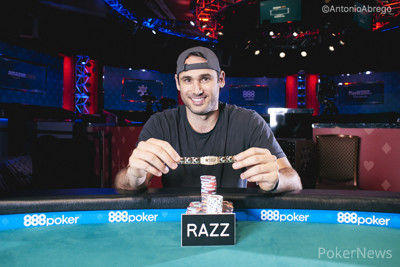 Less than three hours into play at the final table, Matthew Schreiber remained the last man standing in the Event #44: $3,000 H.O.R.S.E. tournament. Schreiber waltzed through the final table in a lethal fashion, earning the $256,226 first-place prize along with his first bracelet. "It feels surreal," the newest WSOP champion said.
Schreiber came back for the final day sixth in chips with 18 players left in contention. It was a day of fast-paced action, but Schreiber wasn't looking to be the main man. He doubled Mike Matusow inside the last two tables and dropped to a short stack.
However, Schreiber got some wheels thereafter and vaulted into the chip lead just in time for the start of the nine-handed final table. Schreiber conquered the finale with decisive force, extending his giant lead into the dinner break. There were four players still hoping to claim the gold at that point, but it took Schreiber less than an hour to deny all of his three opponents early after dinner.
"Obviously, it was a difficult field," Schreiber said after he'd posed for the winner photos. "I didn't play well at the start of the tournament, but once I accumulated some chips, I played well," he admitted.
There was a moment early on the final day when Schreiber exchanged some words with Valentin Vornicu. Apparently, Schreiber got lucky in a stud hand against the nine-time WSOP Circuit winner, and Vornicu got a little bit salty.
"I can play three of the games well. I don't know the others," revealed a humble Schreiber without trying to hide his weaknesses. Schreiber confirmed that in the post-tournament interview. "Although I play a lot of mixed games, I play cash. I'm very inexperienced in stud and hi-lo," he said.
These two blind spots didn't prevent Schreiber from reaching glory in one of the most complex tournaments on WSOP schedule. His dominating performance at the final table was breathtaking.
Schreiber kept rolling, and it seemed he couldn't lose any pot he contested. Mike Matusow, who fell shy of the final table, was the only player who was able to find any fortune playing against Schreiber. He stated he'd doubled through Schreiber three to five times during the tournament, calling him his friend.
Schreiber, however, outlasted everyone, including Matusow, who'd been the main story until his fall in 11th place. Matusow's inimitable glossary during the tournament was of the most entertaining shows the WSOP has witnessed this year. Grinding a short stack for most of the time, Matusow managed to double up countless times to hang in the tournament field, singing a song of his own invention, "On the nub again."
Matusow's exit was followed by Gabe Paul's elimination at the hands of Schreiber, who spiked a lucky five-outer on the river to send Paul out in 10th place in an Omaha hi-lo hand. Vornicu, who apologized for his earlier rant toward Schreiber, couldn't stay longer than a few hands on the final table. Schreiber was the nemesis who sealed Vornicu's fate, knocking him out in razz.
The first two levels at the final table were extremely eventful as Brendan Taylor (eighth for $21,007) and Ryan Hughes (seventh for $28,910) left the tournament shortly after Vornicu. Hanks Honig laddered up several places with his short stack, but he eventually landed in sixth place for $37,892.
Schreiber was away from the key hands that proved fatal for the sixth- to eighth-place finishers, but he took most of Ryan Himes' stack in a limit hold'em hand that led to Himes' elimination in fifth place ($52,542). Himes had flopped top pair, while Schreiber held the nut-flush draw and middle pair. He spiked a third nine on the river to win a juicy pot, and Phil Hui finished off Himes in the very next hand.
Schreiber handled just over half of the chips in play at the dinner break, and he extended his substantial lead shortly thereafter, taking significant chunks from Tom Koral and David Steicke in stud and stud hi-lo, respectively.
While Schreiber was wounding his opponents, he wasn't sending players to the rail himself. Steicke took care of the rest of Koral's chips, only to find himself knocked out by Hui in the following minutes.
Hui entered the heads-up as a 3:1 underdog, and he wasn't able to fight back. Schreiber won a big limit hold'em hand right away, making top two pair against Hui's top pair. Hui dropped to his last few big bets, and Schreiber's march was soon completed. Hui, who already has a bracelet back home, received $158,361 for a runner-up finish this time.
Final Table Results:
| Place | Player | Country | Prize |
| --- | --- | --- | --- |
| 1 | Matthew Schreiber | United States | $256,226 |
| 2 | Phil Hui | United States | $158,361 |
| 3 | David Steicke | Hong Kong | $107,458 |
| 4 | Tom Koral | United States | $74,382 |
| 5 | Ryan Himes | United States | $52,542 |
| 6 | Hanks Honig | United States | $37,892 |
| 7 | Ryan Hughes | United States | $27,910 |
| 8 | Brendan Taylor | United States | $21,007 |
| 9 | Valentin Vornicu | United States | $16,165 |