Niveau 32 : 100,000/200,000, 200,000 ante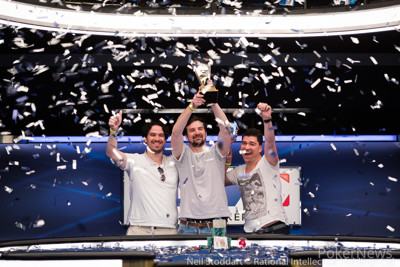 All eyes were on Ole Schemion, Patrick Antonius and David Peters at the start of PokerStars and Monte-Carlo©Casino EPT €5,300 Main Event final table, but after six hours of play, Nicolas Dumont had maneuvered past the superstars to claim €712,000 and an EPT title.
Additionally, Dumont claimed a coveted $30,000 Platinum Pass, added on by PokerStars to the winner's take. The driving instructor from Paris will head to The Bahamas for the $25,000 extravaganza to try his luck against the world's best in January.
2018 PokerStars and Monte-Carlo©Casino EPT €5,300 Main Event Final Result
| Place | Winner | Country | Prize (EUR) |
| --- | --- | --- | --- |
| 1 | Nicolas Dumont | France | €712,000 |
| 2 | Honglin Jiang | New Zealand | €434,000 |
| 3 | Tomas Jozonis | Lithuania | €308,000 |
| 4 | David Peters | United States | €232,000 |
| 5 | Krisztian Gyorgyi | Hungary | €184,000 |
| 6 | Patrik Antonius | Finland | €139,050 |
| 7 | Javier Fernandez | Spain | €99,900 |
| 8 | Ole Schemion | Germany | €68,300 |
And he won't be doing it alone. Dumont will join friend and fellow Platinum Pass winner Julien Perouse in the exotic local, after a fluke circumstance led to him entering this tournament in the first place.
Originally, Perouse was supposed to head to Monaco for the big EPT festival but wound up needing to change plans. He asked Dumont if he'd be interested in playing in his stead. Dumont, who had all of €20,000 in tournament cashes accepted.
After six days of grinding, he's won a princely sum and the trip of a lifetime.
"It will be fantastic," he said. "I don't have words for saying how I'm feeling. It's unreal."
Used to grinding $100 multi-table tournaments on PokerStars' European shared liquidity network two days per week, Dumont had quite the task ahead of him when the final day dawned with eight players still remaining. He did have one thing going for him against the heavy hitters, though: the chip lead.
One dangerous opponent fell by the wayside right away when Schemion busted on the first hand with king-queen suited against the ace-jack suited of Antonius. Though Peters had also folded ace-jack suited, a jack-high board still ran out to send the German crusher packing.
Dumont managed the tough trick of getting paid on quads when he got Antonius to pay off two streets with pocket tens after Dumont checked back top set of kings in a three-bet pot and hit the fourth king on the river. After short stack Javier Fernandez went bust, Dumont took the last 11 big blinds of Antonius when ace-eight held against king-queen unimproved.
His competitors would start to catch up after that, though.
Honglin Jiang won a massive flip when he squeezed all in with fours and flopped a set against ace-king to end the Cinderella run of Krisztian Gyorgyi. The Hungarian qualifier displayed his passion throughout, and his anguish was evident. Still, he turned a few Euro into €184,000.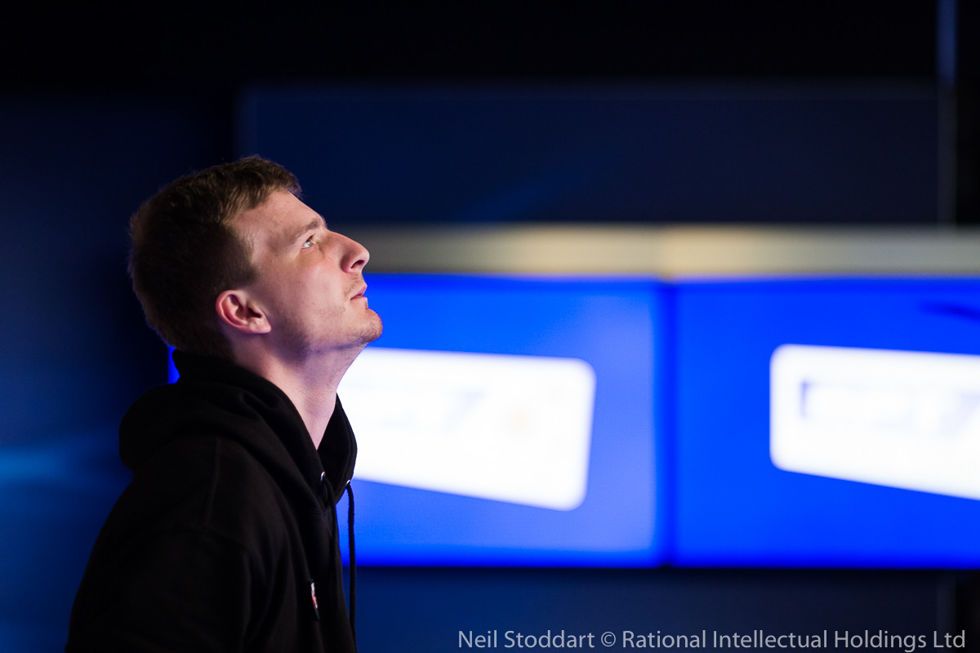 Short on chips, many nonetheless expected Peters to make a run for the title. After all, the $20 million man had big-time experience that vastly outmatched that of his opponents. However, he never really had the chips at the final table.
Despite an early double when ace-king held against Antonius' ace-queen, Peters never got above the middle of the pack. Four-handed, Peters got coolered for his remaining chips when he ran jacks into Tomas Jozonis' queens.
Jiang then stepped right into the trap of Jozonis when they got into a raising war and the New Zealander five-bet shipped ace-two suited into queens. The online poker player who once aspired to be a beach volleyball pro put himself in a prime position to grab the chip lead heads up but watched helplessly as two clubs flopped and another hit the turn to leave him out in third.
That left Jiang and Dumont heads up and deep. It seemed like Dumont was open to discussion of a deal, but after a short break and consulting with his sister — whom Jiang called a better player — Jiang said he wanted to play it out.
Dumont ramped up his aggression, so when he was dealt queens and limp-raised, Jiang wasn't having it and shoved with sixes. Dumont quickly called, and when neither player improved, Dumont had turned a casual offer for a tournament stake into a monster payday and a Platinum Pass.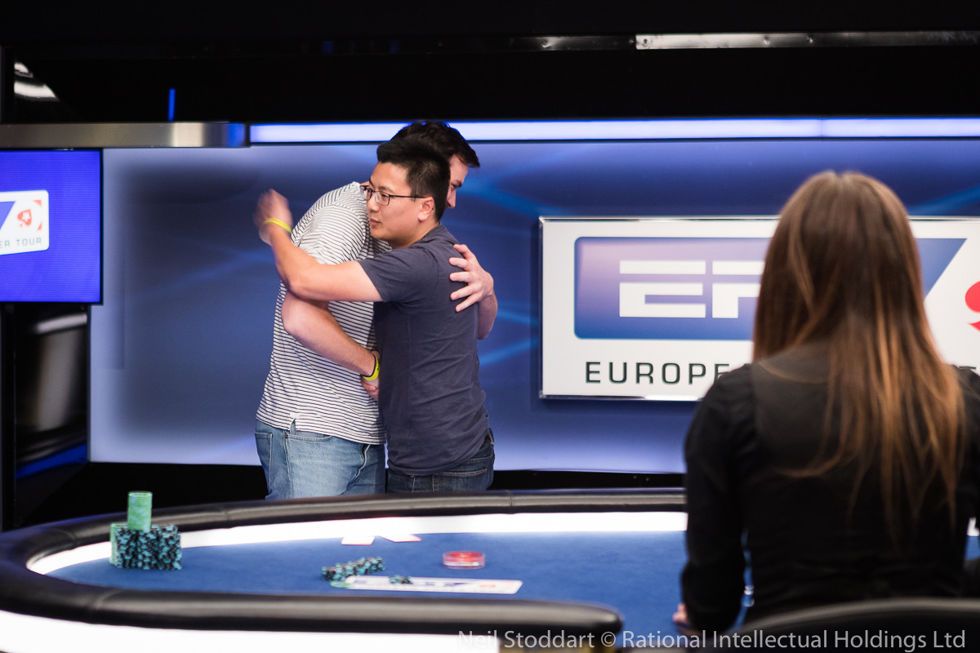 "I tried to play the best that I can and I think I succeeded," he said. "I would like to show I'm a good player."
After going through all of the post-win pleasantries, an exhausted Dumont said he just wanted a beer. He said he had already canceled three days of driving lessons back in Paris, and he'd be canceling Saturday as well.
"Maybe I'm going to work Sunday... but I don't think so," he said with a laugh. "Maybe Monday."