€25,000 Single-Day High Roller II
Jours 1
€25,000 Single-Day High Roller II
Jour 1 a débuté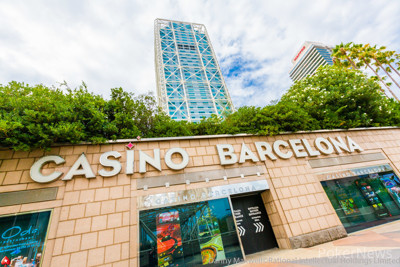 At 12:30 p.m. local time, the last €25,000 Single-Day High Roller will kick off at the 2019 PokerStars European Poker Tour Barcelona. With the Main Event still going on and many more side events to come, it is expected that this high roller will attract the world's best poker players again. The first two single-day high rollers were both won by Juan Pardo for €1,505,460 in total and as he's not participating in the Main Event any more, he might show up to make it a hat-trick.
In the first high roller, Pardo defeated Barcelona footballer Gerard Piqué heads-up while Piqué's teammate Arturo Vidal finished in fifth place. As the FC Barcelona team doesn't have another match until Saturday, who knows, they might show up again to try and better that result. Also featured on that final table were Michael Addamo, Hirokazu Kobayashi, Kazuhiko Yotsushika, Ramin Hajiyev, Joao Vieira, and Mike Watson.
In the second high roller which had a buy-in of €50,000, Pardo finished ahead of Seth Davies. even with the higher buy-in, it still attracted 76 entries with a whole different set of players making the money. Chin Wei Lim, Luc Greenwood, Ali Imsirovic, Timothy Adams, Steve O'Dywer, Laurynas Levinskas, Matthew Moss, and Kahle Burns all cashed in the €50,000.
In 2018 it was Andras Nemeth who claimed the title by beating Wai Leong Chan with ace-deuce while Chan held pocket aces. The flopped wheel draw became a reality on the river for Nemeth to bring a bit of a shocking end to the tournament. Nemeth has played several of the tournaments already but Chan has not been spotted in Barcelona this year. Will Nemeth be able to do it again?
The players will receive 100,000 in chips for their buy-in with unlimited reentries possible for the first eight levels of the day. Levels last 30-minutes each and a 20-minute break is scheduled after every four levels. Players will also receive six time bank cards at the start of play and get three more when they reach the final table of nine players. A 30-second shot clock is in play from the start of the day. A 75-minute dinner break is scheduled after the twelfth level of play.
The PokerNews live reporting team will be there from the first "shuffle up and deal" until the final river has been dealt. So keep following along with the live updates.
Niveau: 1
Blinds: 500/1,000
Ante: 1,000

Niveau 1 : 500/1,000, 1,000 ante
The tournament director has instructed the dealers to shuffle up and deal with 28 entries showing on the clock.

Niveau 1 : 500/1,000, 1,000 ante
Joueur
Jetons
Progression

Ben Heath

100,000

Luuk Gieles

100,000

Mike Watson

100,000

Pavlo Kolinkovskyi

100,000

Sam Grafton

100,000

Ambassador

Thomas Muehloecker

100,000

Satoshi Ikeda

100,000

Jans Arends

100,000

Alex Komaromi

100,000

Fedor Kruse

100,000

Noam Makavy

100,000

Aleksei Gortikov

100,000

Juha Helppi

100,000

Zhong Chen

100,000

Cary Katz

100,000

Gakuto "Gackt" Oshiro

100,000

Hirokazu Kobayashi

100,000

Orpen Kisacikoglu

100,000

Tsugunari Toma

100,000

Sergi Escote

100,000

Francisco Benitez

100,000

Luc Greenwood

100,000

Chris Hunichen

100,000

Jean-Noel Thorel

100,000

Charlie Carrel

100,000

Niveau 1 : 500/1,000, 1,000 ante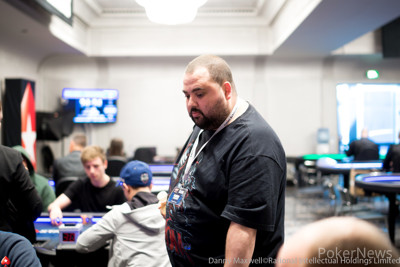 Chris Hunichen was seen walking out of the tournament area after all his chips went in on the
flop against Jean-Noel Thorel. Hunichen held
while Thorel had
with the rest of the board completed with the
and a
to Keep Thorel ahead.

Niveau 1 : 500/1,000, 1,000 ante
The field is now up to 45 entries as Chris Hunichen and Luc Greenwood have reentered the tournament.
Joueur
Jetons
Progression

James Chen

100,000

Vicent Bosca

100,000

Dmitry Yurasov

100,000

Vladimir Troyanovskiy

100,000

Guillaume Nolet

100,000

Juan Pardo

100,000

Anton Yakuba

100,000

Julien Martini

100,000

Joris Ruijs

100,000

Teun Mulder

100,000

Ali Imsirovic

100,000

Conor Beresford

100,000
Niveau: 2
Blinds: 500/1,000
Ante: 1,000

Niveau 2 : 500/1,000, 1,000 ante
Sam Grafton has had to reenter and four new players joined the field to bring the number of entries up to 50.

Niveau 2 : 500/1,000, 1,000 ante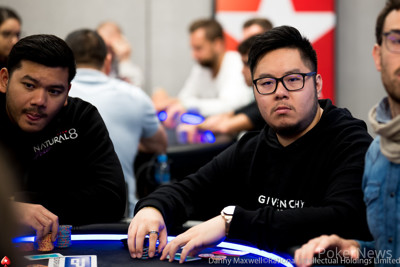 Danny Tang raised to 2,500 from the hijack and was called by Pavlo Kolinkovskyi in the small blind.
The flop came
, Kolinkovskyi check-called the 5,000 continuation-bet of Tang.
They both checked through the
on the turn to the
on the river. Kolinkovskyi bet 4,500 and Tang took some to consider his options. Tang then decided to raise to 18,000 which Kolinkovskyi quickly called. Tang tabled
but turned then around and pushed them into the muck when Kolinkovskyi showed
for two pair, kings and queens.