€25,000 Single-Day High Roller
Jours 1
€25,000 Single-Day High Roller
Jour 1 terminé

Niveau 20 : 40,000/80,000, 80,000 ante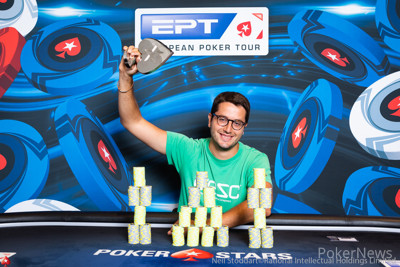 The first Single-Day High Roller of the 2019 PokerStars European Poker Tour (EPT) Barcelona festival has come to an end with a familiar face of the High Roller circuit on the winner shot. Juan Pardo topped a field of 70 entries to take home the biggest share of the €1,680,700 prize pool, knocking out seven of the eight finalists to claim the top prize of €491,600.
However, the spotlight of the final table was on two football stars that currently play for FC Barcelona and were both in action fewer than 24 hours ago. Gerard Piqué and Arturo Vidal were both part of the match squad that beat Real Betis Sevilla with 5-2 at the world-famous Camp Nou stadium and Vidal also scored a goal.
Just one day later both showcased their talents at the poker table and stood their ground against some of the biggest names in poker and High Roller regulars to earn their portion of the seven-figure prize pool in the €25,000 Single-Day High Roller.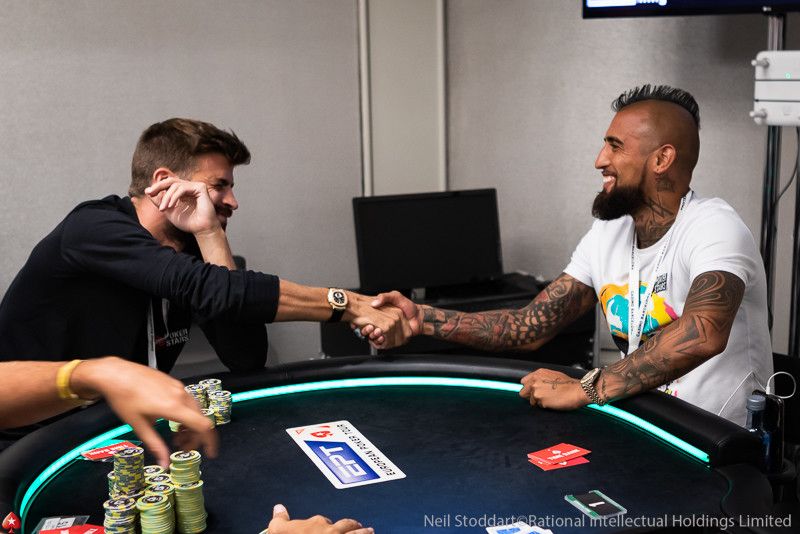 Vidal finished in 5th place for €134,460 and Piqué made it even further, as he came runner-up to Pardo for €352,950. It was the fifth cash of poker aficionado Piqué during PokerStars sponsored events at Casino Barcelona and he has already racked up more than half a million in poker tournaments.
Michael Addamo finished third after a lengthy short stack battle and among those to cash were also Hirokazu Kobayashi, Kazuhiko Yotsushika, Ramin Hajiyev, and Joao Vieira. Bubble boy of the tournament was 2013 WSOP Main Event champion Ryan Riess. Japanese star Gakuto "Gackt" Oshiro also took part in the event but busted before the money.
Final Result €25,000 Single-Day High Roller
| Place | Winner | Country | Prize (in EUR) | Prize (in USD) |
| --- | --- | --- | --- | --- |
| 1 | Juan Pardo | Spain | €491,600 | $545,672 |
| 2 | Gerard Pique | Spain | €352,950 | $391,772 |
| 3 | Michael Addamo | Australia | €229,420 | $254,654 |
| 4 | Hirokazu Kobayashi | Japan | €173,110 | $192,140 |
| 5 | Arturo Vidal | Chile | €134,460 | $149,241 |
| 6 | Kazuhiko Yotsushika | Japan | €104,200 | $115,655 |
| 7 | Ramin Hajiyev | Azerbaijan | €82,350 | $91,403 |
| 8 | Joao Vieira | Portugal | €63,870 | $70,893 |
| 9 | Mike Watson | Canada | €48,740 | $63,870 |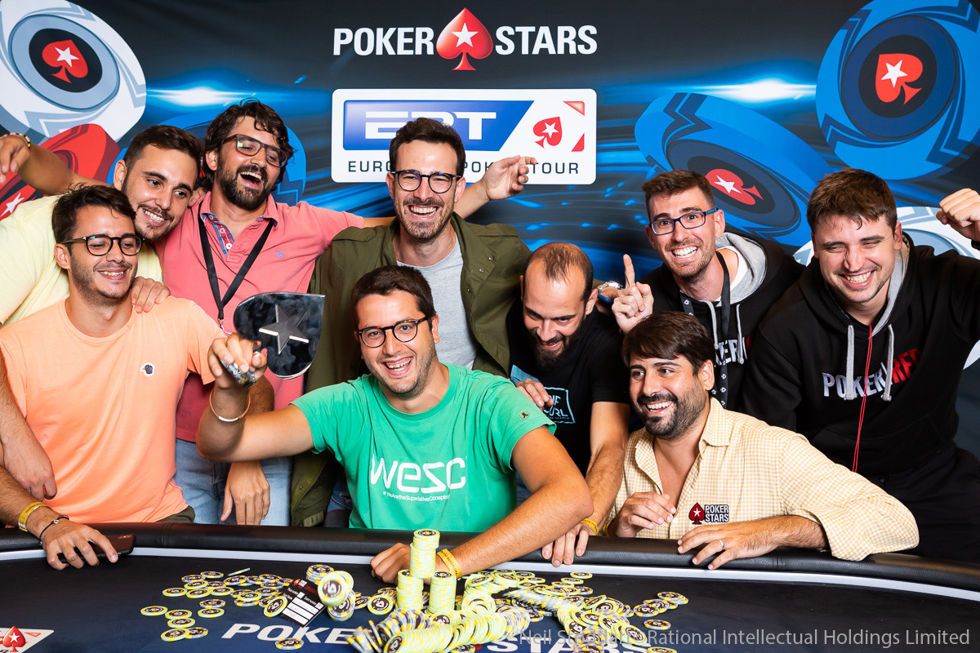 Pardo was already thrilled prior to the start of the final table and also managed to get a group picture with both football stars before the action kicked off. The Spaniard, known under his online alias of Malakastyle, had taken a short vacation and returned to the live poker tables in style to secure another six-figure result.
"I am obviously really happy, everything went my way," Pardo told Spanish poker media after his victory.
When asked about the experience with the football stars, Pardo had the following to say.
"I was like a little kid with Piqué and Vidal at the tables," and he also managed to send both of them to the rail on his road to victory.
Pardo started the final table second in chips trailing only Kazuhiko Yotsushika, but it didn't take long for the Spaniard to take over control. Mike Watson lost a flip to Pardo when he failed to hold up with eights against ace-king and Gerard Piqué was responsible for the second elimination when he got there with ace-queen against the eights of Joao Vieira.
A double-elimination cemented the status of overwhelming chip leader for Pardo soon after. Facing the open-shove of Yotsushika and the all in call of Ramin Hajiyev on the button, Pardo glanced at pocket kings in the big blind and had an easy call. Yotsushika tabled ace-eight and Hajiyev turned over pocket jacks.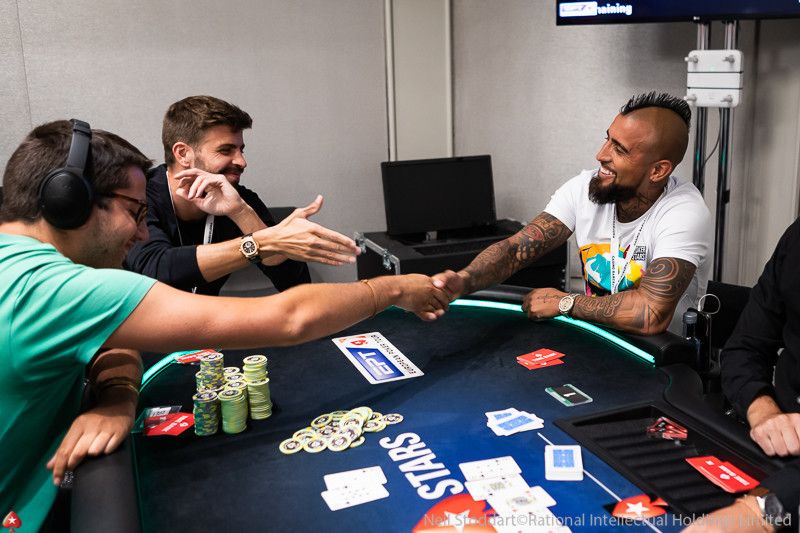 Pardo also knocked out Arturo Vidal when he held up with ace-king versus ace-nine, and Hirokazu Kobayashi would be his next victim. Left short after a clash with Piqué, Kobayashi got it in with queen-six suited and Pardo called with king-queen to send the next opponent to the payout desk.
Michael Addamo was a cat with nine lives on the final tables as he doubled several times through Pardo. Eventually, the Aussie could not come from behind once more with treys versus nines and Pardo set up a heads-up duel with his idol Piqué. It lasted just a few moments as the deuces of Pardo remained ahead of the ace-nine suited of Piqué despite an additional flush draw.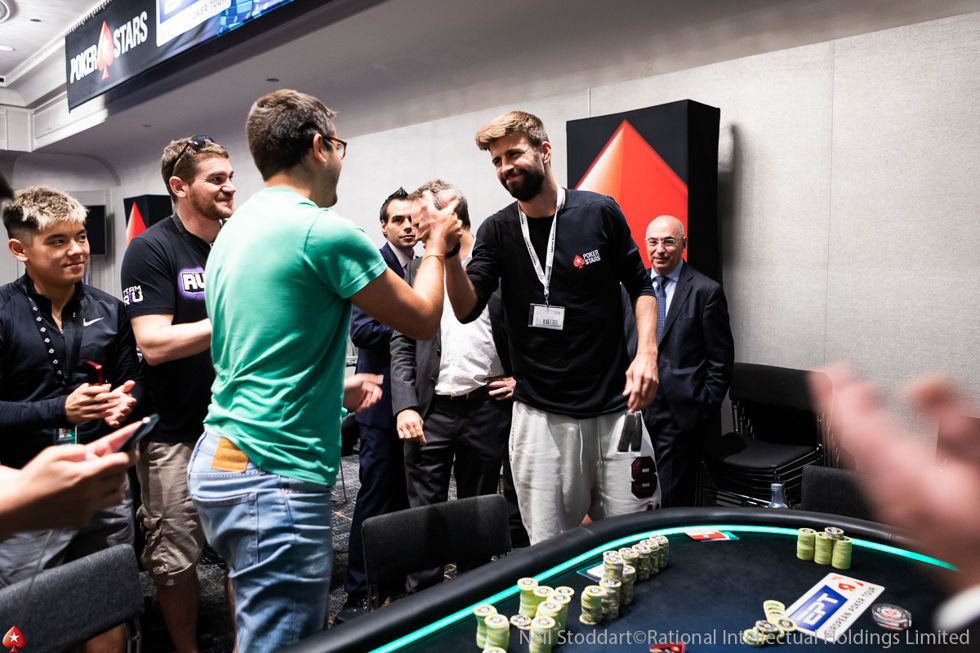 While Piqué and Vidal will be back on the training pitch soon, the poker and High Roller action at Casino Barcelona continues without a break and the PokerNews team will be there to cover all the action from start-to-finish.

Niveau 20 : 40,000/80,000, 80,000 ante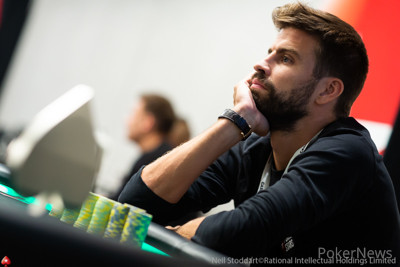 The heads-up duel between Gerard Piqué and Juan Pardo lasted all but a few moments and it was a flip that decided over the outcome of the tournament with the chips in the middle preflop.
Gerard Piqué:

Juan Pardo:
The mighty ducks were marginally ahead on the
flop and Piqué even picked up a flush draw on the
turn. However, it wasn't meant to be as the
river came a blank to eliminate the FC Barcelona defender in 2nd place for €352,950.
For Pardo, it is yet another success in a High Roller tournament and the biggest score of his live poker exploits thus far.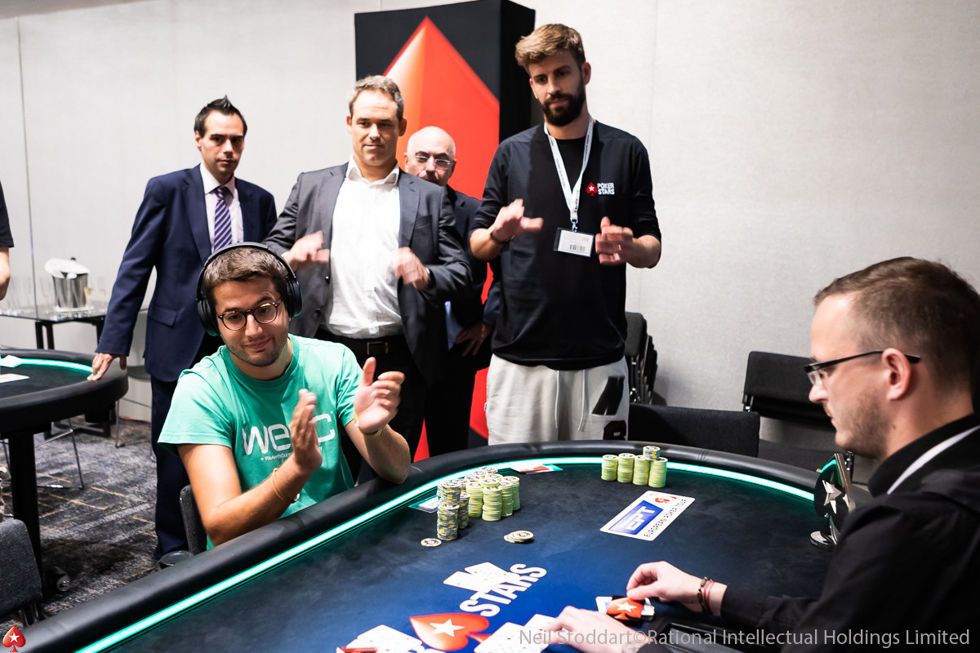 A recap of the final table action is to follow.

Niveau 20 : 40,000/80,000, 80,000 ante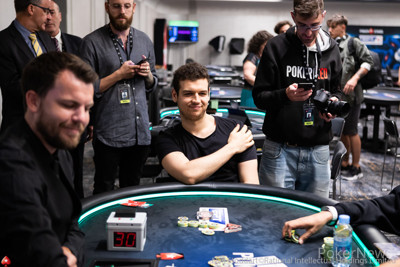 Michael Addamo was all in from the button for around 10 big blinds and Juan Pardo looked him up, trying to knock out the Aussie after several previous attempts had not been crowned by success.
Michael Addamo:

Juan Pardo:
Addamo had been behind in the previous showdowns against Pardo as well and this time he was drawing dead on the turn of a board
to secure a Spanish victory in the first €25,000 Single-DayHigh Roller. Addamo had to settle for third place and a payday of €229,420.

Niveau 20 : 40,000/80,000, 80,000 ante
Michael Addamo jammed once to keep his stack alive and Gerard Piqué then called a big raise by Juan Pardo in a battle of the blinds. On a
flop, Pardo check-folded and said in Spanish he would have called preflop with ace-king of diamonds.

Niveau 20 : 40,000/80,000, 80,000 ante
Juan Pardo jammed out of the small blind and Gerard Piqué called in the big blind for 940,000.
Gerard Piqué:

Juan Pardo:
The board came
and Piqué doubled.

Niveau 20 : 40,000/80,000, 80,000 ante
Michael Addamo jammed the button for 480,000 and Juan Pardo came along from the small blind.
It was a flip with the
for Addamo and the
for Pardo.
The board came
and Addamo doubled with trips tens.
Niveau: 20
Blinds: 40,000/80,000
Ante: 80,000

Niveau 19 : 30,000/60,000, 60,000 ante
Gerard Piqué raised to 120,000 from the small blind and Michael Addamo in the big blind used one time bank extension. He then moved all in for 510,000 total and Piqué folded.

Niveau 19 : 30,000/60,000, 60,000 ante
Michael Addamo moved all in from the button for 300,000 with the
and Juan Pardo called in the small blind with
.
The board came
and Addamo doubled.
Gerard Piqué jammed out of the small blind next and Addamo forfeited the big blind. Piqué flashed
.