€3,000 Mystery Bounty Championship
Jours 3
€3,000 Mystery Bounty Championship
Jour 3 terminé

Niveau 39 : Blinds 500,000/1,000,000, 1,000,000 ante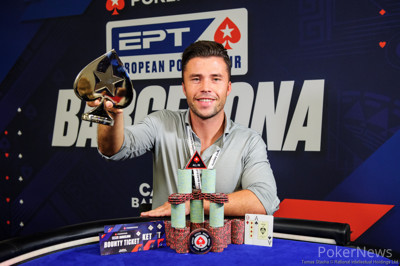 The third and final day of the €3,000 Mystery Bounty Championship at the 2022 PokerStars and Barcelona©Casino European Poker Tour reached its conclusion after roughly nine hours of play. The final 23 players out of a field of 1,132 entries played down to a winner on Friday afternoon and at the end, a new EPT champion emerged in Johannes van Bemmel.
The Dutchman, who is plenty experienced in the online streets, won his first-ever live tournament, capturing a €251,726 first-place prize and a beautiful piece of "Spadie" silverware. He also captured a total of 10 bounties for an additional €23,000 for a total win of €274,726. This was far and away his largest live score, besting a fifth-place finish at a tournament in the Netherlands back in May, where he won €15,806.
Van Bemmel started the final day in 14th place among the 23 remaining runners with just 1,010,000 chips, but he was able to fight his way back and capture the famous EPT trophy.
€3,000 Mystery Bounty Championship Final Table Results
| Place | Player | Country | Prize |
| --- | --- | --- | --- |
| 1 | Johannes van Bemmel | Netherlands | €251,726 |
| 2 | Paulo Roberto Brombim | Brazil | €225,000 |
| 3 | Elias Neto | Brazil | €200,000 |
| 4 | Anthony Miles | United Kingdom | €112,160 |
| 5 | Felipe Germano | Brazil | €86,270 |
| 6 | Daan Mulders | Netherlands | €66,360 |
| 7 | Saar Wilf | Israel | €51,050 |
| 8 | Manuel Fischer | Germany | €39,280 |
| 9 | Slima Macalou | France | €30,210 |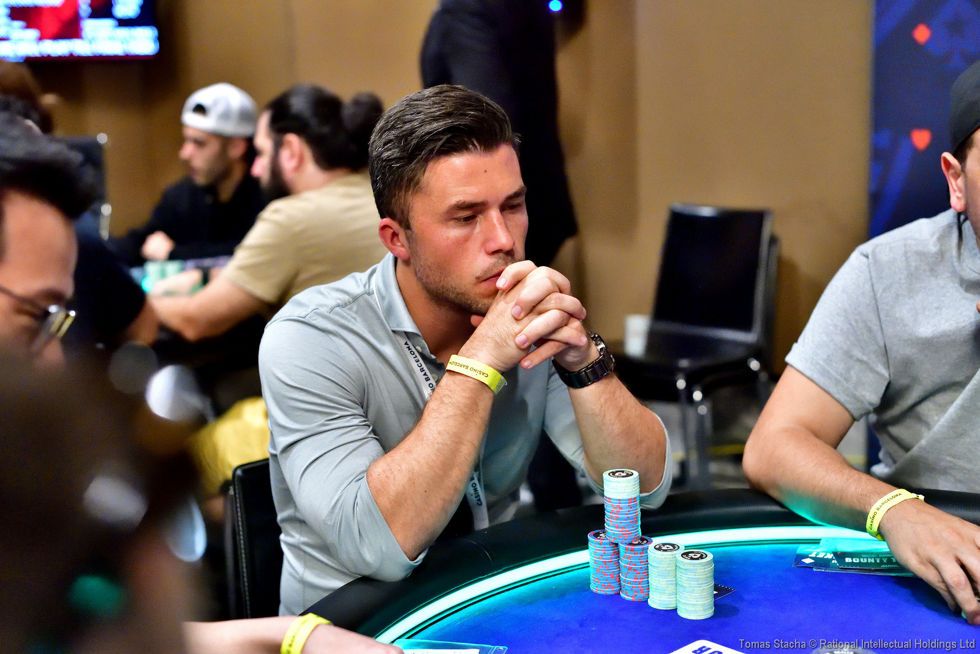 "I started below average with a million and there were many tough players left, so I was really taking this hand-by-hand. I quickly was able to triple my stack to three million and I began to think that maybe this would work out but I still didn't have any hopes or expectations," said van Bemmel. "But the whole week, I felt good. It was going badly until this moment, I busted a lot of tournaments but this one just felt good. I was winning flips, I had ace-king against ace-queen maybe six times, aces against kings, and if you have those kinds of situations, you can win tournaments. I've been very fortunate, I played my hands well and we're here now."
The win comes at an incredible time for the player as he just quit his job only two months ago.
"I did good at poker and I didn't love my job as much as I did before (as an account manager working for a big corporate company), so I was looking for something else. I was busy trying to set up my own business but poker went well so now I'm trying to do a combination of both. So I stopped working and I came to Barcelona and now this, so it's really great timing. Now I'm going to take some time off, go on holiday in Italy with my wife and friends, and then we're going to play again."
Final Table Action
The day started with 23 players, including PokerStars Ambassadors Parker Talbot and Jen Shahade, who finished in 20th place (€12,200) and 11th place (€23,230), respectively.
The original 23 would very quickly reach a final table and were already down to seven players at the very first break just two hours into the day.
The first player eliminated at the final table was Silma Macalou. Day 2 chip leader Anthony Miles had opened to 275,000 and Macalou went all in for 1,100,000 with ace-jack. Miles called with ace-ten and Macalou would flop two pair. However, Miles would hit a runner-runner straight to send the Frenchman home in heartwrenching fashion with €30,210.
Shortly after Macalou was Manuel Fischer, who chip led most of Day 2. Felipe Germano opened for 275,000 and Fischer moved all in for 815,000 with ace-king. Van Bemmel cold-called with pocket nines and Germano surprisingly open-folded pocket jacks. Fischer would not get any help and earned €39,280 for his efforts.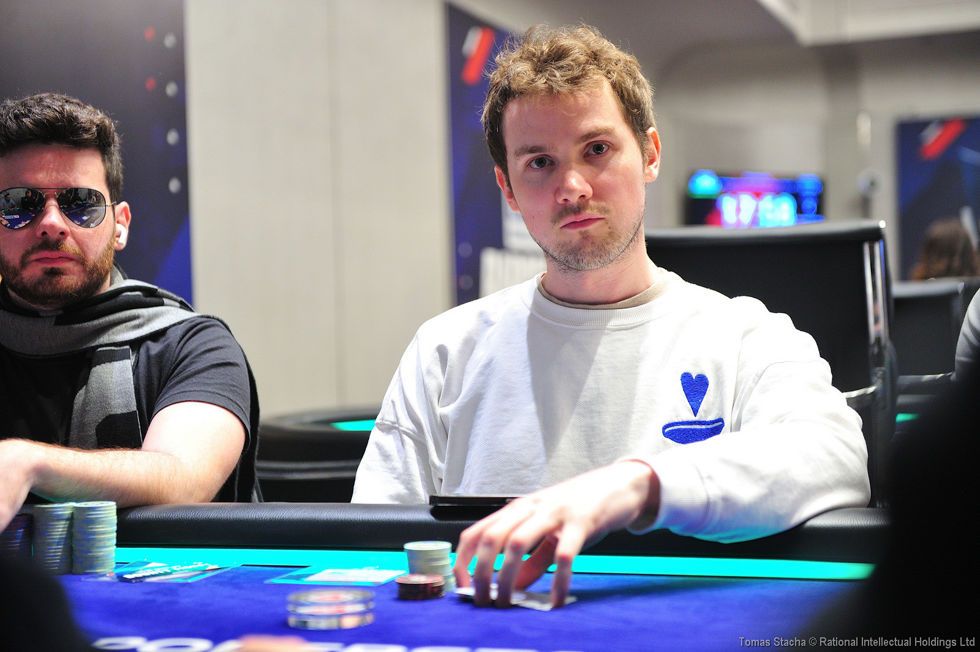 Seven-handed play would continue for nearly two full levels before Saar Wilf was knocked out. Wilf limped from the button with ace-seven and Paulo Roberto Brombim checked with king-jack. Wilf would flop bottom pair and bet 200,000 but Brombim raised to 550,000 with top-two pair and Wilf called. Brombim, who was an aggressive chip leader at the time, shoved turn and Wilf would go into the tank for about four minutes before making an incorrect hero call. The river was not the one he was looking for and Wilf earned €51,050 for his three days of work.
Daan Mulders would be the next one to leave the table and took home €66,360 for his sixth-place finish. Mulders went all in from the button with queen-ten suited against Miles' ace-seven suited from the big blind and wouldn't improve.
In fifth place was the aforementioned Germano, who came into the day as one of the short stacks and was still the shortest stack at the two-table redraw and the second-shortest stack going into the final table. Nevertheless, the Brazilian managed to grind his way to fifth place and €86,270. His journey came to an end in a huge ten-and-a-half million chip pot with Brombim, failing to improve with ace-king from the button against his opponent's pocket jacks.
It would be another 90 minutes of four-way action before Miles would finish fourth. Miles was short-stacked and shoved with queen-seven suited against the ace-six of Brombim. Miles wouldn't get there and he took home a whopping €112,160 score.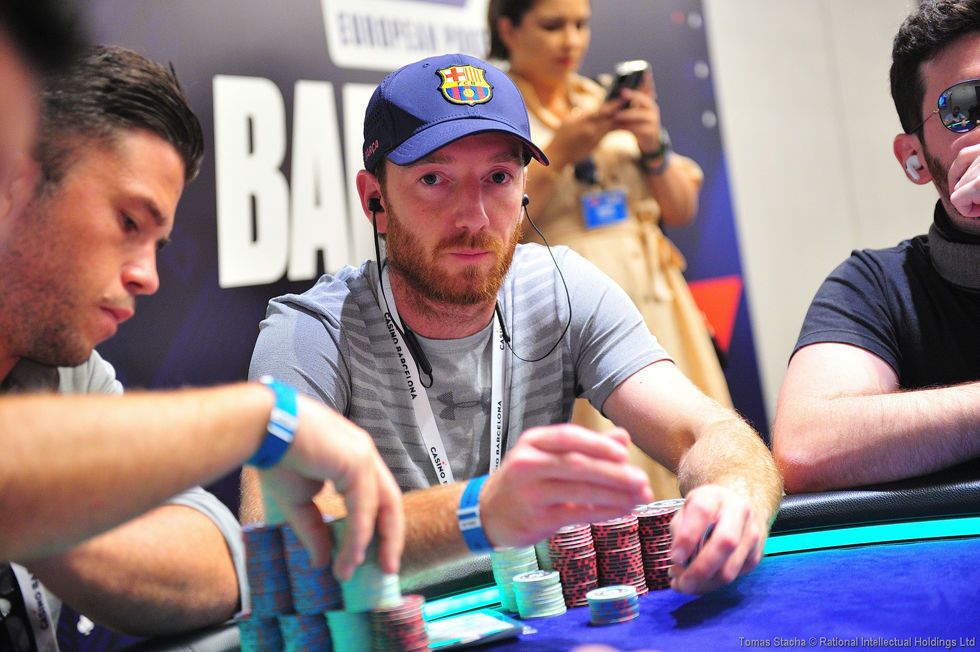 The remaining three players would battle until they were eventually even with roughly 20 big blinds each and facing an increase in blinds every 20 minutes. They took about 30 minutes to come up with a deal that paid €200,000 for third, €225,000 for second, and €251,726 for first.
Twenty minutes after the deal was agreed upon, it was Elias Neto who finished third. His ace-deuce suited was no match for the ace-five of van Bemmel and the Dutchman went into heads-up play with Brombim with a three-to-one chip advantage.
The two players would battle heads up for about 25 minutes, with Brombim giving Van Bemmel plenty of fits. The Brazilian doubled up on three different occasions and, at one point, hit an unlikely river to stay alive despite being dominated preflop. However, Brombim would eventually finish second, shoving his last three big blinds in with nine-six and running into Van Bemmel's ace-nine. Both an ace and a nine would appear on the flop, which virtually guaranteed Van Bemmel the title. The turn had Brombim drawing dead and Van Bemmel and his friends burst into celebration.
Van Bemmel would then go to redeem his bounties and collect the last remaining €5,000 bounty for the cherry on top, which was the highest bounty still remaining on the board.
That wraps up PokerNews' coverage of the €3,000 Mystery Bounty Championship but keep it tuned here for the conclusion of EPT Barcelona and the rest of the EPT Barcelona Main Event, which is down to just 16 players as they bag up for the night.
Niveau 39 : Blinds 500,000/1,000,000, 1,000,000 ante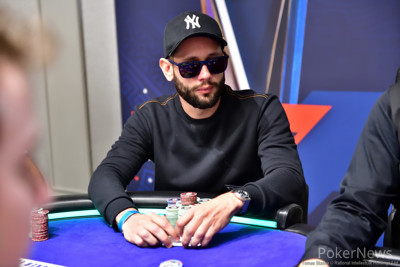 Paulo Roberto Brombim was at risk when he shoved into Johannes van Bemmel and got called. The two players tabled their cards with the 1st place prize and the trophy on the line.
Paulo Roberto Brombin:

Johannes van Bemmel:
The flop was
which gave Van Bemmel a virtual lock on the win, and the turn
left Brombin drawing dead and the
was meaningless as it completed the board.
Paulo Roberto Brombim was eliminated in 2nd place for a payout of €225,000.
A full recap of the day's events and the winner's interview will be released shortly.
Niveau: 39
Blinds: 500,000/1,000,000
Ante: 1,000,000

Niveau 38 : Blinds 400,000/800,000, 800,000 ante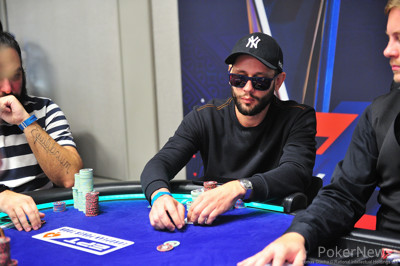 Paulo Roberto Brombim shoved for 5,625,000 and Johannes van Bemmel called, looking to clinch the title.
Paulo Roberto Brombim:

Johannes van Bemmel:
Brombim was ahead with ace-high and stayed ahead as the board ran out
to double up back to over 12,000,000.

Niveau 38 : Blinds 400,000/800,000, 800,000 ante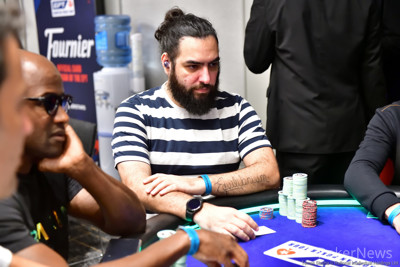 Elias Neto shoved for 7,350,000 from the button and Johannes van Bemmel called from the big blind.
Elias Neto:

Johannes van Bemmel:
Van Bemmel had Neto dominated but there were still lots of opportunities for a potential chop.
The flop came
, giving Neto a straight draw but significantly reducing the possibilities of a chop.
The turn brought the
, taking away one of Neto's potential deuce outs as van Bemmel picked up a flush draw.
The river was the
and van Bemmel erupted with joy before the three players all shook hands.
Van Bemmel and Paulo Roberto Brombim will now play heads up, with the Dutchman having a 3:1 chip lead.
Niveau 38 : Blinds 400,000/800,000, 800,000 ante
Johannes van Bemmel has been moving all in several times in succession and has scooped the blinds, making his stack more than double of Paulo Roberto Brombim in second.
Joueur
Jetons
Progression

Johannes van Bemmel

20,000,000

8,800,000

Paulo Roberto Brombim

7,500,000

-4,350,000

Elias Neto

4,200,000

-6,710,000
Niveau: 38
Blinds: 400,000/800,000
Ante: 800,000

Niveau 37 : 300,000/600,000, 600,000 ante
Play will resume with 5:41 remaining in Level 37. Blinds will soon go up to 400,000/800,000/800,000.

Niveau 37 : 300,000/600,000, 600,000 ante
With all three players at roughly the same stack and under 20 big blinds with 20-minute blind levels, the players have agreed to a deal.
All three players have agreed to accept €200,000 for third place, €225,000 for second place, and €251,712 for the winner.
The winner also receives the famous trophy and will forever hold the title of being an EPT tournament champion.