€100,000 EPT Super High Roller
Jours 2
€100,000 EPT Super High Roller
Jour 2 terminé

Niveau 17 : Blinds 20,000/40,000, 40,000 ante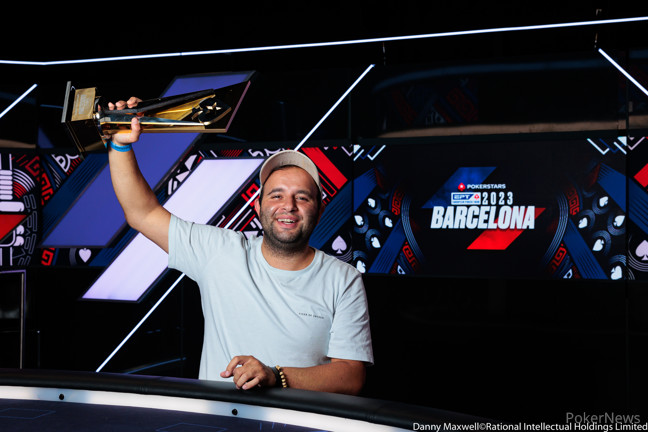 A year ago, in this same room, Kayhan Mokri had the shiny trophy that would mark the pinnacle of his ascendant poker career firmly in his sights.
Mokri was the chip leader with six players left in the PokerStars European Poker Tour (EPT) Barcelona Main Event in 2022. He ended up finishing in sixth place, taking home €334,480 but also some bittersweet feelings after coming so close.
Fast forward to 2023, and Mokri has finally found redemption and the defining title that has so far eluded him. The Norwegian pro defeated French high stakes regular Jean-Noel Thorel heads-up to win the EPT Barcelona €100,000 Super High Roller and €750,960 top prize.
Mokri, one of poker's rising stars, had come close to winning a title so many times before. He had finished second in three events so far this year, including a €25,000 event here in Barcelona just a few days ago. He also finished fourth in the PCA High Roller back in February. Mokri had nearly $2,500,000 in live career earnings but had never actually won a live poker tournament. That changed today.
"I'm taking this with me. Know how many heads-up matches I've lost," Mokri said after finally being able to hoist the trophy, posing for pictures from his friends on the rail.
Mokri's run in the Main Event last year and his win in the Super High Roller cap a rapid rise for a player who's quickly becoming one of the top names in the game. Mokri grew up watching the likes of Timothy Adams and Steve O'Dwyer compete on EPT live streams. Now he's playing amongst them and, for today at least, beating them.
He became a professional in 2017 and quickly became a regular in Bobby's Room in Las Vegas, competing in the highest-staked cash games around. Six-figure pots weren't uncommon. Mokri only transitioned to playing more tournaments last year and quickly established a name for himself, making eight final tables in 2023 alone. He's now a familiar face in high roller tournaments, playing against the same players he once idolized; his largest career score came in a $250,000 event in London earlier this month, where he finished in eighth place for $860,000.
Final Table results
| Place | Player | Country | Prize |
| --- | --- | --- | --- |
| 1 | Kayhan Mokri | Norway | €750,960 |
| 2 | Jean-Noel Thorel | France | €471,500 |
| 3 | Steve O'Dwyer | Ireland | €314,300 |
| 4 | Sam Grafton | United Kingdom | €209,600 |
Day 2 Action
Mokri began the day as a massive chip leader with 1,713,000, thanks largely to a fortunate ace on the river in a massive pot against Sam Grafton on Day 1, and had nearly a million more than Alejandro Lococo in second place.
O'Dwyer, Thorel, Grafton, and David Yan jumped back in at the start of the day, creating a total field of 18 entries and €1,746,360 prize pool. Yan had a short stay, setting up the nine-handed final table.
Mokri won a big pot off Lococo with a set of jacks early at the final table to climb near 2,000,000. Patrik Antonius was the first to exit, moving all in with fives but running into Thorel's jacks in the big blind. O'Dwyer and Felipe Ketzer then tangled in a 600,000-chip pot as O'Dwyer picked up aces while Ketzer had ace-king, sending the Brazilian to the rail in eighth place.
Lococo, down to 85,000, then moved all in with ace-five but ran into Mikalai Vaskaboinikau's dominating ace-king, ending the Argentinian rapper's run in seventh. The six remaining players then jostled for three hours, moving up and down the chip count leaderboard as the levels progressed. But there was one constant: Mokri's spot at the top as he maintained his big advantage.
Adams finally shoved for 163,000 and Vaskaboinikau called. Grafton then reshoved for 306,000 and won a race with ace-king against Vaskaboinikau's ace-queen and Adams' nines to double up off the Belarusian while sending Adams to the rail in sixth. Vaskaboinikau was left short and lost another coin flip with eights to Mokri's ace-king a short time later to be eliminated on the money bubble.
Mokri caught a lucky break, again against Grafton, when Grafton called all in for 400,000 with two kings against Mokri's ace-three. Grafton was poised for a double up until a straight came on the board, chopping the pot. Grafton was then sent out in fourth place when he called all in with a straight, but Thorel had two kings for a rivered full house.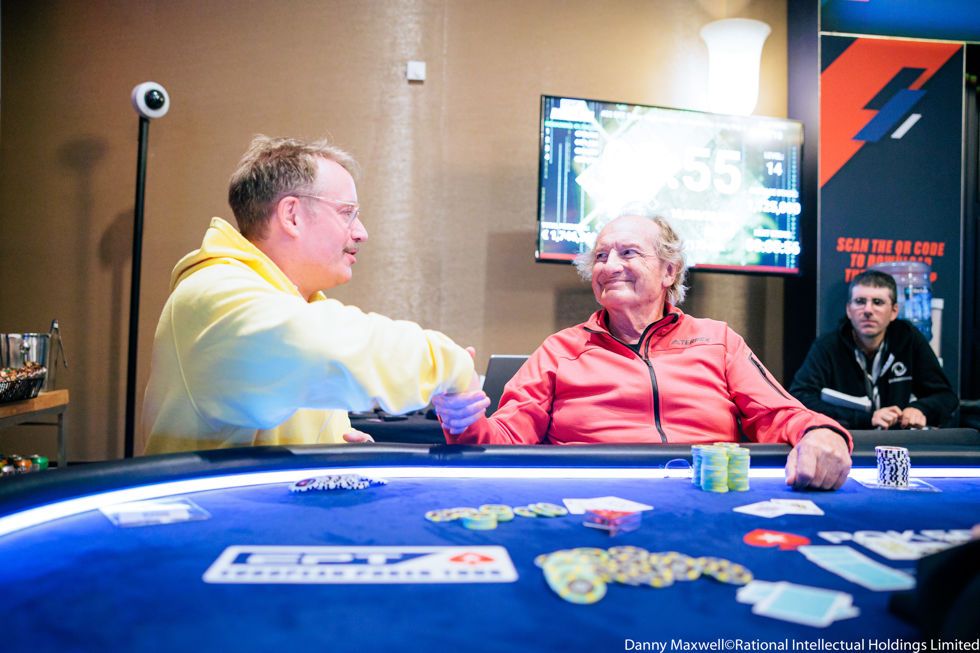 At the dinner break, Mokri led with 2,155,000 to Thorel's 1,620,000 and 725,000 for O'Dwyer. Thorel took the chip lead from Mokri for the first time in the day when he called a bet of 500,000 on the river with two pair. While it was Mokri who took out a short-stacked O'Dwyer in third place, Thorel led 3,165,000 to 1,335,000 at the start of heads-up.
Mokri dropped down to 600,000 at one point during the duel but steadily increased his stack until he tied the match by calling two bets from Thorel with just ace-high. Mokri then five-bet shoved to retake the chip lead, one he would never relinquish.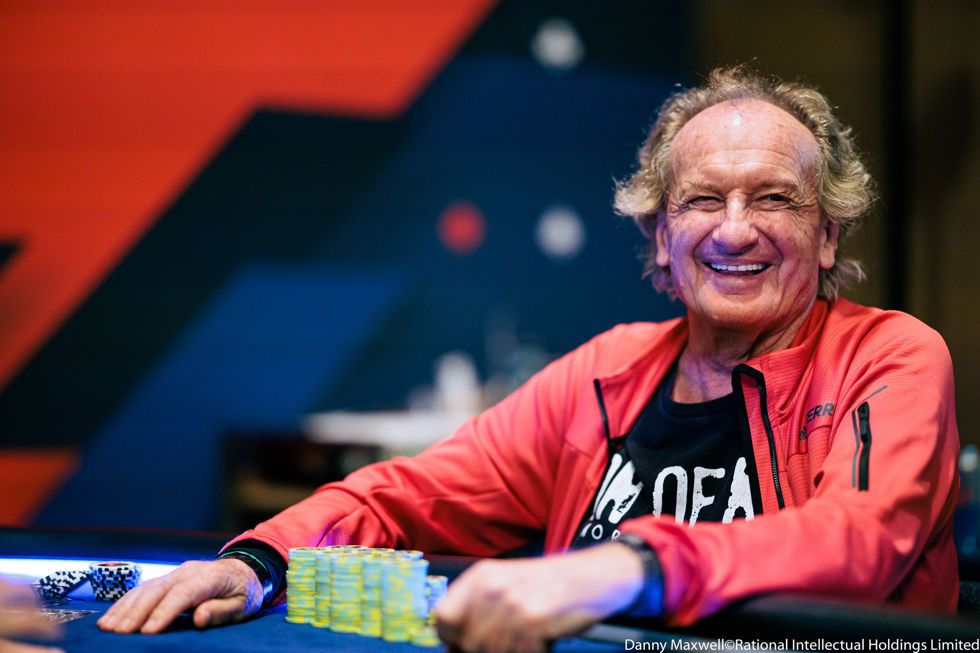 On the last hand, Mokri bet 175,000 on an ace-high board. Thorel then jammed for 870,000 and Mokri tank-called with ace-queen for top pair. Thorel had straight and flush draws but missed the river as Mokri secured the trophy. Thorel had to settle for another runner-up finish. The French businessman, who spent his career building a pharmaceutical empire and now occupies his time regularly competing, and beating, the top players in the game, finished second to Adams in a $125,000 event earlier this month for $2,830,000. He was also second at the $250,000 Super High Roller at the PCA in January.
It was a title that was a long time coming for one of poker's newest stars. Mokri had the results over the past year to establish himself as one of the game's best, and it all started here a year ago. Now he has the trophy that was all he had been missing.
That concludes PokerNews' coverage of the EPT Barcelona €100,000 Super High Roller. Stay tuned for more updates, including from the €5,300 Main Event.
Niveau 17 : Blinds 20,000/40,000, 40,000 ante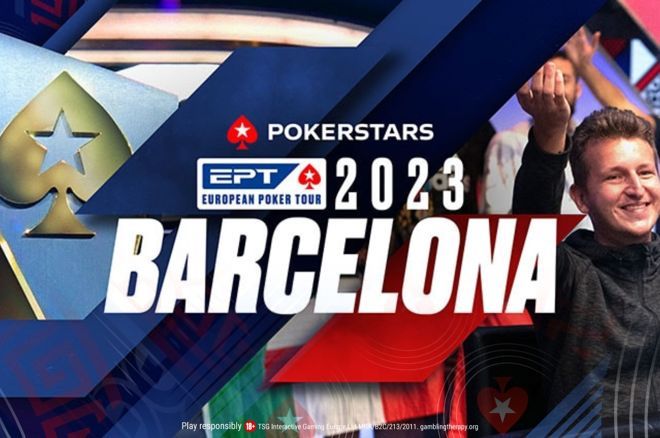 If you can't get the time off to fly down to Spain for the EPT Barcelona, don't worry. PokerStars is running a Mini EPT Barcelona online.
This fun and affordable online series runs parallel to the live EPT Barcelona, with 25 online tournaments held over eight days.
The first events kick off on August 27, starting with Event #1: $11 Deep Stack, 3 Re-entry. Before then, players can get in on the action with online satellite events on PokerStars.
In addition to big prize pools throughout the series, winning Event #25 — or its sister Event #24: $5.50 Mini EPT Barcelona Main Event - L — will net you a ticket for the $1,050 WCOOP Main Event. This also comes with a Gold Power Pass package worth $10,300 that will cover your travel, accommodation, and tournament buy-in for EPT Cyprus.
Niveau 17 : Blinds 20,000/40,000, 40,000 ante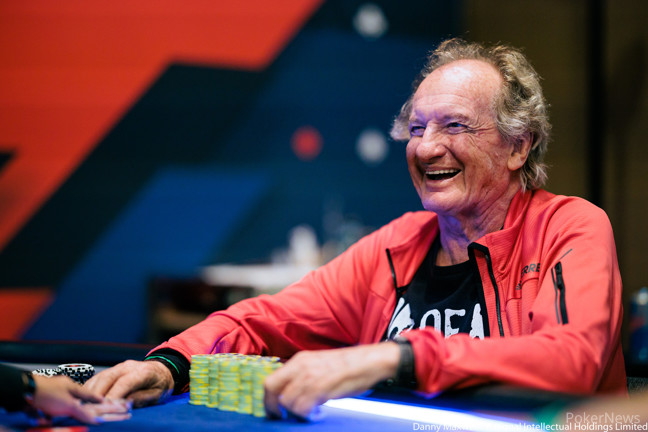 In a limped pot, the flop read A♥K♦5♦, and Jean-Noel Thorel check-called a bet of 40,000 from Kayhan Mokri.
The 4♠ peeled off on the turn, and once Thorel checked, Mokri fired a bet of 175,000. Thorel check-shoved all-in putting Mokri to the test.
"Urgh, How much is it?" Asked Mokri as he contemplated. "What do you have?"
The dealer let him know it was 870,000 and he shrugged his shoulders as he announced the call.
Jean-Noel Thorel: J♦3♦
Kayhan Mokri: A♣Q♥
Thorel had turned a straight draw to go along with his flush draw, but the 3♣ river wasn't one of those outs as Mokri's pair of aces sent him to the rail in 2nd place for €471,500.

Niveau 17 : Blinds 20,000/40,000, 40,000 ante
In a limped pot, Kayhan Mokri and Jean-Noel Thorel checked to the river on a board of 8♣5♣A♣10♣K♣. Thorel let out a laugh after seeing the fifth club hit the board as he checked.
Mokri then tossed out 200,000 and Thorel quickly folded.
Mokri again limped a few hands later and Thorel checked to the 9♥A♣9♣ flop. Mokri bet 40,000 and Thorel surrendered his hand once more as Mokri began steadily wearing down Thorel's stack.
Niveau 17 : Blinds 20,000/40,000, 40,000 ante
Kayhan Mokri opened 90,000 and Jean-Noel Thorel called.
The dealer spread a flop of 10♦6♠2♣, and Thorel check-called a bet of 120,000.
The J♣ turn was checked through to the 4♥ river. Thorel dropped a stack of greens across the line, betting 500,000 and putting Mokri in the tank. Mokri took close to a minute before making the call.
Thorel looked disappointed as he tabled his Q♦8♠ bluff, and Mokri dragged the pot with a pair of fours, showing K♥4♠.

Niveau 17 : Blinds 20,000/40,000, 40,000 ante
Jean-Noel Thorel was on the button and put in a raise to 95,000. Kayhan Mokri called in the big blind as they saw a flop of 10♦K♥Q♣.
Mokri then checked over to Thorel, who continued for 100,000. Mokri called and the 6♠ fell on the turn.
Thorel fired out another 225,000 and Mokri quickly folded.
Niveau: 17
Blinds: 20,000/40,000
Ante: 40,000

Niveau 16 : Blinds 15,000/30,000, 30,000 ante
Kayhan Mokri and Jean-Noel Thorel agreed to reduce the levels to 30 minutes for the rest of the heads-up match.

Niveau 16 : Blinds 15,000/30,000, 30,000 ante
Kayhan Mokri and Jean-Noel Thorel are now taking a 20-minute break.