Event Info
| | |
| --- | --- |
| Buy-in | $25,750 |
| Players | 159 |
Info Niveau
| | |
| --- | --- |
| Niveau | 27 |
| Blinds | 40,000 / 80,000 |
| Ante | 10,000 |
$25,750 High Roller
Jour 3 terminé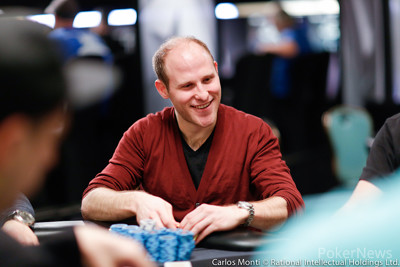 Le High Roller à 25750$ du PokerStars Championship Bahamas a débuté il y a deux jours avec 159 entrants. Dans la nuit de samedi à dimanche, le Canadien Luc Greenwood a fait honneur à ses frères en s'imposant pour 779 268$ après un deal en head's up avec l'Américain Nick Petrangelo (740.032$).
Le meilleur résultat de Luc était jusque là de 75000$, à cette époque il avait terminé 21e du PCA 2010. 66e du premier Main Event de l'histoire du PokerStars Championship Bahamas, Luc rejoint ses frères Sam et Max dans le clan des millionnaires en poker de tournoi. Il cumule désormais plus de 1,2 million de gains en carrière.
| Position | Joueur | Pays | Prix |
| --- | --- | --- | --- |
| 1 | Luc Greenwood | Canada | $779,268* |
| 2 | Nick Petrangelo | US | $740,032* |
| 3 | Michael Rocco | US | $409,020 |
| 4 | Byron Kaverman | US | $335,020 |
| 5 | Daniel Negreanu | Canada | $268,780 |
| 6 | Nacho Barbero | Argentina | $208,400 |
| 7 | Stephen Chidwick | UK | $154,260 |
| 8 | Mark Radoja | Canada | $113,360 |
| 9 | Bryn Kenney | US | $90,380 |
*Deal
Ils étaient 9 à revenir pour le Jour 3 et Bryn Kenney n'a pas réussi à redresser la barre. Short en début de TF, l'Américain a perdu un 40-60 contre Petrangelo et rapidement rejoint le rail. 9e, Kenney a cash 5 fois pour 2 victoires et 1,6 million cette semaine !
Chipleader à l'entame de la journée, Petrangelo a ensuite trouvé les Rois pour éliminer Mark Radoja et son
. Le Britannique Stephen Chidwick (7e) s'incline lui avec
contre les
de Michael Rocco pour le coup le plus classique du poker.
Nacho Barbero a été la troisième victime de Petrangelo. L'Argentin n'a pas été le dernier puisque Daniel Negreanu a aussi sauté face au joueur US. "Kid Poker" a tout mis avec
mais Petrangelo avait la pointure au dessus,
.
Les 4 derniers survivants vont discuter d'un éventuel deal sans parvenir à s'accorder. Byron Kaverman va trouver le bon spot pour doubler puisqu'il envoie avec
et se fait payer par Luc Greenwood qui ne peut retourner mieux que
. Greenwood se paye l'ancien n°1 du classement GPI et vainqueur du POY GPI 2015 en faisant un
rivière !
Kaverman a aussi fait un superbe festival puisqu'il a ajouté commencé par une 5e place sur le Super High Roller pour 445 320$. L'Américain a sauté sur le Main Event dans la foulée et atteint le Jour 4 (28e pour 19 000$). Le fan de foot a ensuite finit 3e du 50.000$ Single Re-entry pour 452 220$. Avec sa 4e place payée, Kaverman a encaissé un total de plus de 1,2 million cette semaine !
"Mon année 2016 a été mauvaise, mais cela fait plus que rattraper l'affaire", a-t-il confié à PokerNews après son élimination. "Je suis content d'avoir réussi à traverser cette mauvaise passe. Même si je ne sais pas trop comment j'ai fait", a-t-il ajouté.
Pendant ce temps là, Michael Rocco s'incline à la 3e place des mains de Petrangelo. Le duo final se retrouve en HU avec le même tapis et décide alors d'une répartition à l'ICM avec le trophée et 30000$ à la gagne.
Les deux hommes décident aussi d'une augmentation des blindes et d'un abaissement de la durée des niveaux pour ne pas y passer la nuit. Le duel terminal ne verra pourtant pas l'horloge passer un level supplémentaire.
Dans un pot sans réelle action, un
apparaît au tournant et Nick Petrangelo envoie tout avec
... au pire moment. Greenwood a fait top paire, paye et la brique rivière ne change rien. Greenwood file alors dans le rail pour célébrer avec ses parents, présents dans le rail durant toute la TF !
By Carlos Monti of PokerStars.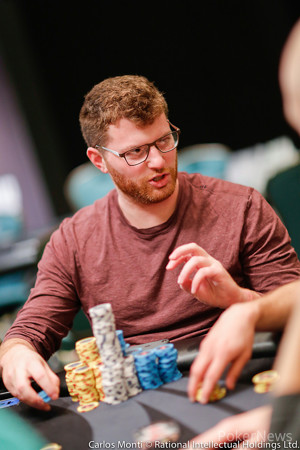 It only took a few hands of heads-up play to crown a winner.
In what would be the final hand of the tournament, Luc Greenwood raised to 200,000 on the button and Nick Petrangelo three-bet to 700,000 from the big blind. Greenwood made the call and then called a bet of 420,000 on the
flop.
When the
paired the board on the turn, Petrangelo moved all in for approximately 2.4 million and Greenwood snap-called.
Greenwood:

Petrangelo:
"Nice turn," Petrangelo said. "I don't think I shove a different turn."
Petrangelo was in desperate need of a jack, but it wasn't meant to be as the
appeared on the river instead. Thanks to the heads-up deal, Petrangelo will take home $740,032 for his performance.
| | | | | | |
| --- | --- | --- | --- | --- | --- |
| Nick Petrangelo | | | | Eliminé | |
Niveau:

27
Blinds:

40,000/80,000
Ante:

10,000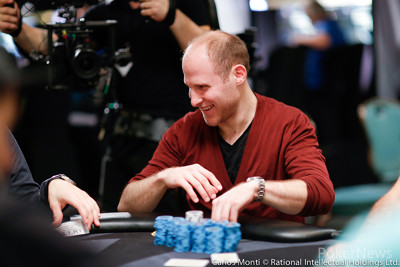 The remaining two players have agreed to an ICM deal, and decided to progress matters directly by moving forward the level and blinds too. Here are all the details you need to know.
The following pay-outs have been agreed and will be paid as follows:
Luc Greenwood $749,268
Nick Petrangelo $740,032
There is $30,000 still to play for, and of course the magnificent $25,750 PokerStars Championship Bahamas High Roller trophy. The blind levels were at 20,000/40,000, but the players have decided to advance straight to the 40,000/80,000 level and cut the length of each blind level in half to 30 minutes.
Let's get the battle on!
The final two players have agreed to a short break. Cards should be back in the air shortly.
| | | | | | |
| --- | --- | --- | --- | --- | --- |
| Luc Greenwood | | | | 4,200,000 | -150,000 |
| Nick Petrangelo | | | | 3,750,000 | 850,000 |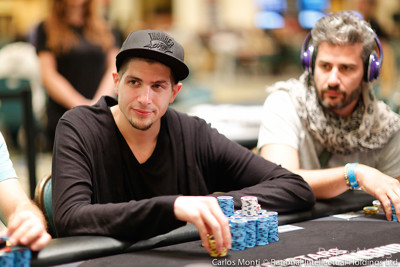 Michael Rocco raised to 90,000 from the button and Nick Petrangelo defended his big blind. The
flop saw Petrangelo check-call a bet of 75,000, and then he checked the
turn.
Rocco bet 200,000, Petrangelo check-raised all in, and Rocco thought for a bit before calling off for right around 1 million total.
Petrangelo:

Rocco:
Petrangelo had turned the flush, which meant Rocco needed another non-ace or six heart to stay alive. The
river wasn't what he was looking for, and Rocco became the third-place finisher.
| | | | | | |
| --- | --- | --- | --- | --- | --- |
| Michael Rocco | | | | Eliminé | |
Niveau:

24
Blinds:

20,000/40,000
Ante:

5,000
Michael Rocco has lost a few successive pots to see his stack roughly halved in the last two orbits.
First, Luc Greenwood min-bet pre-flop and got a call from Rocco. The flop of
saw Greenwood bet 75,000 and Rocco called. The
turn saw Rocco take the getting lead, betting 100,000, but Greenwood raised to 325,000. Rocco called. The
river saw Greenwood make it 200,000 and got a fold to take a very valuable pot.
In the second successive pot, Greenwood and Rocco tangled again. Rocco made it 105,000 from the small blind pre-flop and Greenwood called in the big blind. The flop of
saw Rocco bet 150,000 and get a call, but on the turn of
, Greenwood bet 200,000 and that took it down. Rocco is down to just 20 big blinds.
| | | | | | |
| --- | --- | --- | --- | --- | --- |
| Luc Greenwood | | | | 4,350,000 | 900,000 |
| Michael Rocco | | | | 810,000 | -940,000 |