€100,000 Super High Roller
Jours 1
€100,000 Super High Roller
Jour 1 terminé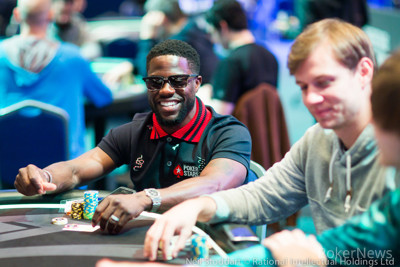 World-famous comedy star Kevin Hart took his first crack at a major high roller when he played the $100,000 Super High Roller at PokerStars Championship Bahamas in January.
He fired a couple of shells without any luck, but he may have at least learned something from the experience, as he improved his results already on his second try by making Day 2 with above starting stack of the same event at PokerStars Championship presented by Monte-Carlo Casino®.
After eight one-hour levels of Day 1 play, 38 players bagged up chips, with Daniel Dvoress (907,000) first among them, followed by PokerStars Team Pro and fellow Canadian Daniel Negreanu (864,000). Hart's 396,000 puts him just outside the top 10 at 13th.
Top 10 Chip Counts
| Place | Player | Stack |
| --- | --- | --- |
| 1 | Daniel Dvoress | 907,000 |
| 2 | Daniel Negreanu | 864,000 |
| 3 | Viacheslav Buldygin | 827,000 |
| 4 | Ali Reza Fatehi | 770,000 |
| 5 | Steve O'Dwyer | 676,000 |
| 6 | Steffen Sontheimer | 661,000 |
| 7 | David Peters | 591,000 |
| 8 | Igor Kurganov | 516,000 |
| 9 | Stefan Schillhabel | 505,000 |
| 10 | Charlie Carrel | 443,000 |
The tournament logged 47 unique entrants and 56 entries total, and there's still time for that number to grow until registration for the event closes at the start of Day 2.
Hart busted his first bullet and looked like he might log another fun but fruitless day at the felt, at least in terms of actual poker results — he may have fared better with a couple of physical strength and endurance prop bets he worked on organizing with Dan Colman.
However, attempt No. 2 went better for the diminutive, boisterous movie star. Pocket aces proved to be the ticket, twice over.
First, he got value from Ali Reza Fatehi when he made a boat after three queens hit the felt, Then, during the final level of the night, Hart limped under the gun with the bullets and saw Nick Petrangelo shove in 13 big blinds, followed by another shove from Dietrich Fast for 20. They had queen-ten and ace-eight respectively, and neither stood a chance against Hart.
Negreanu also made the most of a membership in the two-bullet club, despite having little time to work with since he busted late in the day. He made his own aces count for an early double through Dan Smith, who had tens, and then finished Smith off in a flip to instantly move way up the counts. Add in making a straight against Christoph Vogelsang, and Negreanu cooked up quite the climb.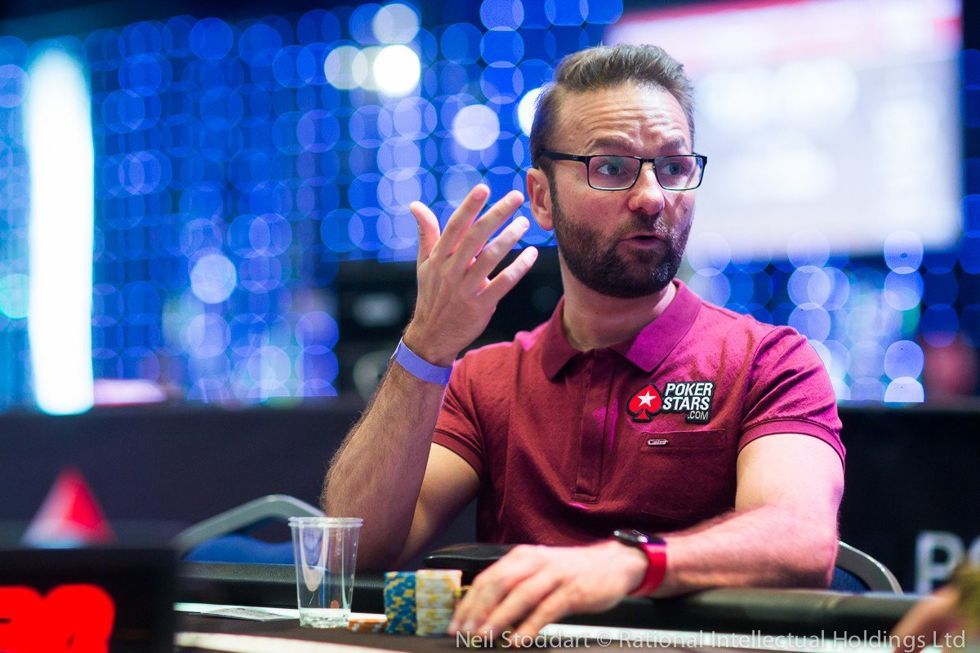 Other players bagging included high roller ace Steve O'Dwyer (676,000), David Peters (591,000), Fedor Holz (366,000), Ike Haxton (287,000) and Ole Schemion (310,000) who locked up a trophy earlier in the day by winning the €10,300 Opening Event for about €275,000.
Soon-to-be dad and Negreanu's fellow Team Pro Jason Mercier also nurtured through a stack of 356,000.
Players will return Friday at 12:30 p.m. local time to play out Day 2 starting at 3,000/6,000/1,000. A final prize pool has yet to be determined as eliminated players and fresh entrants may still register until things kick off then. Head on over to the PokerStars Blog for live updates, and tune back in to PokerNews for more feature coverage.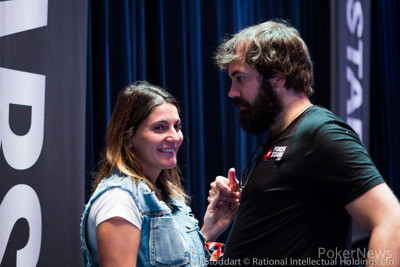 "Coming in October... #12weeks" read the tweet that Natasha Mercier sent out on March 23. If the text didn't tell you enough, the accompanying photo did. Both Natasha and Jason Mercier were sitting on the couch reading books on being pregnant and becoming a father. The recently married couple expects their first early in October.
A week later, Jason won the $25,500 High Roller at the Seminole Hard Rock Poker Showdown, netting him $794,600. We caught up with him in Monaco, where he's playing the PokerStars Championship presented by Monte-Carlo Casino®.
"You've figured out my strategy," Jason said as we asked him if he was planning on getting in as much poker as possible before the baby is born. "I'm basically planning on playing as much as I can the next three months."
The PokerStars Team Pro is gearing up for a full summer of grinding in Las Vegas, and is even toying with the idea of adding an extra week after the Series ends to play cash games. When that's done, though, it's possible he's not playing anything at all until the baby comes.
"I'm considering going to Barcelona or maybe a tournament in Hollywood, Florida, but besides that, I'll probably take a couple of months off for the last part of her pregnancy."
While Mercier posed for the big reveal photo with the book "Dude, You're Gonna Be a Dad!", he, in fact, hasn't read much about what to expect.
"I haven't read any books," he said with a laugh. "That book that I had open, I think I only read the first chapter."
Jason anticipates diving into the books when the big trip, including Vegas, ends.
"I think I'm going to do a lot more studying up and try to be ready for it when Vegas is done," he said.
While he might not be well-versed with knowledge from books, he does think he's already gotten a decent amount of real-life practice.
"I have six nieces and nephews and I've been around them for the last four or five years since they've been growing up," he said. "So, I feel I have a decent idea of what to expect."
Mercier isn't sure yet what his poker life is going to be once the baby is there.
"It's going to have to depend on how I feel, how Tasha feels and how we're able to balance being parents and also being poker players," he said.
They plan on making a few trips to see how things go. If taking the baby with them works out, he might play some more. If Natasha and the baby have to stay home, Jason will too.
Regardless of how things go with bringing the baby along, Jason expects to trim down on the amounts of traveling.
"I'm definitely looking forward to being a father and anticipate slowing down a bit," he said. "You can't really be on the road seven or eight months out of the year for your entire life. I mean, you can, but that's not what I'm hoping for."
Jason made no secret out of the fact that he was rooting for it to be a boy.
"Big flip coming..." he tweeted first. Following that came, "BOOM! Ship it #IdontLoseFlips" and then a reveal that the two were indeed expecting a boy.
"It's not that I don't want a girl, it's more just having the reassurance that I'm going to have at least one boy," he said. "If the first one's a girl, then you're really sweating the second one. Now if the second one is a girl again, you got to ask yourself the question, 'How many kids are we gonna have?'
"I wanted to have a son and now that we know that the first one is going to be a boy, I'll be happy if I'll have three girls next."
The logical questions is, are the Merciers going to introduce their son to poker, or are they going to keep him shielded from the game a bit.
"I can't imagine really keeping him away from that, simply because gambling and poker is so much of what I do," Mercier said. "I want him to learn what I do and I also expect him to be able to be good at it too. I would imagine I'll be training him from a young age."
Last summer, Mercier dominated the poker news with his strong string of results, hyped up by the bracelet bets he had made before hand. With what might be the last summer of poker without any distractions, it's not out of the realm of possibilities that he again bets heavily on himself to take home some WSOP gold, adding to his already strong collection of five.
It's not set in stone yet, though.
"Like every year, I'm going to see where I'm at during SCOOP and after SCOOP," he said. "A lot of it depends on Monte Carlo as well. I'm way more likely to make bracelet bets when I have a good result here. The win at SHRPO is definitely pushing me to make bracelet bets."
There's one major thing holding Mercier back from firing big on himself again.
"I've also been playing mixed cash the last 12 months in Bobby's Room, and if I make bracelet bets I can't really play those games until the tournaments are over," he said. "It's a lot to consider and I'll probably make a decision a week before the World Series starts."
When he knows, we'll know. First, a week and a half of poker awaits in the Principality of Monaco. Mercier is currently playing the €100,000 Super High Roller, so follow the action on PokerNews this week to see if he adds another trophy to his collection.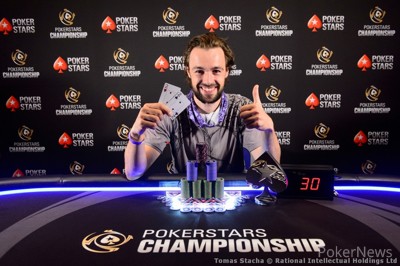 German mega-talent Ole Schemion returned to the winner's circle yet again in a PokerStars Live event, taking down PokerStars Championship Presented by Monte-Carlo Casino €10,300 Opening No-Limit Hold'em for €274,750 and his ninth spade trophy.
Schemion has been particularly dominant here in Monte Carlo. Last year, he won the €100,000 Super High Roller here for about €1.6 million and chopped the €50,000 Super High Roller for another €857,241. The young crusher also has three other wins in side events here, each coming in 2013.
This time around, Schemion topped a final table that included fellow German high-roller Koray Aldemir, Steve O'Dwyer and 2013 WSOP Main Event champ Ryan Riess.
Official Final Table Results
| Place | Player | Country | Prize |
| --- | --- | --- | --- |
| 1 | Ole Schemion | Germany | €274,750 |
| 2 | Murad Akhundov | Azerbaijan | €188,860 |
| 3 | Koray Aldemir | Germany | €123,770 |
| 4 | Steve O'Dwyer | Ireland | €100,300 |
| 5 | Luc Greenwood | Canada | €80,560 |
| 6 | Ryan Riess | USA | €62,950 |
| 7 | [Removed:119] | France | €49,610 |
| 8 | Gerald Karlic | Austria | €37,880 |
The tournament drew 110 entries for a prize pool of €1,067,000.
Riess came into the final day, which had seven players returning, as the chip leader. He was looking to build on a recent heater that saw him add a WPT title to his trophy case when he won the $10,000 Seminole Hard Rock Poker Finale for $716,088. That came after he finished top-17 in four events between PokerStars Championship Bahamas and PokerStars Championship Panama, including the Main Event in the former.
However, Riess could not make his lead last as he went down in sixth place. Riess flopped a set of deuces and bet all streets. On the river, Ole Schemion shoved on him and Riess wasn't willing to let it go. The former Main Event champion called only to be shown a turned straight by the German.
Schemion came in as the second-shortest stack but, greatly helped by the big pot against Riess, navigated into heads-up play with Murad Akhundov of Azerbaijan. Akhundov might not be able to match Schemion's poker accomplishments, but he's had quite a bit of success himself at Monte Carlo. He finished top-five in a pair of high roller events last year for a little under €500,000 and proved he wasn't going to just let Schemion waltz to another win.
The two were very deep when they began battling heads up, and Akhundov quickly erased the chip deficit, primarily courtesy of a pot that looked to be four-bet preflop. Akhundov bet big on a flop of all clubs and then shoved an offsuit four turn after Schemion called. Schemion tanked as long as the timer would let him and wound up calling with seven-six of hearts for second pair and a straight draw. Akhundov, though, had him dead with jack-ten of clubs for a flush.
However, Schemion opened the very next pot and then called off his stack with pocket queens and found himself well ahead of king-eight. He doubled through after flopping a set, and he rolled that momentum to a win after about another hour of play.
No rest for the wicked afterward, as Schemion moved immediately into the €100K to begin chasing his next big score.

By PokerStars photographer Neil Stoddart.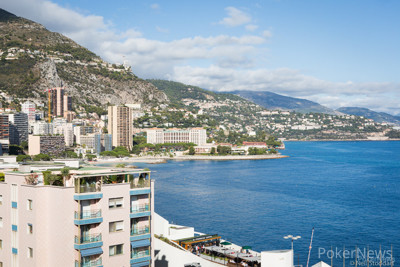 It's time for another PokerStars Championship event, this time PokerStars Championship Presented By Monte-Carlo Casino. The event is already two days in, but PokerNews will be bringing you coverage starting today.
The biggest tournament already underway is €10,300 Opening No-Limit Hold'em, a "shot clock" event that drew 110 entries and has reached a final table of seven players. Chip leader and 2013 WSOP Main Event champ Ryan Riess, Ole Schemion, Steve O'Dwyer, and Koray Aldemir are among those still in contention. O'Dwyer is looking to continue an astonishing run of success in PokerStars Live events, and Riess seeks to build on his recent win in the WPT Seminole Hard Rock Poker Finale.
The winner of that event will bank €274,750.
As for today's coverage, the storied €100,000 Super High Roller is scheduled to kick off at 12:30 p.m. local time here in Monte Carlo. Celebrity guest Kevin Hart, who played the super high roller at PokerStars Championship Bahamas, will be making an appearance, along the usual cast of high rolling poker celebrities.
Here at PokerNews, we'll be bringing you feature coverage of the event, while live updates can be found at the PokerStars Blog. Today's schedule calls for eight levels lasting one hour apiece, with entries and reentries open throughout the day.
Here's a look at what tournaments you can expect coverage of here on PokerNews for the next nine days:
| Dates | Event |
| --- | --- |
| April 27-29 | €100,000 Super High Roller |
| April 29-May 5 | €5,300 Main Event |
| April 30 | €50,000 Single-Day High Roller |
| May 3-5 | €25,750 High Roller |
€100,000 Super High Roller
Jour 1 a débuté