$300,000 Super High Roller Bowl
Jours 4
$300,000 Super High Roller Bowl
Jour 4 terminé
Niveau 25 : 40,000/80,000, 80,000 ante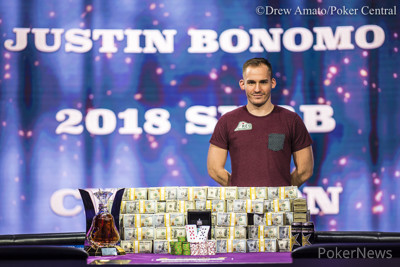 Twenty-six hours ago, Justin Bonomo stared at the purple felt in the PokerGO studio as the river card prepared to hit, one card from elimination on the bubble. Now, he has emerged victorious against an ultra-elite field in the $300,000 Super High Roller Bowl for a career-best $5 million.
The win continues Bonomo's spectacular 2018, which has seen him lap the field with nearly $14 million in cashes, more than $5 million clear of nearest competitor Jason Koon. Bonomo already won Super High Roller Bowl China, which had a buy-in of about $250,000, for $4.8 million.
Official Final Table Results
| Place | Player | Country | Prize |
| --- | --- | --- | --- |
| 1 | Justin Bonomo | USA | $5,000,000 |
| 2 | Daniel Negreanu | Canada | $3,000,000 |
| 3 | Jason Koon | USA | $2,100,000 |
| 4 | Mikita Badziakouski | Belarus | $1,600,000 |
| 5 | Christoph Vogelsang | Germany | $1,200,000 |
| 6 | Nick Petrangelo | USA | $900,000 |
Even Fedor Holz's legendary 2016, which saw him win more than $16 million, looks exceedingly likely to be surpassed now.
Bonomo repeatedly said in the lead-up to this final table that he felt his whole career had built to this moment. He came up grinding as one of the brightest stars online more than a decade ago and transitioned into one of the preeminent live crushers with a WSOP bracelet, piles of high roller wins and more than $31 million in cashes.
"I've watched the game change," he said. "I've used all the methods and learned all the games. I finally feel like I'm on top."
No matter how much poker changes, though, a bit of good luck will always play a huge role in any outcome. Never has that been more true for Bonomo than late on Day 3, when he was all in with ace-ten suited against the kings of Christoph Vogelsang. A ten hit the flop but Bonomo needed more help and he found it when an ace arrived on the river to save him.
Afterward, Bonomo admitted to Daniel Negreanu that he did not have a particularly fun day.
The final day would prove a little easier for his heart. He wasn't worried much about early ladders coming in essentially tied with Negreanu and Mikita Badziakouski for the lead, but he secured more money right away when Nick Petrangelo busted first hand running tens into Koon's queens.
Vogelsang came in the shortest and followed in fairly short order in fifth. The defending champ acquitted himself well with another strong showing a year after he pocketed $6 million.
Start-of-day leader Badziakouski had a tough go of it despite being the one to bust the German. The key pot came up in Level 21 (20,000/40,000/30,000) when Badziakouski played a three-bet pot with Negreanu, holding ace-queen against sixes. The Belarusian bluffed off 2 million, half of his stack, postflop repping a middling board when Negreanu was the one holding a straight.
Bonomo took the rest of it in a battle of blinds where both players flopped top pair and Bonomo's king kicker was superior to Badziakouski's eight.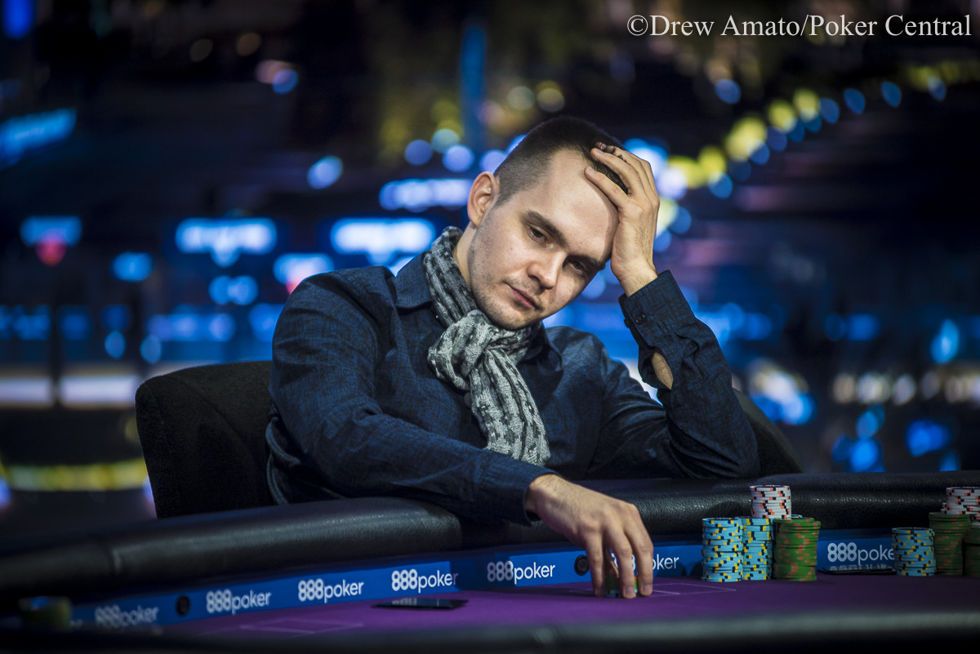 With three players left, Bonomo had his only moment on the final day where he found himself at risk with cards to come. However, it proved a minimal sweat since he had flopped top two against Koon's middle two in a three-bet pot, with the money going in on the turn and Koon having only two outs. The river bricked and Koon was left with about 15 big blinds and couldn't recover.
Bonomo had a huge lead of about 4-1 against Negreanu, but "Kid Poker" wouldn't be a pushover. He won some decent pots and closed the gap. However, he picked a bad time to commit to a raising war and get stacks in with second pair and an open-ender as Bonomo had top set of nines.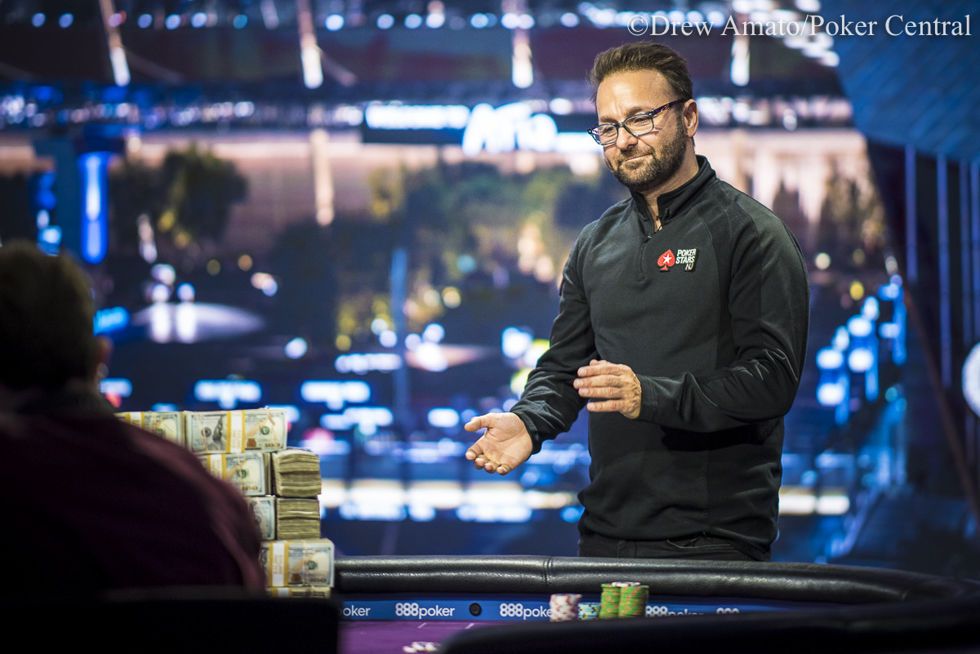 Afterward, he was asked if it was any consolation that he had left it all out there after playing some great poker over the past few days.
"Yeah, and I got $3 million, too," he said with a laugh. "Took a shot. Five or a ten and we're in business. But, we got a deserving champ."
For his part, Bonomo highlighted the fact that Negreanu has stayed so competitive at the top level of the game when so many others have fallen by the wayside.
"Kudos to him for staying at the top," Bonomo said.
Indeed, few have stood the test of time like Negreanu. But based on his tremendous run over the past decade-plus, culminating in this $5 million moment, Bonomo looks like a player that could follow in Kid Poker's footsteps if he so chooses.

Niveau 25 : 40,000/80,000, 80,000 ante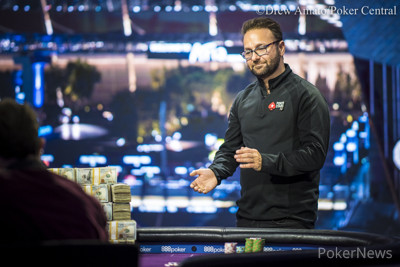 Shortly after the break, Justin Bonomo and Daniel Negreanu stuffed their chips in. It started with Bonomo peeling
on the button. He made it 200,000 and Negreanu called with
.
The dealer rolled out a
flop and it became apparent that both players would be in for a big betting round. Negreanu checked to Bonomo who continued for 160,000. Negreanu reached to his piles and countered with a 500,000-raise.
Bonomo fired back, announcing 1.25 million and Negreanu processed his options. He burned an extension card and after a minute, he shoved all in for 4.4 million total. Bonomo immediately called.
"I got the other stuff," Negreanu said after seeing Bonomo turn up the top set. "Good flop!"
"We need a five or a ten" Negreanu announced to his fans in the rail. "Five on the turn for fun!"
But it was the
instead.
"Five or ten or Justin Bonomo will be our Super High Roller Bowl champion!" Negreanu did some commentary while waiting for the final card.
Then he shouted the familiar phrase: "One time!" making the whole crowd laugh.
The river came the
, missing Negreanu's straight draw and giving Bonomo a full house to close things out.
Both players shook hands and exchanged compliments. Negreanu pocketed $3 million for his efforts while Justin Bonomo took down the title along with a $5 million top-prize.
Joueur
Jetons
Progression

Justin Bonomo

14,400,000

4,985,000

Daniel Negreanu

Eliminé
Niveau: 25
Blinds: 40,000/80,000
Ante: 80,000

Niveau 24 : 30,000/60,000, 60,000 ante
Players are on a break. Action will resume shortly.
Joueur
Jetons
Progression

Justin Bonomo

9,415,000

-270,000

Daniel Negreanu

4,985,000

270,000

Niveau 24 : 30,000/60,000, 60,000 ante
Justin Bonomo again opened to 160,000 with
and Daniel Negreanu just called with
.
The
flop with two undercards looked well for Negreanu but, unfortunately for him, Bonomo paired his ten. Negreanu check-called 125,000 and checked the
turn. Bonomo went for a small sizing, firing 210,000 but Negreanu made a good laydown, not willing to give up any more chips.
Joueur
Jetons
Progression

Justin Bonomo

9,685,000

705,000

Daniel Negreanu

4,715,000

-705,000

Niveau 24 : 30,000/60,000, 60,000 ante
Justin Bonomo raised to 160,000 and Daniel Negreanu defended his big.
The
favored Bonomo who had
. He checked back and Negreanu got in front on the turn as his
hit two pair when the
turn landed. Negreanu led out 150,000 and Bonomo called.
The
brought an inferior two pair for Bonomo and Negreanu opted for a tricky check. Bonomo then fired 500,000 but Negreanu snapped him off with the winning hand.
Joueur
Jetons
Progression

Justin Bonomo

8,980,000

-780,000

Daniel Negreanu

5,420,000

780,000

Niveau 24 : 30,000/60,000, 60,000 ante
Justin Bonomo made it 160,000 with
and Daniel Negreanu called with
.
Both players hit a middle pair on the
where Negreanu check-called another 125,000.
Negreanu had it locked on the
turn but Bonomo checked back this time.
The
was a brick and Negreanu led out 600,000. Bonomo evaluated his third pair as a good bluff-catcher and called, shipping some more chips to his rival.
Joueur
Jetons
Progression

Justin Bonomo

9,760,000

-825,000

Daniel Negreanu

4,640,000

825,000

Niveau 24 : 30,000/60,000, 60,000 ante
Daniel Negreanu raised to 150,000 with
and Justin Bonomo called with
.
The
flop was checked through and Bonomo overbet the
turn, firing 450,000. Negreanu had paired his trey and called.
Negreanu got there on the
river, hitting two pair.
Bonomo fired 900,000 for value but Negreanu called with the winner. Bonomo leant forward to look at his two pair and nodded.
Joueur
Jetons
Progression

Justin Bonomo

10,585,000

-1,515,000

Daniel Negreanu

3,815,000

1,515,000
Niveau 24 : 30,000/60,000, 60,000 ante
Daniel Negreanu three-bet to 560,000 with
and Justin Bonomo, after opening with
, called.
Both checked the flop to a board of
and Negreanu bet 300,000. Bonomo called. The river was the
and Negreanu checked. Bonomo bet 900,000.
"Quite a card," Negreanu said with a sigh.
He folded at the close of his 30 seconds.
Joueur
Jetons
Progression

Justin Bonomo

12,100,000

605,000

Daniel Negreanu

2,300,000

-605,000