Event #5: $10,000 No-Limit Hold'em
Jours 2
Event #5: $10,000 No-Limit Hold'em
Jour 2 terminé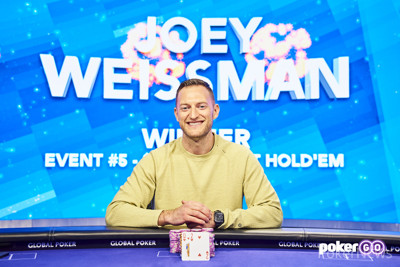 Joey Weissman mounted a comeback for the ages as he had a short-stack most of the final table including facing an initial 6:1 chip deficit against Adam Hendrix heads-up to win the U.S. Poker Open Event #5: $10,000 No Limit Hold'em for $204,000 at the PokerGO Studio at the ARIA Resort & Casino.
Weissman entered the final table in the middle of the pack but often found himself short on chips and needed no less than five double-ups to stay alive throughout the day.
Hendrix appeared destined to win the event after holding a commanding chip lead throughout most of the final table including eliminating four of his six opponents at the official final table but things fell apart heads-up to finish runner-up for $144,500.
In other news, Joe McKeehen was also on the podium in third place for $102,000, which was more than good enough to catapult him to the top of the U.S. Poker Open Championship Standings ahead Jake Daniels, who was the leaderboard captain from the time he won the USPO Event #1: $10,000 No Limit Hold'em for $218,500.
The event itself was the second-biggest of the festival after attracting 85 entries to create an $850,000 prize pool. The final table was broadcasted to poker fans around the world at the subscription-based PokerGO.
Remember, an annual subscription to PokerGO costs $99.99, but you can save $20 off by using promo code "USPO21" at checkout. Sign up by going here.
Event #5 Final Table Results
| Place | Name | Country | Prize |
| --- | --- | --- | --- |
| 1 | Joey Weissman | United States | $204,000 |
| 2 | Adam Hendrix | United States | $144,500 |
| 3 | Joe McKeehen | United States | $102,000 |
| 4 | Cary Katz | United States | $85,000 |
| 5 | Frank Funaro | United States | $68,000 |
| 6 | Brock Wilson | United States | $51,000 |
| 7 | Vicent Bosca | Spain | $42,500 |
Event #5 Final Table Action
Poker Central and PokerGO founder Cary Katz entered the final table as the table captain with 2015 WSOP Bracelet winner Joe McKeehen, Adam Hendrix, and Joey Weissman closest on his tail. Frank Funaro, Brock Wilson, and the only player not from the United States in Spain's Vicent Bosca all began with short stacks.
The three short-stacked players were unable to get anything going and were the first three players eliminated at the final table. Bosca was the first of the trio on the rail in seventh place for $42,500 after his queen-jack was no match against Hendrix's ace-queen.
Wilson was the next casualty in sixth place for $51,000 on a rollercoaster of a hand. Hendrix jammed with jack-eight and was called by Wilson with ace-queen. Two queens and a king spiked the flop to improve Wilson to trips. However, it appeared nothing could go wrong for Hendrix as he managed to win the hand with minuscule odds to do so after a nine came on the turn followed by a ten on the river to complete a straight.
Shortly after Funaro three-bet jammed ace-three suited and was eliminated in fifth place for $68,000 when he didn't get there against Hendrix's tens.
Hendrix's stack grew to more than double his three opponents combined during four-handed play. The two short stacks then collided with Weissman jammed his six-five suited and getting called by Katz with ace-four. A five hit the board to double up Weissman and to leave Katz with crumbs. Hendrix dusted off Katz' stack to eliminate the start of the day chip leader in fourth place for $85,000 the next hand when his queen-deuce dominated eight-deuce.
Shortly after, Hendrix ousted McKeehen in third place for $102,000 when his queen-trey suited didn't improve against Hendrix's king-nine suited.
Heads-Up Action
Hendrix, who was dominating throughout the final table, began heads-up action with a nearly 6:1 chip advantage against Weissman and extended it to a more than 9:1 chip advantage before things began to fall apart.
Weissman doubled-up with king-seven against Hendrix's six-four. The underdog then doubled-up again to nearly even his stack when his pocket rockets dominated Hendrix's king-six to bring the stacks close to even and soon after Weissman snagged the chip lead.
Hendrix then found himself short on chips with Weissman whittling away at his stack. Weissman had a more than 4:1 chip advantage when he jammed queen-deuce suited and was called by Hendrix with ace-jack suited. Weissman improved to a flush and despite crushing throughout the final table had to settle for the healthy runner-up prize of $144,500.
2021 U.S. Poker Open Championship Standings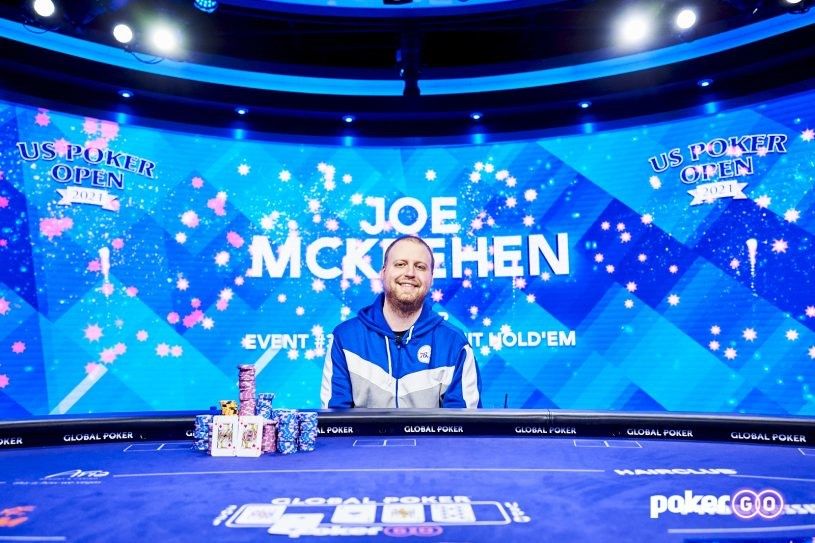 Joe McKeehen catapulted from second to first on the 2021 U.S. Poker Open Championship Standings after his third-place performance in Event #5.
Jake Daniels, who was leading the leaderboard during the early part of the festival after winning the opening event, slipped down into second place.
Meanwhile, after winning Event #5, Joey Weissman hopped into third place on the leaderboard with Event #2 champion Sam Soverel, Event #4 winner John Riordan, and Steve Zolotow rounding out the top five spots.
| Rank | Player | Points | Wins | Cashes | Earnings |
| --- | --- | --- | --- | --- | --- |
| 1 | Joe McKeehen | 302 | 1 | 2 | $302,200 |
| 2 | Jake Daniels | 219 | 1 | 1 | $218,500 |
| 3 | Joey Weissman | 204 | 1 | 1 | $204,000 |
| 4 | Sam Soverel | 195 | 1 | 2 | $194,500 |
| 5 | Dan Shak | 186 | 0 | 2 | $186,000 |
| 6 | John Riordan | 182 | 1 | 2 | $182,200 |
| 7 | Steve Zolotow | 153 | 0 | 2 | $153,000 |
| 8 | Barry Hutter | 153 | 0 | 2 | $152,500 |
| 9 | Jordan Cristos | 147 | 0 | 2 | $147,000 |
| 10 | Ray Qartomy | 146 | 0 | 1 | $146,300 |
*Images courtesy of Poker Central
Event #5: $10,000 No-Limit Hold'em
Jour 2 a débuté