Event #7: $10,000 No-Limit Hold'em
Jours 2
Event #7: $10,000 No-Limit Hold'em
Jour 2 terminé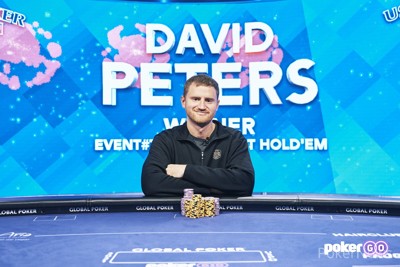 David Peters defeated Jared Jaffee in heads-up play to win the U.S. Poker Open: Event #7: $10,000 No-Limit Hold'em for $217,800 at the PokerGO Studio at the ARIA Resort & Casino.
This is familiar territory for Peters who came into the festival with nearly $34 million in live poker tournament earnings and as the reigning U.S. Poker Open Champion after wrestling away the top spot on the leaderboard from Sean Winter in 2019 with a huge USPO Main Event victory.
Peters snagged the lead with six players left and never looking back in a dominating performance against some of the biggest names in poker with the likes of Andrew Lichtenberger, Brock Wilson, Alex Foxen, Ivan Zufic, Dan Shak, and Kristina Holst all battling at the final table.
Meanwhile, congratulations are also in order to the U.S. Poker Open as Event #7 established a new festival attendance record with 99 entries generating a $990,000 prize pool.
USPO Event #7: $10,000 NLHE Final Table Results
| Place | Name | Country | Prize |
| --- | --- | --- | --- |
| 1 | David Peters | United States | $217,800 |
| 2 | Jared Jaffee | United States | $158,400 |
| 3 | Andrew Lichtenberger | United States | $118,800 |
| 4 | Brock Wilson | United States | $89,100 |
| 5 | Alex Foxen | United States | $79,200 |
| 6 | Ivan Zufic | Croatia | $59,400 |
| 7 | Dan Shak | United States | $49,500 |
| 8 | Kristina Holst | United States | $39,600 |
Final Table Action
Lichtenberger began the eight-player final table with the chip lead but by the time the final table began Holst (eighth - $39,600) lost her short stack and Jaffee and Peters were neck and neck for the chip lead.
Peters stormed ahead and accumulated half the chips in play as he two short-stacked players in the rail in Zufic (sixth - $59,400) and Shak (seventh - $49,500).
Foxen (fifth - $79,200) was the next to go in when his king-jack proved to be no match to Jaffee's big slick. Jaffee then also ousted Wilson (fourth - $89,100). Wilson jammed the flop with a flush draw holding ace-ten suited and was called by Jaffee with ace-five. The bottom pair proved to be good enough after blanks came on the turn and river to end Wilson's title run.
Soon after, Peters jammed with jack-ten and eliminated Lichtenberger (third - $118,800) with ace-seven after improving to two pair on the flop.
Peters began heads-up play against Jaffee with a 3:1 chip advantage but it wasn't all smooth sailing to start as Jaffee was able to nearly even the stacks.
Jaffee's momentum then abruptly ended. Peters with four-three suited held a full house on the board when he overbet the river and was called by Jaffee with trips holding eight-four. Jaffee still had a chance to spin it back up with 12 big blinds but ultimately he had to settle for the runner-up prize of $158,400 when his king-deuce didn't get there against the ace-eight held by Peters.
2021 U.S. Poker Open Championship Standings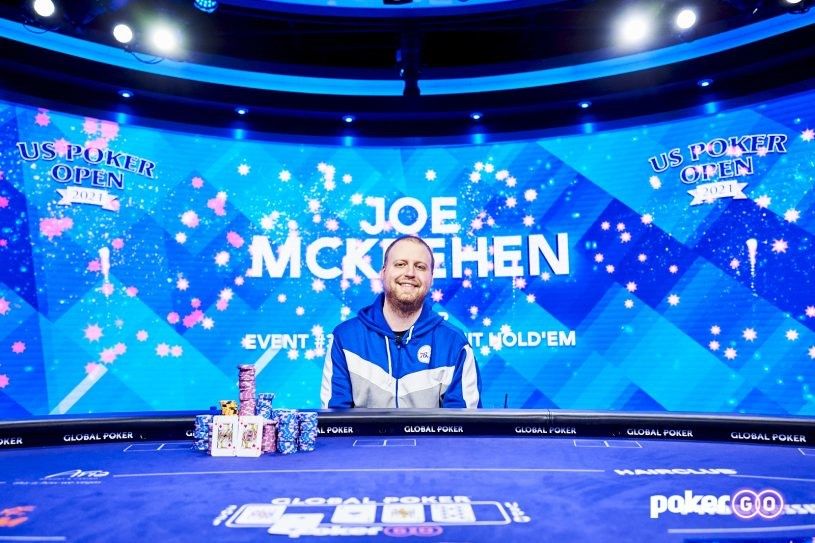 USPO Event #3 champion Joe McKeehen was sitting on top of the 2021 U.S. Poker Open Championship Standings for the third straight day with Event #6 runner-up Steve Zolotow residing in second place in back-to-back days.
Meanwhile, Dan Shak hopped from sixth to third place on the leaderboard thanks to his third final table appearance and John Riordan climbed from eighth to fourth place with the help of his ninth-place finish in Event #7 for his third cash this festival.
Event #1 winner Jake Daniels, who was on top of the leaderboard after each of the first four events didn't cash in Event #7 and slipped from third to fifth place.
| Rank | Player | Points | Wins | Cashes | Earnings |
| --- | --- | --- | --- | --- | --- |
| 1 | Joe McKeehen | 302 | 1 | 2 | $302,200 |
| 2 | Steve Zolotow | 289 | 0 | 3 | $289,000 |
| 3 | Dan Shak | 236 | 0 | 3 | $235,500 |
| 4 | John Riordan | 222 | 1 | 3 | $221,800 |
| 5 | Jake Daniels | 219 | 1 | 1 | $218,500 |
| 6 | David Peters | 218 | 1 | 1 | $217,800 |
| 7 | Sam Soverel | 214 | 1 | 3 | $214,300 |
| 8 | Joey Weissman | 204 | 1 | 1 | $204,000 |
| 9 | Alex Foxen | 184 | 0 | 3 | $183,700 |
| 10 | Eli Elezra | 184 | 1 | 1 | $183,600 |
2021 U.S. Poker Open Results
| Event | Entries | Prize Pool | Winner | Country | Prize |
| --- | --- | --- | --- | --- | --- |
| Event #1: $10,000 No-Limit Hold'em | 95 | $950,000 | Jake Daniels | United States | $218,500 |
| Event #2: $10,000 Pot-Limit Omaha | 65 | $650,000 | Sam Soverel | United States | $175,000 |
| Event #3: $10,000 No-Limit Hold'em | 77 | $770,000 | Joe McKeehen | United States | $200,200 |
| Event #4: $10,000 Big Bet Mix | 48 | $480,000 | John Riordan | United States | $163,200 |
| Event #5: $10,000 No-Limit Hold'em | 85 | $850,000 | Joey Weissman | United States | $204,000 |
| Event #6: $10,000 8-Game | 68 | $680,000 | Eli Elezra | United States | $183,600 |
| Event #7: $10,000 No-Limit Hold'em | 99 | $990,000 | David Peters | United States | $217,800 |
*Images courtesy of Poker Central
Event #7: $10,000 No-Limit Hold'em
Jour 2 a débuté