Event #73: $1,000 DOUBLE STACK No-Limit Hold'em (30 minute levels)
Jours 2
Event #73: $1,000 DOUBLE STACK No-Limit Hold'em (30 minute levels)
Jour 2 a débuté

| Room | Table | Seat | Player Name | Country | Chip Count | Big Blinds |
| --- | --- | --- | --- | --- | --- | --- |
| Amazon | 406 | 1 | Victor Figueroa | United States | 412,000 | 41 |
| Amazon | 406 | 2 | Nicholas Alexander | United States | 387,000 | 39 |
| Amazon | 406 | 3 | Marc Cohen | United States | 163,000 | 16 |
| Amazon | 406 | 4 | David Hale | United States | 156,000 | 16 |
| Amazon | 406 | 5 | Mikhail Semin | Russia | 124,200 | 12 |
| Amazon | 406 | 6 | Thaddeus Hightower | United States | 59,000 | 6 |
| Amazon | 406 | 7 | Eric Taylor | United States | 349,000 | 35 |
| Amazon | 406 | 8 | Eli Loewenthal | United States | 116,000 | 12 |
| Amazon | 406 | 9 | Leo Margets | Spain | 340,000 | 34 |
| | | | | | | |
| Amazon | 407 | 1 | [Removed:321] Arani | United States | 270,000 | 27 |
| Amazon | 407 | 2 | Alexander Bilbao | United States | 185,000 | 19 |
| Amazon | 407 | 3 | Richard Kirsch | United States | 125,000 | 13 |
| Amazon | 407 | 4 | Nicholas Smith | United Kingdom | 52,000 | 5 |
| Amazon | 407 | 5 | Antonio Ferreira | Portugal | 382,000 | 38 |
| Amazon | 407 | 6 | Jason Edwards | United States | 353,000 | 35 |
| Amazon | 407 | 7 | Jeffrey Ross | United States | 194,000 | 19 |
| Amazon | 407 | 8 | Pochuen Law | United States | 78,000 | 8 |
| Amazon | 407 | 9 | Michael Gallagher | Canada | 86,000 | 9 |
| | | | | | | |
| Amazon | 414 | 1 | Avraham Azulay | United States | 80,000 | 8 |
| Amazon | 414 | 2 | Evan Lipshultz | United States | 952,000 | 95 |
| Amazon | 414 | 3 | Orestis Kanakopoulos | United States | 325,000 | 33 |
| Amazon | 414 | 4 | Jake Balsiger | United States | 446,000 | 45 |
| Amazon | 414 | 5 | Eiji Matsumura | Japan | 182,000 | 18 |
| Amazon | 414 | 6 | Konstantin Puchkov | Russia | 112,000 | 11 |
| Amazon | 414 | 7 | Stephen Abraham | United States | 60,000 | 6 |
| Amazon | 414 | 8 | Jesse Cohen | United States | 220,000 | 22 |
| Amazon | 414 | 9 | DJ MacKinnon | United States | 321,000 | 32 |
| | | | | | | |
| Amazon | 415 | 1 | Benjamin Primus | United States | 163,000 | 16 |
| Amazon | 415 | 2 | Juancarlos Martin | Argentina | 110,000 | 11 |
| Amazon | 415 | 3 | Jerry Young | United States | 128,000 | 13 |
| Amazon | 415 | 4 | Gary Smith | United States | 131,000 | 13 |
| Amazon | 415 | 5 | Keith Neises | United States | 78,000 | 8 |
| Amazon | 415 | 6 | Supan Shah | United States | 146,000 | 15 |
| Amazon | 415 | 7 | Ben Yu | United States | 340,000 | 34 |
| Amazon | 415 | 8 | Mitchell Bowles | United States | 163,000 | 16 |
| Amazon | 415 | 9 | Alan Bittikofer | United States | 101,000 | 10 |
| | | | | | | |
| Amazon | 422 | 1 | Rhody L Heureux | Canada | 71,000 | 7 |
| Amazon | 422 | 2 | Justin Young | United States | 280,000 | 28 |
| Amazon | 422 | 3 | Hien Nguyen | United States | 252,000 | 25 |
| Amazon | 422 | 4 | Sean Troha | United States | 251,000 | 25 |
| Amazon | 422 | 5 | Jason Johnson | United States | 532,000 | 53 |
| Amazon | 422 | 6 | Joon Park | Canada | 144,000 | 14 |
| Amazon | 422 | 7 | Christian Cheater | Canada | 144,000 | 14 |
| Amazon | 422 | 8 | Thiago Nishijima | Brazil | 471,000 | 47 |
| Amazon | 422 | 9 | Matthew Berger | United States | 441,000 | 44 |
| | | | | | | |
| Amazon | 423 | 1 | Ronald Knickerbocker | United States | 122,000 | 12 |
| Amazon | 423 | 2 | Daniel Pridham | United Kingdom | 122,000 | 12 |
| Amazon | 423 | 3 | Alexander Greenblatt | United States | 162,000 | 16 |
| Amazon | 423 | 4 | Harley Stoffmaker | Canada | 216,000 | 22 |
| Amazon | 423 | 5 | Denis Timofeev | Russia | 258,000 | 26 |
| Amazon | 423 | 6 | Jerry Mouawad | United States | 260,000 | 26 |
| Amazon | 423 | 7 | Vlad Darie | Romania | 289,000 | 29 |
| Amazon | 423 | 8 | Zinan Xu | China | 118,000 | 12 |
| Amazon | 423 | 9 | Viktor Lavi | Israel | 220,000 | 22 |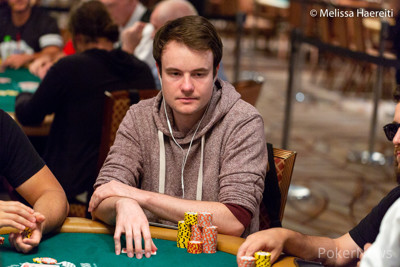 Welcome back to the final day of Event #73: $1,000 DOUBLE STACK No-Limit Hold'em (30 minute levels) where a winner will walk away with that first-place prize of $199,586 and the gold WSOP bracelet tonight. 54 players will return at noon local time to battle it out among themselves.
Evan Lipschultz is in a prime position right with a huge chip lead as he bagged 952,000 last night. With 95 big blinds, it is expected that he won't be afraid to let his big stack do the talking on the table. But it won't be easy as he's got players like 2012 November-niner Jake Balsiger (446,000), bracelet winner Konstantin Puchkov (112,000), WSOP Circuit Ring winner DJ MacKinnon (321,000), and Jesse Cohen (220,000) for example on his table too.
Second in the chip counts is Jason Johnson trailing by almost 40 big blinds with 532,000 which is still almost twice average. Johnson is no stranger to the WSOP Circuit with over 20 cashes already. A first place here wouldn't be his personal best as he had a pretty amazing 2014 when he reached two final tables and finished in 51st place in the Main Event. Johnson is sharing table space with bracelet winner Thiago Nishijima who is standing in third place in the chip counts with 471,000. Matthew Berger is also on the table and sporting one of the top 5 stacks of today with 441,000.
Others to keep an eye on today include Leo Margets (340,000), Ben Yu (340,000), Vlad Darie (289,000), Justin Young (280,000), Alexander Greenblatt (162,000), Mikhail Semin (124,200), and Eli Loewenthal (116,000). All returning players are guaranteed at least $3,399 but will all be looking to ladder up.
Players will continue play at noon on Level 21 which features a small blind of 5,000, big blind of 10,000 and a running ante of 1,000. A 15-minute break is scheduled after every four levels with a dinner break to be determined.
As this is a brand-new event for the WSOP, make sure to come back to see who will go down in history as the first-ever winner of the $1,000 DOUBLE STACK. The PokerNews live reporting team will be there from the first ante that will be paid until the final pot has been pushed to the winner!
Niveau: 21
Blinds: 5,000/10,000
Ante: 1,000

Niveau 21 : 5,000/10,000, 1,000 ante
The 54 remaining players have been seated at their new tables and welcomed back to the Rio All-Suite Hotel and Casino. All six dealers have been instructed to shuffle up and deal.

Niveau 21 : 5,000/10,000, 1,000 ante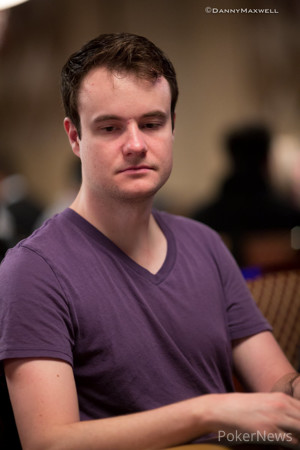 Jake Balsiger opened to 20,000 from under the gun. It folded to Avraham Azulay on the button who three-bet all in for 106,000. Balsiger counted and did some mental arithmetic before calling.
Jake Balsiger:

Avraham Azulay:
Azulay let out a grunt of frustration on the
flop. The turn
and river
didn't help him and he was eliminated.

Niveau 21 : 5,000/10,000, 1,000 ante
Thaddeus Hightower shoved for 81,000 from mid-position and was called by Nicholas Alexander in the small blind.
Thaddeus Hightower:

Nicholas Alexander:
The board ran out
for Hightower's higher kicker to count for his double-up.

Niveau 21 : 5,000/10,000, 1,000 ante
Leo Margets and Marc Cohen were heads-up and all-in with Margets having Cohen covered.
Marc Cohen:

Leo Margets:
The board ran out
for Cohen to cheer when the river fell for his flush, failing to realize that Margets had already hit a full house on the flop. Cohen looked at Margets stack and saw he was covered and quickly left for the payout desk.

Niveau 21 : 5,000/10,000, 1,000 ante
Konstantin Puchkov moved all in for around 90,000 from the button. Jesse Cohen called in the big blind, flipping over
He was ahead of the
of Puchkov, and Cohen's ace played on a
board to eliminate the Russian.

Niveau 21 : 5,000/10,000, 1,000 ante
The following players have unfortunately already had to leave the tournament area during the first 15 minutes of the day: