Milos Skrbic is at Home in the Main Event with One Goal

Niveau 36 : 400,000/800,000, 800,000 ante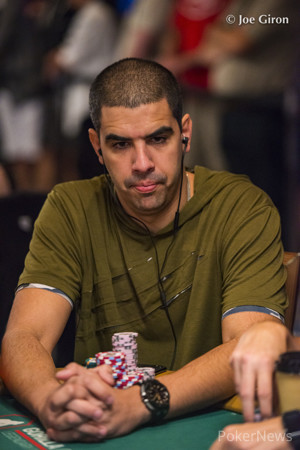 Milos Skrbic recently broke out in the poker tournament scene, but he's far from a newcomer to the game. After playing high-stakes cash for five years, the 31-year-old poker pro from Serbia who now resides in San Diego got interested in trying his hand in the tournament variant, bursting onto the scene in 2018 racking up $1,450,295 in cashes, according to Hendon Mob.
Skrbic is in good company of illustrious players who studied for another career before switching their major to poker. Before he took up the game 10 years ago, Skrbic studied to be a veterinarian back in his home country of Serbia. After one year, he shifted gears and decided to study computer science in the U.S. but eventually went all in with poker.
His journey in the Main Event so far has been a smooth one as he has padded his stack, staying near the top of the counts in the days leading up to the final table. A quick look through the live reporting blog paints a story of Skrbic winning pot after pot, many with no showdown — a quiet and calculated assassin climbing the ranks.
"I've definitely had some good hands. I made some great value bets on rivers and I also made some good calls, so I'm playing pretty good. Everything is going very smooth."
"I'm very relaxed. I think that's my big advantage."
Skrbic has been in some big-equity tournament spots that have prepared him well for the moment he's found himself in, approaching the final table of poker's crown jewel. Last year, he finished 958th in the WSOP Main Event. Then, he took sixth place in the $10k Bellagio Cup, and followed that up with a fifth-place finish in the €10k WSOP Europe Rozvadov Main Event won by Jack Sinclair.
"Well I was supposed to win that tournament, I ran pretty bad. I had like 45 percent of the chips five-handed and ran pretty bad...In the spot where I was, I expect to win a lot of times."
While he got good experience in the Main Events, he feels he got even more out of the experience of finishing runner-up to Dylan Linde in the $10,000 WPT Five Diamond Poker Classic in late 2018 that earned him seven figures.
"That was my second big one, so I just got used to all these things, so I don't feel any pressure or anything [in this one]. I'm very relaxed. I think that's my big advantage. And I also feel like home in Vegas and I have a lot of friends here and I'm just completely natural so that's helping me a lot."
How He Got Here
| Day | End-of-Day Chip Count | Rank |
| --- | --- | --- |
| 1a | 72,200 | 493/962 |
| 2ab | 368,900 | 85/1,087 |
| 3 | 624,000 | 274/1,286 |
| 4 | 2,466,000 | 54/354 |
| 5 | 10,715,000 | 7/106 |
| 6 | 31,450,000 | 4/35 |
Key Hands
On Day 7, Skrbic has been putting the pressure on his opponents, chipping up throughout the day with few showdowns. All day it seems he's been winning pots preflop with three-bets and four-bets, or taking it down with bets or raises on the flop and turn. He's also won some critical pots making river calls with the best hand.
The one that really got him rolling though he says, was a hand he played with start-of-day chip leader Nick Marchington. Skrbic opened from the hijack with blinds at 150k/300k with a 300k big blind ante and called when Marchington put in the three-bet from the small blind.
On the
flop, Marchington led for 1.8 million and Skrbic raised to 4.55 million. He got a call and the
hit the turn. After a check from Marchington, Skrbic moved in for around 25 million which prompted a fold, putting Skrbic up over 39 million.
"I picked up some more outs on the turn and went all in when I showed the eight of hearts, so that was like huge - that was like a breaking point for today."
He also mentioned a significant hand on Day 4 where he overbet shoved two-times pot on the river for value and got called by worse, holding king-jack versus king-ten. "That was kind of the moment when my tournament went in a good direction."
What to Watch For
While others may be feeling the pressure of the huge money jumps and the lights and cameras, Skrbic is perfectly comfortable, a fact he'll be looking to continue using to his advantage with the most important poker days of his life ahead of him. With many friends here in town, Skrbic will have plenty of support on his rail, but he doesn't want them to go out of their way until he's down to the final three.
"I told everyone to come only for three-handed, so we have celebration."
Asked if he feels he can get some redemption for his close calls by winning this one, Skrbic was emphatic: "That's the only thing that interests me. Yeah so, I need to win. I'll be very disappointed if I don't. Five Diamond was my 30th birthday so I was sad that I didn't win but it wasn't the end of the world. Winning this one is like my only goal that I have; it's the tournament that every poker player wants to win above everything."
So what would it mean to Skrbic to win the Main?
"Everything."