Niveau 37 : 300,000/600,000, 70,000 ante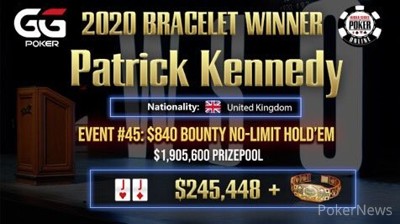 After eleven hours, Event #45: $840 Bounty NLHE has come to an end with Patrick "Muddington" Kennedy claiming his first WSOP gold bracelet for $245,448 which includes $104,680 in bounties. He beat Joshua "kaledak" Pollock heads-up in a field of 2,382 participants who created a prize pool of $1,906,500 in total.
Kennedy seems to be a relatively unknown player in the live scene and has collected just over $5,000 in cashes on GGPoker but crushed the final table with aggressive play at the right times. He got the field down to the final table bubble when he eliminated both Blaaz "Sc4rm4k3r" Azerjav and Jie "MTT0516" Wu with jacks. He lost the chip lead for about a minute when Pollock had him covered by almost 7,000 in chips but took it back immediately to cruise towards the win in the end.
Pollock was the only one on the final who had won a bracelet before and he came close to making it three. He would also be the only one to win one in Las Vegas at the Rio All-Suite Hotel & Casino, one on WSOP.com, and one during the 2020 GGPoker WSOP Online Bracelet Events but it wasn't to be.
Bernardo "GGeKKo" Dias, Jose "robertoduran" Severino, Franco "pelaguacha" Spitale were the more familiar players at the final table and were joined by Chi Chung "chipuker" Ho, Arie "abush" Kliper, Ho Yin "hoyintai" Tai, and Francesco "Pachamama" Favia.
2020 GGPoker WSOP Online Bracelets Event #45: $840 Bounty NLHE Final Table Results
| Place | Player | Country | Prize | Bounties | Total |
| --- | --- | --- | --- | --- | --- |
| 1 | Patrick "Muddington" Kennedy | United Kingdom | $140,768 | $104,680 | $245,448 |
| 2 | Joshua "kaledak" Pollock | United States | $101,212 | $11,964 | $113,176 |
| 3 | Bernardo "GGeKKo" Dias | Brazil | $72,772 | $7,530 | $80,303 |
| 4 | Franco "pelaguacha" Spitale | Argentina | $52,324 | $10,694 | $63,078 |
| 5 | Chi Chung "chipuker" Ho | Taiwan | $37,621 | $3,169 | $40,790 |
| 6 | Arie "abush" Kliper | Israel | $27,050 | $18,089 | $45,139 |
| 7 | Ho Yin "hoyintai" Tai | Hong Kong | $19,449 | $15,469 | $34,918 |
| 8 | Francesco "Pachamama" Favia | Italy | $13,984 | $15,366 | $29,350 |
| 9 | Jose "robertoduran" Severino | Panama | $10,055 | $3,988 | $14,042 |
Bubble Protection in Action
During the first three hours of the tournament, players could register late or reenter up to two times but once the dust had settled, the prize pool details were determined and 332 players would be in the money from the 900 who were still in it at that time. It would take ninety minutes before it was time for the bubble.
Andrei "Why@" Popugaev three-bet shoved with aces but saw them get cracked by the kings of "dodi papa" in a hand that was a rollercoaster. The king on the flop gave "dodi papa" a set, Popugaev then turned the higher set, but the river gave his opponent a flush. As Popugaev had registered before the start of the tournament, he was protected during the bubble and got his buy-in back on top of the $950 in bounties that he had earned.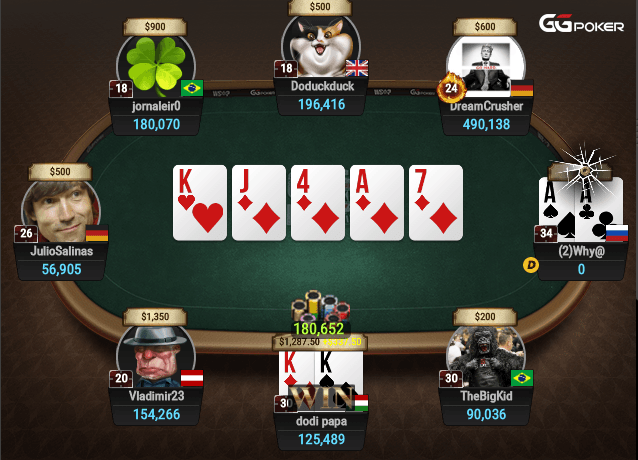 From the Bubble to the Final Table
Many players tried to battle their way to the final table but failed. Players like Artur Martirosyan, Simon Higgins, Mike Leah, Simon Lofberg, Fedor Kruse, Danny Tang, Lev Gottlieb, Ana Marquez, Harry Lodge, Dario Sammartino, and Michael Clacher all busted before they could get there.
Kazuki Ikeuchi came second twice in the WSOP events, in 2018, he and his Tag Team finished behind Nikita Luther and Giuseppe Pantaleo and last year he fell short in the Millionaire Maker when John Gorsuch was victorious. Ikeuchi was aiming to finally grab that bracelet but was eliminated in 13th place this time with Alessandro Giannelli bubbling the final table in the first hand after the break.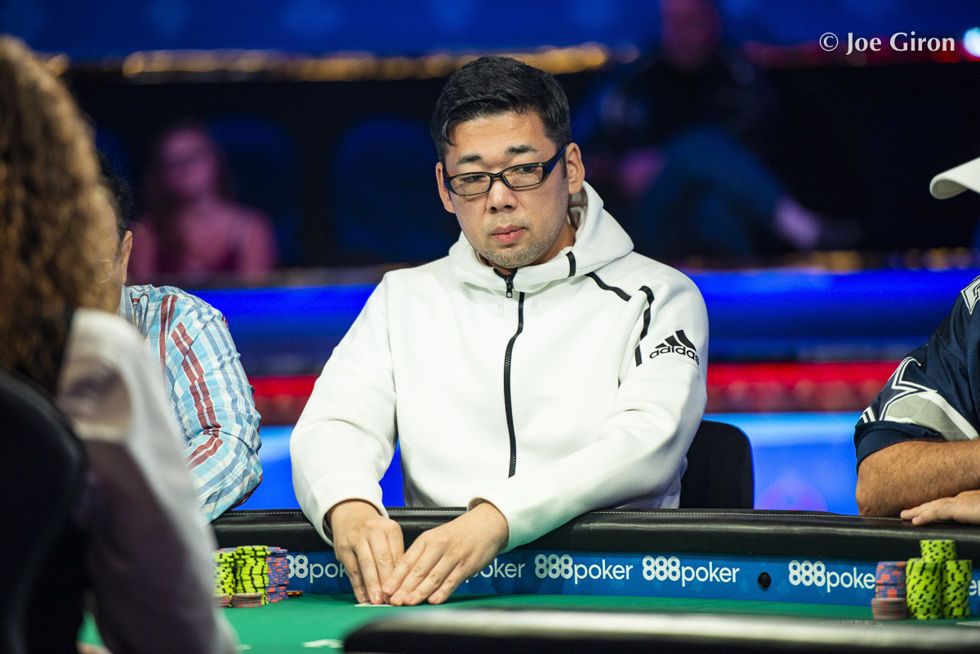 The Final Table
Severino was first to go with Favia following in his footsteps. A few minutes later, Tai took off with Kliper kicked out next for four players to bust in a space of 30 minutes. Kennedy had over 40% of all the chips in play and he maintained that stack while the shorter stacks battled each other. Half an hour later, Ho fell to Pollock.
Dias then closed the gap with Kennedy but it was widened again when the latter took out Spitale in fourth place. Pollock doubled up through Kennedy once before a hand where Dias turned two pair and raised the bet of Pollock. He then called the shove of Kennedy once Pollock got out of the way. Kennedy had turned the straight so Dias was hoping the river would bring another ten or seven but instead he bricked. Dias finished in second place in Event #27: $3,000 No-Limit Hold'em 6-Handed for $308,166 back in 2017 and will be disappointed to not take it down this time either.
Heads-up went back and forth for a bit before Pollock called the four-bet shove of Kennedy for almost 50 big blinds with tens. Kennedy had the higher pocket pair of jacks which held to deliver him the victory while Pollock's cash today will take him closer to the $1,000,000 mark in WSOP winnings.
This concludes the PokerNews coverage of this event but we'll be back on Saturday with Event #46: $500 Deepstack No Limit Hold'em and the final tables of Event #41: $400 COLOSSUS & Event #42: $400 PLOSSUS so make sure to come back!