Event #46: $500 Deepstack No Limit Hold'em
Event Info
| | |
| --- | --- |
| Buy-in | $500 |
| Prize Pool | $1,095,825 |
| Players | 2,307 |
Info Niveau
| | |
| --- | --- |
| Niveau | 37 |
| Blinds | 500,000 / 1,000,000 |
| Ante | 120,000 |
Info Joueurs - Jour 1
| | |
| --- | --- |
| Joueurs Survivants | 1 |
| Entrants | 2,307 |
Event #46: $500 Deepstack No Limit Hold'em
Jour 1 terminé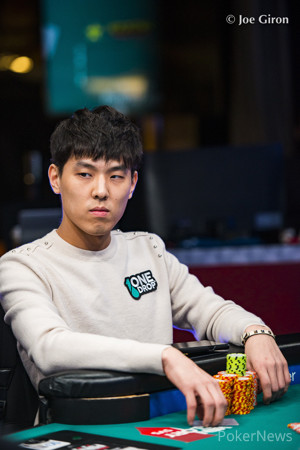 It took just over 11 hours of play to determine the latest champion in the 2020 GGPoker World Series of Poker Online Bracelet Events and it was Sung Joo "ArtePokerTV" Hyun that topped a field of 2,307 entries in Event #46: $500 Deepstack No Limit Hold'em to claim his first gold bracelet and top prize of $161,898.
Hyun defeated China's Yiduo "Tr1pTripM" Yu in heads-up to claim the lion's share of the $1,095,825 prize pool. However, it wasn't the biggest cash prize in his poker career so far. Two years ago, Hyun was very close to winning poker's most prestigious prize when he reached the final table in Event #68: $1,000+111 The Little One for One Drop. Out of 4,732 entries, the South Korean finished in 4th place and took home $189,098.
Two years later, the trip to Las Vegas was not possible and instead Hyun emerged victorious on the virtual felt instead. Many poker players with South Korean heritage have a dual nationality and travel in order to play poker as that is not allowed by law on home soil in the popular casinos in Incheon and Jeju. Hyun follows into the footsteps of Sejin Park and Sean Yu to become the third WSOP bracelet winner for his home country.
The final table also featured Nikita Kuznetsov, Jens Kerper, Wei Zhao and Yesha Punjabi, with the latter usually calling the Crown Casino in Melbourne as her home base for live poker.
Final Result Event #46: $500 Deepstack NLHE
| Place | Winner | Country | Prize (in USD) |
| --- | --- | --- | --- |
| 1 | Sung Joo "ArtePokerTV" Hyun | South Korea | $161,898 |
| 2 | Yiduo "Tr1pTripM" Yu | China | $116,605 |
| 3 | Jeffrey "hockeysyrup" Mallach | Canada | $83,696 |
| 4 | Nikita "VSMPZD" Kuznetsov | Russia | $60,178 |
| 5 | Yu "kris16" Du | Thailand | $43,269 |
| 6 | Che Li "32bo" Lin | Taiwan | $31,111 |
| 7 | Jens "el_gazapo" Kerper | Germany | $22,369 |
| 8 | Wei "dugui777" Zhao | China | $16,084 |
| 9 | Yesha "Iconic" Punjabi | Australia | $11,564 |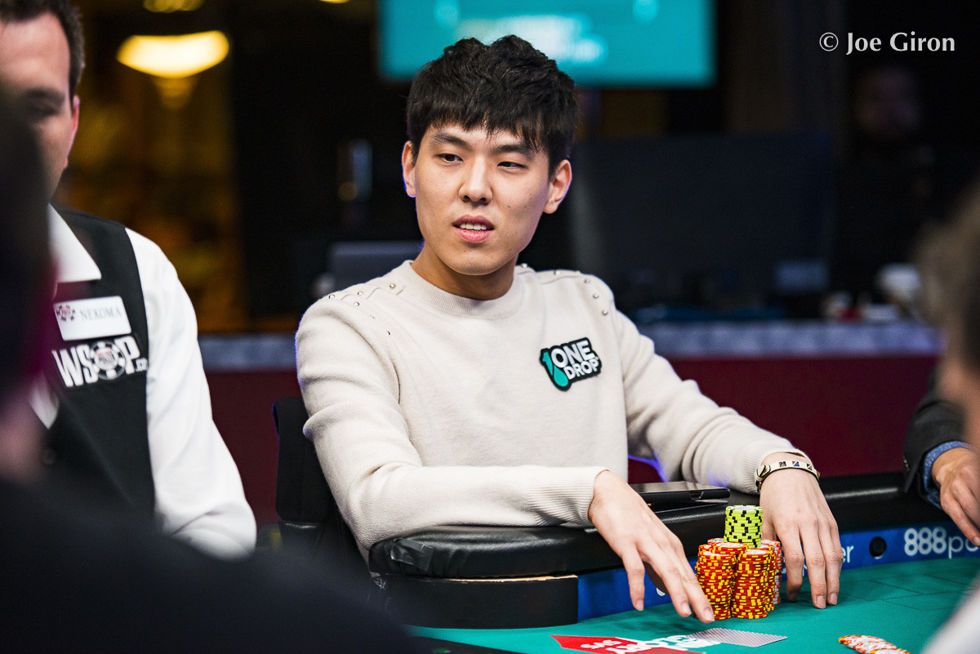 Rapid Fire Action From Start to Finish
More than 500 players were in their seats when the action kicked off on the GGNetwork and it lasted all but a few moments before the first hopes were crushed. As hundreds of entries kept pouring in for the next three hours, the field size more than quadrupled and many notables arrived and left without anything to show for.
Once the registration closed, the casualties kept coming frequently as the blinds went up every 15 minutes. Among those to bust were the 2020 GGPoker WSOP Online winners Roberto Romanello, Hun Wei Lee and Kristen Bicknell, Aaron Wijaya was also not able to take down a second tournament of the Asia Time Zone events.
Further WSOP bracelet winners such as Alex Foxen, Mohsin Charania, Anson Tsang, Thomas Cazayous, Shawn Buchanan, nd Guoliang Wei all bowed out before the money. On the bubble itself, two players received their buy-in back thanks to the bubble protection for events with a buy-in of fewer than $1,000 on the GGNetwork. A three-way all-in saw "EL PAGANO" with kings and Anibal "ChiquiPlum" Andres with jacks at risk and both bowed out as "mjunior75" held aces, as "EL PAGANO" had fewer chips they became the bubble boy.
In the blink of an eye, three dozen players joined the rail in the few minutes until the break. If there was ever any period without any eliminations, it was down to the final two tables. Among the notables to add another WSOP cash to their poker resume were Conor Beresford, Jans Arends, Oliver Weis, Aditya Sushant, Juan Pardo Dominguez, Claas Segebrecht, Joao Vieira and Derek Ip, who all finished outside of the top 100.
From Four Tables Down to the Final Nine Hopefuls
Several big names were still in contention as the field had dropped below 30 hopefuls. Online poker streamer Justin Lapka was the first to fall and Dario Sammartino as well as Dimitar Danchev followed in quick succession. Danchev saw his aces cracked by pocket fours and had to settle for 25th place.
Daan Mulders went from shortest stack to big stack only to bust in the biggest pot of the tournament until then when his tens were dominated by pocket aces as Koray Turker won the side pot to triple up with pocket sixes. Turker was gone a few minutes later, as were Martijn Gerrits and another half a dozen players.
Down to the final two tables, Nikita Kuznetsov became the commanding chip leader when he doubled through Yu Du with a set against two pair. Kuznetsov also eliminated Andreas Samuelsson and reached the final nine with more than two times as many chips as the nearest follower.
Kuznetsov and Mallach from Hero to Zero on the Final Table
In the second hand of the final table, the fireworks kicked off in a three-way all-in as Yesha Punjabi jammed with pocket sevens, Wei Zhao isolated with ace-queen and Jeffrey Mallach called with queens. Kuznetsov mucked a suited ace-king and would have had all the chips as a king appeared on the flop. Instead, Mallach scored the huge pot and nearly closed the gap.
Fewer than 15 minutes passed and the field was already down to the last four. Zhao and Jens Kerper lost their battle with a short stack and Kuznetsov went on a carnage to eliminate Che Li Lin and Yu Du. Soon after, Mallach then flopped a set of sevens and doubled through Kuznetsov's king-ten suited for two pair to take over the role as overwhelming chip leader with four times as many chips as the Russian.
Kuznetsov's misery ended two all-in showdowns later and then it was Mallach who suffered a rough beat when his aces were cracked by the kings of Yiduo Yu. Sung Joo Hyun doubled through Mallach and Yu to take over the lead and Mallach lost two all-in showdowns against Yu to settle for third place.
While Yu won the first two hands of heads-up, he lost the handful remaining ones and the pivotal hand saw him three-bet and triple barrel bluff with ace-eight against the top pair of Hyun. It was all over moments later to crown the third-ever WSOP bracelet winner from South Korea.
That wraps up the live updates for tonight but a busy third Super Sunday awaits on the GGNetwork on August 2nd, 2020. Three WSOP bracelet events will take place and the PokerNews live reporting team will be providing updates for all of them from start to finish.
Sign Up for a GGPoker Account Through PokerNews
If you want to play in the WSOP 2020 Online on GGPoker, you'll need to sign up for an account. By downloading GGPoker via PokerNews entitles you to a welcome bonus worth up to $600. Your first deposit is matched 200% up to a maximum of $600, setting you up nicely in time for the WSOP Online.
The bonus releases into your account in $10 increments each time you earn 6,000 Fish Buffet Points, which is the equivalent of $60 in rake or tournament fees.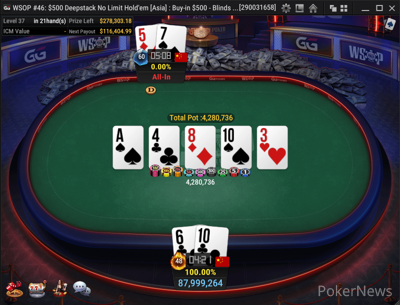 Very few hands passed as Yiduo "Tr1pTripM" Yu gave a walk and was then all-in for a mere two blinds which Sung Joo "ArtePokerTV" Hyun called out of the big blind.
Yiduo "Tr1pTripM" Yu:

Sung Joo "ArtePokerTV" Hyun:
The
flop gave Yu a gutshot on top of his two live cards but he needed a six when the
fell on the turn. A blank
appeared on the river and Yu was eliminated in 2nd place for $116,604.99.
Hyun completed a stunning comeback despite starting the final table second in chips and has earned the top prize of $161,898.19 along with the maiden gold bracelet.
A recap of today's event is to follow.
| | | | | | |
| --- | --- | --- | --- | --- | --- |
| Sung Joo "ArtePokerTV" Hyun | | | | 92,280,000 | 3,260,368 |
| Yiduo "Tr1pTripM" Yu | | | | Eliminé | |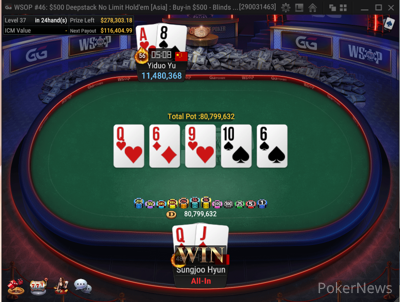 In the first few hands after coming back from the break, the tides changed in dramatic fashion as Yiduo "Tr1pTripM" Yu was suddenly left with a mere three blinds, which vaulted Sung Joo "ArtePokerTV" Hyun into an overwhelming lead.
Hyun raised to 2.2 million in the first hand after the break and Yu three-bet to 6.84 million, which Hyun called. On the
flop, Yu fired a continuation bet of 6.2 million and did so again for a second barrel worth 12.1 million on the
turn. Hyun called both bets rather swiftly and was then put into the think tank when Yu emptied the clip and jammed the
river.
With just 15 big blinds behind, Hyun needed a few minutes of his time bank and eventually called with
for top pair, which caught Yu bluffing with the
.
Yu was down to 11 and a half blinds and limped in, Hyun checked his option. Hyun check-called a bet of 1.12 million on the
flop and the
turn was checked. Hyun bet the
river for 5.98 million into 4.48 million and received the call he was looking for, tabling
for trips fives as Yu held
for queens and sixes.
| | | | | | |
| --- | --- | --- | --- | --- | --- |
| Sung Joo "ArtePokerTV" Hyun | | | | 89,019,632 | 48,619,816 |
| Yiduo "Tr1pTripM" Yu | | | | 3,260,368 | -48,619,816 |
After two hands in heads-up, the players headed into a scheduled 6-minute break as Yiduo "Tr1pTripM" Yu gained the lead by winning both hands in a row against Sung Joo "ArtePokerTV" Hyun.
| | | | | | |
| --- | --- | --- | --- | --- | --- |
| Yiduo "Tr1pTripM" Yu | | | | 51,880,184 | 6,740,000 |
| Sung Joo "ArtePokerTV" Hyun | | | | 40,399,816 | -12,700,000 |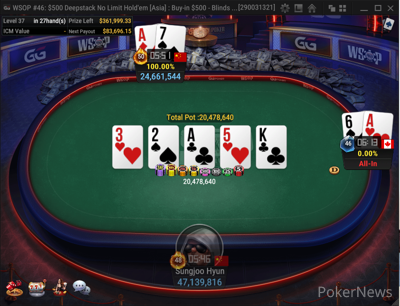 Jeffrey "hockeysyrup" Mallach was down to fewer than 10 big blinds in the new level and jammed the button to pick up a call by Yiduo "Tr1pTripM" Yu in the big blind.
Jeffrey "hockeysyrup" Mallach:

Yiduo "Tr1pTripM" Yu:
Both had clashed not long ago when Yu had a minor kicker advantage too and the outcome was the same this time as the
board left Mallach empty-handed. He takes home $83,696.15 for his efforts and the head-up will start nearly even in chips.
| | | | | | |
| --- | --- | --- | --- | --- | --- |
| Sung Joo "ArtePokerTV" Hyun | | | | 47,139,816 | -5,960,000 |
| Yiduo "Tr1pTripM" Yu | | | | 45,140,184 | 16,389,320 |
| Jeffrey "hockeysyrup" Mallach | | | | Eliminé | |
Niveau:

37
Blinds:

500,000/1,000,000
Ante:

120,000
As fate would be, Yiduo "Tr1pTripM" Yu and Jeffrey "hockeysyrup" Mallach once more clashed in a battle of the blinds in third-last hand of the level.
Yiduo "Tr1pTripM" Yu:

Jeffrey "hockeysyrup" Mallach:
The
board left Mallach second-best once more and Yu doubled into second place.
| | | | | | |
| --- | --- | --- | --- | --- | --- |
| Sung Joo "ArtePokerTV" Hyun | | | | 53,099,816 | |
| Yiduo "Tr1pTripM" Yu | | | | 28,750,864 | 14,925,432 |
| Jeffrey "hockeysyrup" Mallach | | | | 10,429,320 | -14,925,432 |
Sung Joo "ArtePokerTV" Hyun won two pots in a row against Yiduo "Tr1pTripM" Yu to further cement his top spot. The first limped pot saw them check the ]
flop and Hyun bed the
turn for 950,000 and the
river for 2,850,000. Yu called both times and his
was no good as Hyun had
for the superior kicker.
Hyun then min-raised the button and only bet the
turn, the
river was checked. Yu tabled
for a pair of eights while Hyun won the pot with
for a pair of tens.
| | | | | | |
| --- | --- | --- | --- | --- | --- |
| Sung Joo "ArtePokerTV" Hyun | | | | 53,099,816 | 7,639,000 |
| Jeffrey "hockeysyrup" Mallach | | | | 25,354,752 | -1,520,000 |
| Yiduo "Tr1pTripM" Yu | | | | 13,825,432 | -6,119,000 |
Yiduo "Tr1pTripM" Yu raised to 2.4 million out of the small blind and was called by Jeffrey "hockeysyrup" Mallach in the big blind. Yu bet all streets of the
board for 1.683 million, 4.88 million and jammed for 12,356,432.
Mallach called all the way with
and had to settle for a chop as Yu had also flopped the same two pair with
.
In the next hand, Yu raised the button and folded to Mallach's shove from the small blind.
| | | | | | |
| --- | --- | --- | --- | --- | --- |
| Sung Joo "ArtePokerTV" Hyun | | | | 45,460,816 | 4,615,000 |
| Jeffrey "hockeysyrup" Mallach | | | | 26,874,752 | 3,510,000 |
| Yiduo "Tr1pTripM" Yu | | | | 19,944,432 | -8,125,000 |