Event #83: $10K WSOP Super MILLION$, $5M GTD
Jours 2
Event #83: $10K WSOP Super MILLION$, $5M GTD
Jour 2 terminé

Niveau 46 : 450,000/900,000, 112,500 ante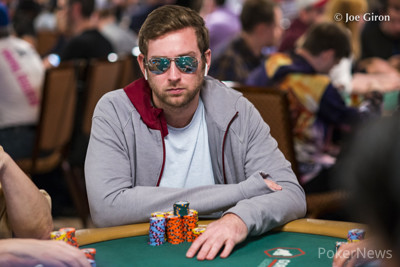 The final tournament of the 2020 GGPoker World Series of Poker Online Bracelet Events has determined a champion and it was all wrapped up in tidy two and a half hours. That's all it took for Connor Drinan to claim his maiden bracelet in Event #83: $10K WSOP Super MILLION$ after he defeated Daniyar Aubakirov in heads-up.
Thanks to 899 total entries, the tournament had easily surpassed the $5 million guarantee and two millionaires were crowned out of the prize pool of $8,720,300. Drinan's victory came with a big payday of $1,423,049 which in fact surpassed the total WSOP earnings he had to date. Aubakirov had to settle for just $1,041,414 and missed out on a maiden bracelet for his home country of Kazakhstan.
The nine-handed final table also featured High Roller regulars such as Viktor Ustinov, Chris Oliver, Sylvain Loosli, and Christopher Kruk who all sent their chips over to Drinan.
Final Result Event #83: $10K WSOP Super MILLION$
| Place | Winner | Country | Prize (USD) |
| --- | --- | --- | --- |
| 1 | Connor Drinan | United States | $1,423,049 |
| 2 | Daniyar Aubakirov | Kazakhstan | $1,041,414 |
| 3 | Viktor Ustimov | Russia | $755,754 |
| 4 | Chris Oliver | United States | $548,450 |
| 5 | Sylvain Loosli | France | $398,010 |
| 6 | Suraj Mishra | India | $288,836 |
| 7 | Christopher Kruk | Canada | $209,609 |
| 8 | Arsenii Malinov | Russia | $152,113 |
| 9 | Kenneth Smaron | United States | $110,389 |
It was a rush to the finish line as Drinan dispatched the final six opponents and by doing so, he also collected an additional payday thanks to a bracelet bet with GGPoker ambassador Daniel Negreanu in the very last event of the festival.
The Action of the Final Day
The nine players returned to their seats after a break of one and a half days and it took all but one hand to send Kenneth Smaron to the rail. Smaron defended his big blind with queen-jack and flopped top pair but Christopher Kruk's straight and flush draw instantly hit on the turn. Only a few hands later it was all over for Arsenii Malinov who called a shove by Sylvain Loosli blind on blind with ace-queen and was well ahead of nine-seven suited. But both of those appeared on the flop and Malinov was drawing dead on the turn.
Christopher Kruk jumped into the lead with seven players left, yet it was Kruk who departed next. He first lost jacks to the ace-ten suited of Daniyar Aubakirov when the river completed a ten-high straight. And just one hand later, Kruk three-bet jammed ace-jack into the aces of Connor Drinan to go from hero to zero.
The next pivotal hand for Drinan was the elimination of Suraj Mishra with nines versus tens when a nine appeared in the window. Sylvain Loosli fell next when he jammed king-four in the small blind and Drinan held with ace-deuce in the big blind.
It was an overwhelming lead for Drinan with four players remaining and he then made quick work of Chris Oliver and Viktor Ustimov to get the field down to the final two. Only Aubakirov was left and doubled the first time in remarkable fashion when he called a shove on the river with bottom pair.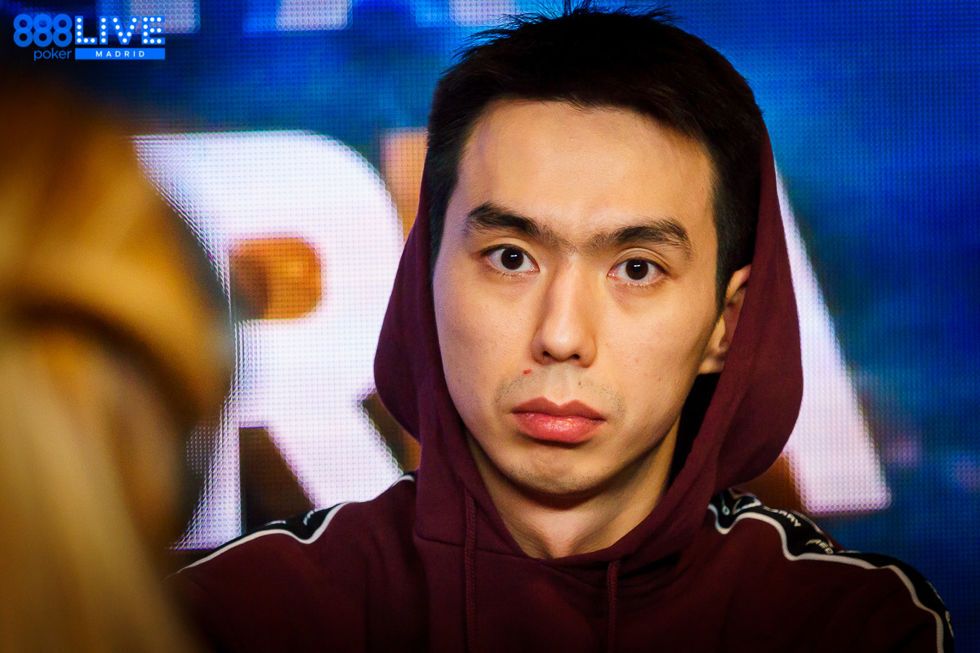 The heads-up duel continued in the same manner as Aubakirov became short again, doubled twice, and was then shown a big bluff by Drinan. The Kazakh would not recover from that blow and then lost ace-jack to ace-nine as the river delivered a nine-ball in the corner pocket.
That wraps up seven weeks of WSOP Online Bracelet Events on the GGNetwork as all 54 bracelets have now been awarded.
The GGPoker portion of the 2020 World Series of Poker Online Bracelet Events has come to an end with the victory of Connor Drinan in Event Event #83: $10K WSOP Super MILLION$. After starting in the middle of the pack with 25 blinds, Drinan eliminated the final six opponents and earned his maiden WSOP bracelet. The PokerNews live reporting team has provided updates for the entire festival and you can check out all the event summaries here!

Niveau 46 : 450,000/900,000, 112,500 ante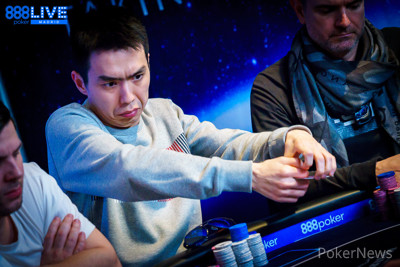 As Daniyar Aubakirov lost a few more chips and dropped below 15 million, he was then in the big blind and got it in against Connor Drinan for a pot of just over 29 million when he called the open shove of his opponent.
Daniyar Aubakirov:

Connor Drinan:
Aubakirov had the chance to score yet another double up and held the superior hand for the third time when they headed into the showdown. Nothing at all changed on the
flop and the
turn made it very likely that the kicker would play.
However, the
hit on the river, and that improved Drinan to aces and nines, sending Aubakirov to the rail in second place. The Kazakh has to settle for a quite impressive consolation prize of $1,041,414 while Drinan scores his first bracelet and top prize of $1,423,049.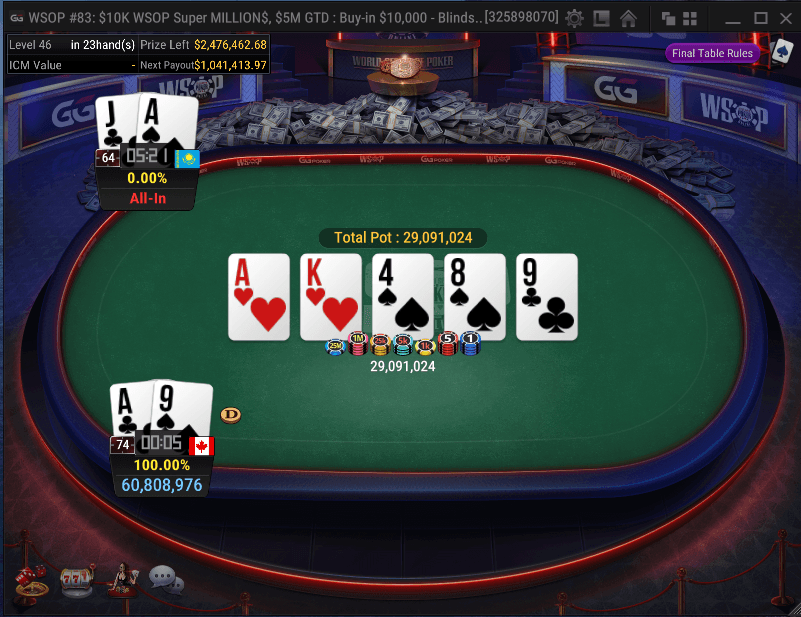 A full recap of today's action is to follow.

Niveau 46 : 450,000/900,000, 112,500 ante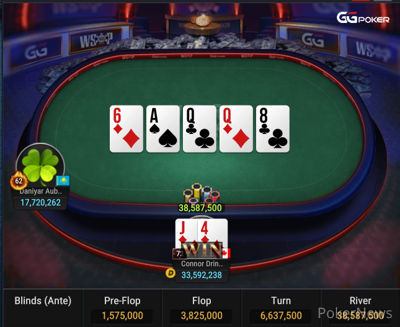 Connor Drinan has increased his lead once more after earning two big pots and the second in particular was a huge bluff that went through, which Daniyar Aubakirov first conceded with at he"tilt" emoji followed by "nice hand".
Drinan limped in and Aubakirov checked in the first hand which led to the
flop. Daniyar check-called 900,000 and did so again for 3,825,000 on the
turn. The
river was checked and Daniyar checked the third time. Drinan bet the pot for 11,475,000 and forced a reluctant fold.
Up next, Drinan min-raised the small blind to 1,800,000 and Aubakirov called. On a
flop, Aubakirov check-called for 1,406,250 and check-raised the
turn from 6,637,500 to 15,975,000. Drinan came along and Aubakirov then checked the
on the river with 17,720,262 behind.
Drinan pulled the trigger and moved all in with the superior stack, sending his opponent into a brief tank and fold. Once that was done, Drinan flashed the
for a bluff.
Niveau: 46
Blinds: 450,000/900,000
Ante: 112,500

Niveau 45 : 400,000/800,000, 100,000 ante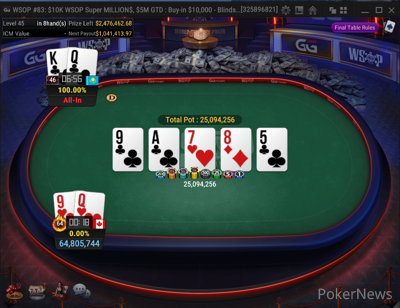 Daniyar Aubakirov limped the small blind and then called the shove of Connor Drinan to be the player at risk.
Daniyar Aubakirov:

Connor Drinan:
The hopes of a maiden bracelet for Drinan increased on the
flop as he made a pair of nines. Aubakirov still had plenty of outs and while he missed the
turn, the
river kept him in contention.
Aubakirov then lost some of the profit and raised to 2,312,000 next when facing a limp by Drinan, who called. On a
flop, Aubakirov bet 4,025,160 and called the shove of Drinan for the 12,030,096 he had behind.
Daniyar Aubakirov:

Connor Drinan:
The
turn and
river were blanks as Aubakirov doubled once more.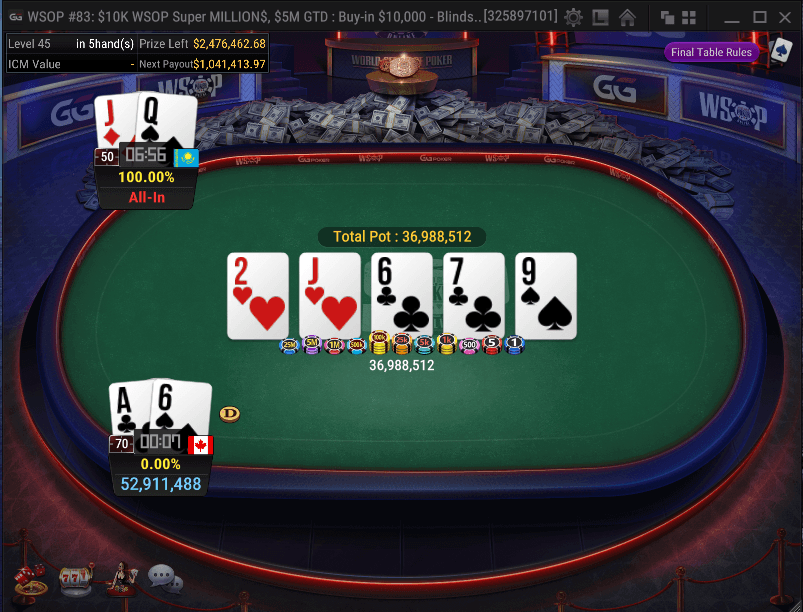 Niveau 45 : 400,000/800,000, 100,000 ante
Connor Drinan. limped the small blind and called a raise to 2,312,000 by Daniyar Aubakirov, who bet the
flop for 1,591,920 and was called. Aubakirov then checked the
turn and Drinan bet 4,003,920 to win the pot.
One hand later, Aubakirov min-raised and was called by Drinan. The
flop was check-raised by Drinan who made it 3,700,000 to go and was called by Aubakirov. Drinan bet the
turn for 6,480,000 and the
river for 6,340,000.
Aubakirov once again gave it some thought and eventually called with the
. Drinan had the best of it with
and pulled back into a huge lead.

Niveau 45 : 400,000/800,000, 100,000 ante
Connor Drinan won the next three pots in a row without showdown only for Daniyar Aubakirov to then claim most of them back.
Aubakirov then limped the small blind and Drinan checked. They checked the
flop and Drinan check-called 2,640,000 on the
turn. Another reluctant check-call for 79,20,000 into 7,080,000 followed when Aubakirov kept up his aggression on the
river as Drinan's remaining time bank dripped below one minute.
Aubakirov tabled
for nines full of deuces and Drinan chopped with the
.
The next few pots were traded back and forth and Aubakirov then earned some chips. Drinan check-called the
turn for 800,000 and check-folded the
river when Aubakirov made it 3,120,000 to go.

Niveau 45 : 400,000/800,000, 100,000 ante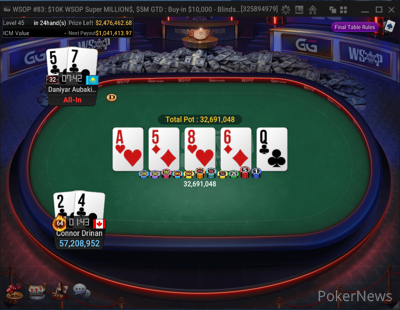 Daniyar Aubakirov limped the small blind and Connor Drinan checked in the big blind to see a flop of
. Drinan check-raised from 800,000 to 2,500,000 and picked up a call to see the
on the turn. Drinan now bet 3,800,000 to receive yet another call and then shoved the
river.
Aubakirov had 9,145,524 behind and used the "I want to call" emoji first, then more than 90 seconds of his remaining time bank. The call ultimately followed and Drinan revealed
for a bluff gone wrong as Aubakirov doubled with
for bottom pair.

Niveau 45 : 400,000/800,000, 100,000 ante
Connor Drinan limped in and Daniyar Aubakirov raised to 2,560,000, which Drinan called. They checked the
flop and
turn for Aubakirov to then shove the
river.
Drinan folded after some consideration and was shown the
by Aubakirov. As they headed into a scheduled six-minute break, Drinan typed in chat "almost called you with JT :)".