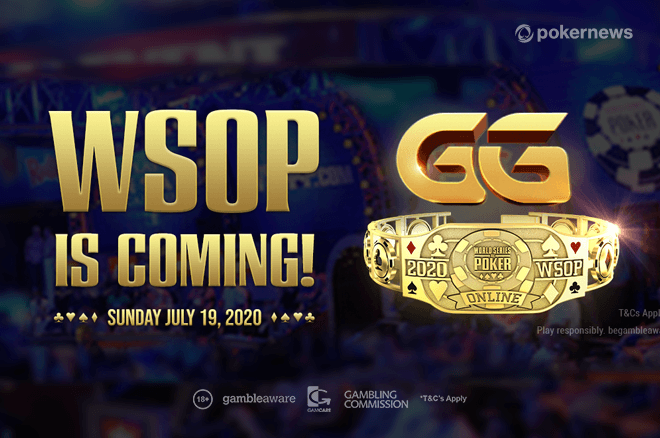 From July 1st to September 6th, 85 WSOP gold bracelets are up for grabs on the digital felt across two different clients: WSOP.com and GG Poker.
WSOP.com will kick off the action with a daily series running from July 1-31, accessible to those only in Nevada and New Jersey. Meanwhile, GGPoker's schedule, offering a whopping 54 bracelet events, will start on July 19 and run all the way through to September 6.
Recently, PokerNews compiled a comprehensive guide about everything you need to know for the GGPoker bracelet events, which you can read here.
Here's a look at the schedule:
GGPoker WSOP 2020 Online Schedule
| Date | ET | GMT | | Buy-in | Note |
| --- | --- | --- | --- | --- | --- |
| 19 July 2020 | 14:30 | 18:30 | Event #1: $100 The Opener [Final Day], $2M GTD | $100 | 2-Day Event, 1-RE Flights |
| 19 July 2020 | 14:00 | 18:00 | Event #2: $1,111 Every 1 for Covid Relief [Caesars Cares] | $1,111 | 2-Day Event |
| 19 July 2020 | 16:00 | 20:00 | Event #3: $525 Super Turbo Bounty No Limit Hold'em 6-Handed | $525 | |
| 21 July 2020 | 14:00 | 18:00 | Event #4: $5,000 Pot Limit Omaha Championship | $5,000 | |
| 22 July 2020 | 14:00 | 18:00 | Event #5: $1,500 FIFTY STACK No Limit Hold'em | $1,500 | |
| 23 July 2020 | 14:00 | 18:00 | Event #6: $1,050 Bounty Pot Limit Omaha | $1,050 | |
| 25 July 2020 | 08:00 | 12:00 | Event #7: $600 Monster Stack No Limit Hold'em 6-Handed | $600 | Asia Time Zone |
| 26 July 2020 | 08:00 | 12:00 | Event #8: $1,500 No Limit Hold'em | $1,500 | Asia Time Zone |
| 26 July 2020 | 14:00 | 18:00 | Event #9: $2,500 Pot Limit Omaha | $2,500 | |
| 26 July 2020 | 14:30 | 18:30 | Event #10: $400 COLOSSUS [Day 2], $3M GTD | $400 | 3-Day Event, 1-RE Flights |
| 26 July 2020 | 15:00 | 19:00 | Event #11: $400 PLOSSUS [Day 2], $1M GTD | $400 | 3-Day Event, 1-RE Flights |
| 28 July 2020 | 14:00 | 18:00 | Event #12: $10,000 Short Deck No Limit Hold'em Championship | $10,000 | |
| 29 July 2020 | 14:00 | 18:00 | Event #13: $2,500 No Limit Hold'em 6-Handed | $2,500 | |
| 30 July 2020 | 14:00 | 18:00 | Event #14: $840 Bounty No Limit Hold'em | $840 | |
| 01 August 2020 | 08:00 | 12:00 | Event #15: $500 Deepstack No Limit Hold'em | $500 | Asia Time Zone |
| 02 August 2020 | 08:00 | 12:00 | Event #16: $1,000 Short Deck No Limit Hold'em | $1,000 | Asia Time Zone |
| 02 August 2020 | 14:30 | 18:30 | Event #17: $1,500 MILLIONAIRE MAKER [Day 2], $5M GTD, $1M to 1st | $1,500 | 3-Day Event, 1-RE Flights |
| 02 August 2020 | 16:00 | 20:00 | Event #18: $500 Turbo Deepstack No Limit Hold'em | $500 | |
| 04 August 2020 | 14:00 | 18:00 | Event #19: $2,100 No Limit Hold'em Bounty Championship | $2,100 | |
| 05 August 2020 | 14:00 | 18:00 | Event #20: $400 Pot Limit Omaha | $400 | |
| 06 August 2020 | 14:00 | 18:00 | Event #21: $1,000 No Limit Hold'em | $1,000 | |
| 08 August 2020 | 08:00 | 12:00 | Event #22: $800 Double Stack Pot Limit Omaha | $800 | Asia Time Zone |
| 08 August 2020 | 14:00 | 18:00 | Event #23: $10,000 Heads Up No Limit Hold'em Championship [No Late Reg, 128 Cap] | $10,000 | 2-Day Event, Freezeout |
| 09 August 2020 | 08:00 | 12:00 | Event #24: HK$8,000 No Limit Hold'em Asia Championship [Final Day], HK$8M GTD | HK$ 8,000 | 2-Day Event, 1-RE Flights |
| 09 August 2020 | 13:00 | 17:00 | Event #25: $1,500 GGMasters WSOP Edition [Freezeout], $1M GTD | $1,500 | Freezeout |
| 09 August 2020 | 13:00 | 17:00 | Event #26: $150 GGMasters WSOP Edition [Freezeout], $1M GTD | $1,500 | Freezeout |
| 11 August 2020 | 14:00 | 18:00 | Event #27: $5,000 No Limit Hold'em 6-Handed Championship | $5,000 | |
| 12 August 2020 | 14:00 | 18:00 | Event #28: $2,500 Double Stack No Limit Hold'em | $2,500 | |
| 13 August 2020 | 14:00 | 18:00 | Event #29: $525 Bounty No Limit Hold'em 6-Handed | $525 | |
| 15 August 2020 | 08:00 | 12:00 | Event #30: $300 Monster Stack No Limit Hold'em 6-Handed | $300 | Asia Time Zone |
| 16 August 2020 | 14:00 | 18:00 | Event #31: $1,500 Pot Limit Omaha | $1,500 | |
| 16 August 2020 | 14:30 | 18:30 | Event #32: $500 Mini Main Event [Final Day], $5M GTD | $500 | 2-Day Event, 1-RE Flights |
| 16 August 2020 | 16:00 | 20:00 | Event #33: $840 Super Turbo Bounty No Limit Hold'em | $840 | |
| 18 August 2020 | 14:00 | 18:00 | Event #34: $600 No Limit Hold'em Deepstack Championship | $600 | |
| 19 August 2020 | 14:00 | 18:00 | Event #35: $800 Pot Limit Omaha | $800 | |
| 20 August 2020 | 14:00 | 18:00 | Event #36: $500 Limit Hold'em | $500 | |
| 22 August 2020 | 08:00 | 12:00 | Event #37: $500 Deepstack No-Limit Hold'em | $500 | Asia Time Zone |
| 23 August 2020 | 08:00 | 12:00 | Event #38: $1,500 Marathon No Limit Hold'em | $1,500 | Asia Time Zone |
| 23 August 2020 | 14:00 | 18:00 | Event #39: $25,000 NLH POKER PLAYERS CHAMPIONSHIP, $10M GTD | $25,000 | 2-Day Event |
| 23 August 2020 | 14:30 | 18:30 | Event #40: BIG 50 [Final Day], $1M GTD | $50 | 2-Day Event, 1-RE Flights |
| 25 August 2020 | 14:00 | 18:00 | Event #41: $1,500 Limit Hold'em Championship | $1,500 | |
| 26 August 2020 | 14:00 | 18:00 | Event #42: $1,000 No Limit Hold'em 6-Handed | $1,000 | |
| 27 August 2020 | 14:00 | 18:00 | Event #43: $1,500 Pot Limit Omaha | $1,500 | |
| 29 August 2020 | 08:00 | 12:00 | Event #44: $300 Double Stack No Limit Hold'em | $300 | Asia Time Zone |
| 30 August 2020 | 14:00 | 18:00 | Event #45: $400 FORTY STACK No Limit Hold'em | $400 | |
| 30 August 2020 | 14:30 | 18:30 | Event #46: $5,000 No Limit Hold'em Main Event [Day 2], $25M GTD | $5,000 | 3-Day Event, Feezeout Flights |
| 30 August 2020 | 16:00 | 20:00 | Event #47: $1,000 Turbo No Limit Hold'em 6-Handed | $1,000 | |
| 01 September 2020 | 14:00 | 18:00 | Event #48: People's Choice Event [Most Popular] | TBA | TBA by Vote |
| 02 September 2020 | 14:00 | 18:00 | Event #49: People's Choice Event [Pros Vote] | TBA | TBA by Vote |
| 03 September 2020 | 14:00 | 18:00 | Event #50: People's Choice Event [Spin the Wheel] | TBA | TBA by Vote |
| 05 September 2020 | 14:00 | 18:00 | Event #51: $1,050 Beat the Pros [Bounty] | $1,050 | |
| 06 September 2020 | 14:00 | 18:00 | Event #52: $10K WSOP Super MILLION$, $5M GTD | $10,000 | 2-Day Event |
| 06 September 2020 | 14:30 | 18:30 | Event #53: $100 WSOP MILLION$ [Final Day], $2M GTD | $100 | 2-Day Event, 1-RE Flights |
| 06 September 2020 | 16:00 | 20:00 | Event #54: $500 The Closer [LAST CHANCE] | $500 | |