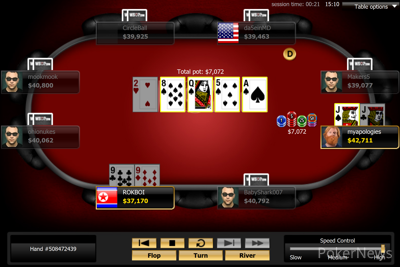 With blinds at 30/60, "BabyShark007" opened under the gun for 120 and "ROKBOI" three-bet to 367 next to act.
Action folded around to Michael "myapologies" Hauptman who four-bet to 809 from the big blind and only "ROKBOI" called to see a
flop.
Both players checked to the
turn where Hauptman who fired out 884 and "ROKBOI" called to see the
complete the board on the river.
Hauptman check-called "ROKBOI's" 1,768 bet and both players tabled their hands.
"ROKBOI" rolled over
for a pair of nines but it was no good as Hauptman held
to win the pot.