Event #1: $500 Casino Employees No-Limit Hold'em
Jours 2
Event #1: $500 Casino Employees No-Limit Hold'em
Jour 2 terminé

Niveau 31 : 100,000/200,000, 200,000 ante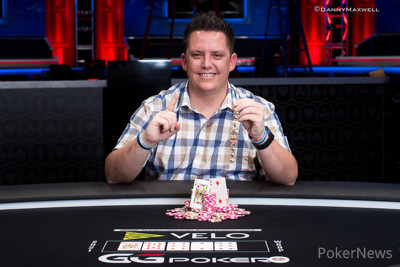 The 2021 World Series of Poker (WSOP) Event #1: $500 Casino Employees No-Limit Hold'em attracted 419 entries, and after two full days of play, just one remained in Jimmy Barnett, a 36-year-old duel dealer and floor a Caesars Palace.
"My boss is really cool, he knows I want to play, so we're trying to make it work where I floor a couple of days to help out, deal a couple of days, and then play the rest," said Barnett, who took down a $39,013 top prize and his first gold bracelet.
Barnett originally hails from California but came out to Vegas in 2018. He got an audition with the Golden Nugget, which he passed despite having no experience, and has been working in the industry ever since.
"Once Vegas started opening back up, I got an opportunity at Caesars and have been there since then," he explained. For Barnett, Vegas has always held a special place in his heart as his dad brought him to Sin City on his 18th birthday. Three years later when he turned 21, he came back and played his first WSOP event.
"Special. I think it's on every poker player's bucket list. It's just special," Barnett said when asked how it felt to win the bracelet. "My father passed a handful of years ago from cancer. We would come out here and play all the time. My grandma just passed away three weeks ago. I posted on Facebook I was going to win a tournament for her, and to win a WSOP tournament, it's special."
Barnett added: "I haven't been happier. I could have lost this and it would've hurt obviously, but I get to play a game for fun. I get to work at Caesars where I would stay growing up. I really am living the dream. I'm one of the luckiest people you'll know because I have great friends, family, and doing something I love. It's work but it's not, it's awesome. To win this is just the icing on the cake."
2021 WSOP Event #1 Final Table Results
| Place | Player | Country | Prize |
| --- | --- | --- | --- |
| 1 | Jimmy Barnett | United States | $39,013 |
| 2 | Jack Behrens | United States | $24,112 |
| 3 | Danny Chang | United States | $16,540 |
| 4 | Leo Abbe | United States | $11,587 |
| 5 | Bryan Garret | United States | $8,294 |
| 6 | Bobby Schmidt | United States | $6,069 |
| 7 | Chris Minton | United States | $4,542 |
| 8 | Rick Cuevas | United States | $3,478 |
| 9 | Ronald Baltazar | United States | $2,727 |
| 10 | Justin Steinman | United States | $2,191 |
Day 2 Action
As the day began with 50 players, play would go at a rapid pace before slowing with about fourteen players left as the final table neared. Justin Steinman started the unofficial final table of ten with the chip lead with 1,750,000, but he would go from high to low, as he became the first player of the final table to hit the rail after losing two huge hands.
Ronald Baltazar was the next player to leave in ninth place, and Rico Cuevas then exited in eighth. Chris Minton bowed out in seventh place when his ace-queen fell victim to a ten in the window to lose to queen-ten.
Bobby Schmidt was the next elimination after losing a couple of big flips to go from a big stack early in the table to a sixth-place finish. Bryan Garrett was felted next in fifth place.
Play would slow down significantly while four-handed, where each player would experience drastic swings in chips. It took nearly two hours before Leo Abbe was eliminated in fourth place to bring the table down to three.
From there, Danny Chang was eliminated in third place after having his stack whittled down to make way for the heads-up battle, which began with Jack Behrens holding a slight chip lead over Barnett. However, Barnett would soon take command as he shoved the river on a decisive hand that forced a fold to give him the chip lead and finalized the victory after he flopped a flush on the final hand.
Congratulations to Jimmy Barnett, winners of the 2021 WSOP Event #1: $500 Casino Employees No-Limit Hold'em!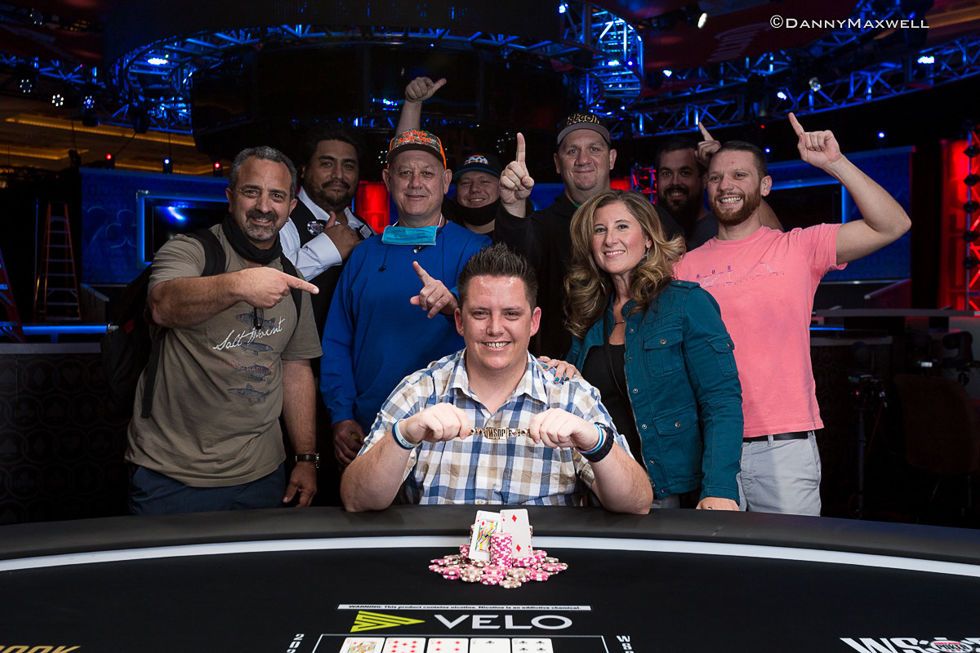 Niveau 31 : 100,000/200,000, 200,000 ante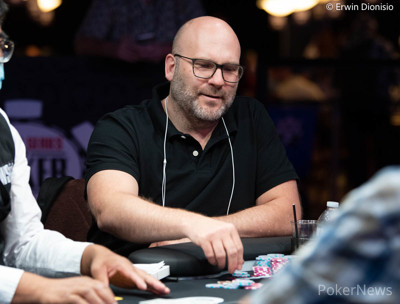 Both players saw a flop of
in a limped pot.
Jack Behrens jammed his remaining two million and James Barnett snap-called.
Jack Behrens:

James Barnett:
Behrens had flopped a pair of tens, but was well behind Barnett's flopped flush. The board ran out
, no help for Behrens who finished as the runner-up for $24,112.
Stayed tuned for a full recap of today's action.
Niveau 31 : 100,000/200,000, 200,000 ante
Jack Behrens raised preflop and James Barnett called.
The flop came the
. Behrens led for 500,000 and Barnett called.
The turn was the
. Action went check-check to the river which was the
. Behrens led for 1,000,000. Barnett came over the top with an all in jam which forced Behrens to fold after a couple of seconds.
Niveau: 31
Blinds: 100,000/200,000
Ante: 200,000

Niveau 30 : 80,000/160,000, 160,000 ante
With the board showing
, Jack Behrens bet 500,000 from the big blind and James Barnett made the call.
"All-in," Behrens announced after the
fell on the river.
Barnett went deep into the tank with the tournament potentially on the line. "I don't have much," he told Behrens. He eventually folded to send the pot to Behrens.
Niveau 30 : 80,000/160,000, 160,000 ante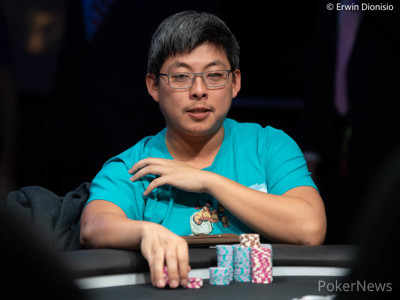 Danny Chang moved all in for about 475,000 from the button. Jack Behrens flatted from the small blind and James Barnett also called from the big blind.
Three players saw the flop of
. Behrens led for 500,000 and Barnett folded.
Behrens had the
which Chang had very little chance with the
. The turn was the
and the river the
to send Chang away in third place.

Niveau 30 : 80,000/160,000, 160,000 ante
Jack Behrens led out 500,000 from the big blind on a flop of
and James Barnett called in position.
Behrens bet again when the turn came
, this time for 750,000. Barnett again called.
The
fell on the river and Behrens took his time before betting 500,000. Barnett pondered the decision for a minute before flicking in a call.
"Pair of fours," Behrens announced. Barnett showed
for a pair of aces to take down the big pot.

Niveau 30 : 80,000/160,000, 160,000 ante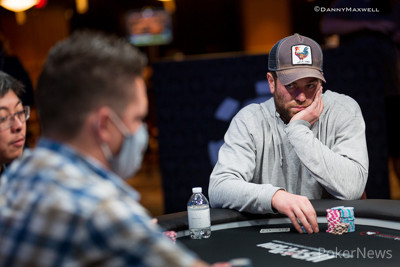 Leo Abbe raised from the button to 400,000 and called when big blind James Barnett put him all in.
Leo Abbe:

James Barnett:
Barnett flopped a king on a flop of
and made trips when the
came on the turn, leaving Abbe drawing dead. The
was a mere formality as Abbe was able to carry his Day 1 chip lead all the way down to a fourth place finish.
Niveau: 30
Blinds: 80,000/160,000
Ante: 160,000