Event #11: $25,000 Heads-Up No-Limit Hold'em Championship
Jours 3
Event #11: $25,000 Heads-Up No-Limit Hold'em Championship
Jour 3 terminé

Niveau 60 : 80,000/160,000, 0 ante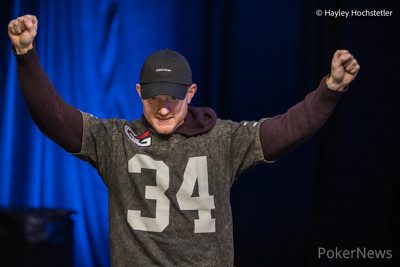 The 2021 World Series of Poker has crowned a new gold bracelet winner at the Rio All-Suite Hotel & Casino. One of poker's biggest names has finally joined the elusive winner's circle. Out of a field of 57 entries in Event #11: $25,000 Heads-Up No-Limit Hold'em Championship, American poker pro Jason Koon came out on top of hard-fought duel with Hungary's Gabor Szabo to get the monkey off his back.
The top eight finishers out of the 32-player bracket earned a portion of the $721,625 in prize money while all those who won their match in the round of 64 also had their buy-ins refunded. Eventual winner Koon was among them and came out on top of six heads-up matches to claim the top prize of $243,981. For Szabo, the runner-up finish came a consolation prize of $150,790 while the semi-finalists Henri Puustinen and Daniel Zack received $89,787 for their efforts.
Prior to his final duel with Szabo, Koon said "I don't vlog, I don't stream, I just play the game," and that's exactly what he did throughout the last three days. The freshly minted GGPoker global ambassador defeated Chris Brewer, Nicolai Morris, and Johannes Becker to reach the money stages. In the round of eight, he only needed 13 minutes to eliminate Jake Daniels and then came out on top of Finnish heads-up specialist Henri Puustinen en route to the final heads-up match.
| Road to the Final | Jason Koon | Gabor Szabo |
| --- | --- | --- |
| Round of 64 | Chris Brewer | Bye |
| Round of 32 | Nicolai Morris | Johan Guilbert |
| Round of 16 | Johannes Becker | David Peters |
| Round of 8 | Jake Daniels | Mikita Badziakouski |
| Round of 4 | Henri Puustinen | Dan Zack |

Niveau 60 : 80,000/160,000, 0 ante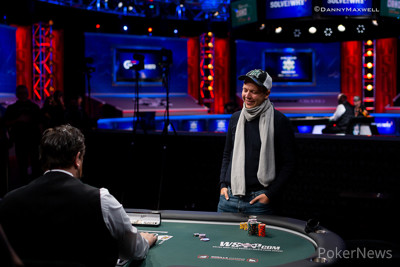 Another button push by Jason Koon was this time called and Gabor Szabo ended up at risk for the second time during this heads-up duel.
Gabor Szabo:

Jason Koon:
As the flop fell
, Koon took the lead and said "that's a good start" while his rail was gearing up for the festivities. Szabo picked up a gutshot on the
turn but bricked the
on the river to see his run end up in 2nd place for $150,790.
Koon erased his name from the list of "best players without a bracelet" and scored his maiden gold bracelet along with the top prize of $243,981 only days after he was announced as the newest GGPoker global ambassador.
A recap of today's action is to follow.

Niveau 60 : 80,000/160,000, 0 ante
Jason Koon pushed with the
and Gabor Szabo called all-in out of the big blind with the
.
Both rails gathered and Szabo made trips on the
board to survive. He then gave up the button twice and folded to a shove but also earned the big blind once with a successful shove.

Niveau 60 : 80,000/160,000, 0 ante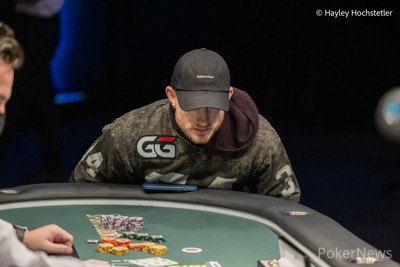 Gabor Szabo min-raised to 320,000 and Jason Koon then jammed for Szabo to call instantly.
Jason Koon:

Gabor Szabo:
The
flop saw both rails shout for their favourite card as Koon asked for the queen of hearts, while Szabo's Hungarian rail asked for a spade. Nothing changed on the
turn and the
river only improved Koon. The stacks were counted and Koon doubled for 4,598,000 to leave his opponent with just over two big blinds.

Niveau 60 : 80,000/160,000, 0 ante
Jason Koon limped in and Gabor Szabo checked his option to the
flop. Szabo check-called for 175,000 and then led the
turn for 460,000. Koon folded and Szabo gained a narrow lead as the stacks are becoming more shallow.
Niveau: 60
Blinds: 80,000/160,000
Ante: 0

Niveau 59 : 60,000/120,000, 0 ante
In the last hand of the level, Jason Koon limped and Gabor Szabo raised to 400,000 for Koon to call. On a flop of
, Szabo checked and then called a bet worth 250,000 by Koon.
The
on the turn was checked and Szabo then bet the
river for 900,000.
Koon immediately sighed and soon after said "I am never supposed to fold" more to himself than his opponent. The reluctant tank-call followed and Szabo rolled over the
for two pair.
Koon revealed one of his cards which happened to be the
as the gap between the two players was reduced to just a handful of big blinds.

Niveau 59 : 60,000/120,000, 0 ante
Gabor Szabo limped in and Jason Koon checked his option to see the
flop for free. He opted to check and called a bet worth 120,000 by Szabo. The same action repeated on the
turn for 360,000 and Koon then also checked the
on the river.
This time, Szabo checked behind and Koon turned over
for a pair of sevens as the winning hand.