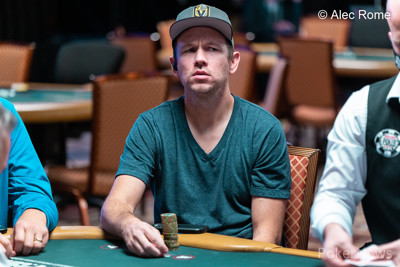 On third street, John Monnette raised a bring-in from Peder Berge and a limp from John Hoang. Both opponents called.
Monette then bet fourth street, only receiving a call from Berge.
On fifth street, Berge check-called another bet, then on sixth he took over the betting lead showing four to a flush and three low cards. Monnette called, then faced a final bet on seventh.
Their boards read,
John Monnette:
/
/

Peder Berge:
/
/

John Hoang:
/
- folded
Monnette begrudgingly made the call to see Berge turn over
for the flush. Monnette stared at his cards before mucking them, saying he started rolled up, but couldn't in the end beat Berge's flush.