Event #32: $1,500 H.O.R.S.E.
Jours 3
Event #32: $1,500 H.O.R.S.E.
Jour 3 terminé
Niveau 35 : 300,000/600,000, 0 ante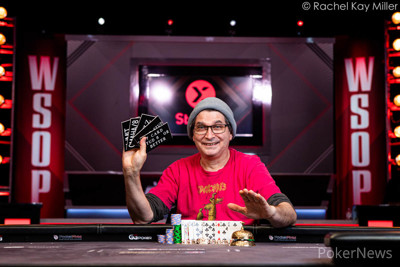 Steven Albini has worked with some of the biggest names in music in his job as a recording engineer. Now his name is on the list of multiple World Series of Poker bracelet winners after taking down Event #32: $1,500 H.O.R.S.E for $196,089.
Albini beat a field of 773 players full of professionals and mixed game specialists. But he's not a pro himself. He owns his own recording studio in Chicago and has produced albums for the likes of Nirvana and Jimmy Page.
Poker is just a hobby for Albini, albeit one he takes seriously. "Everything in my life comes in pieces, in parts. Poker is one part of my life," he said after his win.
"So when I'm playing poker, I try to commit to it. I try to take it seriously. I try to make sure I devote the attention to it that it deserves as an occupation. But it's only part of my year. I only play tournaments at the World Series of Poker. I play cash games informally in Chicago. It's a part of my livelihood, but it's not my profession."
Albini's first bracelet came in a Seven Card Stud event in 2018. Not even he could believe that he's now topped two fields of poker's best.
"The first one felt like a fluke. This one also felt like a fluke. I was all in a million times in this tournament," he said.
"In the Stud tournament, the bracelet that I won in 2018, I was never all in in that tournament. I was never short of chips. But it still felt like I kind of fluked it because I beat a table full of really great players that I didn't expect to beat. This time it felt like a fluke because I was so short on chips so often, and I kept getting all in, and I kept surviving."
Action of The Day
It took under three hours today to reach the final table. Adrian Panocki (22th) did not resist too long, and he was followed by Jamie McCarrell (21st), Ziya Rahim (20th), Michael Estes (19th), Danny Chang (18th), Jason Bigelow (17th) and Steven Loube (16th).
The last two women in the tournament were then simultaneously released, with Shirley Rosario (15th) and Michelle Roth (14th) eliminated before the last two tables. Then, it was the last European player in the field, Maurizio Melara, who finished in 13th place.
Murilo Figueredo (12th), Robin Mighmire (11th) and John Fahmy (10th) fell at the gates of final table.
The Final table lasted for around 9 hours, but it was not that long for David Williams, as the WSOP champion finished in 9th.
Kyle Loman started this final table with the chip lead, but Albini quickly caught up with him to take the lead. Then, it was Tamon Nakamura who scored an 8th place finish for the fourth time during this summer's series. Eddy Vataru, shortstack for a long time, finally finished in 7th position, the best result of his career. In the battle of the short stacks, Peter Brownstein did his best to find 6th place on his fourth WSOP final table appearance.
While Albini was still cruising, Loman took 5th place for his second final table on this event, followed by Richard Bai, in 4th position. The 2019 WSOP Circuit winner busted just after the dinner break.
During this three-handed battle, Jason Daly was chip leader for a long period, but Albini never gave up and managed to come back little by little until Daly's moment in the spotlight passed once and for all.
Daly took the 3rd spot for his second-best career result, while James Morgan was finally too handicapped by his short stack to come back and fight for the bracelet, and he finished runner-up.
Event #32: H.O.R.S.E Final Table results
| | | | | |
| --- | --- | --- | --- | --- |
| Place | Player | Country | Earnings | |
| 1 | Steven Albini | United States | $196,089 | |
| 2 | James Morgan | Canada | $121,195 | |
| 3 | Jason Daly | United States | $85,943 | |
| 4 | Richard Bai | United States | $61,862 | |
| 5 | Kyle Loman | United States | $45,209 | |
| 6 | Peter Brownstein | United States | $33,552 | |
| 7 | Eddy Vataru | United States | $25,294 | |
| 8 | Tamon Nakamura | Japan | $19,373 | |
Albini was supported on the final table rail by Brandon Shack-Harris. It was Shack-Harris who gave Albini an idea that played a part in the entire final table: the golden bell.
"Brandon Shack-Harris got an ornate hotel bell that he would ding at the table when he was going to check. I thought it was really charming and he brought it here so the rail could ding when I won a pot," Albini explained.
"It got irritating to some of the other players, so I brought it to the table so anyone who wanted to could celebrate by ringing the bell."
The bell tolled for the other seven players at the final table today.
That concludes PokerNews' coverage of Event 32. Stay tuned throughout the 2022 WSOP for all the action.
Niveau 35 : 300,000/600,000, 0 ante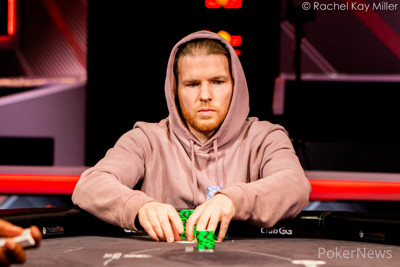 Stud 8 or Better
James Morgan:

Steven Albini:
After winning three hands in Seven Card Stud, Steven Albini just finished off his opponent in a hand Stud 8 or Better. Albini wound up making a club flush to win that tournament.
Morgan wound up finishing in second place and had to settle for $121,195 as a consolation prize.
Stay turned for a full recap of Event #32!

Niveau 35 : 300,000/600,000, 0 ante
Seven Card Stud
James Morgan:
/
/

Steven Albini:
/
/
Steven Albini completed before James Morgan raised. Albini called, then called bets on fourth, fifth, and sixth streets.
Morgan bet out again on seventh street and Albini quickly folded.

Niveau 35 : 300,000/600,000, 0 ante
Razz
James Morgan:

Steven Albini:
James Morgan was all in for his last 575,000 on third street as he and Steven Albini shook hands and wished each other good luck.
Morgan wound up with 7-5-4-3-2 to win the pot and survive.
The next hand, Morgan was all in again on fifth street.
James Morgan:

Steven Albini:
Morgan had the best hand again, with 10-9-8-3-A and doubled up for the second consecutive hand.

Niveau 35 : 300,000/600,000, 0 ante
Razz
Steven Albini:
/
/

James Morgan:
/
/
On fifth street, Steven Albini bet and James Morgan called. Morgan led out on sixth and Albini called.
Morgan slowed down and checked on seventh, allowing Albini to put out a bet. Morgan once again began muttering to himself before announcing a call.
"Nine low," Albini announced, turning over
.
"That's good," Morgan said as he mucked.

Niveau 35 : 300,000/600,000, 0 ante
Omaha 8 or Better
James Morgan limped, then called a raise from Steven Albini.
The flop came
and Albini bet. Morgan called, then both players checked the
turn.
Albini checked again on the
river and Morgan bet. Albini quickly called as Morgan showed
for a flush and a low to scoop the pot.

Niveau 35 : 300,000/600,000, 0 ante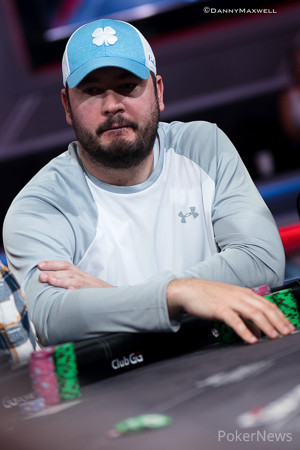 Limit Hold'em
Steven Albini raised from the small blind before Jason Daly re-raised, leaving himself 525,000 behind.
Albini called and they got the rest of Daly's stack in the middle on the
flop.
Jason Daly:

Steven Albini:
Albini had flopped a pair of sevens to take the lead and stayed ahead as the board ran out
.
"He flops a pair every hand," a defeated Daly said to his rail as he made his exit in third place.
Albini and James Morgan are now preparing for the start of heads-up play.
Niveau 35 : 300,000/600,000, 0 ante
Limit Holdem
From the small blind Steven Albini raised and Jason Daly called from the big.
Then on the
flop, Albini bet and Daly raise. Albini called to see the
turn.
Albini check-called again to see the
on the river.
Both players checked and Albini showed
for a pair of sixes, which was the winning hand.
"Ouch," said Daly after the hand.
Niveau: 35
Limites: 300,000/600,000
Ante: 0