Event #55: $1,000 Tag Team
Jours 1
Event #55: $1,000 Tag Team
Jour 1 a débuté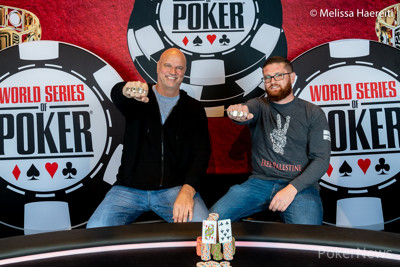 The 2022 World Series of Poker at Bally's and Paris Las Vegas continues as the unique $1,000 Tag Team No-Limit Hold'em Begins at 1:00 p.m. today.
Some consider this tournament one of the most fun and entertaining tournaments to play on the 2022 WSOP schedule. This year, like the 2021 Tag Team event, only one partner is allowed. Both partners must register at the same time and both players must check in to their table before the end of the registration. Both players must play at least one orbit of blinds by the end of the tournament or that team will be disqualified.
In 2021 a total of 641 teams registered, creating a prize pool of $590,490. At the end of three days it was Mike Ruter & Samy Dighlawi of Team Ruter defeating the runner-up Team Wolf, Tomer Wolf & David Landell, taking home the grand prize of $113,366.
Each team will receive 20,000 in tournament chips and both Day 1 and Day 2 will play 11 levels of 60-minute blinds. There will be no breaks (except for color-up breaks) throughout the tournament.
Players may tag a teammate as long as that player is not in an active hand. Payouts will be calculated based on the number of teams and distributed evenly among the teammates.
2021 $1,000 Tag Team Final Table Results
Place
Players
Prize
1

Mike Ruter

-

Samy Dighlawi

$113,366
2

Tomer Wolf

- David Landell
$70,074
3

Amanda Botfeld

-

David Botfeld

$49,512
4

Michael Newman

-

Robert Ormont

$35,542
5

Alfie Adam

-

Vidur Sethi

$25,928
6

Benjamin Miner

-

Dmitriy Uskach

$19,226
7

Holly Babbitt

-

Michael Babbitt

$14,494
8

Zachary Erdwurm

-

Steven Jones

$11,114
9

Scott Johnston

-

Bob Fisher

$8,670
The PokerNews live reporting team will be chasing all the tag team action on the floor so make sure to see which team will work together the best to win their bracelets at the end of the line.

The Tag Team will take place in the same room as the Colossus, and while that field is dwindling quickly on Day 2, there are still too few tables available to house all the tag players. The start time has been pushed to 1:30 p.m.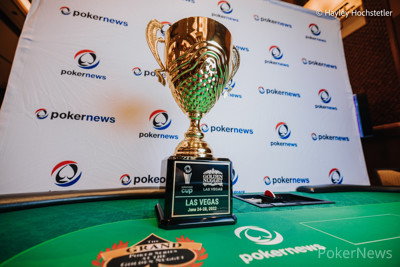 Today is the final flight for the $1,100 buy-in, $1,000,000 Guaranteed PokerNews Cup at Golden Nugget Las Vegas! Late registration will close at approximately 8:45 p.m. local time.
The tournament featured three starting flights and the surviving players from each flight will return at Noon on Monday, June 27 to play down to the final table, which will play out at 2 p.m. on Tuesday, June 28.
PokerNews will be on-site throughout the duration to offer live updates, videos, social media content, and more.

Cards are officially in the air in the Tag Team Event
Niveau: 1
Blinds: 100/100
Ante: 100

Niveau 1 : 100/100, 100 ante
Joueur
Jetons
Progression

Brad Knipping - Dave Knipping

20,000

Erik Svobooda - Dawson Lee

20,000

Mike Ruter - Samy Dighlawi

20,000

Justin Garcia - Grace Lim

20,000

K.L Cleeton - Veronica Brill

20,000

Linda McCabe - Christian Soto

20,000

Niveau 1 : 100/100, 100 ante
Six players saw a flop of
and the action checked to Chris Fitzjarrald of Team Fitzjarrald as he tossed in a bet of 600. Only the button and the big blind made the call.
The
turn was quickly checked through to see the
on the river. The big blind checked to Fitzjarrald and he put in a bet of 1,200. The button made the call and the big blind mucked.
Fitzjarrald tabled
for trip kings and his opponent pushed his cards towards the dealer.
Joueur
Jetons
Progression

Linda McCabe - Christian Soto

28,800

8,800

Chris Fitzjarrald - Brian Hamel

23,100
Niveau 1 : 100/100, 100 ante
On a multi-way flop of
, action checked around to the cutoff, who then bet 3,000. Adam Spera of Team Spera called from under the gun and the rest folded.
The turn
saw another check-call from Spera for 6,000 and the river
went check-check.
The cutoff showed
but Team Spera showed
for top two pair, which won him the nice pot.
Joueur
Jetons
Progression

Adam Spera- Glenn Nam

34,000

34,000

Niveau 1 : 100/100, 100 ante
Maurice Hawkins of Team Hawkins raised under the gun and both Tarah Wheeler of Team Wheeler in the small blind and the big blind made the call.
The dealer fanned a flop of
and the action checked to Hawkins who continued for 800. Wheeler put in the check-raise to 2,400 and only Hawkins called.
The
hit the turn and Wheeler checked to Hawkins before he fired out 2,400. Wheeler went in the tank for a bit saying, "How much do you have left? It's your first hand, right?"
Hawkins replied, "Started with 20,000."
After a few more seconds Wheeler jammed for about 26,000 and Hawkins went into the tank.
"If it weren't a tag team I would snap it off," Hawkins said. "I hate that it is a tag team, I'd feel bad if I lose. Asking if it's my first hand, maybe you don't even know who you're talking to. Trying to goad me into calling."
Eventually, Hawkins tossed his
face up and Wheeler took down the pot without showing.
Joueur
Jetons
Progression

Tarah Wheeler - Mike Wheeler

32,000

32,000

Maurice Hawkins - Jeffrey Silverstein

12,800

12,800