Event #72: $1,500 Mixed Omaha Hi-Lo 8 or Better
Jours 3
Event #72: $1,500 Mixed Omaha Hi-Lo 8 or Better
Jour 3 terminé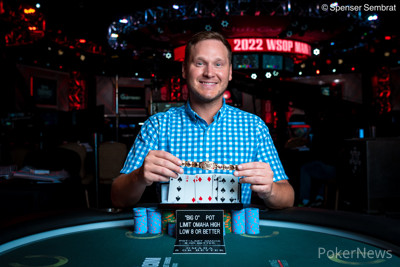 After three long and competative days of Omaha Hi-Lo action, Bradley Anderson has won Event #72 $1,500 Mixed Omaha Hi-Lo to win his first WSOP Gold Bracelet and a cool $195,565.
Anderson navigated a final table littered with poker legends such as Men "The Master" Nguyen and Barny Boatman, plus seasoned players Peter Neff and Scott Abrams to become champion.
Railed by his wife of 12 years Savannah, Anderson captured the bracelet by outlasting 771 opponents to take a huge chunk of the $3,628,530 prize pool on offer.
Anderson, who resides in Missoula, Montana, today competed in his second-ever WSOP final table. In 2014 with five players left, Anderson was the chip leader but ended up finishing in fifth place for $355,913.
Day 3 started with 23 players in Paris Ballroom, and the field thinned to a final table of eight within three hours, with Mel Judah, Rami Boukai and Adam Friedman along the notable casualties. The final table was moved into Bally's Event Center, where it felt like the eye of the storm with the razzmatazz of the Main Event bubble surrounding the final eight.
Event #72 $1,500 Mixed Omaha Hi-Lo Final Table Results
| | | | |
| --- | --- | --- | --- |
| Place | Player | Country | Prize |
| 1st | Bradley Anderson | United States | $195,565 |
| 2nd | Scott Abrams | United States | $120,881 |
| 3rd | Barny Boatman | United Kingdom | $83,050 |
| 4th | Peter Neff | United States | $58,089 |
| 5th | Men Nguyen | United States | $41,377 |
| 6th | Mark Erickson | United States | $30,026 |
| 7th | Jarod Minghini | United States | $22,205 |
| 8th | Shawn Carter | United States | $16,740 |
Winner's Reaction
"It is definitely surreal. Today was a tough grind. I had a big chip lead going into heads-up, and Scott chipped away at me, but I weathered the storm. I wasn't really thinking about the money. I was focused on winning the bracelet." said an emotional Anderson minutes after receiving his bracelet.
When asked about playing with poker legends Boatman and Nguyen at the final table, the champion responded "Barny was beating my butt in a lot of pots today! Men Nguyen is such a character, and it was a good group on the final table today."
Anderson revealed he never intended to play in this tournament until he busted the Main Event.
A PokerNews reporter asked if busting the Main Event was the best thing to happen this year?
"Yeah, Exactly!" Anderson responded "If you offered to me to bust the main and win a side event, I for sure would have taken that."
Final Table Action
Shawn Carter was the first casualty of the final table who was narrowly out pipped on both high and low pots by Neff.
Adrenaline junkie Jarod Minghini was the next to be eliminated. The competitive snowboarder could not get a run of hands together and eventually ran out of chips when up against Nguyen and Mark Erickson
Start-of-day chipleader Erickson had a phenomenal run in this event but was on the wrong end of the most dramatic hand of the tournament. At the river, Nguyen and Erickson were all-in and Anderson was deep into the tank whether to call with the nut low or not to risk being quartered.
Anderson found the call and was the only one to hold the nut low, which proved vital in the tournament's latter stages. Nguyen took the high with a queen-high straight, which defeated Erickson's set of queens, which left him with only 300,000 chips. Erickson was eliminated shortly after the dinner break.
Men Nguyen was the next to exit proceedings shortly after Erickson's exit losing two big pots in a row. Peter Neff exited in fourth place after getting scooped by Anderson, who had a better two pair than Neff.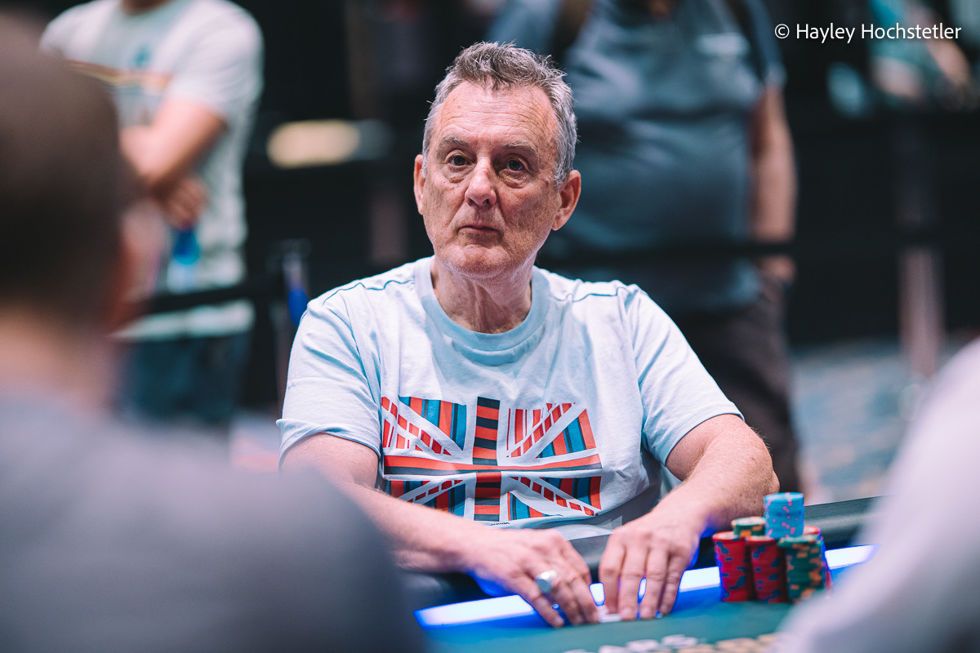 UK poker icon Barny Boatman clung on as long as possible, but the increasing blinds played havoc with his stack and he was down to four big blinds when he clashed with Anderson, who turned a full house to eliminate the Hendon Mob member.
Abrams put up a brave fight in heads-up play. After Boatman was eliminated, Anderson started with an 80/20 chip advantage. Abrams almost reached parity with the eventual winner, but Anderson stepped on the gas and managed to defeat Abrams to write his name in the poker history books.
The closing stages of the 2022 World Series of Poker are in sight, but PokerNews will be on hand to bring you all the latest news and information from the last moments of the greatest poker festival in the world.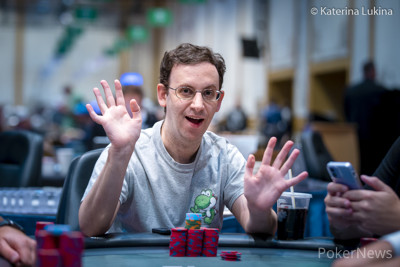 Big O
All the chips went into the middle preflop with Scott Abrams in the small blind at risk for 3,015,000 against Bradley Anderson in the big blind.
Scott Abrams:

Bradley Anderson:
The board of
did not really connect with anyone apart from Anderson pairing a deuce on the turn to make two pair for fives and deuces. Scott Abrams put up a valiant effort but finished in second place a year after finishing third in the same event.
Niveau: 36
Limit Blinds: 200,000/400,000
Limits: 400,000/800,000
Pot-Limit Blinds: 100,000/200,000 Ante: 200,000
Scott Abrams and Bradley Anderson have taken a short break before they duel for one final level before play would be called for the night.
Pot-Limit Omaha 8 or Better
Scott Abrams raised to 450,000 in the small blind / button and was called by Bradley Anderson in the big blind.
On the
flop, the players checked and saw the
on the turn. After Anderson checked, Abrams bet 600,000 and received a quick call from his opponent.
Anderson checked again on the
river and Abrams quickly moved all in for 1,990,000.
Anderson talked through his decision, saying at one point, "at best I'm chopping."
He then counted the pot, thought some more, then found a fold to send the pot to Abrams.
Pot Limit Omaha 8 or Better
Scott Abrams bet 450,000 in the small blind and was called by Bradley Anderson.
Both players checked the flop of
, but Abrams bet 550,000 on the
turn which was called by Anderson.
The
came on the river and after Anderson checked, Abrams announced "I give up." Anderson revealed
for two pair and qualified for the low. When Abrams saw Anderson's cards he said "Yeah, you are good," and threw his cards into the muck.
Big O
Scott Abrams called a preflop raise to 400,000 from Bradley Anderson to see a flop of
. Abrams then checked and faced a bet of another 400,000, which he called.
On the
turn, both players checked to see the
fall on the river. Abrams then checked, and Anderson cut out a quick 1,000,000 chip bet. Abrams deliberated, then folded, leaving himself just over five million chips behind.
Limit Omaha 8 or Better
Bradley Anderson raised from the small blind and Scott Abrams called in the big blind.
Anderson bet on the
flop and was called by Abrams. The
landed on the turn and Anderson bet with Abrams calling once again.
The
completed the board and Anderson bet the river. Abrams squirmed "Ugh, that is not a good card for me!" After a brief moment of thought, Abrams threw his cards into the muck.
Before this hand, Abrams was slowly catching up to Anderson by chipping away at the leader's stack. This hand has put a gap between the two finalists once again.
Big O
Picking action up on the river with a completed
board.
Bradley Anderson led out for the pot (1,050,000) and after a brief deliberation, Scott Abrams called.
Anderson showed
, while Abrams showed
, with Anderson claiming the high half of the pot with his nut flush, while the players split the low half, with each using their six.