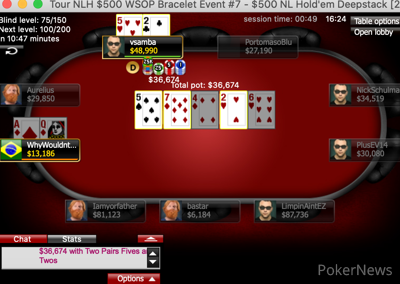 Blinds: 75/150
After an open from the hijack of Dylan "whywouldntwe" Cunningham, Rajendra "vsamba" Mahadevappa called from the button before ''NickSchulman'' called from the big blind.
The flop of
was checked to Cunningham, who continued for 600, which was called by both players.
Going to a
turn, Cunningham continued once again, this time for 1,350. Mahadevappa reacted with a raise to 5,751, which Cunningham called.
On the
river, Cunningham then lead for 11,002 chips and Mahadevappa called showing
, which was good against the
of Cunningham.