Event #89: $1,000 Flip & Go Presented by GGPoker
Jours 2
Event #89: $1,000 Flip & Go Presented by GGPoker
Jour 2 terminé
Niveau 20 : Blinds 100,000/200,000, 200,000 ante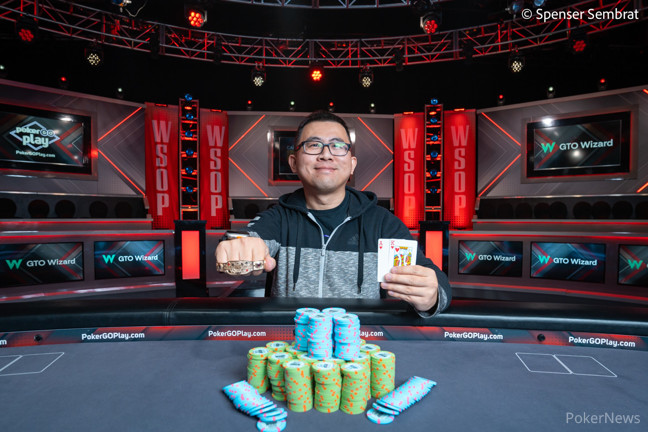 Always an entertaining debacle for most, Event #89: $1,000 Flip & Go presented by GGPoker was a smashing success for one Dong Meng, who not only won it outright but also managed to do it on just one bullet. Meng unfortunately missed the Main Event because he was under the weather but he more than made up for it with his spectacular run in this very unique tournament.
The tournament, a part of the 2023 World Series of Poker (WSOP) hosted by Horseshoe and Paris Las Vegas saw 128 players make it through the flipping stage of the tournament, which has 1,022 entries, and those survivors were guaranteed a cash of at least $2,000 from the $1,182,810 prize pool.
A software engineer by trade, Meng described poker as a hobby that he takes quite seriously, mentioning he's still a student of the game. Meng was able to defeat popular Huster Casino Live personality Wesley Fei heads up, who at one point seemed poised to run what was left of the field.
Fei created a light-hearted environment, attributing "energy" as the most important part of winning all in altercations. Perhaps Fei's good karma was only less than the humble Meng, who was able to find the victory after just five hours of play on Day 2, winning a hefty $160,490 for his efforts, the largest cash of his career.
2023 WSOP Event #89 Final Table Results
| Place | Player | Country | Payout |
| --- | --- | --- | --- |
| 1 | Dong Meng | United States | $160,490 |
| 2 | Wesley Fei | China | $100,120 |
| 3 | Brady Hinnegan | Canada | $71,700 |
| 4 | Kevin Eyster | United States | $52,280 |
| 5 | Pete Chen | Taiwan | $38,600 |
| 6 | David Williams | United States | $28,870 |
| 7 | Eric Wasserson | United States | $21,880 |
| 8 | Drew Gonzalez | United States | $16,790 |
| 9 | Andrew Sandomire | United States | $13,070 |
Day 1 Action
Oftentimes, it's the professional poker players who take a particular liking to the faster tournaments in the series so it's no surprise that plenty of notables made it into the money, willing to fire the necessary amount of entries to guarantee a shot at the gold. Scott Seiver was one that list and made a marked improvement from last year when he fired 43 flips to no avail. This year saw Seiver make it into the money with just seven attempts.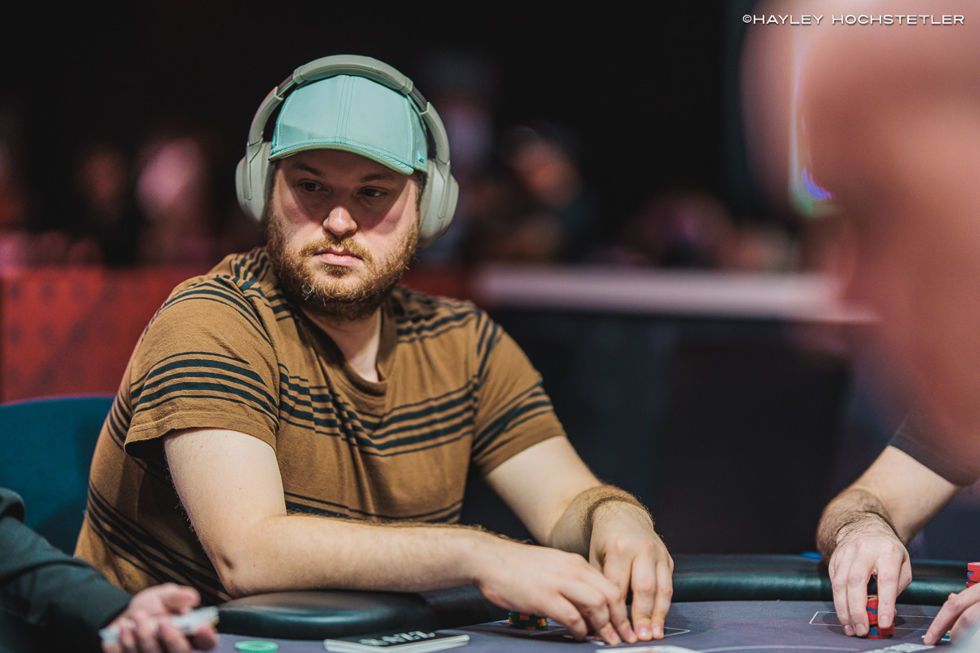 However, Seiver wasn't fortunate enough to make it through the day and neither were several other multiple-time bracelet winners, including Benjamin Yu, Shaun Deeb, Josh Arieh or Yuval Bronshtein.
The action's pace was brisk, as this tournament was slated for 30-minute levels from beginning to end, and by the time bags were passed out, only 18 hopefuls remained after 12 levels of play.
Day 2 Action
Pete Chen entered the day with the chip lead and it took all of six minutes from the beginning of Day 2 for the final two table redraw to be initiated; Christopher Battenfield and Connor Heelis fell in quick succession when their overcards were unable to overcome their opponents' pairs, leaving them both to settle for a $6,680 prize.
Not long after, Meng managed to score a double knock out when Jesse Lonis and Jack Salter ran into his A♠J♦.
As the final table approached, consummate poker professional and Master Chef runner-up David Williams, a recent guest on The Chad & Jesse Poker Show, caught heat, eliminating James Bullimore in 12th place ($8,240) and Taylor Black in 10th place ($10,300). That brought players down to the unofficial final table, as the tournament had played 8-handed.
Final Table Action
Kevin Eyster had managed to overtake the lead (5,300,000) despite all the chaos, with Williams close on his heels (4,725,000).
Williams was able to bust yet another player when Andrew Sandomire ran his short stack into Williams' jacks. This was good news for Drew "BetOnDrew" Gonzalez and Brady Hinnegan, who had also entered the final table short. Sanomire was sent to the payouts in ninth place and Fei congratulated him on making the final table on his way out.
Just a few hands later, Gonzalez went all in over the open of Eyster but the latter wasn't able to make the fold and ended up sucking out on Gonzalez's jacks with a suited ace. Gonzalez is a popular YouTube Vlogger who made mention that this was his first big live final table.
Fei had gotten short and had shown some light shoves leading to that when he tripled up with red aces against Hinnegan and Meng for a huge momentum shift. Fei had spent the day joking about the equilibrium between 'skill' and 'good energy', sometimes changing his tune and making mention that 'skill was a scam'.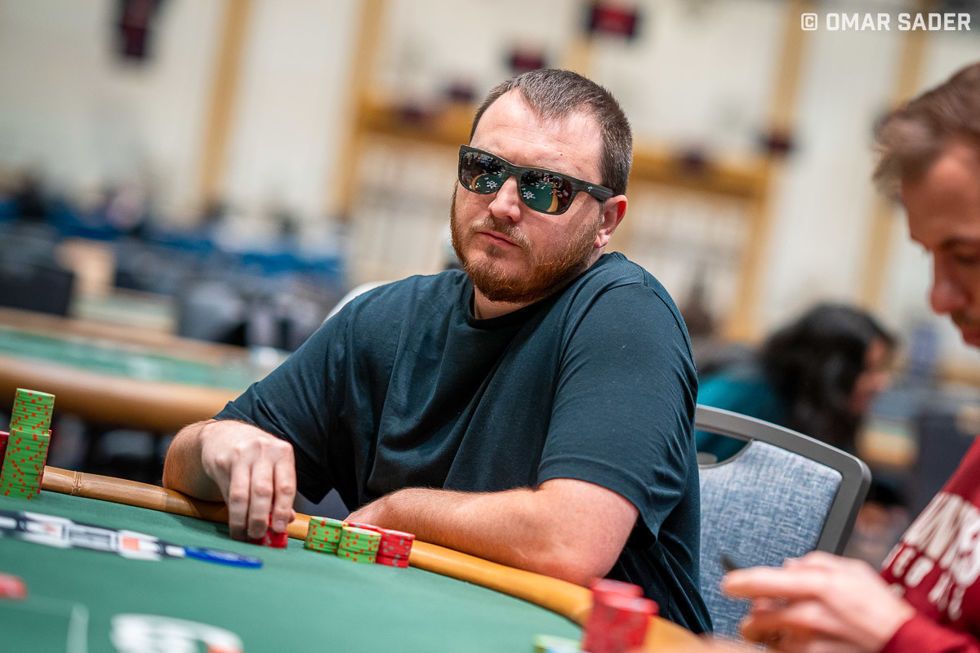 Eric Wasseron took a bad beat when Meng caught a ten against him and the very next hand he committed the rest of his chips blind, running into the suited ace of Eyster. Wasserson was heard joking (sort of) that he would need to win this tournament four times over to end up even for the summer. Fei told him he also played the $50,000 High Roller and that he was in the same boat.
Chen had a tremendous opportunity to take over the tournament when he woke up with kings and two all-ins in front of him. Instead, a miraculous chopped pot saved the tournament life of both Fei and Hinnegan. Chen took it in the chin but was well aware of the opportunity he missed out on.
Williams was next to fall when he ran into Eyster's A♠Q♣ with an inferior A♥J♠. A competitor through and through, Williams obviously had a bracelet weighing heavy on his mind from the beginning but did take time to let the people know he was about even on Flip & Go's tournament lifetime with this finish, as it took him over twenty attempts the first time he ever played one.
Soon after Williams' elimination, Fei took consecutive bites out of the stacks of Eyster and Chen to further cement his new found philosophies. Chen seemed unable to catch a break, as he was next to fall when his pair of jacks were outdrawn by Eyster's A♣Q♣, which left Chen ironically finishing in fifth place, the exact same finish he had in 2022's Flip & Go tournament.
An agitated Eyster was next to run into the wall of Meng, losing a massive pot when his top pair was bested. Just after the color up, Eyster shoved what was left of his chips in preflop and Meng collected the rest of his chips when he made a straight on the turn. Eyster ended up settling for fourth place despite entering the final table with the chip lead.
Hinnegan remained good-natured for the entire ride, granted he had luck shine on him in multiple ways, as he had entered the final table short stacked but either got lucky when he needed or had other people busting, providing him plenty of pay jumps. In the end, he was priced in against a shove from Fei but wasn't able to catch the cards he needed, eliminating him in third place.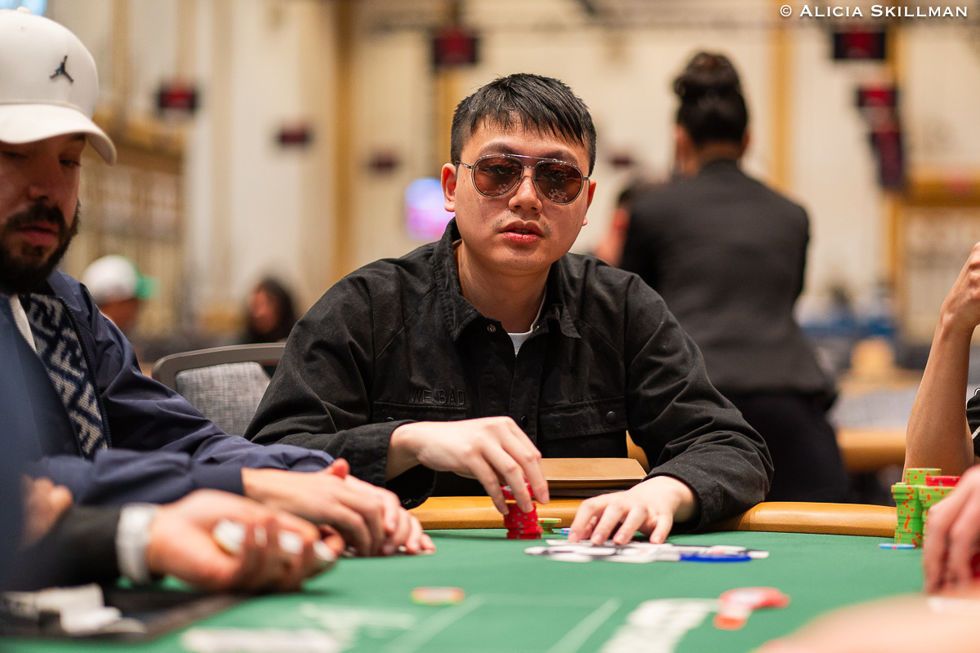 Early on in heads-up play, Meng flopped a flush and was able to take a nice pot off Fei to switch the momentum and push him into the lead.
Just like everything else in this tournament, heads-up play was a quick battle that saw Fei run his inferior ace into the A♥K♥ of Meng. Fei shouted for a seven, willing all his energy, but ultimately fell short of his first bracelet.
Winner's Reaction
PokerNews caught up with Dong Meng just after claiming his victory and he had this to say: "I feel surreal… You know, I'm just really excited. I'm very grateful for this opportunity and I know a lot of people [who wish they were competing] couldn't be here, so I feel very fortunate."
It wasn't until he got heads up that he really felt like he had a chance to win it but upon further elaborating he explained that he mostly was just focused on playing his best. He went on to say he did the best he could with the cards he got dealt, got value when he could, and induce mistakes from his opponents. This is only Meng's second time at the series and while has a huge passion for poker, it comes secondary to his career. Meng moved to the states from China in 2010 and said that what he loves about poker is that it brings people from all walks of life together. It's his dream to be able to compete with the best and he's grateful for his friends who he's able to discuss strategy with.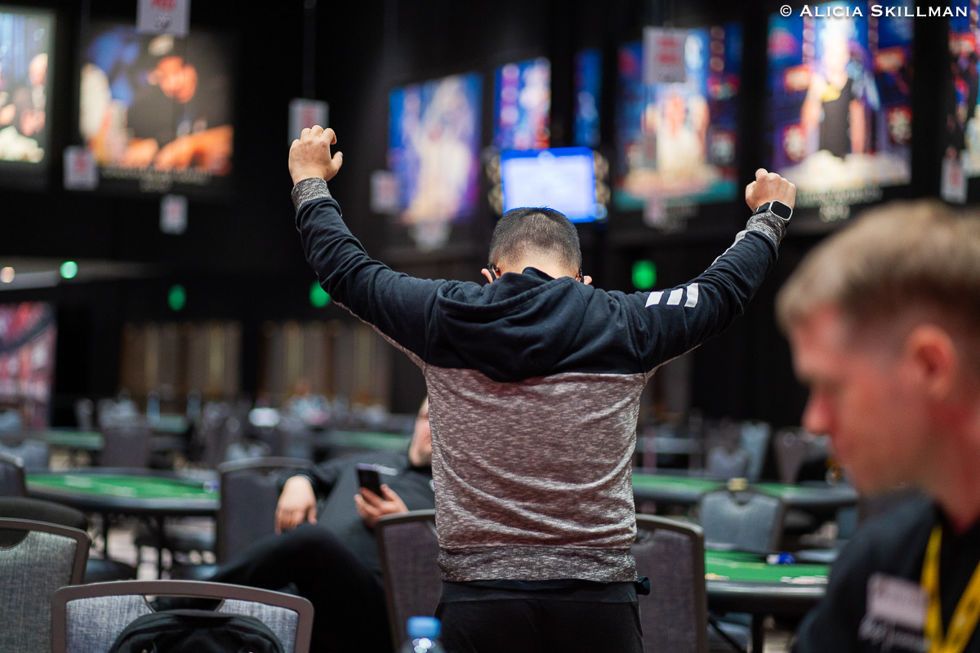 Be sure to follow PokerNews for more heartwarming moments like this one. The 2023 WSOP isn't over yet and the Main Event final table coverage is just around the corner. Click here to see what live updates are being offered right now.
Niveau 20 : Blinds 100,000/200,000, 200,000 ante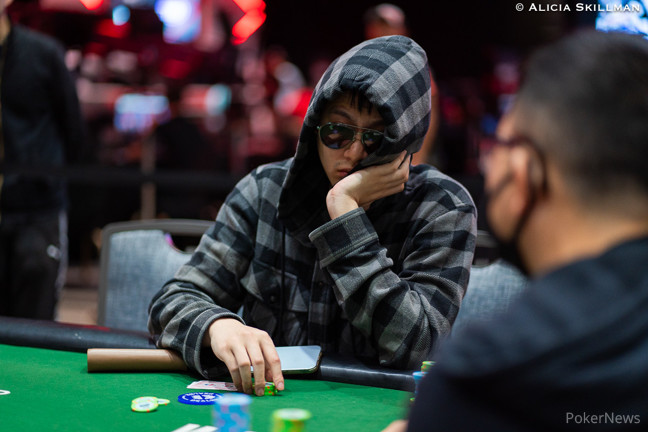 After battling back-and-forth heads-up Wesley Fei was left short with around 6,000,000 and moved all in against Dong Meng.
Meng snap-called to put him at risk and the cards hit the felt.
Wesley Fei: A♣7♥
Dong Meng: A♥K♥
"Oh, this is not good," Fei sighed as he knew he was in trouble. "Seven!" he shouted to the heavens, hoping to be saved.
Unfortunately for Fei, the board ran out J♣5♦A♦4♥K♣ to give Meng top two-pair on the river and Fei was eliminated as the runner-up.
Niveau 20 : Blinds 100,000/200,000, 200,000 ante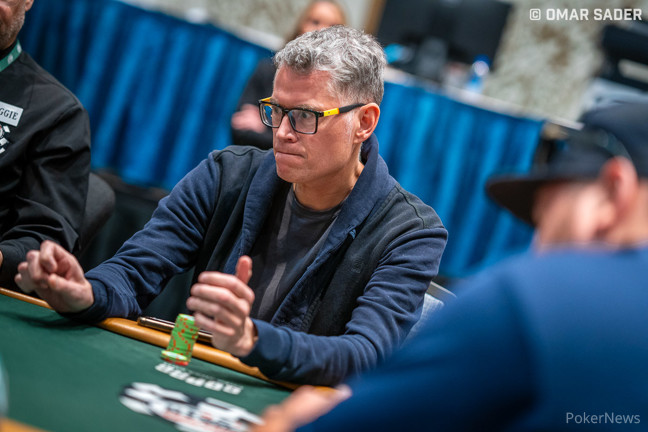 Wesley Fei raised on the button and a short-stacked Brady Hinnegan went all in for the approximately 800,000 he had behind.
Brady Hinnegan: 10♦9♦
Wesley Fei: J♦8♠
The board rolled out K♦5♠7♣2♠4♦ and Fei's jack high was good to take the pot.
Hinnegan was gracious and seemed happy to have lattered as many times as he did due to some lucky run outs.
Niveau 20 : Blinds 100,000/200,000, 200,000 ante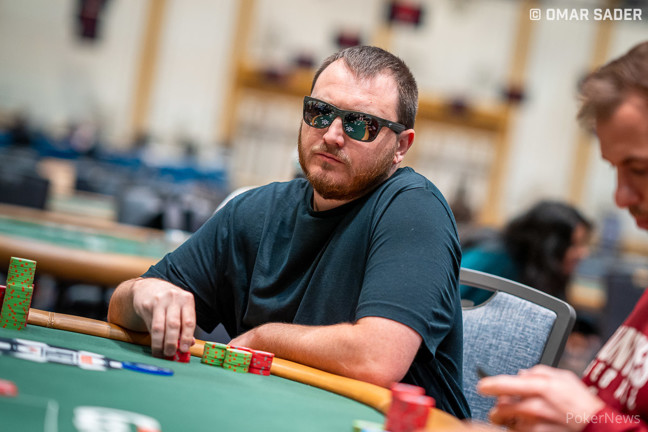 Kevin Eyster lost the vast majority of his chips when he made top pair versus the two pair of Dong Meng.
Just a few hands later, Eyster went all in and was called by Meng.
Kevin Eyster: 6♣6♠
Dong Meng: A♣J♣
Eyster was rooting for a red six but instead it was a massive sweat for Meng as the flop rolled, 8♣10♠9♦.
The turn was the 7♦, leaving Eyster dead to a chop, as Meng made a straight, and the universe needled Eyster when the 6♦ rolled off on the river.
Eyster had choice words for the floor when he was late coming back from a quick color up break and perhaps didn't have the energy needed to will a winning board.
Niveau 20 : Blinds 100,000/200,000, 200,000 ante
Niveau 20 : Blinds 100,000/200,000, 200,000 ante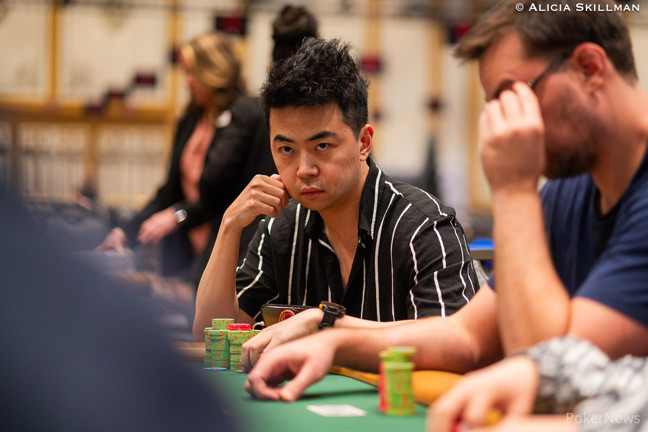 Kevin Eyster went all in and Pete Chen announced all in for less. Another flip commenced.
Pete Chen : J♥J♣
Kevin Eyster: A♣Q♣
The flop was bad news for as the Q♥7♣3♠ fanned out and Chen was unable to catch a jack as the 2♣ and 7♥ rolled off the deck.
Pete Chen got 5th place in this exact tournament last year and he had to take multiple stroked of bad luck to end up out in that position.
Niveau 20 : Blinds 100,000/200,000, 200,000 ante
Immediately after knocking out David Williams, Kevin Eyster called Wesley Fei's shove for 2,100,000 to put him at risk.
Wesley Fei: A♣10♠
Kevin Eyster: A♦9♠
"Agh, nice hand, Wesley," Eyster said when he saw he was dominated.
"Yes! Ace-ten-ten flop!" Fei shouted.
The dealer partially listened, as the flop came out 3♥K♥10♣ to give Fei a pair of tens to take a big lead.
"Yes, you are drawing dead!" Fei continued, and the 3♣ on the turn really did leave Eyster dead while the Q♣ completed the board to award him the double-up.
A few hands later, Pete Chen opened to 420,000 and Fei ripped all in for 4,000,000 and Chen shook his head and made the call.
Wesley Fei: A♠K♣
Pete Chen: A♣Q♦
"Let's GOOO!" Fei screamed as he realized he had Chen crushed.
The board ran out 5♣4♠3♠3♣9♠ for Fei to score yet another massive double-up to make him the dominant chip leader.
"Skill is a scam! Poker is all about energy!" he proclaimed as he raked in the huge pot.
Joueur
Jetons
Progression

Wesley Fei

9,500,000

7,400,000

Kevin Eyster

3,500,000

-3,300,000

Pete Chen

1,000,000

-4,300,000
Niveau: 20
Blinds: 100,000/200,000
Ante: 200,000
Niveau 19 : Blinds 80,000/160,000, 160,000 ante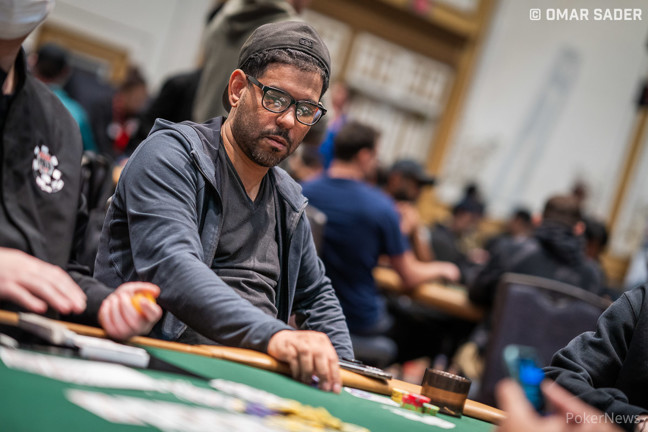 Kevin Eyster opened to 125,000 and David Williams shoved all in for around 2,400,000. Eyster snap-called to put him at risk and the cards were tabled.
David Williams: A♥J♠
Kevin Eyster: A♠Q♣
The board ran out 7♣4♣3♦A♣4♠ and Eyster took the pot with his superior kicker and Williams was eliminated in sixth.