Event #21: $1,500 8-Game Mix 6-Handed
Jours 3
Event #21: $1,500 8-Game Mix 6-Handed
Jour 3 a débuté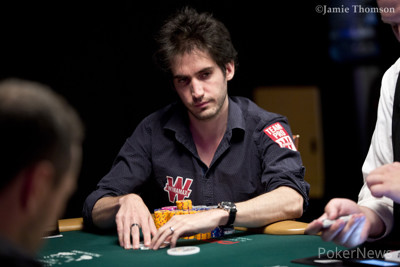 It's time to crown another bracelet winner as Day 3 of Event #21: $1,500 8-Game Mix 6-Handed is set to kick off at 2 p.m. with just 10 players in contention for a piece of gold jewelry and a $145,557 first-place prize.
Although Day 2 saw the late elimination of fan favorite Daniel Negreanu, there are still some very notable players left in this small field. For one, there's French high-stakes online cash player Alex Luneau, who has won nearly $5 million in tracked hands in his online nosebleed career. Luneau has already made a bit of noise here at the 2017 WSOP, showing off his mixed game prowess with a 15th-place finish in the $1,500 Dealer's Choice.
Chris Vitch, another noted mixed game player who took down his first bracelet in 2016 in $2,500 Mixed Triple Draw Lowball, is also among the final 10. He already booked a 10th-place finish last week in the $10,000 Omaha Hi-Lo Championship.
Everyone, though, is trying to catch Gregory Jamison, who finished atop the counts with 714,500. Second-place Ron Ware has 511,000, so it's a tightly bunched group overall as limits for limit games head to 12,000/24,000, while blinds will be 3,000/6,000 for big-bet games.
Stay tuned to PokerNews throughout the day to see who is crowned 8-game champ at this year's WSOP.
Final Day chip counts and seat assignments:
| Seat | Name | Country | Chip Count |
| --- | --- | --- | --- |
| 1 | Ryan Himes | United States | 410,000 |
| 2 | - | | |
| 3 | Ron Ware | United States | 511,000 |
| 4 | Fabrice Soulier | France | 346,000 |
| 5 | Michael Ross | United States | 118,500 |
| 6 | Christopher Sensoli | United States | 345,000 |
| | | | |
| 1 | Sachin Bhargava | United States | 470,000 |
| 2 | Gregory Jamison | United States | 714,500 |
| 3 | Christopher Vitch | United States | 148,000 |
| 4 | Georgii Belianin | Russia | 168,000 |
| 5 | - | | |
| 6 | Alexandre Luneau | France | 310,500 |
Niveau: 21
Limit Flop / Draw - 6,000 12,000 12,000-24,000
Stud Games 3,000 3,000 12,000 12,000-24,000
No-Limit & Pot-Limit 1,500 3,000 6,000 -

Niveau 21 : 12,000/24,000, 0 ante
Razz
The first notch on Table 2 goes to Chris Vitch, who won a big opening pot against Alexandre Luneau. Vitch completed with the
and Luneau raised with the
. Vitch called and then bet the fourth street himself. The next two streets brought bets from Luneau and Vitch called twice. Luneau slowed down with a check on the seventh street and Vitch fired once more, forcing a fold from his opponent.
Alexandre Luneau:
/
/
(folded on the seventh street)
Chris Vitch:
/
/
Niveau 21 : 12,000/24,000, 0 ante
Pot-Limit Omaha
Christopher Sensoli limped in first to act, and Fabrice Soulier completed the blind. Mike Ross potted in the big blind to 24,000, and only Sensoli called.
The flop came
, and Ross immediately potted. It was most of his stack, leaving about 40,000 back.
"I don't think I can fold this," Sensoli said. "I just need to figure out if I should put the rest in now."
After a moment, he did just that.
Ross:

Sensoli:
Ross was well in front with a flush draw, top pair and an open-ender. The turn was an
and the river a
, leaving Ross with the nut straight and a double.
Niveau 21 : 12,000/24,000, 0 ante
Stud Hi-Lo
Fabrice Soulier had the lead on fourth street with two wheel cards up, but Mike Ross was the one catching a third low card and firing away on the remaining streets, while Soulier mucked on fifth.
Soulier:
/
(folded on fifth street)
Ross:
/

Christopher Sensoli:
/
Sensoli called down until Ross squeezed out his final card and bet the end.
"Standard stud hand for me," Sensoli sighed. "Bricked the world both ways. Nice hand."

Niveau 21 : 12,000/24,000, 0 ante
Limit Hold'em
Christopher Vitch has been crushing during the first level, winning most of the pots on his table. Another hefty addition to Vitch's stack came just now in a hand of limit hold'em.
Vitch was on the button and he three-bet Gregory Jamison's open from the cutoff. Jamison called and after the
flop, Jamison check-raised but Vitch didn't let his hand go.
The
appeared on the turn and Jamison bet. Vitch called again.
The dealer turned over the
to complete the board and Jamison checked this time. Vitch peeled once more, extracting more value from his hand as Jamison called. Vitch showed
for a flopped straight.
Midway through the first level, Vitch has already nearly tripled his initial stack.

Niveau 21 : 12,000/24,000, 0 ante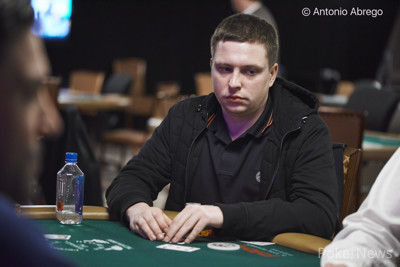 Limit Hold'em
Georgii Belianin was cut down to 18,000 after losing a big hand against Sachin Bhargava. Belianin moved all in with his remaining shrapnel, and Alex Luneau isolated.
Georgii Belianin:

Alex Luneau:
The board didn't bring any high card whatsoever, leaving Luneau's ace-high ahead. Belianin became today's first casualty, departing in 10th place for a $10,144 payday.

Niveau 21 : 12,000/24,000, 0 ante
Limit Hold'em
There was more than 200,000 already in the middle when Sachin Bhargava, Chris Vitch and Alex Luneau tangled on the turn with the board reading
. Bhargava was in the small blind and he led to the pot, earning calls from both of his opponents.
The river was the
and all three players quickly checked. Bhargava turned over
for a flopped set of tens. Vitch and Luneau both expressed disappointment as they couldn't beat Bhargava's hand. Bhargava took down the giant pot, vaulting to well over 700,000.
Niveau 21 : 12,000/24,000, 0 ante
Joueur
Jetons
Progression

Ron Ware

582,500

71,500

Ryan Himes

425,500

15,500

Fabrice Soulier

255,000

-91,000

Mike Ross

245,000

-103,000

Christopher Sensoli

185,000

-50,000