Event #46: $1,500 Pot-Limit Omaha Hi-Lo 8 or Better
Jours 3
Event #46: $1,500 Pot-Limit Omaha Hi-Lo 8 or Better
Jour 3 terminé

Niveau 27 : 25,000/50,000, 0 ante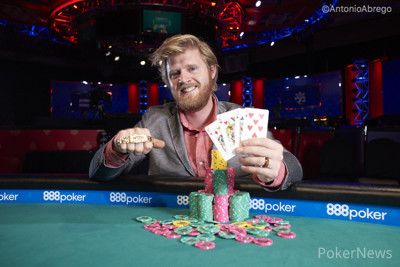 In one of the most dominant final table performances of the year, Nathan Gamble took down Event #46: $1,500 Pot-Limit Hi-Lo 8 or Better for $223,339.
"This bracelet's going to my dad," said an emotional Gamble after his victory. "My dad puts together tournaments, just home-game tournaments, and he's always supported me. Honestly, he doesn't have a chance of getting one, so this one goes to him!
"It means the world to me."
Gamble took a monster chip lead into four- and three-handed play and took down the heads-up battle in a single hand to secure his first WSOP gold bracelet.
Twenty-one players returned for the final day of the proceedings in the $1,500 Pot-Limit Omaha Hi-Lo 8 or Better, and they were led by Millard Hale. Among the early bustouts were Christopher O'Rourke and Bernardo Dias, and the field lost two of its highest-profile names shortly before the final table.
First, Barry Greenstein was eliminated after a pot involving him and Fernando Macia. He was left short and lost his remaining chips to exit in 14th place ($9,513).
Joining him on the rail just short of a place at the final table was fellow bracelet winner Barny Boatman. After chipping up steadily, Boatman got his stack in three ways and saw his remaining chips chopped up after failing to make a winning high or low. He finished in 12th place ($12,034).
Once the final table was set with Jason Riesenberg's 10th-place finish ($12,034), Wendy Weissman was the first casualty in ninth place ($15,470). Then followed a quiet period, with the eight remaining players trading chips back and forth, none of them able to make a considerable enough dent in the others' stacks.
However, Gamble began to forge his chip lead. He made a nut flush against overnight chip leader Millard Hale to bust his opponent in eighth ($20,205), and then watched as Day 1 chip leader Fernando Macia was eliminated by Ray Henson in seventh ($26,803).
By that point, Gamble had around a third of the chips in play, and watched as the likes of Henson and Adam Hendrix tried to catch up to him. Hendrix's cause was helped by the elimination of Miguel Use in sixth ($36,106), but Gamble pressed his chip lead again when he knocked out Marco Johnson in fifth place ($49,379). The result was Johnson's second-consecutive deep run in this event, following his third-place finish in this event last year.
Gamble chipped up twice through Michael Gross before busting him by making quads, with Gross leaving in third place ($68,544).
On the first hand of heads-up play against Hendrix, after checking in the big blind, Gamble remarked, "Let's get this done in one hand." And it was.
| Position | Player | Country | Prize |
| --- | --- | --- | --- |
| 1 | Nathan Gamble | United States | $223,339 |
| 2 | Adam Hendrix | United States | $137,992 |
| 3 | Ray Henson | United States | $96,555 |
| 4 | Michael Gross | United States | $68,544 |
| 5 | Marco Johnson | United States | $49,379 |
| 6 | Miguel Use | Belgium | $36,106 |
| 7 | Fernando Macia | United States | $26,803 |
| 8 | Millard Hale | United States | $20,205 |
| 9 | Wendy Weissman | United States | $15,470 |
Speaking after his victory, Gamble said that his deep run in the 2016 Main Event, where he finished 176th for $42,285, helped him to victory.
"I made it to Day 5 [in the Main Event] where they put me on the secondary feature table. That got my nerves. I had Greg Raymer on my left, and having that exposure and having that time in a game I'm extremely comfortable with really helped a lot."
Gamble put in a dominant run of form to see off a tough final table which included last year's third-place finisher Marco Johnson.
"I absolutely ran good," Gamble said. "Coming into day, I had 250,000, which was good enough for 17th place out of 21. I just destroyed the first table, because I felt I was playing better than them. I hit a one-outer to get us to two tables. Ever since then, it's been like everything I needed came true."

Niveau 27 : 25,000/50,000, 0 ante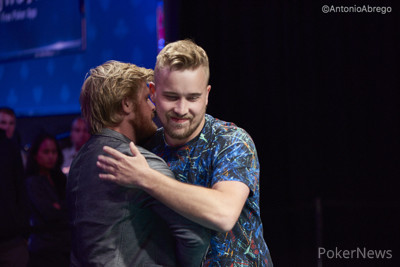 In the very first hand of heads-up play Adam Hendrix limped and Nathan Gamble checked.
"Let's get this done in one hand," said Gamble as the pair saw a flop of
. Gamble bet 120,000, and Hendrix raised pot and was all in. Gamble called, and the hands were turned over.
Gamble:

Hendrix:
The turn was the
and the river the
. Just like that, Gamble finished off his last rival, eliminating Hendrix in second place for a $137,992 payday.

Niveau 27 : 25,000/50,000, 0 ante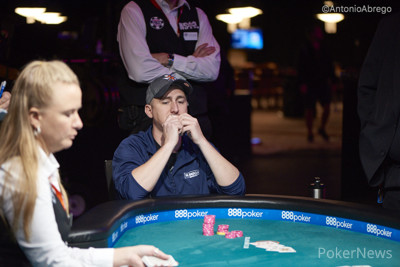 Nathan Gamble's avalanche is still raging. Gamble just added another knockout to his collection, sending Ray Henson to the rail in third place.
The action was quick and simple. Henson potted from the button, Gamble put in enough chips to cover everyone, and Henson called all in for about 400,000 total.
Henson:

Gamble:
The
board favored Gamble, just like many of the previous ones.
"Good game, Ray," Gamble said, shaking Henson's hand.
Henson took the bronze medal, pocketing $96,555 for his efforts. He started the ten-handed finale with the second-shortest stack, and he stuck around for much longer than most of his opponents may have expected.
Gamble now has a devastating chip lead heading into the final duel for the bracelet.

Niveau 27 : 25,000/50,000, 0 ante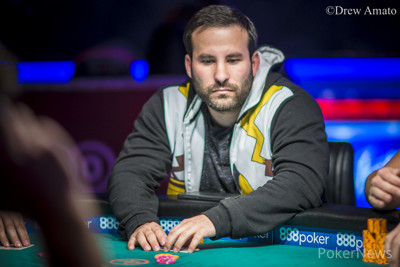 Nathan Gamble raised to 125,000 from under the gun. Michael Gross moved all in for around 300,000 from the big blind, and Gamble called.
Gamble:

Gross:
The board ran out
, giving Gamble quads and eliminating Gross.
"Do you ever get tired of making quads?" asked Henson.
Gross took home $68,544 for his fourth-place finish.

Niveau 27 : 25,000/50,000, 0 ante
Ray Henson raised to 150,000. Michael Gross called in the small blind, as did Nathan Gamble in the big blind.
The flop came
, and all three players checked. They also checked through the
on the turn, and the river was the
. Gross checked to Gamble, who bet 200,000. Henson folded, and Gross called.
Gamble showed
, and that was good enough to take down the pot and leave Gross with less than 250,000 in chips.

Niveau 27 : 25,000/50,000, 0 ante
Michael Gross found himself unlucky in a spot against Nathan Gamble when they got it in preflop. Gross held double-suited aces with
, but he couldn't scoop Gamble's
as they chopped.
The two players tangled again a few moments later. Gamble opened to 125,000, and Gross called from the big blind.
Gross check-called another 275,000 on the
flop, leaving himself with less than a pot-sized stack. The
turn brought a check from Gross, and Gamble kept pushing. He placed in a pile of the most valuable chips worth 100,000 apiece, covering Gross' belongings. Gross took a deep breath and folded.

Niveau 27 : 25,000/50,000, 0 ante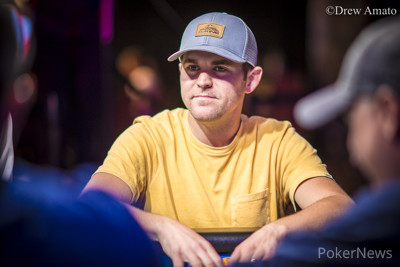 Marco Johnson's second-consecutive deep run in this tournament has come to an end at the hands of the runaway train that is Nathan Gamble.
Gamble raised to 125,000, Johnson three-bet all in, and Gamble called.
Gamble:

Johnson:
Jonson looked to be fairly live for at least half the pot on the
flop. The
on the turn limited those possibilities somewhat, and the
on the river slammed the door shut, giving Gamble quad sevens and eliminating last year's third-place finisher in fifth place for $49,379.

Niveau 27 : 25,000/50,000, 0 ante
Nathan Gamble is guarding a monster stack, and he's using it as dominant leverage. Gamble demonstrated that in a recent pot against Michael Gross.
The hand started with Gross opening to 125,000. Gamble called in position, and they went to the
flop. While Gross didn't bet on the flop, he did bet the
turn, and Gamble paid 150,000 to see the river. The
river card slowed Gross down, and Gamble perhaps smelled blood. He bet 480,000. Gross took only about 30 seconds and then folded, showing the
.
After pressuring Gross off his trips, Gamble soared to 3,000,000 in chips.
Niveau: 27
Blinds: 25,000/50,000
Ante: 0