Omaha 8-Handed Championship Bags Up With Eight and Scott Clements in the Lead

Niveau 24 : 20,000-40,000, 0 ante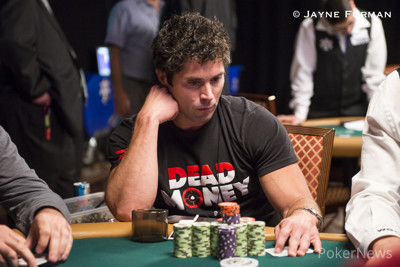 Scott "BigRiskky" Clements led 39 players out of a 428-entry strong field into Day 3 of the 2017 World Series of Poker Event #54: $10,000 Pot-Limit Omaha 8-Handed Championship and also claimed the biggest stack after the eight remaining players bagged up. An additional fourth day was added to the schedule to give all finalists the chance to showcase their skills on the feature table live stream and the action will be shown via PokerGo as of 1 p.m. local time on Saturday July 1st 2017.
Clements will return with 110 big blinds worth after steamrolling through Day 3 and spinning his stack up to 5,480,000. He is followed by Tommy Le with 4,065,000 and 2011 November Niner Eoghan O'Dea (2,895,000). O'Dea was railed by his father and Irish poker legend Donnacha O'Dea and will return with the third biggest stack.
The other finalists include Hani Mio (2,720,000), Jason DeWitt (2,560,000), Chris Lee (2,135,000), Miltiadis Kyriakides (1,275,000) and German Twitch streamer Murat Tulek (425,000). Clements already has two Omaha bracelets to his name from 2006 and 2007 respectively, and will aim to make it three when the action resumes with 35 minutes left of Level 25 and blinds of 25,000/50,000.
Among the notables to join the rail throughout the five and a half levels were Christopher Frank (39th, for $19,500), Dermot Blain (36th for $19,500), Bobby Oboodi (35th for $19,500), Mike Gorodinsky (23rd for $26,167), Johnny Lodden (19th for $26,167), John Racener (17th for $26,167), Ben Lamb (15th for $31,337), and John Monnette (14th for $38,347). The last woman standing, Omaha cash game specialist Vivian Saliba from Brazil, narrowly missed out on the final table and finished in 11th place for $47,923, while Michail Karapanos had to settle for ninth place ($61,141) to miss out on the camera spotlights.
Final Table Seat Assignments
| Seat | Player | Country | Chip Count | Big Blinds |
| --- | --- | --- | --- | --- |
| 1 | Eoghan O'Dea | Ireland | 2,895,000 | 58 |
| 2 | Miltiadis Kyriakides | Cyprus | 1,275,000 | 26 |
| 3 | Chris Lee | United States | 2,135,000 | 43 |
| 4 | Murat Tulek | Germany | 425,000 | 9 |
| 5 | Jason DeWitt | United States | 2,560,000 | 51 |
| 6 | Hani Mio | United States | 2,720,000 | 54 |
| 7 | Tommy Le | United States | 4,065,000 | 81 |
| 8 | Scott Clements | United States | 5,480,000 | 110 |
Day 3 Action
Within 90 minutes, the field was reduced to the last three tables. Christopher Frank busted in one of the very first hands, he was soon followed by Dermot Blain and Bobby Oboodi. Murat Tulek scored a big double through Ben Lamb when he cracked pocket aces and ended up making quads, only for Scott Clements to river a straight flush against his king-high flush soon after.
Molichisa Ngeth was all in with pocket aces and Chris Lee tabled aces as well, but ended up making a diamond-flush to rake in a massive pot. Most other early all-in showdowns involved pocket kings and pocket aces, and among those to show the second best pair and bust were James Egerer and Jon Hollein.
Down to the last three tables, Mike Gorodinsky got it in with kings and fives against the queens of Hani Mio, and Mio flopped a straight to eliminate Gorodinsky. Johnny Lodden doubled up with aces versus kings once, but the second time he turned a set with the best pocket pair in Omaha, he was sent to the rail. Eoghan O'Dea had flopped a seven-high straight and Lodden failed to improve to a full house.
John Racener bowed out when his suited kings were no good against the suited queens of Eoghan O'Dea. Both players had hearts and clubs covered, but a queen appeared on the flop to see O'Dea improve to a set. As soon as the last two tables were set, Oliver Weis busted when a big move went wrong and Ben Lamb didn't get there with a flush draw against the top set of Scott Clements.
Murat Tulek spiked a one-outer against Clements to remain in contention and the latter reclaimed the chips and more by cracking the pocket aces of John Monnette. Clements four-bet all in to put Monnette at risk and his kings connected with another king on the flop to leave Monnette empty-handed.
The two short stacks Sean Rafael and Howard Millian were dispatched from the table in quick succession before Vivian Saliba's run came to an end. Left short after Jason DeWitt, Saliba got it in with queen-queen-ten-seven double suit and Scott Clements flopped an ace and rivered a straight with ace-king-five-deuce.
Aleksei Altshuller followed only minutes later and the unofficial final table had barely started when Michael Karapanos lost his remaining three big blinds and some. Karapanos flopped two pairs and a flush draw, but the overpair and higher flush draw of Tommy Le got there as running kings counterfeited the Greek to set up the official final table.
The PokerNews live reporting team will be back when the action continues on July 1 and provide all the action until a winner is crowned.