Sponsorisé par:

Event Info
| | |
| --- | --- |
| Prize Pool | $13,722,150 |
| Players | 130 |
Info Niveau
| | |
| --- | --- |
| Niveau | 27 |
| Blinds | 400,000 / 800,000 |
| Ante | 100,000 |
Event #6: High Roller for One Drop - $111,111 No-Limit Hold'em
Jour 4 terminé
Doug Polk tells Melissa what its like to win his third bracelet and over 3.6 million dollars.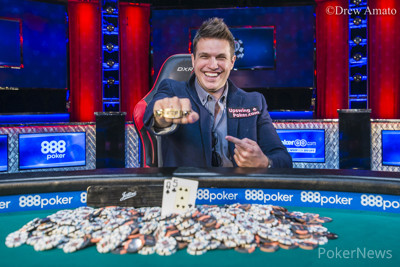 Doug Polk s'est fait un nom en tant que "WCGRider" online en dominant à peu près tout le monde en head's up.
L'Américain a privé Bertrand Grospellier d'un deuxième bracelet WSOP et conquis sa 3e breloque à Las Vegas en remportant le High Roller pour One Drop à 111 111$ l'entrée dans a nuit de lundi à mardi au Rio. Vainqueur d'un Turbo en 2014 et d'un bracelet par équipe en 2016, Polk a avoué que cette victoire n'avait rien à voir avec les précédentes. Cette fois, il domine un field de 130 entrants et encaisse 3,6 millions de dollars !
Les 4 derniers joueurs en lice sur le tournoi ont pris un gain à 7 chiffres. "Ca c'est une vraie victoire. [...] La sensation est incomparable, remporter autant d'argent face à des joueurs de ce calibre dans un événement planétaire, c'est complètement différent", a indiqué le vainqueur tandis que les fans tricolores se consoleront d'une nouvelle place de runner-up en pendant au chèque engrangé par Bertrand Grospellier.
Dominateur depuis 3 jours, le Français a vu son ru ns'arrêter au pire des moments. Deux fois demi-finaliste sur un Main Event PokerStars Championship lors du mois de mais, ElkY signe son meilleur résultat financier en carrière, une erformance qui lui permet de dépasser les 13 millions de dollars cumulés !
Le Français a pu gérer son effort jusqu'à atteindre le dernier duel. Doug Polk a lui perdu plusieurs pots en début de finale pour se retrouver en mode push or fold. Tombé à 13 blindes, Polk envoie avec
et double sur le
de Martin Jacobson. "La plupart du temps je rentre à la maison sur ce coup mais je n'étais pas mort et j'ai frappé direct", s'est réjouit le vainqueur. Champion du Main Event WSOP 2014, Martin Jacobson termine lui 6e pour un gain de 641 000$ !
A partir de ce coup du sort, Polk va reconstruire un tapis pour laisser Jacobson, Rainer Kempe et Andrew Robl s'embourber. Polk va jouer des petits coups sans désormais se mettre en danger, si l'on excepte un semi-bluff sur Jacobson.
Chris Moore est le dernier joueur à quitter le tournoi sans repartir avec un million (865 000$). Voulgaris et Dario Sammartino encaissent eux un énorme billet à 7 chiffres. Avec 25% des jetons à l'entame de la TF, Bertrand "ElkY" Grospellier a bien géré sa barque pour arriver en head's up.
Les deux hommes vont disputer le pot du tournoi dès le début du dernier duel. Avec deux paires au flop, Bertrand Grospellier place un check-raise puis envoie une grosse mise rivière avant que le duo ne check-check rivière. La rivière a donné deux paires supérieures à Polk qui empoche un pot de 39 millions de jetons alors qu'il y en avait 66 en circulation ! 6 mains plus tard, la messe est dite et un Français joue encore à Raymond Poulidor aux WSOP !
Doug Polk remporte donc un HU à 1,4 million de dollars... et un side bet contre ElkY puisque les deux hommes avaient parié que le perdant allait devoir se faire la coupe de cheveux du vainqueur. Pas de teinture blonde à venir pour Polk, "mais je crois qu'on va voir ElkY avec un mullet", a rigolé le vainqueur...
Event #6 WSOP One Drop High Roller
| Place | Joueur | Pays | Prix (USD) |
| --- | --- | --- | --- |
| 1 | Doug Polk | United States | $3,686,865 |
| 2 | Bertrand Grospellier | France | $2,278,657 |
| 3 | Dario Sammartino | Italy | $1,608,295 |
| 4 | Haralabos Voulgaris | Canada | $1,158,883 |
| 5 | Chris Moore | United States | $852,885 |
| 6 | Martin Jacobson | Sweden | $641,382 |
| 7 | Rainer Kempe | Germany | $493,089 |
| 8 | Andrew Robl | United States | $387,732 |
| 9 | Mike Kamran | United States | $312,006 |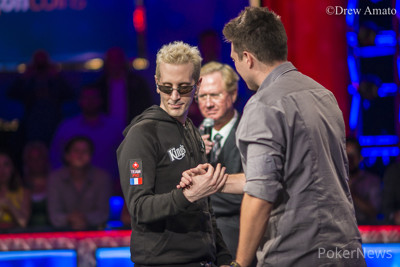 Hand #142: Doug Polk raised all in from the button, and Bertrand Grospellier called all in from the big blind for about 6,700,000 with
, leading Polk's
.
Polk didn't trail for long, though, as the flop came down
to give him the lead with a pair of queens. The
turn sealed it for Polk with two pair, rendering the
river moot.
Grospellier finished as the runner-up for $2,278,657, while Polk won the High Roller for One Drop for $3,686,865.
Hand #137: Doug Polk received a walk.
Hand #138: Polk limped his button, and Bertrand Grospellier checked his option.
The flop fell
, and Grospellier check-folded to a bet of 800,000 from Polk.
Hand #139: Bertrand Grospellier limped his button, Doug Polk shoved from the big blind, and Grospellier folded.
Hand #140: Doug Polk raised all in from the button, and Bertrand Grospellier folded.
Hand #141: Doug Polk received a walk.
Hand #136: Doug Polk raised to 1,900,000, and Bertrand Grospellier called.
Polk bet 2,050,000 on the
flop. and Grospellier fired in a check-raise to 6,225,000. Polk called, seeing the
fall on the turn. Grospellier bet 8,800,000. Polk put in enough to call. The river was the
, and "ElkY" slowed down with a check. Polk checked back.
Grospellier turned over
, but his flopped two pair had been outdrawn on the river as Polk hit queens up with
.
Niveau:

27
Blinds:

400,000/800,000
Ante:

100,000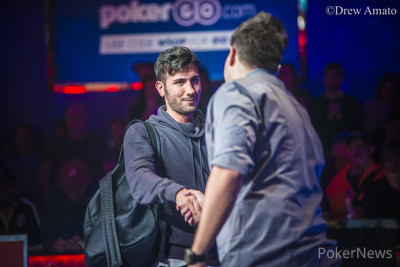 Hand #135: Dario Sammartino raised all in from the button for about 3,800,000, and Doug Polk called from the big blind.
Polk:

Sammartino:
The board came down
, no help to Sammartino, ending his run and leaving Polk heads up with Bertrand Grospellier.
Hand #133: Doug Polk raised all in from the small blind, and Dario Sammartino folded his big blind.
Hand #134: Bertrand Grospellier received a walk in the big blind.