Romania has its first World Series of Poker bracelet, and it's none other than top poker talent Alexandru Papazian with the gold jewelry on his wrist. On the extra fourth day of play in the hugely successful $888 Crazy Eights tournament, Papazian defeated Germany's [Removed:172] to take home the first-place prize of $888,888.
With his win, Papazian is now the all-time money leader of Romania, overtaking longtime leader Mihai Manole. That, though, wasn't all that important to him: "I don't care that much about the rankings in my country, but I do care about winning the first bracelet."
| Place | Player | Country | Prize |
| --- | --- | --- | --- |
| 1 | Alexandru Papazian | Romania | $888,888 |
| 2 | [Removed:172] | Germany | $463,888 |
| 3 | Harry Lodge | United Kingdom | $344,888 |
| 4 | Ioannis Angelou Konstas | Greece | $257,888 |
| 5 | James Cappucci | United States | $193,888 |
| 6 | Vlad Darie | Romania | $146,888 |
| 7 | Michael Tureniec | Sweden | $112,888 |
| 8 | Guillaume Diaz | France | $86,888 |
On the third day of play — what should've been the last day of the tournament — the last table was reached after several hours of play. The final nine boasted many top European players, but the only two-time bracelet winner among them was Nevada's own Ben Yu. Unfortunately for Yu, he couldn't find any luck as he lost a vast majority of his chips when he got it in good, only to get three-outed by James Cappucci. Yu lost his remaining bits a few moments later, running into Harry Lodge's aces.
Kramer maneuvered his big stack with an aggressive approach, but he doubled up Lodge twice and Cappucci once. Papazian took over the chip lead just before the dinner break, and his one-man show started thereafter.
After two levels without any bust outs, Papazian finally knocked out Guillaume Diaz in eighth place. His ace-king held strong against Diaz' ace-queen, eliminating the French player for a $86,888 payday.
Papazian's next casualty was Michael Tureniec who departed after pushing in his remaining seven blinds over Papazian's raise, but his ace-deuce found no luck against pocket eights. Tureniec collected $112,888 for his efforts.
Papazian was steamrolling over the final table, and his heater had no mercy for his fellow countryman Vlad Darie. Both dressed in Romanian national soccer team shirts and cheered by a loud rail, Papazian and Darie tangled preflop. Papazian's ace-king bested Darie's pair of jacks, sending Darie to the payouts for the $146,888 sixth-place prize.
Two hands later, Papazian added yet another casualty to his list as James Cappucci, who laddered several pay jumps with his short stack, finally met his fate. Papazian had only two live cards in their all-in confrontation, but he turned a flush to bust Cappucci in fifth place for a $193,888.
Papazian's streak continued with the elimination of Ioannis Angelou Konstas, who shoved ace-deuce of spades only to find Papazian calling with eights. Konstas picked up $257,888 after busting in fourth.
Harry Lodge and [Removed:172] were sitting in their chairs quietly, watching Papazian destroying the table. With the tournament down to the last three players, Papazian had already accumulated 80 percent of all chips in play.
Papazian didn't add the sixth name among his scalps as Lodge and Kramer clashed with each other. Lodge had ace-eight of clubs and outflopped Kramer's kings, but Kramer caught a king on the river to send the English player out. Lodge received $344,888 for third place.
Papazian and Kramer quickly agreed to wrap up the night before starting their heads-up match. When they returned to the Rio All Suite Hotel and Casino, the Amazon Room was the stage for the final battle.
After some back and forth, Kramer eventually lost a big hand to leave his stack crippled. In that hand, Papazian three-barreled and Kramer check-called all the way. Papazian turned out to have had nothing on the flop and just a straight draw on the turn, but rivered top pair which he value bet. Kramer couldn't beat that and had to continue with fewer than 13 big blinds. He shoved those all in the next hand, getting called by Papazian.
Kramer showed six-nine suited and was in a lot of trouble against the king-nine of Papazian. The latter flopped top two and it was all over after the turn bricked.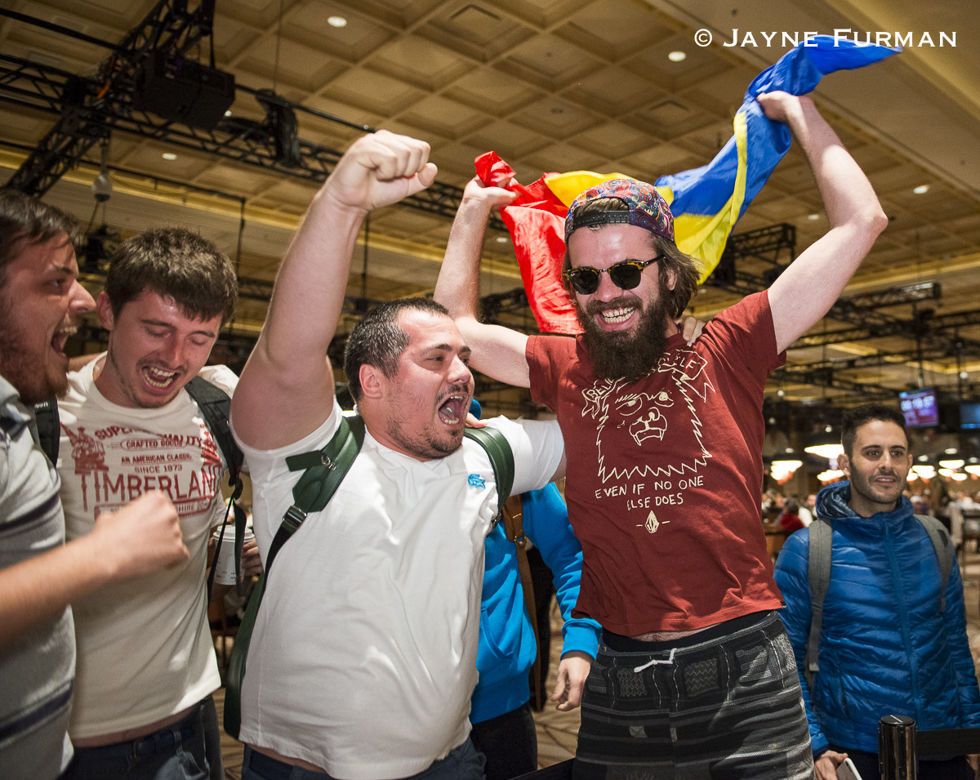 Compared to his other achievements in poker, Papazian ranked the victory in Las Vegas as followed: "I play for a long time and I am not as excited as most people; that's just the way I am. I am not emotional, but I am still super happy about it. And I hope there will be another one for a Romanian, I hope there is more to come and you gonna see us around."
Papazian was cheered on by a very enthusiastic Romanian rail Tuesday night and again during the heads-up duel, including Mihai Manole, Alain Medesan and Valentin Vornicu, to name a few. "I think they railed better than I played, my victory goes to them as well."
When asked about his dominating final table performance, Papazian had the following to say: "You can't win tournaments without running hot. I waited for my moment and then attacked. It went my way, that is just how it is in tournaments. I ran good, I think I played good."
There is no immediate party planned right now, as Papazian said he will be jumping into Event #66: $1,500 No-Limit Hold'em soon. "We have a soccer championship on Friday, we can't afford to party. We have to beat the Germans again."
Whether or not his heads-up opponent, German [Removed:172], will participate in that competition is currently unknown.